Kavitha JE bags the Homepreneur Award 2018
by Nongsha Angom - 26/10/2018
Former U-10, U-12, U-15 and U-18 National Champion, Asian Sub-Junior Bronze medalist and Asian Junior Silver medalist WFM J.E.Kavitha wins the Homepreneur Award 2018. The Award is a unique initiative introduced by "Brand Avatar" to provide platform to recognize and celebrate the women who have chosen to pursue their passion through entrepreneurship from home. This year the total number of registrants were 6500 and out of which 150 were shortlisted and interviewed by an eminent jury. In this article we try to dig in and learn about Kavitha's experience in being a part of this initiative and in the end winning the prestigious award.
What exactly is a Homepreneur Award?
Many women have taken up business freelancing work in small or medium scale by working from home and generating revenue. These women are called as Homepreneurs. To put it in simple terms it is entrepreneurship from home. Homepreneur Awards (in Tamil - Suyasakthi Virudhugal) seeks to provide a platform to recognize and celebrate the women who have chosen to pursue their passion through entrepreneurship from home. The business could be anything from baking cakes at home to teaching among many categories mentioned on their website. If you are making any income through Homepreneurship, you are eligible to apply for the award under the various categories mentioned.
Brand Avatar is a branding and event management firm which over the last two years have brought to life unique and magnificent events, the latest being Art of Parenting, Pride of Tamil Nadu Awards, Fashion Premier Week etc. Brand Avatar also delivers a fully integrated marketing communications program and Brand Management solutions for companies and individuals alike. It has undertaken this unique initiative " Homepreneur Awards" that creates a platform for awarding women who are doing business from home to earn or augment their earning.
This year there were 6500 registrants applying for the awards under different categories and towards the end only 150 were shortlisted to face the jury and WFM J.E.Kavitha was one of them.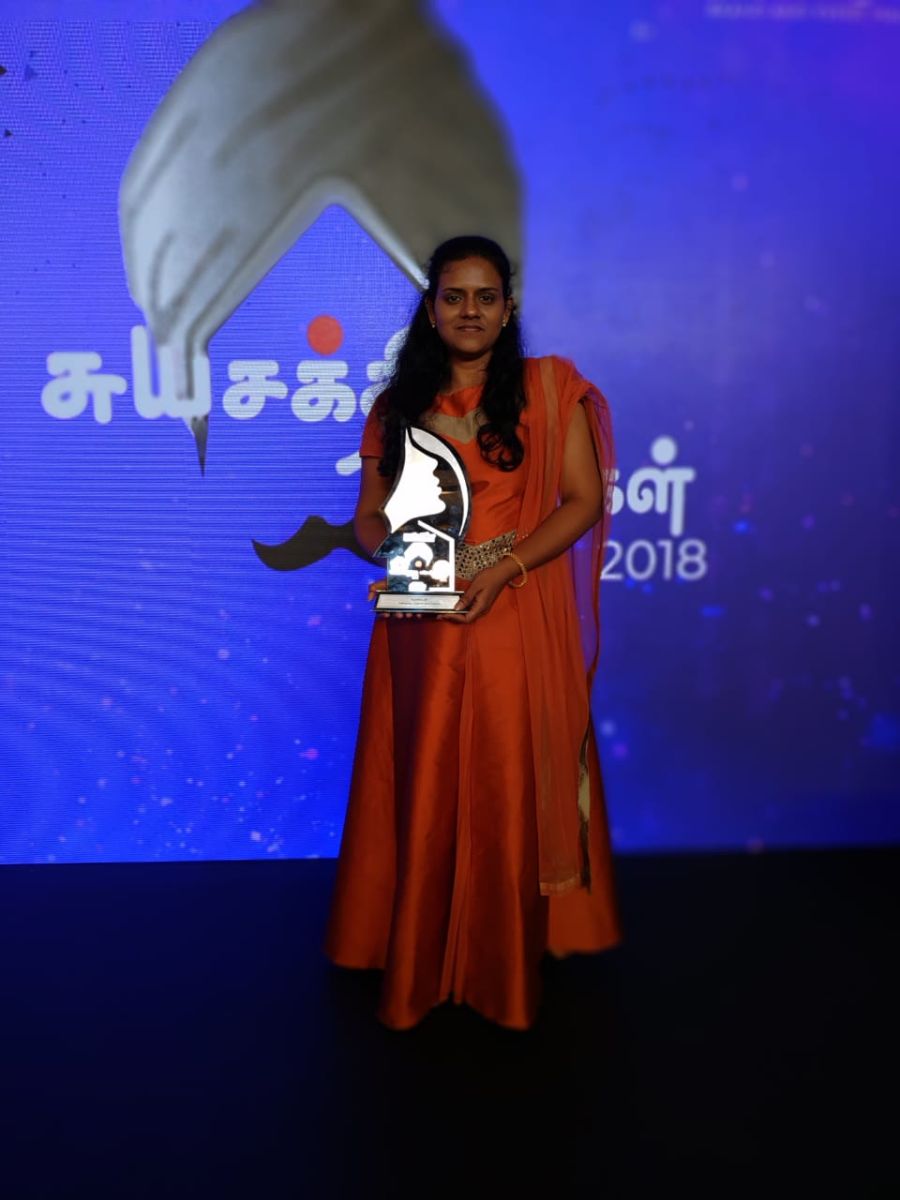 It was in the year 1990 when J.E.Kavitha started playing chess at the of six. She picked up the game quickly and within two years at the age of eight she won the National U-10 Championship for Girls held at Ahmedabad. From then on chess became her life and she went on winning five National titles (U-10, U-12, U-15 and twice U-18), she also won Asian Sub-Junior Bronze medal and Asian Junior Silver medal.
For Kavitha all her rapid success in chess were possible because of the support of her parents and coaches but as she was growing up and becoming stronger as a player things started becoming unclear. From the beginning of her career she lacked sponsorship and it started affecting her and made her to re-think on chess. She ended up taking a tough decision to join an IT company as HR professional in 2006 but the strive to success was nerved in always.
But as they as say - once a chess player, always a chess player! Kavitha was drawn back to the game very soon. This time not as a chess player but as a chess coach. She started the "Little Master's Academy of Chess". As Kavitha writes on her Facebook page: "Little Masters Academy of Chess" aims to spread the game of chess and teach kids in the way they love it!
When ChessBase India approached and congratulated Kavitha on winning the unique award, this is what she had to say:
"Appreciation is one of life's greatest motivators. So when ChessBase India takes the time to let people know that our little contribution to chess is valuable to them, it inspires to continue doing even more. Thanks ChessBase India for coming forward to congratulate me on winning the Homepreneur award 2018. This event is not about a chess tournament, but recognition for chess given by "Brand Avatar" team specific towards women empowerment. We all want to succeed, don't we? Whatever needs to be achieved is not so easy to get and whatever we get, we are not satisfied. We become disheartened and unmotivated. During this phase, and after motherhood, my family created the opportunity once again to pursue my passion and thus "Little Masters Academy of Chess" was started at Tambaram, Chennai at a small level. We still have a long way to go and have just taken that one step towards the journey of thousand miles. With the best efforts we are trying to spread the game of chess and create awareness among parents whose children are playing the game of chess. This we think would be very essential for transforming the kid into a responsible, disciplined, and wise human being."
As a part of this unique event, one of the applicants will be selected for investment from an investor, who will facilitate the expansion of their business by mentor-ship and investment. The applicant will be selected based on their feasibility and scalability of their business and the leadership ability of the applicant. We wish J.E.Kavitha the very best for all her future endeavour and keep on inspiring us by setting an example and creating an impact.
---
Related news
:
विक्रमादित्य बने प्रथम बिजनौर ओपन के विजेता

@ 04/12/2023 by Niklesh Jain (hi)
13th London Chess Classic 2023 R2: Gukesh survives a scare against Vitiugov

@ 03/12/2023 by Shahid Ahmed (en)
13th London Chess Classic 2023 R1: Gukesh outplays Mateusz Bartel

@ 02/12/2023 by Shahid Ahmed (en)
Gukesh set to make his debut at 13th London Chess Classic 2023

@ 01/12/2023 by Shahid Ahmed (en)
विदुर की नगरी में हुआ बिजनौर ओपन का आरंभ

@ 30/11/2023 by Niklesh Jain (hi)
Gukesh, Praggnanandhaa, Vidit, Leon, Harika and Divya will play at 86th Tata Steel Chess 2024

@ 25/11/2023 by Shahid Ahmed (en)
New: Ivan Sokolov: Understanding Middlegame Strategies, Vol. 7, Vol. 8 & Vol. 9

@ 24/11/2023 by ChessBase Shop (en)
Mitrabha Guha dominates 13th Chess for Youth 2023

@ 24/11/2023 by Shahid Ahmed (en)
टाटा स्टील 2024 : भारत से गुकेश , प्रज्ञानन्दा और विदित को फिर मिला मौका

@ 23/11/2023 by Niklesh Jain (hi)
Rs. 50,000 Mind Champions Challenge 2023 for Visually impaired chess players this saturday

@ 23/11/2023 by Himank Ghosh (en)
निहाल को हराकर प्रज्ञानन्दा नें जीता सीएचई चैस फेस्टिवल

@ 22/11/2023 by Niklesh Jain (hi)
New: Luis Engel: Najdorf: A dynamic grandmaster repertoire against 1.e4 Vol. 1 & 2

@ 21/11/2023 by ChessBase Shop (en)
Sarayu, Sahithi and Mrittika get the Sarada Scholarship of Rs.10 lakh

@ 18/11/2023 by Sagar Shah (en)
केरल VS क्यूबा - पहले दिन क्यूबा नें 21-19 से आगे

@ 17/11/2023 by Niklesh Jain (hi)
The Big Chess Winter Camp is here from 20th-26th November!

@ 17/11/2023 by Himank Ghosh (en)
New: Adrian Mikhalchishin: Master your technique - manoeuvres you must know

@ 16/11/2023 by ChessBase Shop (en)
The sequel to ChessPa in Chess Adventure Park is here: ChessPa Activity Books!

@ 14/11/2023 by Sagar Shah (en)
New: Andrew Martin - The Sharp Scandinavian with 3...Qd6

@ 14/11/2023 by ChessBase Shop (en)
ChessPa in Chess Adventure Park reviews

@ 11/11/2023 by Sagar Shah (en)
New: ChessBase Magazine #216

@ 06/11/2023 by ChessBase Shop (en)
New: Robert Ris: Basic Opening Strategy - All you need to know

@ 01/11/2023 by ChessBase Shop (en)
Jwalin Mehta clinches Akshayakalpa Organic 3rd Hyderabad Chess Centre Rapid Open with a perfect 6/6

@ 31/10/2023 by Amithpal Singh (en)
एशियन पैरा गेम्स में शतरंज नें बढ़ाया मान,2 स्वर्ण समेत जीते 8 पदक

@ 29/10/2023 by Niklesh Jain (hi)
Launching the Teach Chess India Mission

@ 23/10/2023 by Sagar Shah (en)
Akshayakalpa makes entry into Hyderabad Chess scene

@ 20/10/2023 by Amithpal Singh (en)
Chess-O-Disha and Pro-Chess-Ta - two chess initiatives by Odisha Government

@ 17/10/2023 by Sagar Shah (en)
St. Xavier, The Sanskaar Valley and Carmel Convent win Khelo Chess India Inter-school trophy

@ 16/10/2023 by Niklesh Jain (en)
सेंट ज़ेवियर, द संस्कार वैली और कारमेल कान्वेंट नें जीती खेलो चैस इंडिया इंटर स्कूल ट्रॉफी

@ 16/10/2023 by Niklesh Jain (hi)
New: Daniel Fernandez: Weapons against the Caro Kann Vol. 1 + 2

@ 16/10/2023 by ChessBase Shop (en)
Indian Delegation withdraws from World Cadets 2023 at Egypt

@ 15/10/2023 by Himank Ghosh (en)
Magnus Carlsen wins his first major team event for Offerspill Sjakklubb at 38th European Club Cup 2023

@ 08/10/2023 by Shahid Ahmed (en)
European Club Cup 2023 R6: Pranav Venkatesh saves the day for Offerspill Sjakklubb

@ 07/10/2023 by Shahid Ahmed (en)
European Club Cup 2023 R5: Offerspill Sjakklubb and Superchess set up a massive clash

@ 06/10/2023 by Shahid Ahmed (en)
European Club Cup 2023 R4: Carlsen and Raunak power Offerspill Sjakklubb's fourth win

@ 05/10/2023 by Shahid Ahmed (en)
European Club Cup 2023 R3: Offerspill Sjakklubb keeps winning by a huge margin

@ 04/10/2023 by Shahid Ahmed (en)
Chess for Youth is back after six years!

@ 03/10/2023 by Shahid Ahmed (en)
European Club Cup 2023 R2: Nihal Sarin perplexes Paulius, crosses 2700, now World no.35

@ 03/10/2023 by Shahid Ahmed (en)
European Club Cup 2023 R1: Nihal baffles Bosiocic, moves to 2699

@ 02/10/2023 by Shahid Ahmed (en)
Raunak and Pranav Venkatesh set to play on Carlsen's team Offerspill Sjakklubb at European Club Cup 2023

@ 01/10/2023 by Shahid Ahmed (en)
Rs. 20,000 Blitz tournament at ChessBase India Chess Club Indore!

@ 26/09/2023 by Himank Ghosh (en)
Levitov Chess Week 2023 Day 3: Svidler and Nepomniachtchi increase their lead

@ 26/09/2023 by Shahid Ahmed (en)
Levitov Chess Week 2023 Day 2: Anand beats and displaces Aronian

@ 24/09/2023 by Shahid Ahmed (en)
लेवीटोव शतरंज 2023 : आनंद का शानदार प्रदर्शन

@ 23/09/2023 by Niklesh Jain (hi)
Levitov Chess Week 2023 Day 1: Vishy Anand sensational against So

@ 23/09/2023 by Shahid Ahmed (en)
Soham Bhattacharyya dominates Tata Steel Chess Festival 2023 Under-19 Rapid

@ 22/09/2023 by Shahid Ahmed (en)
New: Jana Schneider - Beat the French Defence with the Advance Variation

@ 22/09/2023 by ChessBase Shop (en)
IM Anup Deshmukh will be the trainer for 3rd ChessBase India Training Camp

@ 20/09/2023 by Niklesh Jain (en)
चेसबेस इंडिया ट्रेनिंग कैंप : इंटरनेशनल मास्टर अनूप देशमुख देंगे प्रशिक्षण

@ 18/09/2023 by Niklesh Jain (hi)
Arpita Mukherjee wins Tata Steel Chess Festival 2023 Women Rapid

@ 18/09/2023 by Shahid Ahmed (en)
New: Leon Luke Mendonca: The Keymer Variation 1.Nf3 d5 2.e3

@ 17/09/2023 by ChessBase Shop (en)
सौरभ चौबे नें जीता खेलो चैस इंडिया रैपिड का खिताब

@ 13/09/2023 by Niklesh Jain (hi)
New: Master Class Vol.16: Judit Polgar

@ 13/09/2023 by ChessBase Shop (en)
एंजेला नें जीता खेलो चैस इंडिया ब्लिट्ज़ का खिताब

@ 12/09/2023 by Niklesh Jain (hi)
Mitrabha Guha dominates Tata Steel Chess Festival 2023 Blitz Open

@ 12/09/2023 by Shahid Ahmed (en)
GM 2034 - Will Meghalaya chess get its first GM in 10 years?

@ 12/09/2023 by Sagar Shah (en)
Alexander Grischuk wins Tata Steel India 2023 Blitz, Praggnanandhaa third

@ 11/09/2023 by Shahid Ahmed (en)
Tata Steel India 2023 Blitz R1-9: Praggnanandhaaa gains sole lead, Vidit in pursuit

@ 08/09/2023 by Shahid Ahmed (en)
Maxime Vachier-Lagrave dominates Tata Steel India 2023 Rapid, Praggnanandhaa third

@ 08/09/2023 by Shahid Ahmed (en)
Tata Steel India 2023 Rapid R4-6: MVL emerges sole leader, A relatively good day for Vidit

@ 07/09/2023 by Shahid Ahmed (en)
टाटा स्टील इंडिया रैपिड : मकसीम नें बनाई एकल बढ़त

@ 06/09/2023 by Niklesh Jain (hi)
Shrayan Majumder clinches Tata Steel Chess Festival 2023 Rating Open convincingly

@ 06/09/2023 by Shahid Ahmed (en)
Tata Steel India 2023 Rapid R1-3: Gukesh shows why he is India no.1 with majestic play against Harikrishna

@ 06/09/2023 by Shahid Ahmed (en)
Wenjun Ju conquers Tata Steel India 2023 Women Blitz, Humpy second and Harika third

@ 05/09/2023 by Shahid Ahmed (en)
Rishabh Nishad triumphs at Chess for Everyone Rating Open 2023 in Himachal Pradesh

@ 04/09/2023 by Shahid Ahmed (en)
टाटा स्टील इंडिया ब्लिट्ज़ - हरिका नें दिखाया दम

@ 04/09/2023 by Niklesh Jain (hi)
Tata Steel India 2023 Women Blitz R1-9: Harika and Wenjun are the coleaders

@ 03/09/2023 by Shahid Ahmed (en)
New: ChessBase Magazine #215

@ 03/09/2023 by ChessBase Shop (en)
The 'Dawn of Divya Deshmukh era' starts with a thumping triumph at Tata Steel India 2023 Women Rapid

@ 02/09/2023 by Shahid Ahmed (en)
Pradeep Tiwari clinches Chess for Everyone Rating Open 2023 in Andaman & Nicobar Islands

@ 02/09/2023 by Shahid Ahmed (en)
Tata Steel India 2023 Women Rapid R4-6: Divya Deshmukh domination continues

@ 02/09/2023 by Shahid Ahmed (en)
Tata Steel India 2023 Women Rapid R1-3: Divya and Vantika dazzle!

@ 31/08/2023 by Shahid Ahmed (en)
हम्पी - वेंजून की टक्कर से शुरू होगा टाटा स्टील इंडिया रैपिड

@ 30/08/2023 by Niklesh Jain (hi)
Anurag Jaiswal convincingly clinches Chess for Everyone Rating Open 2023 in Jharkhand

@ 30/08/2023 by Shahid Ahmed (en)
India's strongest tournament - Tata Steel Chess India 2023 starts earlier this year

@ 30/08/2023 by Shahid Ahmed (en)
New: Fabien Libiszewski: The surprising Janowski Variation (3...a6) in the Queen's Gambit Declined

@ 29/08/2023 by ChessBase Shop (en)
This man has built a chess arena inside a park in Meghalaya- IAS Swapnil Tembe

@ 26/08/2023 by Sneha Tiwari (en)
खेलो चैस इंडिया आर सत्यमूर्ति मेमोरियल रैपिड और ब्लिट्ज 9-10 सितंबर को

@ 19/08/2023 by Niklesh Jain (hi)
Sneha Waykar - National and Asian ChessBoxing champion 2023

@ 14/08/2023 by Sneha Tiwari (en)
Madhavansh Mittal wins Chess for Everyone Rating Open 2023 in Jammu

@ 12/08/2023 by Shahid Ahmed (en)
The HelpChess Fundraiser during FIDE World Cup 2023

@ 06/08/2023 by Sagar Shah (en)
​ Abu Dhabi International Chess starts in 2 weeks!

@ 01/08/2023 by Sneha Tiwari (en)
Xiangzhi Bu triumphs at 56th Biel MTO 2023, Aryan Chopra second

@ 28/07/2023 by Shahid Ahmed (en)
56th Biel MTO R9: Aditya Samant becomes India's 83rd Grandmaster

@ 27/07/2023 by Shahid Ahmed (en)
56th Biel MTO R8: Aditya Samant on the verge of becoming India's next GM

@ 26/07/2023 by Shahid Ahmed (en)
IM Kushagra Mohan and Shriraj Bhosale: The Winners of the 4th edition of Pursue Your Chess Scolarship

@ 25/07/2023 by Sneha Tiwari (en)
56th Biel MTO R7: Aditya Samant destroys Daniil Yuffa

@ 25/07/2023 by Shahid Ahmed (en)
56th Biel MTO R6: Aryan, Pranav, Aditya and Vantika in a ten-way pursuit

@ 24/07/2023 by Shahid Ahmed (en)
Arshiya Das from Tripura wins the S. Krishnan Scholarship of Rs.50,000

@ 23/07/2023 by Sneha Tiwari (en)
Arjun Erigaisi superb at 56th Biel GMT Blitz 2023 with a 2864 performance, now World no.17

@ 23/07/2023 by Shahid Ahmed (en)
56th Biel MTO R5: Vantika Agrawal makes a strong start 4/5

@ 22/07/2023 by Shahid Ahmed (en)
56th Biel MTO R4: Kashish Jain and Ajay Krishna shine in contrasting victories

@ 21/07/2023 by Shahid Ahmed (en)
56th Biel GMT R2: Arjun Erigaisi misses against David Navara

@ 20/07/2023 by Shahid Ahmed (en)
Celebrate International Chess Day at the Indore ChessBase India Chess Club!

@ 20/07/2023 by Himank Ghosh (en)
56th Biel MTO R2: Harikrishnan's passed pawns too strong for Meshkovs

@ 19/07/2023 by Shahid Ahmed (en)
Nashik Chess Club: A positive step towards Chess growth

@ 18/07/2023 by Sneha Tiwari (en)
एंजेला नें जीता खेलो चैस इंडिया सनडे मास्टर्स ब्लिट्ज

@ 17/07/2023 by Niklesh Jain (hi)
Pranav Anand dominates 56th Biel Chess Festival Rapid Open 2023

@ 17/07/2023 by Shahid Ahmed (en)
56th Biel GMT 2023: Yangyi Yu dominates Accentus Chess960

@ 16/07/2023 by Shahid Ahmed (en)
Winning the ChessBoxing Asian Championships and World Cup - Nongsha Angom

@ 15/07/2023 by Sneha Tiwari (en)
New: Mihail Marin: Power Strategy 3 - From the middlegame to the endgame

@ 14/07/2023 by ChessBase Shop (en)
India wins 22 medals at Western Asian Youth Chess Championships 2023

@ 13/07/2023 by Shahid Ahmed (en)
पद्मिनी 5वीं बार बनी नेशनल सीनियर चैम्पियन

@ 11/07/2023 by Niklesh Jain (hi)
Magnus Carlsen conquers SuperUnited Rapid and Blitz 2023 with three rounds to spare, Gukesh impresses

@ 10/07/2023 by Shahid Ahmed (en)
देवांश सिंह नें जीता तीसरा खेलो चैस इंडिया ब्लिट्ज़

@ 10/07/2023 by Niklesh Jain (hi)
Stev Bonhage: The man behind the camera

@ 09/07/2023 by Sneha Tiwari (en)
SuperUnited R&B 2023 Day 4: Maximus Magnus wrecks the field, scores a perfect 9/9

@ 09/07/2023 by Shahid Ahmed (en)
SuperUnited R&B 2023 Day 3: Gukesh beats Anand in their first-ever tournament face off

@ 08/07/2023 by Shahid Ahmed (en)
New: ChessBase Magazine #214

@ 07/07/2023 by ChessBase Shop (en)
SuperUnited R&B 2023 Day 2: Is Magnus Carlsen's invincibility waning?

@ 07/07/2023 by Shahid Ahmed (en)
SuperUnited R&B 2023 Day 1: Vishy Anand emerges early sole leader

@ 06/07/2023 by Shahid Ahmed (en)
Gukesh to face Magnus Carlsen in the first round of SuperUnited Rapid and Blitz 2023

@ 05/07/2023 by Shahid Ahmed (en)
रोमांचक फाइनल में त्रिवेणी कॉन्टिनेन्टल किंग्स बनी टेक महिंद्रा ग्लोबल चैस लीग की विजेता

@ 03/07/2023 by Niklesh Jain (hi)
Sportland NRW Cup 2023: Karthik Venkataraman second, Sparkassen Open: Leon Luke Mendonca third

@ 03/07/2023 by Shahid Ahmed (en)
Jonas Buhl Bjerre wins a thriller for Triveni Continental Kings to clinch Tech Mahindra Global Chess League

@ 02/07/2023 by Shahid Ahmed (en)
Frederik Svane on the verge of winning Sparkassen Chess Trophy Open 2023

@ 02/07/2023 by Shahid Ahmed (en)
त्रिवेणी कॉन्टिनेन्टल किंग्स और मुंबा मास्टर्स में होगा ग्लोबल चैस लीग का फाइनल

@ 02/07/2023 by Niklesh Jain (hi)
Yash, Krishanter and Vedant win a ticket to Global Chess League Finals!

@ 01/07/2023 by Himank Ghosh (en)
Tech Mahindra GCL: Triveni Continental Kings will face upGrad Mumba Masters in the Finals

@ 01/07/2023 by Shahid Ahmed (en)
Ray Robson wins 5th Prague International Chess Festival 2023 Masters, Harikrishna third

@ 01/07/2023 by Shahid Ahmed (en)
Sparkassen Chess Trophy 2023 R7: Aryan Chopra rejoins the lead

@ 01/07/2023 by Shahid Ahmed (en)
GCL D9 : अरोनियन और टीसीके नें दिखाया दम, फाइनल की दौड़ हुई रोमांचक

@ 01/07/2023 by Niklesh Jain (hi)
Tech Mahindra GCL Day 9: Aronian astounds Carlsen and Nepo, Triveni Continental Kings jump to third place

@ 30/06/2023 by Shahid Ahmed (en)
Rupesh Kumar Mishra wins Chess for Everyone Rating Open 2023 in Baikunthpur, Chhattisgarh

@ 30/06/2023 by Shahid Ahmed (en)
Sparkassen Chess Trophy 2023 R6: Donchenko emerges sole leader, Raja Rithvik draws with Michael Adams

@ 30/06/2023 by Shahid Ahmed (en)
GCL D8 : गंगाज ग्रांड मास्टर्स की वापसी ,आज साफ होगी फाइनल की तस्वीर

@ 30/06/2023 by Niklesh Jain (hi)
Will Harikrishna win Prague Masters for the second year in-a-row?

@ 30/06/2023 by Shahid Ahmed (en)
Tech Mahindra GCL Day 8: Ganges Grandmasters and Triveni Continental Kings win close battles

@ 29/06/2023 by Shahid Ahmed (en)
Vidit Gujrathi: Master Advanced Tactics and Calculations like a Super Grandmaster

@ 29/06/2023 by ChessBase Shop (en)
Sparkassen Chess Trophy 2023 R5: Leon joins Aryan and Donchenko at the top

@ 29/06/2023 by Shahid Ahmed (en)
Prague Masters 2023 R7: Ray Robson outplays Vincent Keymer, gains sole lead

@ 29/06/2023 by Shahid Ahmed (en)
GCL D7 : आनंद से करीबी मैच जीते कार्लसन,अल्पाइन वारीयर्स शीर्ष पर पहुंची

@ 29/06/2023 by Niklesh Jain (hi)
TM GCL Day 7: Carlsen wins an exquisite endgame against Anand, powers his team to the top with Pragg

@ 28/06/2023 by Shahid Ahmed (en)
Sparkassen Chess Trophy 2023 R4: Aryan and Donchenko are the coleaders 4/4

@ 28/06/2023 by Shahid Ahmed (en)
Prague Open 2023 R6: Deep in the fray

@ 28/06/2023 by Shahid Ahmed (en)
GCL D6 : जीत के साथ मुंबा मास्टर्स तीसरे स्थान पर पहुंची

@ 28/06/2023 by Niklesh Jain (hi)
Tech Mahindra GCL Day 6: Chingari Gulf Titans move up as Anand's win goes in vain

@ 27/06/2023 by Shahid Ahmed (en)
Sparkassen Chess Trophy 2023 R1-3: Aryan Chopra and Leon Luke Mendonca win three in-a-row

@ 27/06/2023 by Shahid Ahmed (en)
GCL D5 : गंगाज ग्रांड मास्टर्स के तूफान में नहीं टिके कॉन्टिनेन्टल किंग्स

@ 27/06/2023 by Niklesh Jain (hi)
Prague Open 2023 R5: Stavroula Tsolakidou emerges sole leader 5/5

@ 27/06/2023 by Shahid Ahmed (en)
Tech Mahindra GCL Day 5: Vintage Vishy strikes Aronian, Ganges Grandmasters score a gargantuan win

@ 26/06/2023 by Shahid Ahmed (en)
New technology in Chess: idChess, the platform for recognizing and broadcasting chess games

@ 26/06/2023 by idChess (en)
Prague Open 2023 R4: Sharan Rao makes a perfect start 4/4

@ 26/06/2023 by Shahid Ahmed (en)
GCL D4 : एसजी अल्पाइन वारीयर्स नें बनाई बढ़त

@ 26/06/2023 by Niklesh Jain (hi)
Tech Mahindra GCL Day 4: SG Alpine Warriors survive Maxime carnage, Praggnanandhaa wins the decider

@ 25/06/2023 by Shahid Ahmed (en)
Prague Masters 2023 R4: Bogdan-Daniel breaks the Berlin, joins the lead with Keymer

@ 25/06/2023 by Shahid Ahmed (en)
GCL D3 : गंगाज ग्रांड मास्टर्स की लगातार तीसरी जीत

@ 25/06/2023 by Niklesh Jain (hi)
Tech Mahindra GCL Day 3: Ganges Grandmasters remain invincible, Triveni Continental Kings climb up

@ 24/06/2023 by Shahid Ahmed (en)
जीसीएल D1&2 : आनंद की गंगा ग्रांड मास्टर्स निकली सबसे आगे

@ 24/06/2023 by Niklesh Jain (hi)
Prague Challengers 2023 R2-3: Akash misses a win against Motylev

@ 24/06/2023 by Shahid Ahmed (en)
Tech Mahindra GCL Day 2: SG Alpine Warriors succumb to the sole leader Ganges Grandmasters

@ 23/06/2023 by Shahid Ahmed (en)
Tech Mahindra GCL Day 1: Vishy Anand ensures a smooth sailing for Ganges Grandmasters

@ 22/06/2023 by Shahid Ahmed (en)
शतरंज की तस्वीर बदलने आज से शुरू होगी ग्लोबल चैस लीग

@ 22/06/2023 by Niklesh Jain (hi)
The Broadcast details for Global Chess League 2023

@ 22/06/2023 by Sagar Shah (en)
Prague Masters 2023 R1: Harikrishna draws with Czech Republic no.2 Thai Dai Van Nguyen

@ 22/06/2023 by Shahid Ahmed (en)
Anand vs Anand squares off Tech Mahindra Global Chess League

@ 22/06/2023 by Shahid Ahmed (en)
Harikrishna set to defend his title at Prague International Chess Festival 2023 Masters

@ 21/06/2023 by Shahid Ahmed (en)
गुकेश बने जूनियर स्पीड शतरंज 2023 के विजेता

@ 21/06/2023 by Niklesh Jain (hi)
A conversation with Mr. Chess Talk - Jeetendra Advani

@ 20/06/2023 by Himank Ghosh (en)
भोपाल के अश्विन नें जीता खेलो चैस इंडिया का दोहरा खिताब

@ 19/06/2023 by Niklesh Jain (hi)
Schedule and Scoring System for Tech Mahindra Global Chess League

@ 17/06/2023 by Shahid Ahmed (en)
Your chance to win a ticket to Dubai for the Tech Mahindra Global Chess League!

@ 15/06/2023 by Himank Ghosh (en)
Tech Mahindra Global Chess League teams and squads unveiled

@ 14/06/2023 by Shahid Ahmed (en)
A visit to God's Own Country

@ 14/06/2023 by Aditya Sur Roy (en)
नाकामुरा नें जीता नॉर्वे शतरंज, बने विश्व नंबर 2, तीसरे स्थान पर रहे गुकेश

@ 11/06/2023 by Niklesh Jain (hi)
New: Christian Bauer - The Alekhine revitalised

@ 10/06/2023 by ChessBase Shop (en)
Nakamura wins 11th Norway Chess 2023 in a photo finish, Gukesh third

@ 10/06/2023 by Shahid Ahmed (en)
11th Norway Chess 2023 R8: Gukesh crushes Tari, now World no.13

@ 09/06/2023 by Shahid Ahmed (en)
नॉर्वे शतरंज 2023 : क्या गुकेश बनाएँगे शीर्ष 3 में जगह

@ 08/06/2023 by Niklesh Jain (hi)
11th Norway Chess 2023 R7: Caruana loses on time in Armageddon against Gukesh

@ 07/06/2023 by Shahid Ahmed (en)
विदित और रौनक नें जीता महाराष्ट्र चैस चैलेंज मैच

@ 06/06/2023 by Niklesh Jain (hi)
11th Norway Chess 2023 R6: Gukesh wins Armageddon against Giri

@ 06/06/2023 by Shahid Ahmed (en)
11th Norway Chess 2023 R5: Gukesh beats Abdusattorov

@ 05/06/2023 by Shahid Ahmed (en)
महाराष्ट्र ग्रांड मास्टर चैलेंज - विदित और रौनक नें क्लासिकल में मारी बाजी

@ 05/06/2023 by Niklesh Jain (hi)
11th Norway Chess 2023 R4: Gukesh draws the Classical against Carlsen

@ 04/06/2023 by Shahid Ahmed (en)
New: Svitlana Demchenko - The Leningrad Dutch Defence

@ 03/06/2023 by ChessBase Shop (en)
11th Norway Chess 2023 R3: Gukesh bests Mamedyarov in Armageddon

@ 02/06/2023 by Shahid Ahmed (en)
नॉर्वे शतरंज R2 : नाकामुरा से हारे गुकेश

@ 01/06/2023 by Niklesh Jain (hi)
11th Norway Chess 2023 R2: Firouzja survives Mamedyarov's exciting attack

@ 01/06/2023 by Shahid Ahmed (en)
नॉर्वे शतरंज 2023 : अलीरेजा को हराकर गुकेश का दमदार आरंभ

@ 31/05/2023 by Niklesh Jain (hi)
11th Norway Chess 2023 R1: Gukesh douses Firouzja at his own game, now World no.15

@ 31/05/2023 by Shahid Ahmed (en)
नॉर्वे शतरंज 2023 : कार्लसन से ब्लिट्ज़ मुक़ाबला जीते गुकेश ,अब आज से क्लासिकल की चुनौती

@ 30/05/2023 by Niklesh Jain (hi)
11th Norway Chess 2023 Blitz: Gukesh beats Carlsen for the first time in a rated game on his 17th birthday

@ 30/05/2023 by Shahid Ahmed (en)
Band Stand Ka Raja wins the scenic GCL Invitational at Bandra Fort

@ 29/05/2023 by Sagar Shah (en)
Magnus Carlsen wins Superbet Rapid and Blitz 2023 in style

@ 27/05/2023 by Shahid Ahmed (en)
700 people learn Chess at the Big Summer Camp 2023

@ 26/05/2023 by Sagar Shah (en)
Superbet R&B 2023 Day 4: Carlsen slays sole leader Duda, reduces the gap

@ 25/05/2023 by Shahid Ahmed (en)
Superbet R&B 2023 Day 3: Duda tops Rapid, Carlsen ends win drought

@ 24/05/2023 by Shahid Ahmed (en)
Superbet R&B 2023 Day 2: A Draw day for Carlsen

@ 23/05/2023 by Shahid Ahmed (en)
GCL Invitational Chess tournament in Mumbai!

@ 23/05/2023 by Himank Ghosh (en)
Superbet R&B 2023 Day 1: Wojtaszek checks Carlsen!

@ 22/05/2023 by Shahid Ahmed (en)
Magnus Carlsen returns to action at Superbet Rapid and Blitz 2023

@ 21/05/2023 by Shahid Ahmed (en)
The Big Chess Summer Camp celebrates the beauty of chess

@ 19/05/2023 by Sagar Shah (en)
Fabiano Caruana wins Superbet Chess Classic 2023

@ 16/05/2023 by Shahid Ahmed (en)
Superbet Classic 2023 R8: Duda beats Firouzja, helps Caruana regain sole lead

@ 15/05/2023 by Shahid Ahmed (en)
Superbet Classic 2023 R7: Firouzja and Giri get the better of Nepomniachtchi and Ding Liren

@ 14/05/2023 by Shahid Ahmed (en)
Superbet Classic 2023 R6: Exciting draws and missed opportunities

@ 13/05/2023 by Shahid Ahmed (en)
पीटर स्वीडलर नें जीता तेपे सिगमन 2023 का खिताब

@ 13/05/2023 by Niklesh Jain (hi)
Kishan Kumar victorious at Chess for Everyone Rating Open in Sagar, Madhya Pradesh

@ 12/05/2023 by Shahid Ahmed (en)
Superbet Classic 2023 R5: Firouzja beats Ding Liren, now World no.2 again

@ 11/05/2023 by Shahid Ahmed (en)
Learn Chess at the Big Chess Summer Camp in Mumbai

@ 10/05/2023 by Abhyudaya Ram (en)
Superbet Classic 2023 R4: Caruana emerges sole leader

@ 10/05/2023 by Shahid Ahmed (en)
New: D Gukesh - Attack like a Super Grandmaster

@ 09/05/2023 by ChessBase Shop (en)
Superbet Classic 2023 R3: Ding Liren is still daunting for Nepomniachtchi

@ 09/05/2023 by Shahid Ahmed (en)
तेपे सिगमन R5 : अभिमन्यु नें गुकेश को ड्रॉ पर रोका

@ 09/05/2023 by Niklesh Jain (hi)
Superbet Classic 2023 R2: Rapport and Nepo score

@ 08/05/2023 by Shahid Ahmed (en)
तेपे सिगमन :R4 : गुकेश को हराकर अर्जुन की वापसी

@ 08/05/2023 by Niklesh Jain (hi)
Superbet Classic 2023 R1: So subdues Firouzja

@ 07/05/2023 by Shahid Ahmed (en)
तेपे सिगमन 2023 : R3 : गुकेश ने निल्स से खेला ड्रॉ ,अर्जुन की दूसरी हार

@ 07/05/2023 by Niklesh Jain (hi)
Ding Liren set to battle against Nepomniachtchi, Rapport and co. at Superbet Chess Classic 2023

@ 06/05/2023 by Shahid Ahmed (en)
तेपे सिगमन 2023 : गुकेश की दूसरी जीत , 2741 रेटिंग पर पहुंचे

@ 06/05/2023 by Niklesh Jain (hi)
तेपे सिगमन 2023 : गुकेश - अर्जुन का जीत से आरंभ

@ 05/05/2023 by Niklesh Jain (hi)
तेपे सिगमन 2023 : गुकेश और अर्जुन पर रहेंगी नजरे

@ 03/05/2023 by Niklesh Jain (hi)
Ding Liren becomes the 17th World Chess Champion scoring a thriller in the Playoff

@ 01/05/2023 by Shahid Ahmed (en)
डिंग इज किंग ! डिंग लीरेन बने 17वें विश्व चैम्पियन

@ 30/04/2023 by Niklesh Jain (hi)
Breaking News: Ding Liren is the new World Chess Champion

@ 30/04/2023 by Shahid Ahmed (en)
Anabil Goswami dominates Chess for Everyone Rating Open in Tripura

@ 30/04/2023 by Shahid Ahmed (en)
New: ChessBase Magazine #213

@ 30/04/2023 by ChessBase Shop (en)
World Championship Game 14: Ding Liren escapes disaster, Playoff to crown the winner

@ 30/04/2023 by Shahid Ahmed (en)
विश्व चैम्पियनशिप R14 :टाईब्रेक बनाएगा विश्व विजेता

@ 30/04/2023 by Niklesh Jain (hi)
New: Robert Ris: Calculation Training for 1000-1400 and 1400-1600 players

@ 29/04/2023 by ChessBase Shop (en)
New: Ruslan Ponomariov: Typical opening mistakes

@ 28/04/2023 by ChessBase Shop (en)
World Championship Game 13: Tense struggle keeps the score level

@ 28/04/2023 by Shahid Ahmed (en)
विश्व चैंपियनशिप : R13 : अब अंतिम राउंड पर सब निर्भर

@ 28/04/2023 by Niklesh Jain (hi)
World Championship Game 12: Ding Liren is back in the Match as 'Ian curse' strikes

@ 27/04/2023 by Shahid Ahmed (en)
विश्व चैंपियनशिप R12: नेपो की चूक, डिंग की जीत

@ 26/04/2023 by Niklesh Jain (hi)
Rook and Roll - A Simul with IM Rakesh Kulkarni

@ 26/04/2023 by Merwyn D'souza (en)
Registration starts for 2nd ChessBase India Training Camp in Bhopal

@ 25/04/2023 by ChessBase India (en)
HelpChess Foundation supports Indian chess players to the tune of Rs.26 lakh in 2022-23

@ 25/04/2023 by Sagar Shah (en)
World Championship Game 11: Quick Draw in 100 minutes

@ 25/04/2023 by Shahid Ahmed (en)
विश्व चैंपियनशिप R11 : नेपो के बढ़ते कदम क्या डिंग करेंगे वापसी ?

@ 25/04/2023 by Niklesh Jain (hi)
World Championship Game 10: The Pray or the Prey?

@ 24/04/2023 by Shahid Ahmed (en)
विश्व चैंपियनशिप R 9 & 10 : बढ़ता रोमांच ,घटते राउंड , नेपो की बढ़त कायम

@ 23/04/2023 by Niklesh Jain (hi)
द्वितीय चेसबेस इंडिया ट्रेनिंग कैंप - रजिस्ट्रेशन आरंभ

@ 23/04/2023 by Niklesh Jain (hi)
World Championship Game 9: The longest game so far

@ 22/04/2023 by Shahid Ahmed (en)
World Championship Game 8: The Leaked Cannonball !?

@ 21/04/2023 by Shahid Ahmed (en)
विश्व चैंपियनशिप R8 : डिंग नें गंवाया बड़ा मौका, नेपो की बढ़त कायम

@ 21/04/2023 by Niklesh Jain (hi)
World Championship Game 7: Ding Liren crumbles in time trouble

@ 19/04/2023 by Shahid Ahmed (en)
विश्व चैंपियनशिप R7 : समय के दबाव में हारे डिंग नेपो फिर आगे

@ 19/04/2023 by Niklesh Jain (hi)
Vladimir Kramnik's latest project - Chess Legends, a free chess app

@ 17/04/2023 by Himank Ghosh (en)
World Championship Game 6: The Lon'Ding' System strikes Nepo

@ 17/04/2023 by Shahid Ahmed (en)
डी गुकेश नें जीता मेनोर्का इंटरनेशनल का खिताब

@ 17/04/2023 by Niklesh Jain (hi)
विश्व चैंपियनशिप R6: डिंग नें फिर किया नेपो से हिसाब बराबर

@ 16/04/2023 by Niklesh Jain (hi)
World Championship Game 5: Nepomniachtchi outplays Ding Liren

@ 16/04/2023 by Shahid Ahmed (en)
ChessBase India training camp: A powerful start

@ 15/04/2023 by Niklesh Jain (en)
विश्व चैंपियनशिप R5: नेपोमनिशी की वापसी , 3-2 से बनाई बढ़त

@ 15/04/2023 by Niklesh Jain (hi)
नितीश बेरुलकर बने इंदौर इंटरनेशनल के विजेता

@ 14/04/2023 by Niklesh Jain (hi)
World Championship Game 4: Ding Liren delivers equalizer by demolishing Nepomniachtchi

@ 14/04/2023 by Shahid Ahmed (en)
विश्व चैंपियनशिप R4 : डिंग ने किया हिसाब बराबर

@ 13/04/2023 by Niklesh Jain (hi)
World Championship Game 3: Calm before Storm?

@ 13/04/2023 by Shahid Ahmed (en)
विश्व चैंपियनशिप : R3: हार के बाद डिंग सम्हले डिंग , ड्रॉ रहा मुक़ाबला

@ 12/04/2023 by Niklesh Jain (hi)
World Championship Game 2: The Self-Destruction of Ding Liren

@ 11/04/2023 by Shahid Ahmed (en)
विश्व चैंपियनशिप R 2:डिंग की करारी हार, नेपो को बढ़त

@ 10/04/2023 by Niklesh Jain (hi)
World Championship Game 1: Ding's daunting defense against Nepomniachtchi

@ 10/04/2023 by Shahid Ahmed (en)
विश्व चैंपियनशिप R 1 : क्या नेपो के पास था मौका?

@ 09/04/2023 by Niklesh Jain (hi)
ChessBase India is looking for a full stack developer to lead its Tech

@ 09/04/2023 by Sagar Shah (en)
विश्व शतरंज चैंपियनशिप का आगाज , नेपो - डिंग पर दुनिया की नजरे

@ 08/04/2023 by Niklesh Jain (hi)
FIDE World Championship Match 2023 officially opened

@ 08/04/2023 by ChessBase India (en)
चैसबेस इंडिया ट्रेनिंग कैंप : एक मजबूत भविष्य की शुरुआत

@ 06/04/2023 by Niklesh Jain (hi)
A special Knockout tournament at the ChessBase India Chess Club Indore

@ 31/03/2023 by Himank Ghosh (en)
Ram Vishal Parab wins the ChessBase India Chess Club tournament for the first time

@ 29/03/2023 by Himank Ghosh (en)
New: Jan Markos: Middlegame Secrets Vol.1 + 2

@ 28/03/2023 by ChessBase Shop (en)
Special Mentorship Program for differently abled chess players

@ 24/03/2023 by Sagar Shah (en)
FIDE and Tech Mahindra's Global Chess League to take place from 21st June to 2nd July 2023

@ 24/03/2023 by Shahid Ahmed (en)
Madhvendra Pratap Sharma wins the ChessBase India Phoenix Citadel Indore inaugural Blitz Tournament

@ 23/03/2023 by Himank Ghosh (en)
Arvinder Preet Singh writes "Road to a World Chess Title"

@ 23/03/2023 by Himank Ghosh (en)
NC World Masters with world-class field of participants in Dortmund

@ 22/03/2023 by Shahid Ahmed (en)
Facing 21 players with 1 hour on the clock : The Gukesh Simul

@ 20/03/2023 by Himank Ghosh (en)
वेदान्त भारद्वाज नें जीता द्वितीय खेलो चैस इंडिया रैपिड का खिताब

@ 20/03/2023 by Niklesh Jain (hi)
Capablanca Chess Festival is coming with a huge prize fund of Rs. 25 Lakh

@ 19/03/2023 by Vijin Babu S (en)
We held a Charity Chess Match at our wedding

@ 16/03/2023 by Shikhar Saxena (en)
खेलो चैस इंडिया रैपिड शतरंज टूर्नामेंट 19 मार्च को

@ 15/03/2023 by Niklesh Jain (hi)
अब नॉर्वे शतरंज में नजर आएंगे भारत के गुकेश

@ 15/03/2023 by Niklesh Jain (hi)
Gukesh set to battle Carlsen, Nakamura and co. at 11th Norway Chess 2023

@ 14/03/2023 by Shahid Ahmed (en)
Mihir Shah wins the 4th ChessBase India Chess Club tournament on IM Sagar Shah's Birthday!

@ 12/03/2023 by Himank Ghosh (en)
56th Biel Chess Festival 2023: Tournaments for every taste! Registration is now open!

@ 10/03/2023 by Shahid Ahmed (en)
11 मार्च को इंदौर में शुरू होगा चैसबेस इंडिया क्लब

@ 09/03/2023 by सागर शाह (hi)
ChessBase India Chess Club to begin in Indore from 11th of March 2023

@ 09/03/2023 by Sagar Shah (en)
ChessBase India Chess Club completes 1 year, Rs.1,25,000 mega tournament on 11th of March 2023

@ 08/03/2023 by Sagar Shah (en)
चेसबेस इंडिया ट्रेनिंग कैंप भोपाल : बस 5 दिन बाकी

@ 08/03/2023 by Niklesh Jain (hi)
9-year-old Madhvendra Pratap Sharma wins Khelo Chess India Blitz 2023 with a perfect 7/7

@ 08/03/2023 by Niklesh Jain (en)
माधवेन्द्र ने जीता खेलो चैस इंडिया ब्लिट्ज़ का खिताब

@ 07/03/2023 by Niklesh Jain (hi)
New: ChessBase Magazine #212

@ 05/03/2023 by ChessBase Shop (en)
Nilanta Chanda wins Chess for Everyone Rating Open in Srinagar

@ 04/03/2023 by Shahid Ahmed (en)
Asian Chess Excellence Awards 2023: Gukesh receives Player of the Year and AICF bags Most Active Federation

@ 03/03/2023 by ChessBase India (en)
Buying an Electronic Chess Board: A Comprehensive Comparison

@ 02/03/2023 by Paras Gudka (en)
Gukesh and Nihal win Best Young Achiever and Spirit of Sports at Sportstar Aces Awards 2023

@ 01/03/2023 by Shahid Ahmed (en)
New: Herman Grooten: Key Concepts of Chess - The Hedgehog

@ 28/02/2023 by ChessBase Shop (en)
अरविंद ने लगाई नेशनल रैपिड ब्लिट्ज़ की ख़िताबी हैट्रिक

@ 28/02/2023 by Niklesh Jain (hi)
Ilamparthi wins WR Chess Juniors U-14 Boys and Blitz 2023

@ 27/02/2023 by Shahid Ahmed (en)
Vintage Aronian wins WR Chess Masters 2023, Gukesh shares second place with Nepomniachtchi

@ 26/02/2023 by Shahid Ahmed (en)
Gukesh or Aronian - Who will win WR Chess Masters 2023?

@ 25/02/2023 by Shahid Ahmed (en)
WR Chess Masters 2023 R7: Gukesh bests Esipenko, joins Aronian in the lead

@ 24/02/2023 by Shahid Ahmed (en)
WR Chess Masters 2023 R6: Aronian draws a thriller against So, Praggnanandhaa tests Giri

@ 23/02/2023 by Shahid Ahmed (en)
ChessBase India Training Camp March 2023 Registration is on

@ 22/02/2023 by ChessBase India (en)
WR Chess Masters 2023 R5: Gukesh misses against Nepomniachtchi

@ 22/02/2023 by Shahid Ahmed (en)
चैसबेस इंडिया ट्रेनिंग कैंप मार्च 2023 :Registration starts

@ 21/02/2023 by हिन्दी चेसबेस इंडिया (hi)
Table Tennis and joy on the rest day of the WR Chess Masters 2023

@ 21/02/2023 by Sagar Shah (en)
WR Chess Masters 2023 R4: Five draws

@ 20/02/2023 by Shahid Ahmed (en)
New: Dorian Rogozenco: Play the Sveshnikov Sicilian - A complete repertoire for Black against the open Sicilian

@ 19/02/2023 by ChessBase Shop (en)
WR Chess Masters 2023 R3: Aronian takes Sole lead, Praggnanandhaa bounces back

@ 19/02/2023 by Himank Ghosh (en)
WR Chess Masters 2023 R2: Gukesh outplays Praggnanandhaa

@ 18/02/2023 by Shahid Ahmed (en)
WR Chess Masters 2023 R1: Gukesh draws with Giri after 6.5+ hour long battle

@ 17/02/2023 by Shahid Ahmed (en)
Gukesh and Praggnanandhaa set to face the world's best at WR Chess Masters 2023

@ 16/02/2023 by Shahid Ahmed (en)
डबल्यूआर मास्टर्स : गुकेश और प्रज्ञानन्दा पर रहेगी नजर

@ 16/02/2023 by Niklesh Jain (hi)
The Chess Academy of My Dream

@ 14/02/2023 by Praful Zaveri (en)
नेशनल टीम : एयरपोर्ट अथॉरिटी के कदम खिताब की ओर

@ 14/02/2023 by Niklesh Jain (hi)
Arjun Erigaisi will feature in 56th Biel Chess Festival GMT 2023

@ 13/02/2023 by Shahid Ahmed (en)
Magnus Carlsen wins Airthings Masters 2023

@ 11/02/2023 by Shahid Ahmed (en)
Sumer Arsh wins the Arjun Erigaisi Death Match 2.0 scholarship of Rs.3,25,000

@ 10/02/2023 by Sagar Shah (en)
Airthings Masters 2023: Nakamura takes the alternate route to the Grand Final

@ 10/02/2023 by Shahid Ahmed (en)
Airthings Masters 2023 LQF: Arjun Erigaisi eliminates Gukesh

@ 09/02/2023 by Shahid Ahmed (en)
Creating a super tournament from scratch - interview with Wadim Rosenstein

@ 08/02/2023 by Sagar Shah (en)
Airthings Masters 2023 SF: Carlsen beats Arjun Erigaisi, will face Nakamura in the Finals

@ 08/02/2023 by Shahid Ahmed (en)
Airthings Masters 2023 QF: Arjun Erigaisi squashes Firouzja, sets up a clash with Carlsen

@ 07/02/2023 by Shahid Ahmed (en)
New: Karsten Müller: How to attack - principles of training

@ 06/02/2023 by ChessBase Shop (en)
The Anish Giri Interview: Winning Tata Steel Masters 2023

@ 02/02/2023 by Himank Ghosh (en)
अनीश का सपना हुआ पूरा , जीता टाटा स्टील मास्टर्स

@ 30/01/2023 by Niklesh Jain (hi)
Anish Giri deservedly conquers 85th Tata Steel Chess Masters 2023

@ 30/01/2023 by Shahid Ahmed (en)
Tata Steel 2023 R12: Praggnanandhaa makes an epic draw against Carlsen

@ 29/01/2023 by Shahid Ahmed (en)
क्या अब्दुसत्तारोव जीतेंगे टाटा स्टील मास्टर्स ?

@ 29/01/2023 by Niklesh Jain (hi)
Tata Steel 2023 R11: Calm before storm

@ 28/01/2023 by Shahid Ahmed (en)
टाटा स्टील मास्टर्स : अर्जुन - गुकेश ने खेला ड्रॉ, प्रज्ञानन्दा हारे

@ 28/01/2023 by Niklesh Jain (hi)
टाटा स्टील मास्टर्स शतरंज – गुकेश से हारे प्रज्ञानंदा

@ 27/01/2023 by Niklesh Jain (hi)
Aishwin Daniel wins Khelo Chess India Late R Satyamurthy Memorial Rapid Open 2023

@ 27/01/2023 by Niklesh Jain (en)
Tata Steel 2023 R10: Gukesh bests Praggnanandhaa, Carlsen makes a comeback

@ 26/01/2023 by Shahid Ahmed (en)
AICFB National Juniors: Sam Peniel dominates, Tanish seizes the moment, John wins hearts

@ 25/01/2023 by Saishyam Srikanth (en)
Tata Steel 2023 R9: Gukesh aces the Magnus Carlsen test, Praggnanandhaa draws with Caruana

@ 25/01/2023 by Shahid Ahmed (en)
अश्विन डेनियल नें जीता प्रथम खेलो चैस इंडिया रैपिड

@ 24/01/2023 by Niklesh Jain (hi)
टाटा स्टील मास्टर्स : चार हार के बाद जीते गुकेश

@ 23/01/2023 by Niklesh Jain (hi)
Tata Steel 2023 R8: A day of firsts

@ 23/01/2023 by Shahid Ahmed (en)
Tata Steel 2023 R7: Abdusattorov increases his lead, Praggnanandhaa in pursuit

@ 22/01/2023 by Shahid Ahmed (en)
Tata Steel 2023 R6: So and Caruana win, Abdusattorov still in sole lead

@ 21/01/2023 by Shahid Ahmed (en)
Mumbai's 2nd GM Aditya Mittal to be felicitated by Mumbai's 1st GM Pravin Thipsay

@ 20/01/2023 by Sagar Shah (en)
टाटा स्टील मास्टर्स :7 साल 7 माह बाद लगातार 2 बार हारे कार्लसन

@ 20/01/2023 by Niklesh Jain (hi)
Khelo Chess India Late R Satyamurthy Memorial Rapid Open to take place this Sunday 22nd January

@ 20/01/2023 by Niklesh Jain (en)
Tata Steel Masters 2023 R5: Abdusattorov beats Carlsen, gains sole lead and now World no.18

@ 20/01/2023 by Shahid Ahmed (en)
Astana to host FIDE World Championship match 2023

@ 19/01/2023 by ChessBase India (en)
ChessBase India is 7 years old!

@ 19/01/2023 by Sagar Shah (en)
Tata Steel Challengers 2023 R5: Vaishali splits the point with Adhiban

@ 19/01/2023 by Shahid Ahmed (en)
खेलो चैस इंडिया रैपिड शतरंज - भोपाल में होगा आयोजन

@ 19/01/2023 by Niklesh Jain (hi)
टाटा स्टील मास्टर्स:R4: प्रज्ञानंदा ने रचा इतिहास,विश्व नंबर 2 डिंग को हराया तो 12 साल बाद कार्लसन से जीते अनीश

@ 18/01/2023 by Niklesh Jain (hi)
Tata Steel 2023 R4: Praggnanandhaa stuns World no.2 Ding Liren, Giri beats Carlsen

@ 18/01/2023 by Shahid Ahmed (en)
Delving deep into the Arjun Erigaisi vs Levon Aronian endgame from Tata Steel Masters 2023

@ 17/01/2023 by Sagar Shah (en)
Tata Steel 2023 R3: Caruana joins the leaders

@ 17/01/2023 by Shahid Ahmed (en)
टाटा स्टील मास्टर्स 2023 :R2: अनीश से हारे गुकेश

@ 16/01/2023 by Niklesh Jain (hi)
Tata Steel 2023 R2: Anish Giri plays spectacularly against Gukesh

@ 16/01/2023 by Shahid Ahmed (en)
New: Making the right decisions in chess - Fundamentals by GM Elisabeth Paehtz

@ 16/01/2023 by ChessBase Shop (en)
टाटा स्टील मास्टर्स 2023 का हुआ आगाज

@ 15/01/2023 by Niklesh Jain (hi)
Tata Steel 2023 R1: Maximum start for Warmerdam

@ 15/01/2023 by Shahid Ahmed (en)
Everything new in ChessBase 17

@ 14/01/2023 by Himank Ghosh (en)
Gukesh, Arjun Erigaisi, Praggnanandhaa, Adhiban and Vaishali ready for 85th Tata Steel Chess 2023

@ 14/01/2023 by Shahid Ahmed (en)
AICFB National Junior Championships for the visually challenged 2023 kicks off in Bangalore

@ 14/01/2023 by Sagar Shah (en)
Your chance to win 30 Quality Chess books with Quality Chess Prediction quiz

@ 13/01/2023 by Sagar Shah (en)
Annirudhha Potawad wins the 3rd Christmas eve ChessBase India Club Tournament 2022

@ 13/01/2023 by Himank Ghosh (en)
Apply for the 4th Pursue your chess scholarship of Rs.1,25,000

@ 11/01/2023 by Sagar Shah (en)
Chesspa's journey to Indore!

@ 10/01/2023 by Himank Ghosh (en)
New: ChessBase Magazine #211

@ 09/01/2023 by ChessBase Shop (en)
Chess Houseboat 2023 Indian Package

@ 06/01/2023 by V Saravanan (en)
दिव्या देशमुख फिर बनी नेशनल सीनियर चैम्पियन

@ 06/01/2023 by Niklesh Jain (hi)
क्या दिव्या जीतेंगी लगातार दूसरा राष्ट्रीय खिताब ?

@ 04/01/2023 by Niklesh Jain (hi)
कार्तिक वेंकटरमन बने नेशनल सीनियर चैम्पियन

@ 03/01/2023 by Niklesh Jain (hi)
Korchnoi Special: My life for Chess and Master Class Vol. 15 - Viktor Korchnoi

@ 03/01/2023 by ChessBase Shop (en)
59वां नेशनल सीनियर : कौस्तुव को हराकर कार्तिक एकल बढ़त पर

@ 02/01/2023 by Niklesh Jain (hi)
New: The Super Solid Slav Defence by Sipke Ernst

@ 23/12/2022 by ChessBase Shop (en)
The divine tournament - A flashback (Part 1)

@ 22/12/2022 by Praful Zaveri (en)
Bristy Mukherjee wins Tata Steel Chess Festival 2022 Women Rapid

@ 21/12/2022 by Shahid Ahmed (en)
The first-ever Khelo Chess India event at The Sanskaar Valley School

@ 20/12/2022 by Shahid Ahmed (en)
भोपाल के द संस्कार वैली से हुई "खेलो चैस इंडिया " की शुरुआत

@ 20/12/2022 by हिन्दी चैसबेस इंडिया (hi)
कार्लसन को हराकर नाकामुरा बने स्पीड चैस किंग

@ 19/12/2022 by Niklesh Jain (hi)
New: Mihail Marin: Tactic Toolbox Italian Game

@ 19/12/2022 by ChessBase Shop (en)
Aronyak Ghosh wins Tata Steel Chess Festival 2022 Blitz Open

@ 18/12/2022 by Shahid Ahmed (en)
New: Mihail Marin: A Repertoire against the Italian Game

@ 18/12/2022 by ChessBase Shop (en)
Gukesh gets signed by FairPlay Sports

@ 17/12/2022 by Himank Ghosh (en)
Neelash Saha wins Tata Steel Chess Festival 2022 Rapid Rating Open

@ 15/12/2022 by Shahid Ahmed (en)
Bangalore chess club - Chess in Bangalore

@ 14/12/2022 by Sneha Tiwari (en)
Praggnanandhaa wins Julius Baer Challenger Championship

@ 14/12/2022 by Shahid Ahmed (en)
Julius Baer Challenger Championship: Praggnanandhaa takes 2-0 lead

@ 13/12/2022 by Shahid Ahmed (en)
Julius Baer Challenger Championship: Praggnanandhaa wins Match 1

@ 12/12/2022 by Shahid Ahmed (en)
लोबरेगाट इंटरनेशनल ; आदित्य मित्तल को तीसरा स्थान

@ 10/12/2022 by Niklesh Jain (hi)
स्पीड चैस - कार्लसन से हारे गुकेश तो निहाल ने दी अनीश को मात

@ 09/12/2022 by Niklesh Jain (hi)
Arjun Erigaisi wins Tata Steel Chess India 2022 Blitz with a round to spare, now World no.10

@ 05/12/2022 by Shahid Ahmed (en)
Vaishali clinches Tata Steel Chess India 2022 Women Blitz convincingly, Harika third

@ 05/12/2022 by Shahid Ahmed (en)
अर्जुन और वैशाली बने टाटा स्टील ब्लिट्ज़ के विजेता

@ 04/12/2022 by Niklesh Jain (hi)
Tata Steel India 2022 Blitz R1-9: Arjun Erigaisi grabs sole lead, performs at 2871, now World no.12

@ 04/12/2022 by Shahid Ahmed (en)
Tata Steel India 2022 Women Blitz R1-9: Mariya scores a staggering 8/9 with a performance of 2719

@ 03/12/2022 by Shahid Ahmed (en)
टाटा स्टील ब्लिट्ज : पहले दिन चला अर्जुन का पराक्रम

@ 03/12/2022 by Niklesh Jain (hi)
टाटा स्टील रैपिड :एना बनी विजेता,हरिका को तीसरा स्थान

@ 02/12/2022 by Niklesh Jain (hi)
टाटा स्टील रैपिड में भारत का जलवा , निहाल विजेता , अर्जुन उपविजेता ,विदित को मिला तीसरा स्थान

@ 02/12/2022 by Niklesh Jain (hi)
Anna Ushenina wins Tata Steel Chess India 2022 Women Rapid on tie-breaks, Harika third

@ 02/12/2022 by Shahid Ahmed (en)
Nihal Sarin triumphs at Tata Steel Chess India 2022 Rapid with a round to spare

@ 01/12/2022 by Shahid Ahmed (en)
Tata Steel India 2022 Rapid R4-6: Unbeaten Nihal Sarin leaps to the pole position

@ 30/11/2022 by Shahid Ahmed (en)
टाटा स्टील रैपिड D 2 : निहाल ने किया कमाल

@ 30/11/2022 by Niklesh Jain (hi)
Tata Steel India 2022 Women Rapid R4-6: Humpy almost displaces Dzagnidze at the top

@ 30/11/2022 by Shahid Ahmed (en)
Tata Steel India 2022 Rapid R1-3: The 'Shakh Attack' Unleashed

@ 29/11/2022 by Shahid Ahmed (en)
टाटा स्टील रैपिड :अर्जुन - निहाल की शानदार शुरुआत

@ 29/11/2022 by Niklesh Jain (hi)
Tata Steel India 2022 Women Rapid R1-3: Nana Dzagnidze makes a perfect start

@ 29/11/2022 by Shahid Ahmed (en)
Tata Steel Chess India 2022 Rapid and Blitz preview

@ 28/11/2022 by Shahid Ahmed (en)
Tata Steel Chess India 2022 gets bigger and stronger

@ 28/11/2022 by Shahid Ahmed (en)
Annirudhha Potawad conquers 2nd ChessBase India Club Tournament 2022

@ 27/11/2022 by Shahid Ahmed (en)
MCCT Finals R7: Praggnanandhaa beats Arjun Erigaisi, So finishes second

@ 21/11/2022 by Shahid Ahmed (en)
कार्लसन नें जीता चैम्पियन चैस टूर फाइनल्स

@ 20/11/2022 by Niklesh Jain (hi)
Magnus Carlsen wins MCCT Finals 2022 with a round to spare

@ 20/11/2022 by Shahid Ahmed (en)
सीसीटी फाइनल्स : अर्जुन - प्रज्ञानंधा की शानदार जीत

@ 19/11/2022 by Niklesh Jain (hi)
MCCT Finals R5: Praggnanandhaa wins a thriller against Duda

@ 19/11/2022 by Shahid Ahmed (en)
सीसीटी फाइनल्स : अर्जुन की वापसी ,ममेद्यारोव को दी मात

@ 18/11/2022 by Niklesh Jain (hi)
MCCT Finals R4: Arjun Erigaisi beats Mamedyarov, ends his win drought

@ 18/11/2022 by Shahid Ahmed (en)
सीसीटी फाइनल : प्रज्ञानन्धा नें लिम को 3-0 से हराया

@ 17/11/2022 by Niklesh Jain (hi)
MCCT Finals R3: Praggnanandhaa squashes Liem 3-0

@ 17/11/2022 by Shahid Ahmed (en)
सीसीटी फाइनल : अनीश से जीत के करीब जाकर हारे प्रज्ञानन्धा

@ 16/11/2022 by Niklesh Jain (hi)
MCCT Finals R2: Giri makes a comeback against Praggnanandhaa

@ 16/11/2022 by Shahid Ahmed (en)
सीसीटी फाइनल : प्रज्ञानन्धा नें दी ममेद्यारोव को टक्कर

@ 15/11/2022 by Niklesh Jain (hi)
New: Understanding Middlegame Strategies Vol.5 + Vol.6 by Ivan Sokolov

@ 15/11/2022 by ChessBase Shop (en)
MCCT Finals R1: Tough start for Arjun and Praggnanandhaa

@ 15/11/2022 by Shahid Ahmed (en)
Welcome to the amazing world of ChessBase 17

@ 14/11/2022 by Sagar Shah (en)
बालदिवस की बधाई बच्चो ! मिलो चैस पा से !

@ 14/11/2022 by Niklesh Jain (hi)
Launching ChessPa in Chess Adventure Park - a children's chess book

@ 14/11/2022 by Sagar Shah (en)
Arjun Erigaisi and Praggnanandhaa to battle Carlsen and Co. at Meltwater Champions Chess Tour 2022 Finals

@ 14/11/2022 by Shahid Ahmed (en)
Vidit Gujrathi and Raunak Sadhwani finish 2nd in the Fall Chess Classic

@ 13/11/2022 by Himank Ghosh (en)
विदित गुजराती बने फाल चैस क्लासिक उपविजेता

@ 11/11/2022 by Niklesh Jain (hi)
Chess in Lucknow - UP32 Knights

@ 10/11/2022 by Sneha Tiwari (en)
वेसली सो ने जीती ग्लोबल चैंपियनशिप ,निहाल उपविजेता

@ 10/11/2022 by Niklesh Jain (hi)
Arpita Mukherjee wins the 1st Mystic Wealth Chess Scholarship 2022-23 of Rs.1,50,000

@ 09/11/2022 by Sagar Shah (en)
Homeboy Arjun Erigaisi beats Gukesh to win ChessBase India Originals Deathmatch 2.0

@ 08/11/2022 by Himank Ghosh (en)
अर्जुन बने चेसबेस इंडिया डैथ मैच 2.0 के विजेता

@ 08/11/2022 by Niklesh Jain (hi)
Fall Chess Classic R1-5: Vidit and Raunak in lead

@ 07/11/2022 by Himank Ghosh (en)
New: ChessBase Magazine #210

@ 06/11/2022 by ChessBase Shop (en)
Fall Chess Classic 2022 Preview

@ 02/11/2022 by Himank Ghosh (en)
New: Sicilian Dragon: The Real Deal! Part 2 and 3 by Chris Ward

@ 02/11/2022 by ChessBase Shop (en)
V4 Chess presents 1st Bishan Singh Ji Memorial All India Open FIDE Rating Chess Tournament

@ 31/10/2022 by Himank Ghosh (en)
Astounding Pranav Venkatesh wins Challengers Final Four and Challengers Chess Tour 2022

@ 31/10/2022 by Shahid Ahmed (en)
हिकारु नाकामुरा बने 960 विश्व शतरंज चैम्पियन

@ 31/10/2022 by Niklesh Jain (hi)
ChessBase India hits 1 million subscribers on YouTube! + winners of giveaway announced

@ 30/10/2022 by Sagar Shah (en)
The Chess Houseboat event returns!

@ 30/10/2022 by V Saravanan (en)
Format of Death Match 2.0 and COTB revealed

@ 30/10/2022 by Sagar Shah (en)
Shiva Suri wins the 1st ever Giant Rapid Chess tournament

@ 27/10/2022 by Aditya Sur Roy (en)
IM Raahil Mullick wins the 1st ChessBase India Club Tournament

@ 26/10/2022 by Himank Ghosh (en)
The Chennai Chess Olympiad Documentary

@ 24/10/2022 by Himank Ghosh (en)
1st Indian Chess Club tournament in Bahrain

@ 22/10/2022 by Himank Ghosh (en)
Jan-Krzysztof Duda defies Mamedyarov's inspired comeback, clinches Aimchess Rapid 2022

@ 22/10/2022 by Shahid Ahmed (en)
Queens in the castle: the 8th Global Chess Festival

@ 21/10/2022 by Himank Ghosh (en)
Aimchess Rapid Finals: Jan-Krzysztof Duda wins the first set

@ 21/10/2022 by Shahid Ahmed (en)
New: Andrew Martin : The Closed Sicilian

@ 20/10/2022 by ChessBase Shop (en)
Aimchess Rapid SF: Jan-Krzysztof Duda denies Magnus Carlsen a hat-trick again

@ 20/10/2022 by Shahid Ahmed (en)
Sam Sevian breaks Hans Niemann's King!

@ 19/10/2022 by Himank Ghosh (en)
Aimchess Rapid QF: Carlsen wins the Tour with a tournament to spare

@ 19/10/2022 by Shahid Ahmed (en)
Your chance to play at DreamHack Rapid and Blitz with a prize fund of Rs.10 lakh

@ 18/10/2022 by Himank Ghosh (en)
Aimchess Rapid R13-15: Gukesh, Arjun Erigaisi and Vidit Gujrathi advance to the Quarterfinals

@ 18/10/2022 by Shahid Ahmed (en)
Aimchess Rapid R9-12: Gukesh becomes the youngest ever to win against the World Champion Carlsen

@ 17/10/2022 by Shahid Ahmed (en)
Aimchess Rapid R5-8: Arjun Erigaisi beats Magnus Carlsen for the very first time

@ 16/10/2022 by Shahid Ahmed (en)
Aimchess Rapid R1-4: Carlsen escapes the jaws of defeat against Aditya Mittal

@ 15/10/2022 by Shahid Ahmed (en)
44th Chess Olympiad: A recap through the lens of an Indian Chess fan - An experience beyond surreal

@ 14/10/2022 by Nitin M Pai (en)
Five Indians will battle Carlsen and the world's best at Aimchess Rapid starting today

@ 14/10/2022 by Shahid Ahmed (en)
यूरोपियन क्लब : विदित -हरीकृष्णा के शानदार खेल के मायने

@ 13/10/2022 by Niklesh Jain (hi)
डिंग को को हराकर निहाल ग्लोबल चैंपियनशिप के क्वाटर फाइनल में

@ 12/10/2022 by Niklesh Jain (hi)
Levon Aronian: The Armenian Lion

@ 10/10/2022 by Himank Ghosh (en)
Invincible Pranav Venkatesh wins Magnus Academy Challenge 2022, Bharath Subramaniyam third

@ 10/10/2022 by Shahid Ahmed (en)
Novy Bor Chess Club wins European Club Cup 2022 Open with a perfect score

@ 10/10/2022 by Shahid Ahmed (en)
Underpromotions, Play on Same Squares, Game of Corners | Chess Artistry Adventure - Part III

@ 10/10/2022 by Satanick Mukhuty (en)
Magnus Academy Challenge 2022 R1-8: Pranav, Ilamparthi and Bharath in a four-way lead

@ 09/10/2022 by Shahid Ahmed (en)
European Club Cup 2022 R6: Vivacious Vidit Gujrathi scores six wins in-a-row

@ 09/10/2022 by Shahid Ahmed (en)
Five Indian juniors will feature in Magnus Chess Academy Challenge starting today

@ 08/10/2022 by Shahid Ahmed (en)
European Club Cup 2022 R5: Harikrishna beats Vishy Anand for the very first time

@ 08/10/2022 by Shahid Ahmed (en)
Chess Artistry Adventure Part II - Deeper Into the Jungle

@ 08/10/2022 by Satanick Mukhuty (en)
यूरोपियन क्लब कप : आनंदमय रहा चौंथा दिन

@ 07/10/2022 by Niklesh Jain (hi)
European Club Cup 2022 R4: Vishy Anand saves the day for CSU ASE Superbet

@ 07/10/2022 by Shahid Ahmed (en)
European Club Cup 2022 R3: Six teams at 6/6

@ 06/10/2022 by Shahid Ahmed (en)
European Club Cup 2022 R2: Gukesh does a Zlatan against Zoltan

@ 05/10/2022 by Shahid Ahmed (en)
यूरोपियन क्लब कप : पहले दिन छा गए भारतीय खिलाड़ी

@ 04/10/2022 by Niklesh Jain (hi)
Aditya Mittal wins MPL Indian Chess Tour 2022 leg 4

@ 04/10/2022 by Shahid Ahmed (en)
European Club Cup 2022 R1: Gukesh, Harikrishna, Vidit, Arjun and Nihal make a winning start

@ 04/10/2022 by Shahid Ahmed (en)
The Arjun Erigaisi Livestream!

@ 03/10/2022 by Himank Ghosh (en)
MPL Indian Chess Tour 2022 leg 4 R9-12: Bharath Subramaniyam is the new sole leader

@ 03/10/2022 by Shahid Ahmed (en)
यूरोपियन क्लब - भारत के शीर्ष खिलाड़ियों का दिखेगा दम

@ 02/10/2022 by Niklesh Jain (hi)
MPL Indian Chess Tour 2022 leg 4 R5-8: Pranav Anand gains sole lead

@ 02/10/2022 by Shahid Ahmed (en)
Launching monthly prize money tournaments at the ChessBase India Chess Club in Mumbai

@ 01/10/2022 by Sagar Shah (en)
MPL Indian Chess Tour 2022 leg 4 R1-4: Aditya Mittal emerges sole leader

@ 01/10/2022 by Shahid Ahmed (en)
A Trailblazer in Indian Chess - Manuel Aaron

@ 29/09/2022 by Himank Ghosh (en)
कार्लसन ही बने जनरेशन कप के सरताज ,अर्जुन रहे उपविजेता

@ 26/09/2022 by Niklesh Jain (hi)
Magnus Carlsen dominates Julius Baer Generation Cup

@ 26/09/2022 by Shahid Ahmed (en)
जनरेशन कप फाइनल : क्या अर्जुन करेंगे वापसी ?

@ 25/09/2022 by Niklesh Jain (hi)
Generation Cup Final 1: Carlsen wins the first set

@ 25/09/2022 by Shahid Ahmed (en)
Generation Cup SF: Arjun Erigaisi bests Liem, set to clash with Carlsen in the Finals

@ 24/09/2022 by Shahid Ahmed (en)
जनरेशन कप के सेमी फाइनल में पहुंचे अर्जुन

@ 23/09/2022 by Niklesh Jain (hi)
Generation Cup QF: Arjun Erigaisi eliminates Christopher Yoo

@ 23/09/2022 by Shahid Ahmed (en)
To celebrate chess in all its myriad facets, the Global Chess Festival is here once more

@ 23/09/2022 by Satanick Mukhuty (en)
Magnus Carlsen tops Generation Cup Prelims by a huge margin, breaks his silence

@ 22/09/2022 by Shahid Ahmed (en)
1st Bikaner Open International Grandmasters Chess Tournament 2022

@ 21/09/2022 by Aditya Sur Roy (en)
Generation Cup R9-12: Carlsen regains his sole lead, Arjun Erigaisi firm second

@ 21/09/2022 by Shahid Ahmed (en)
Generation Cup R5-8: Praggnanandhaa sets the board ablaze with Carlsen, Arjun Erigaisi grabs sole lead

@ 20/09/2022 by Shahid Ahmed (en)
Generation Cup R1-4: Praggnanandhaa beats Ivanchuk, Duda and Gelfand

@ 19/09/2022 by Shahid Ahmed (en)
India's Got Chess Talent -The Finale

@ 18/09/2022 by Aditya Sur Roy (en)
Praggnanandhaa, Arjun Erigaisi and Adhiban to duke it out with Carlsen and co. at Julius Baer Generation Cup

@ 18/09/2022 by Shahid Ahmed (en)
विश्व यूथ : इलमपार्थी और प्रणव नें जीता विश्व खिताब

@ 17/09/2022 by Niklesh Jain (hi)
ग्लोबल चैंपियनशिप : अर्जुन,रौनक अगले दौर में, आनंद हुए उलटफेर का शिकार

@ 16/09/2022 by Niklesh Jain (hi)
ग्लोबल चैंपियनशिप : निहाल नें मामेदोव को दी मात

@ 15/09/2022 by Niklesh Jain (hi)
New: Master Class Tactics - Train your combination skills! Vol.1 and Vol. 2

@ 14/09/2022 by ChessBase Shop (en)
एसएल नारायनन नें जीता इंडियन चैस टूर लेग 3

@ 13/09/2022 by Niklesh Jain (hi)
Rupesh B Ramchandra is the winner of Chess for Everyone Rating Open in Bihar

@ 13/09/2022 by Shahid Ahmed (en)
S L Narayanan wins MPL Indian Chess Tour 2022 leg 3

@ 13/09/2022 by Shahid Ahmed (en)
Fantastic Firouzja clinches Grand Chess Tour and Sinquefield Cup 2022

@ 12/09/2022 by Shahid Ahmed (en)
Aravindh or S L Narayanan - Who will win MPL Indian Chess Tour 2022 leg 3?

@ 12/09/2022 by Shahid Ahmed (en)
44th Chess Olympiad: Report from a Volunteer

@ 11/09/2022 by Sahil Batra (en)
Can Firouzja win Sinquefield Cup and Grand Chess Tour 2022?

@ 11/09/2022 by Shahid Ahmed (en)
MPL Indian Chess Tour 2022 leg 3 R5-8: Aravindh Chithambaram wins all four, the runaway leader

@ 11/09/2022 by Shahid Ahmed (en)
Chess Olympiad- A volunteer's perspective

@ 10/09/2022 by Sneha Tiwari (en)
MPL Indian Chess Tour 2022 leg 3 R1-4: Vidit and Aravindh in the lead

@ 10/09/2022 by Shahid Ahmed (en)
New: ChessBase Magazine #209

@ 09/09/2022 by ChessBase Shop (en)
Sinquefield Cup 2022 R6: Wesley So ends Hans Niemann's unbeaten streak

@ 09/09/2022 by Shahid Ahmed (en)
Hans Niemann - "This is a targeted attack"

@ 07/09/2022 by Himank Ghosh (en)
Sinquefield Cup 2022 R5: Hans Niemann tells his story

@ 07/09/2022 by Shahid Ahmed (en)
Your chance to meet Vishy Anand and the young super talents of Indian chess in Bangalore!

@ 06/09/2022 by Sagar Shah (en)
Sinquefield Cup 2022 R4: Caruana scores, Carlsen withdraws

@ 06/09/2022 by Shahid Ahmed (en)
Raunak Sadhwani second at Julius Baer Challenge 2022, advances to the Tour Finals

@ 05/09/2022 by Shahid Ahmed (en)
Sinquefield Cup 2022 R3: Hans Niemann shocks Magnus Carlsen, crosses 2700 and emerges sole leader

@ 05/09/2022 by Shahid Ahmed (en)
Julius Baer Challenge 2022 R1-7: Prraneeth and Leon make an unbeaten start

@ 04/09/2022 by Shahid Ahmed (en)
The man who took down Kasparov- Vladimir Kramnik

@ 03/09/2022 by Himank Ghosh (en)
Six Indian juniors will feature in Julius Baer Challenge starting today

@ 03/09/2022 by Shahid Ahmed (en)
South Point reclaims 14th Chessmate Inter School Team Rapid Rating 2022 after five years

@ 02/09/2022 by Shahid Ahmed (en)
A very unique Chess Program - India's Got Chess Talent gets underway

@ 01/09/2022 by Sagar Shah (en)
Against all odds- How Team Ukraine won the Chess Olympiad 2022

@ 29/08/2022 by Himank Ghosh (en)
New: Chess Classics - games you must know

@ 27/08/2022 by ChessBase Shop (en)
New: 3.h4 against the King's Indian and Grünfeld

@ 25/08/2022 by ChessBase Shop (en)
M.S Nawin wins the 13th Modern School Fide Rated Chess Tournament

@ 23/08/2022 by Himank Ghosh (en)
"Don't worry, just beat Magnus Carlsen" The Praggnanandhaa Interview

@ 23/08/2022 by Himank Ghosh (en)