Anand and Kasparov will return to action at Croatia Rapid and Blitz GCT
This year's Grand Chess Tour has a tight schedule. The third event of this season and the second rapid and blitz tournament will take place at Kongresni Centar NSK, Zagreb, Croatia from 7th to 11th July 2021. Anand will make his return to competitive chess for the first time since winning the Gold at the FIDE Online Olympiad 2020. He will be joined by his longtime rival over the board and friend, Kasparov. They will be competing with World Championship Challenger - Nepomniachtchi, Vachier-Lagrave, Grischuk, Superbet Chess Classic 2021 winner Mamedyarov, Giri, Jorden van Foreest, Saric, Korobov and Duda. Photo: Lennart Ootes/Grand Chess Tour
All eyes on Anand, Kasparov and Nepomniachtchi
The third event of 2021 Grand Chess Tour will be a rapid & blitz event, the second rapid and blitz tournament of the season. Only four out of nine full-tour participants will be seen in action along with seven wild-card entrants including the highly anticipated return of two legends - Anand and Kasparov.
Schedule and Format
2021 Croatia Rapid and Blitz will have three rounds of Rapid games per day between 7th and 9th July. The Blitz tournament will be played on 10th and 11th July in a double Round-Robin format with nine rounds taking place each of those days. Everyday game starts at 3 p.m. local time (6:30 p.m. IST). It will be a 10-player Round Robin event. Time control for Rapid will be 25 minutes each plus 10 seconds increment from move 1 and for Blitz, it will be 5 minutes each plus 2 seconds increment from move 1.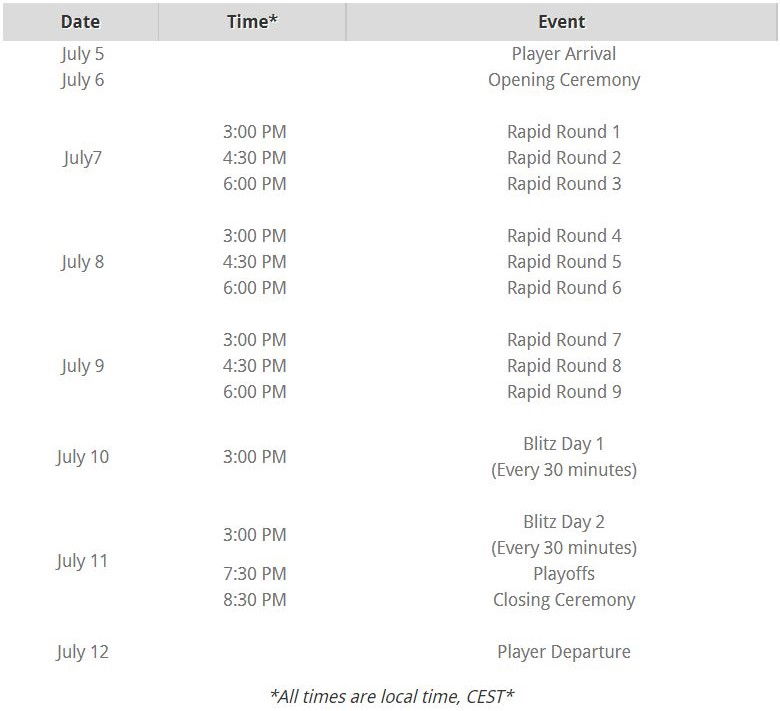 Participants
The lineup includes only four full-tour players and seven wild card entrants. The full-tour participants are - Vachier-Lagrave, Grischuk, Mamedyarov and Giri. It will be an interesting event as both Kasparov and Anand will make their return to over-the-board tournament after over a year-long gap. They will be joined by the current World Championship Challenger - Nepomniachtchi, Tata Steel Chess 2021 winner Jorden van Foreest, Croatia no.1 Ivan Saric, four-time Ukraine champion Anton Korobov and Poland no.1 Jan-Krzysztof Duda.
Prize
The total prize fund for each of the Rapid and Blitz event is US$ 150000 with the first prize being US$ 37500.
Photo Gallery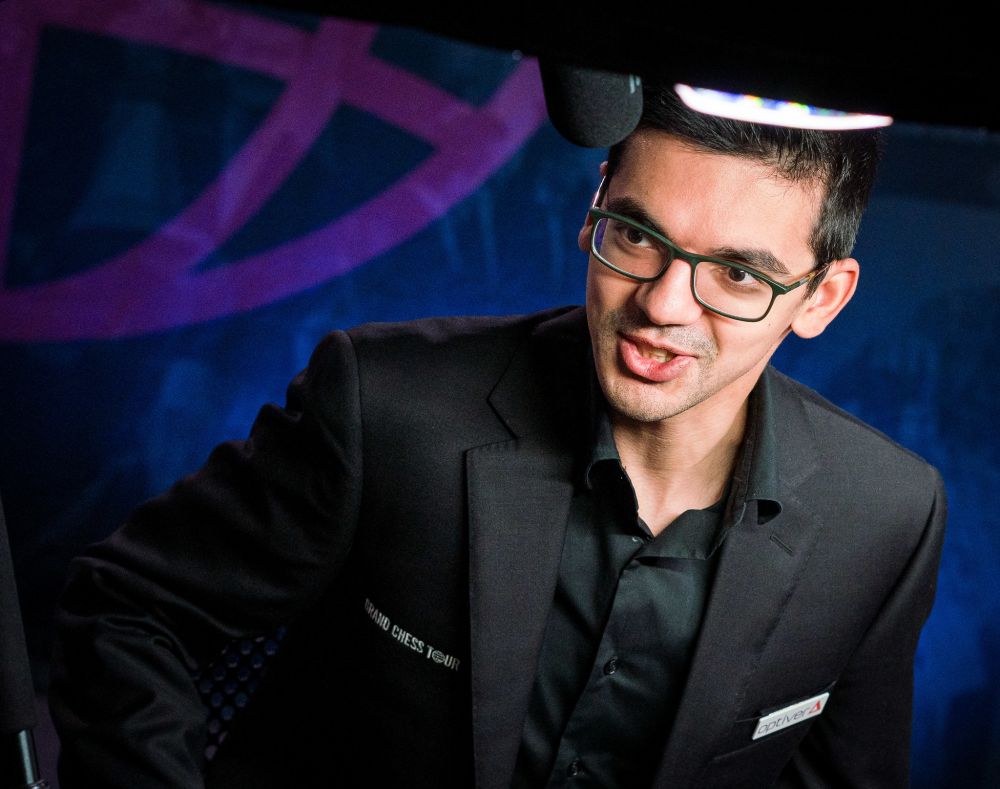 Links
Grand Chess Tour official site
Watch the tournament live on Kasparovchess
---