Croatia Rapid and Blitz Day 2: Saric stuns Nepomniachtchi
Croatia no.1 Ivan Saric once again played another fantastic endgame, this time he defeated the Croatia Rapid and Blitz GCT sole leader Ian Nepomniachtchi. The world championship challenger was undefeated until he faced Saric. Vachier-Lagrave, Saric and Anand remained unbeaten throughout the day as they share the second place with 7.0/12 each. Saric only has three more games left today to finish his rapid event on a high note and make sure his replacement, the legend Kasparov gets a fantastic headstart for the Blitz. Round 7 starts today from 6:30 p.m. IST. Photo: Lennart Ootes/Grand Chess Tour
No one remains invincible
Anand remained unbeaten on the second day along with Vachier-Lagrave and Saric. Each of them scored a win and two draws, finishing the day with 7.0/12. Saric once again played the game of the day as he beat the tournament leader Nepomniachtchi in the final round of the day.
Round 4: Korobov - Giri: 0-2
Korobov got a good opportunity to gain the upper hand against Giri.
18.Bxc6 leads to advantageous position for White but Korobov played 18.Bd4 and Giri immediately shifted things in his favor with 18...Bf3 and won the game eventually.
Jorden - Saric: 1-1
There is a reason behind Jorden van Foreest winning Tata Steel Chess 2021 early this year. He is unafraid of taking risks and does what needs to be done.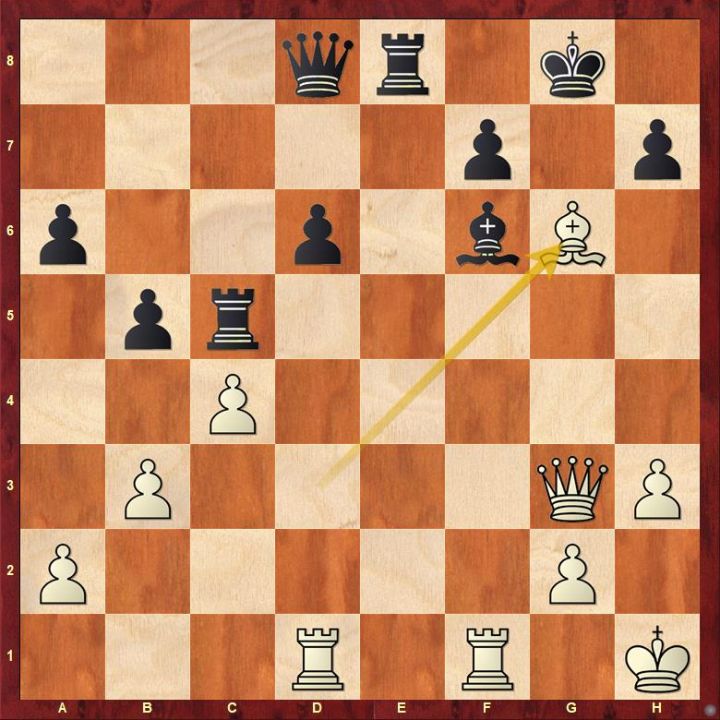 Sure 26.Bxg6 does not allow White to win or gain substantial advantage immediately, but it is definitely worth a try.
White needed to play 29.c5 in the above diagram to maintain the pressure. Queen's got exchanged in a few moves and White's advantage dwindled.
Vachier-Lagrave - Duda: 2-0
Vachier-Lagrave got himself in a bit of a pickle as the tactically alert Duda struck first.
22.Bb3 is an incorrect retreat as Black gets to do some tactics here. Try to think like Duda and find it.
33...Ne3 is the final mistake by Black which cost him the game. What should have Black played instead? Vachier-Lagrave was unable to do a clean finish which allowed Duda to get back in the game, until he blundered in the king-pawn endgame.
Even top players make simple mistakes in elementary endgames. That is why it is very important to know the basics of endgame so that one can avoid blundering in the time trouble. Black played 58...Kc6 which is a blunder. What is the only way for Black to save the game here?
Nepomniachtchi - Grischuk: 2-0
Grischuk made a simple tactical oversight which cost him a pawn in the endgame. Eventually that turned out to be the deciding factor in Nepomniachtchi scoring a victory.
Mamedyarov - Anand: 1-1
Anand could have started the day with a win over Mamedyarov if he pressed on his advantage.
Black needed to play 33...c4 with the idea of Rf3 attacking the f3-knight. Taking the f7-pawn is only perilous for White. 34.Rc4 is met with Nd5. 33...Kg8 was played and White forced the queen exchange with 34.Qxc5. The game eventually ended in a draw.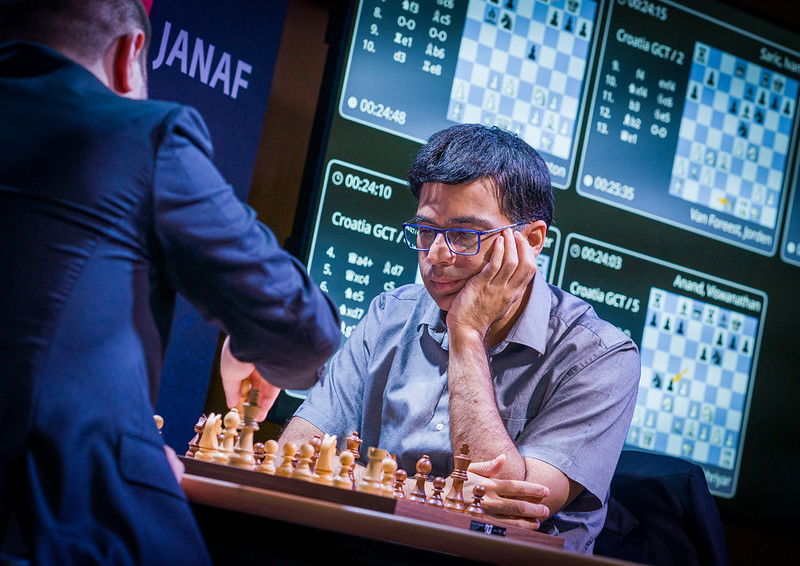 Round 5: Anand - Korobov: 2-0
Anand played a beautiful game showcasing his positional understanding against Korobov.
You know when there is a move like 27.Nf5 on the board, you can be rest assured that your opponent is in top shape and it will be very difficult to make a comeback for the rest of the game.
Duda - Nepomniachtchi: 1-1
Duda and Nepomniachtchi had a solid draw.
Saric - Vachier-Lagrave: 1-1
Vachier-Lagrave once again had a tactical oversight, this time it could have proved to be a pricey one.
19...Ne4 is a big mistake as it invites trouble 20.Rxe4 dxe4 21.Qxe6+ Kh8 and now White needed to find 22.Bg5 but 22.Nf7 was played. Find out why Bg5 was better than Nf7. The game eventually petered out to a draw.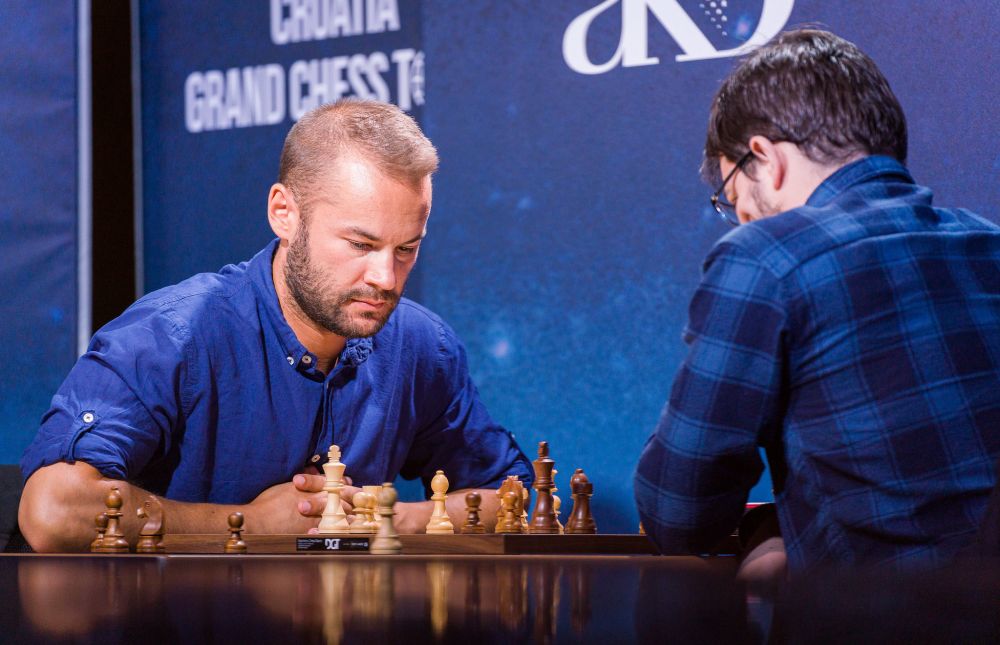 Giri - Jorden: 1-1
Giri missed a win against Jorden van Foreest in the endgame.
Find out the winning continuation for White here. White played 41.Rxa5 and Black escaped with a draw.
Round 6: Korobov - Jorden: 2-0
After losing two games consecutively, Korobov picked up his sole victory of the day over Jorden.
Black's quest to a create a strong battery on the d-file turned out to be futile, as it cost him the e5-pawn. Soon Korobov grabbed another pawn and won the game comfortably.
Vachier-Lagrave - Giri: 1-1
Vachier-Lagrave and Giri had a well-fought draw.
Nepomniachtchi - Saric: 0-2
To beat the in-form Nepomniachtchi is no easy task, something which was not accomplished until Croatia no.1 Ivan Saric did in the sixth round.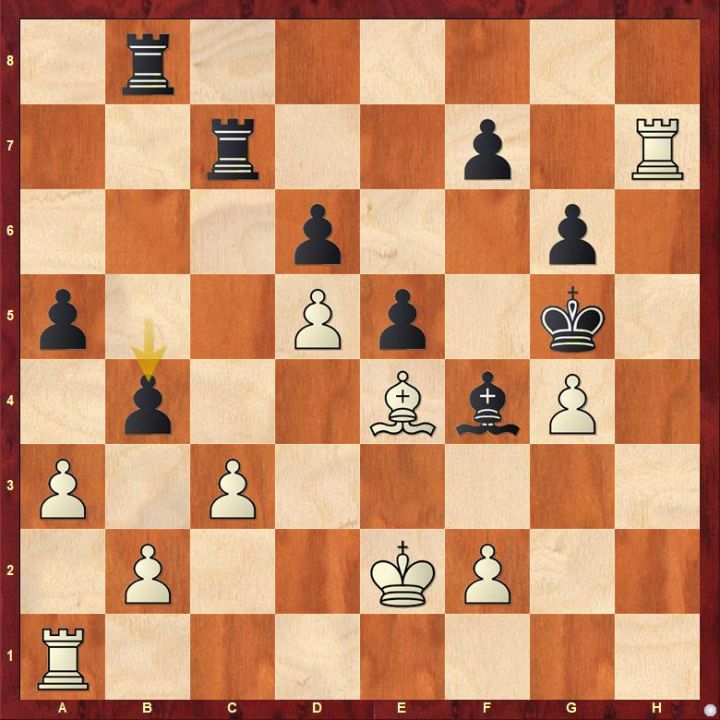 Saric once again showed that if opportunity is presented, he can go the distance.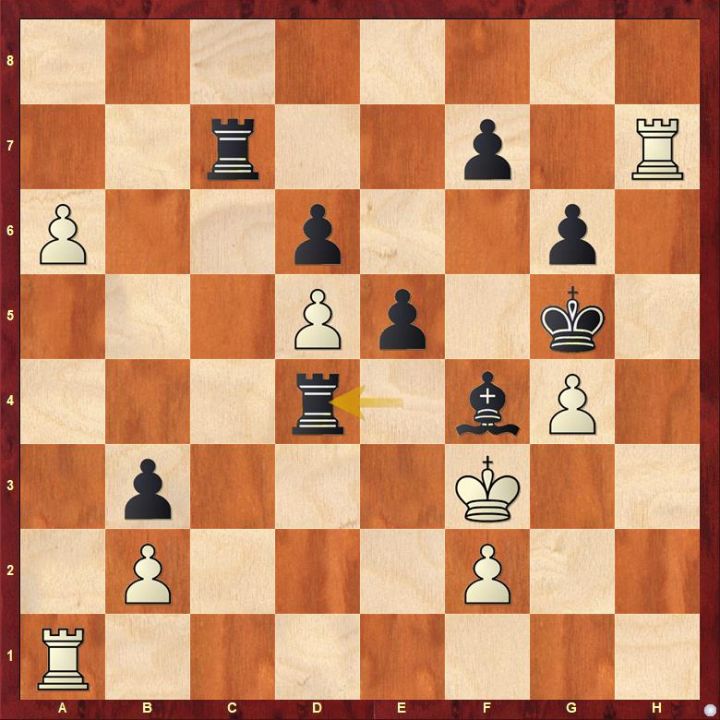 For the second consecutive day, Saric won an endgame by converting his advantage and showcasing beautiful technique. He is not afraid of losing his rook for the passed a-pawn. He is confident that he will take the b2-pawn and win the game convincingly. That is exactly what he did.
Mamedyarov - Duda: 0-2
Duda scored his first win of the event against Mamedyarov.
White's position was difficult, no doubt. Things fell apart for White after 21.e4.
Anand - Grischuk: 1-1
Anand made things interesting by sacrificing his queen for a rook and bishop against Grischuk.
There was not much for White to go on. In fact, if anyone it was Black who could have pushed for a full point but the game eventually ended in a draw.
Scoring for the Rapid section: Win - 2 points, Draw - 1 and Loss - 0.
Scoring for the Blitz section will be usual, Win - 1 point, Draw - 0.5 and Loss - 0
Replay Round 4-6 games
Replay the livestream
Standings after Round 6
Links
Grand Chess Tour official site
LIVE coverage on Kasparov chess
---