Paris Rapid and Blitz Day 3: So takes sole lead 12.0/18
Reigning Fischer Random world champion Wesley So remained unbeaten in the Rapid part of Paris Rapid and Blitz Grand Chess Tour 2021. He scored 12.0/18 and finished a full point ahead of the competition at the top of the table. Nepomniachtchi showed why he is a serious threat to the world championship because as he displayed his preparation, calculation and technique in the same game to finish second 11.0/18 at the conclusion of the Rapid event. Bacrot made the most of his opportunity and made sure he finishes strong at sole third place 10.0/18. Kramnik will replace him for the Blitz part as the scoring system goes back to regular norms. Blitz Round 1 starts today from 5:30 p.m. IST. Photo: Lennart Ootes/Grand Chess Tour
Rapport showcases his creative genius
Wesley So scored two victories and drew the final round in the Rapid part of the tournament to gain sole lead 12.0/18. Meanwhile, Nepomniachtchi showed a new (actually over two century) old idea in the Berlin, combining it with a beautiful display of attack and later showcasing his technique to score his sole win of the day to stay a full point behind So at 11.0/18. Bacrot had a great final day of the Rapid as he remained unbeaten and finished at the sole third spot 10.0/18, giving Kramnik a full point of headstart against the remaining seven players.
Round 7: Caruana - So: 0-2
The final day of the Rapid portion, started with a 29-move decisive game in the Berlin.
White's position was already difficult. 22.Rxb7 only made things worse because of the Nd6 threat looming large. It is unstoppable, white resigned in seven moves when material loss was imminent.
Bacrot - Radjabov: 1-1
Bacrot started the day with a prolonged hard-fought draw. He kept pushing for a full point in a rook and opposite color bishop endgame but draw was the maximum he could get.
Rapport - Svidler: 2-0
Hungary no.1 Richard Rapport is known for his creative play. He is one of the full tour participant for a reason, so that the chess universe can rejoice in the spectacle he creates on the 64 squares. It was definitely Rapport's day to showcase his talent.
The opening was a mixture of King's Indian Defence sidelines, with a hint of pseudo Benko gambit. They are certainly not a great mixture and Rapport was presented an opportunity with a big positional mistake of 14...Qf6. Instead 14...Nc6 would have sufficed for Black. Find out the best continuation for White.
Black's most advanced piece on the board is the bishop at f3 which is at the cusp of a capture. All other Black pieces are on the base rank. What is the beautiful finish for White here? If chess tournaments had beautiful finish awards like football and other sports, Vachier-Lagrave would have a competitor as Rapport in this event so far.
Round 8: So - Vachier-Lagrave: 2-0
So beat Vachier-Lagrave in a seemingly equal endgame after the latter blundered terribly and lost the game immediately.
26...Rd8 loses immediately for Black because of 27.Rc8. Black could have played either 26...Qf7 or Qd8 and things would have been fine.
Firouzja - Aronian: 1-1
Aronian was completely winning against Firouzja.
Aronian had a better position against Firouzja for the majority of the game but one of the best opportunity he had was in the above diagram. Here Black misplayed 40...Ng6 allowing White to get back in the game 41.Qd4. Find out the winning continuation for Black instead of 40...Ng6.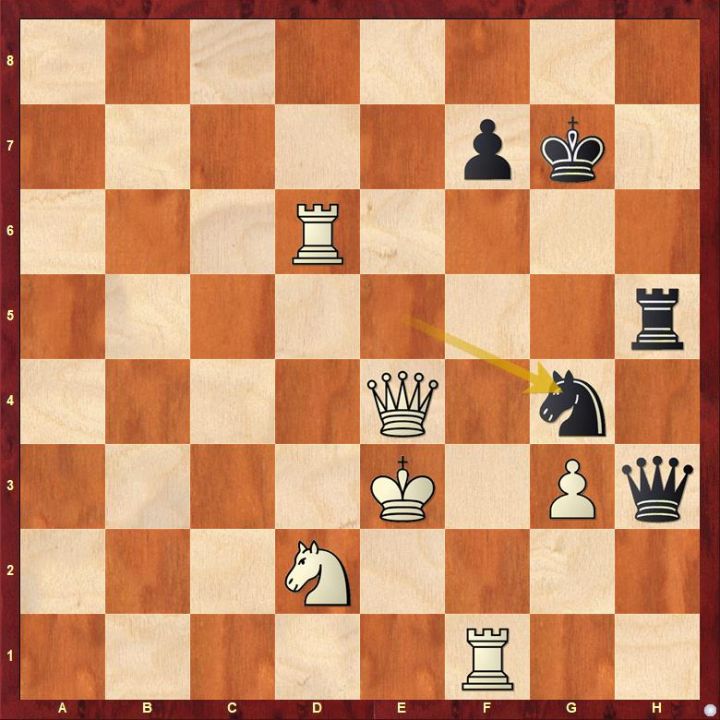 White needed to play 48.Kd4 and there was not much for Black to go on but 48.Kd3 allowed Black to snatch the d6-rook 48...Qxg3+ and the game led towards a draw.
Caruana - Bacrot: 0-2
Caruana went for an incorrect chain exchange which cost him an exchange and eventually the positional advantage too.
23.gxf3 Nd5 24.Qg2 would have been fine for White but the adventurous 23.exf6 Bxd1 24.fxg7 Rg8 25.Qxd1 Rxg7 only makes things better for Black. It became difficult for White to make a comeback in the game and Bacrot converted it into a win without much difficulty.
Round 9: Rapport - Caruana: 1-1
It is no secret that Rapport is one of the most creative players of this generation. We already got a glimpse of it earlier against Svidler but little did Caruana or rest of us know what Rapport had in store for him.
Caruana is world no.2 for a reason. The reason behind 20...Ne3 is quite obvious. He is ready to sacrifice the d4-pawn to create a square where he would like to place his knight later when the time is right.
Sometimes playing a spectacular move gives you more satisfaction than the outcome of the game. That is the time you realize playing a good game or executing a fantastic idea is much more important than wondering about the result. The above diagram is one of those situations. Find out the best move for White which Rapport played and incidentally it is actually the best move suggested by the computer also. Unfortunately for White, he was unable to capitalize on his advantage and Caruana escaped with a draw.
Nepomniachtchi - Radjabov: 2-0
Nepomniachtchi played 6.Ba4 in the Berlin which dates back to 1897 when Jackson Showalter played for the first time against Harry Pillsbury. Showalter won twice in this line against the same opponent before losing twice. Ganguly first tweeted about this move mentioning Sandipan Chanda showed him this idea over a decade ago, later Kidambi who has an encyclopaedic knowledge of the chess history, shared the image of the book where the game between the aforementioned players were mentioned.
Just like fashion, everything that is old and forgotten are recycled, in chess also Nepomniachtchi showed that not everything in Berlin is a draw.
A quick observation reveals that White is in a commanding position in the above diagram. What is the best way for White to continue here? Black had to give up his queen to continue the game. Radjabov fought valiantly, but it was not enough, as Nepomniachtchi showed why he is the number one contender for the world championship by applying correct technique in the endgame to score a victory.
Aronian - Svidler: 0-2
Aronian went wrong early in the middle game against Svidler.
14.a4 invited trouble for White, as 14...Nc5 takes advantage of the bishop pair piercing on the queenside. Soon White lost one pawn too many and in the quest to recover the lost pawns, things only worsened and eventually Black won the game.
Vachier-Lagrave - Firouzja: 2-0
Vachier-Lagrave and Firouzja had an exciting encounter. The Frenchman had a complete control till he made a surprising retreat and allowed his opponent to get back in the game.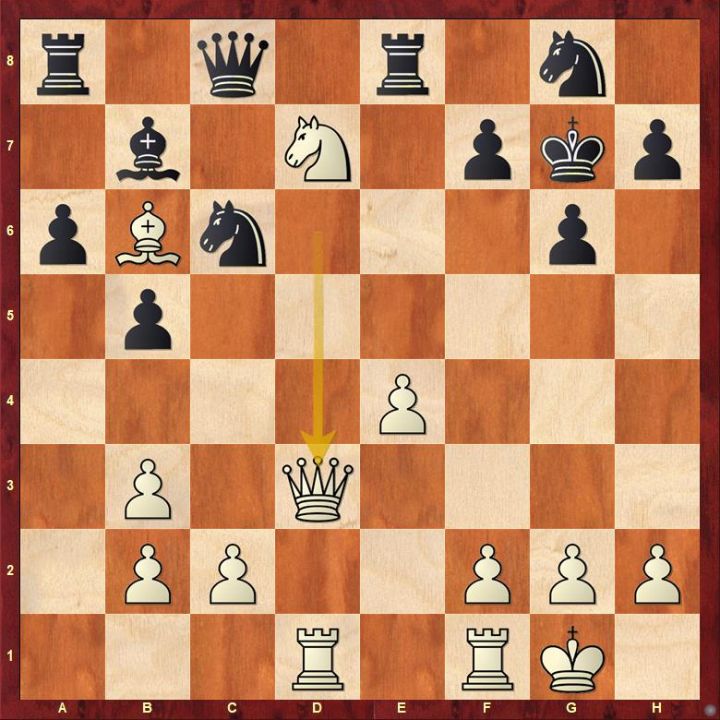 White could have played 22.Bc5 or Bd4+, both would have been fine. 22.Qd3 was played in the game.
24...Rxe4 was the optimum way to continue for black but 24...Qxc2 was played which returned the extra material and Black's advantage dwindled.
Black was still very much in the game if 68...Rf3 is played. Firouzja went for 68...Rxh4 69.Kf6 and then blundered 69...Rd4. It was all over after 70.Kxg6 as there is a checkmate threat and h5 is about to fall.
Photo Gallery
Scoring for the Rapid section: Win - 2 points, Draw - 1 and Loss - 0.
Scoring for the Blitz section will be usual, Win - 1 point, Draw - 0.5 and Loss - 0
Replay Round 7-9 games
Standings after Round 9
Day 3 Livestream
Links
Grand Chess Tour official site
Exclusive LIVE coverage on Kasparov chess
---