Paris Rapid and Blitz Day 1: Four players share the lead 4.0/6
Paris Rapid and Blitz is off to a fantastic start. Four players - Aronian, So, Nepomniachtchi and Svidler share the lead at the conclusion of Day 1. They all have 4.0/6, and remained unbeaten so far. So survived a scare against Firouzja and Svidler played a brilliant game against Vachier-Lagrave in the first round. Vachier-Lagrave ended his rough patch by scoring a win in the second round and making a draw in the next. Bacrot who started with a win, suffered two consecutive losses. Former world champion Kramnik will be replacing him for the Blitz part of the tournament. Round 4 starts today from 5:30 p.m. IST. Photo: Lennart Ootes/Grand Chess Tour
Game of the day goes to Svidler - Vachier-Lagrave
The first Rapid and Blitz event of Grand Chess Tour 2021 is Paris Rapid and Blitz. It started off with an exciting round where Svidler scored a fantastic win over Vachier-Lagrave which is arguably the most exciting game of the day. Firouzja missed his chances against So and the game ended up in a draw. Although eight games ended in draws and only one of them finished in under 30 moves, most of the games were exciting attributing to the fact of the faster time controls.
Round 1: Firouzja - So: 1-1
Firouzja and So had an explosive start to their game in Italian opening.
The position pretty much looks like it will be over for White eventually if not anytime soon. There are a lot of things that black can do here. Find out what Black should do here.
Black's advantage dwindled and blundered with 44....Rb7. Find out why it is a game losing mistake and what Black should have done instead to save the game. Much to his chagrin, Firouzja was unable to spot the best continuation and played 45.Bxd5+. It is also good but the continuation is not as easy as the other variation especially when you are low on time.
The game continued 48.Qc6+ Kg5 49.Re5+ and Black managed to get back in the game 49...Qxe5. What was the better continuation for White? The game eventually ended in a draw.
Svidler - Vachier-Lagrave: 2-0
When the former World Cup winner and eight-time Russian champion is playing in a tournament, the entire chess universe can expect some classics. Of course he did not disappoint as he played arguably the most interesting match of the day in the very first round against Vachier-Lagrave.
The above position already looks interesting. Obviously White should not lock down the position by pushing the pawn 17.g5. What should do White do here then?
Both sides have shifted their king to the queenside and after a lot of maneuvering we got the above position. How should White recapture on g5? Try to think like Svidler.
The entire build-up led to the above diagram. How should White make a correct breakthrough?
It's all over for Black. Time to deliver the finishing blow. Find out how.
Bacrot - Rapport: 2-0
France no.2 Etienne Bacrot who is a wildcard in this event outplayed tour participant, the ever-creative Hungary no.1 Richard Rapport.
Which pawn would you save in the above diagram - c5 or e5 ?
Round 2: So - Rapport: 2-0
So utilized his isolated queen's pawn to his advantage and it became an important factor for him to score a victory over Rapport.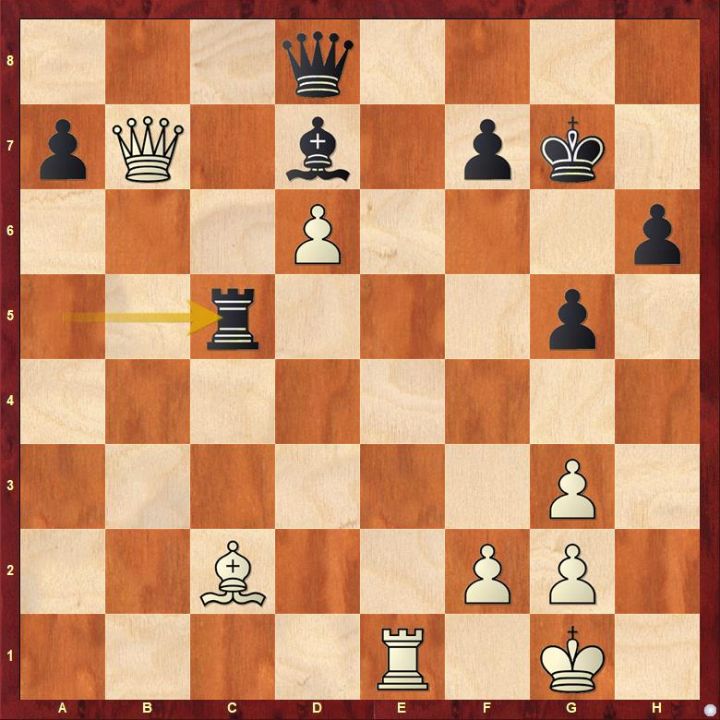 Find out the finish for White.
Nepomniachtchi - Bacrot: 2-0
Bacrot defended his position incorrectly, which quickly turned things in Nepomniachtchi's favor.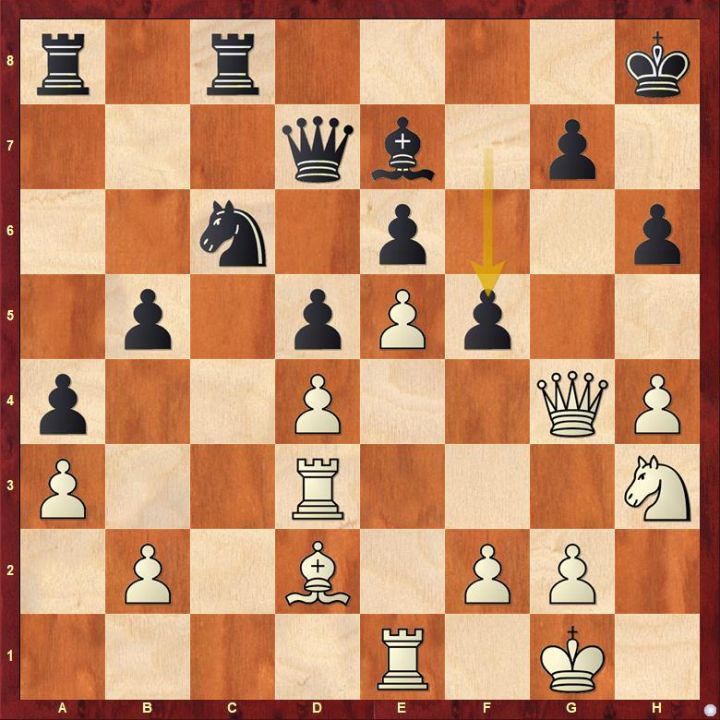 Things quickly went south for Black after 20...f5. Instead 20...Bf8 would have sufficed. Nepomniachtchi won the game in another four moves.
Vachier-Lagrave - Radjabov: 2-0
Vachier-Lagrave completely decimated Radjabov's kingside when the opportunity was presented.
20...Bb7 facilitates White to break Black's kingside wide open. How?
The game continued 25.Re3 Qg8 but there was a better continuation for white in the above diagram. Find out what it was.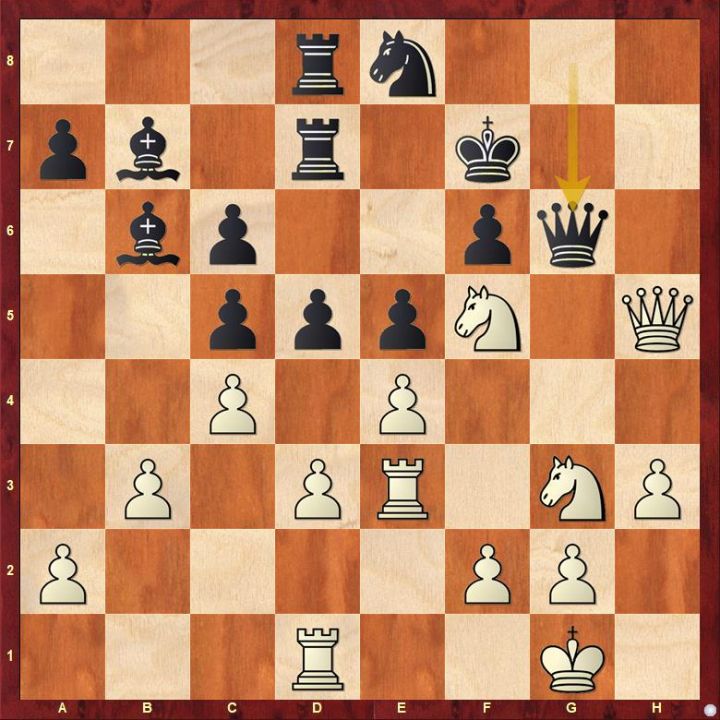 Black's final mistake in the game was 27...Qg6. Incidentally if 27...Ke6 was played, perhaps Black could have recovered the position and maybe the game too. Vachier-Lagrave capitalized on the mistake and went on to win the game.
Round 3: Radjabov - Firouzja: 2-0
Radjabov scored his first victory in this season of Grand Chess Tour as he scored an emphatic victory over Firouzja.
White is planning to squeeze Black's position using his knights. What should Black do here to neutralize it? The game continued 30...Ba6 31.Nf6 Rxd2 32.Qxd2 and things completely turned into White's favor.
Caruana - Vachier-Lagrave: 1-1
Caruana had an interesting draw with Vachier-Lagrave.
Rapport - Nepomniachtchi: 1-1
Rapport had a solid draw with Nepomniachtchi where the better part of the game was rook and many pawns ending.
Bacrot - Aronian: 0-2
Aronian finished the day by picking up his first victory of the event against Bacrot.
White went wrong early in the opening and lost the castling rights after 13.f3 Bh4+ 14.Ke2.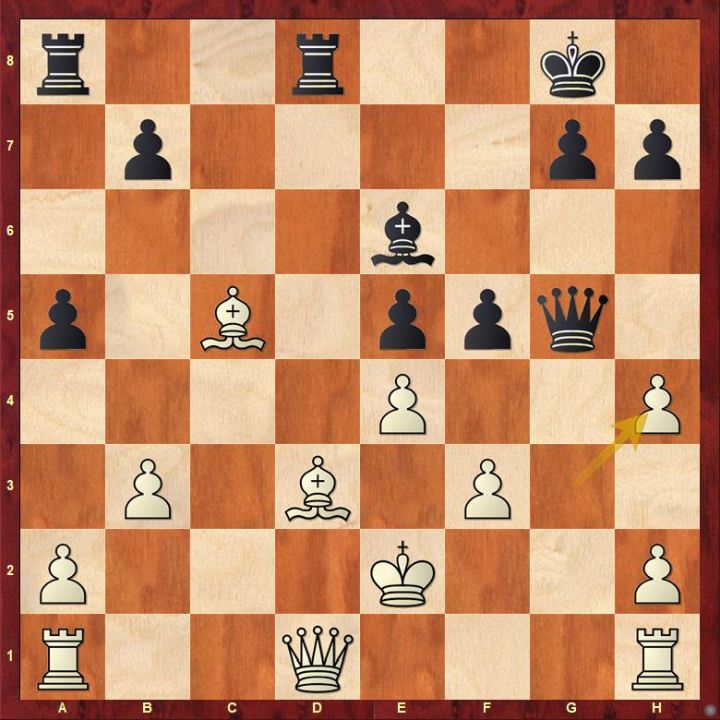 White's biggest mistake in the game was 20.gxh4. Find out why. Aronian converted his advantage into a win with ease.
Photo Gallery
Scoring for the Rapid section: Win - 2 points, Draw - 1 and Loss - 0.
Scoring for the Blitz section will be usual, Win - 1 point, Draw - 0.5 and Loss - 0
Replay Round 1-3 games
Standings after Round 3
Links
Grand Chess Tour official site
---