Superbet Classic R7: Mamedyarov scores a hat-trick
Mamedyarov seems to be a man on the mission to win the tournament as he beat Caruana in Round 7 of Superbet Chess Classic 2021. He scored a hat-trick of wins, took a sole lead and is now a full point ahead of the competition 5.0/7. Aronian and Giri scored their first victory of the tournament against Grischuk and Vachier-Lagrave respectively. While Aronian launched a devastating attack which the Russian did not respond correctly, Giri made a good use of his opponent's mistake in the opposite color bishop endgame. Round 8 starts today at 5:30 p.m. IST and it will be Mamedyarov vs. Giri. Photo: Lennart Ootes/Grand Chess Tour
Mamedyarov is now a full point ahead
Mamedyarov scored his hat-trick of wins as he claimed Caruana as his victim in Round 7. The Azerbaijan no.1 made his intentions very clear from the early stages of the game as he launched an attack which rattled his opponent and caused him to drop a pawn and destroy the pawn structure. Aronian scored a fantastic victory against Grischuk who just couldn't react correctly to the Armenian's plan. Giri picked up his first victory of the event against Vachier-Lagrave when the latter misplayed the opposite color bishop endgame.
Caruana - Mamedyarov: 0-1
Mamedyarov launched an early attack with 9...g5 and made his intentions clear.
Initially, White responded correctly but after the queens got exchanged, Caruana made a mistake which cost him a pawn.
White needed to play 20.Rf1 so that 20...Rg4 is met with 21.Rf4. 20.Re1 made sure that after 20...Rg4, White does not get any compensation for the lost pawn, moreover White's pawn structure on the kingside is completely broken.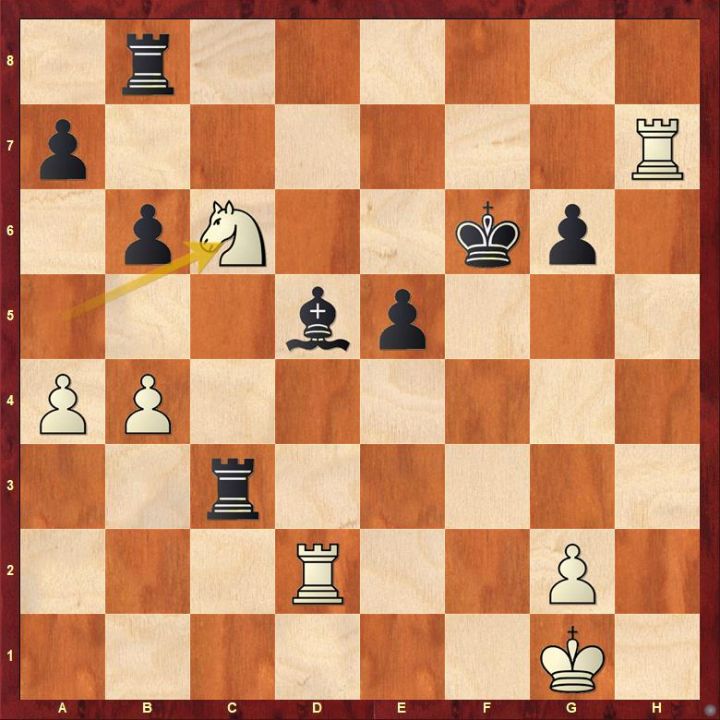 34.Nxc6 still does not help White as after 34...Bxc6 35.Rc7 Black found a beautiful sequence of moves which got him another pawn. Can you find it? The rest was just academic and Mamedyarov converted it comfortably.
Aronian - Grischuk: 1-0
Aronian scored a great victory over Grischuk who made a few positional mistakes in a volatile situation.
Black needed to play 21...Re7 or Ne5 to have some kind of semblance in the position. 21...Nd4 does not help Black's case as 22.Nxd4 Bxd4 23.Rad1, White gains a valuable tempo and now Bb1 comes with ease. 23...Be5 was required but 23...Bc5 was played which did not hinder White's plans. After 24...Bf8 it was all over for Black because of 25.Rg3 and there is no good way to defend the onslaught which is about to happen on the kingside.
Giri - Vachier-Lagrave: 1-0
Just when it seemed like Giri and Vachier-Lagrave's game will end in a draw, the Frenchman blundered in the opposite color bishop endgame.
Find out why 42...Kf6 is a blunder and what Black should have played instead. Giri found the winning plan and he executed it flawlessly.
Radjabov - So: 0.5-0.5
Radjabov made his seventh draw of the event against So.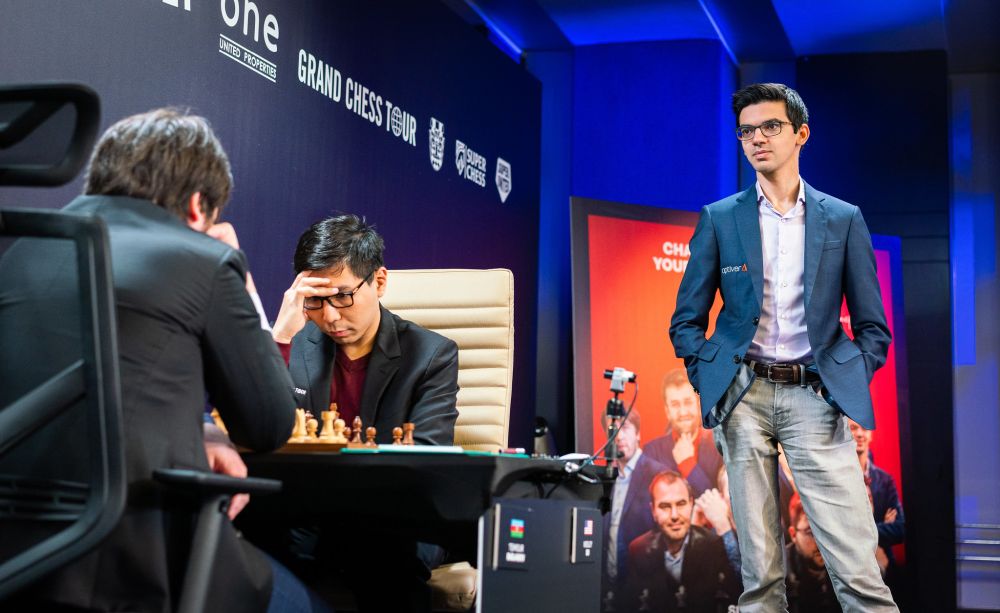 Lupulescu - Deac: 0.5-0.5
The longest game of the round was between the Romania no.1 Lupulescu and no.2 Deac. After a five-hour long grueling fight, both players had only lone king left on the board and it ended up in a draw.
Photo Gallery
Replay Round 7 games
Round 7 results
Standings after Round 7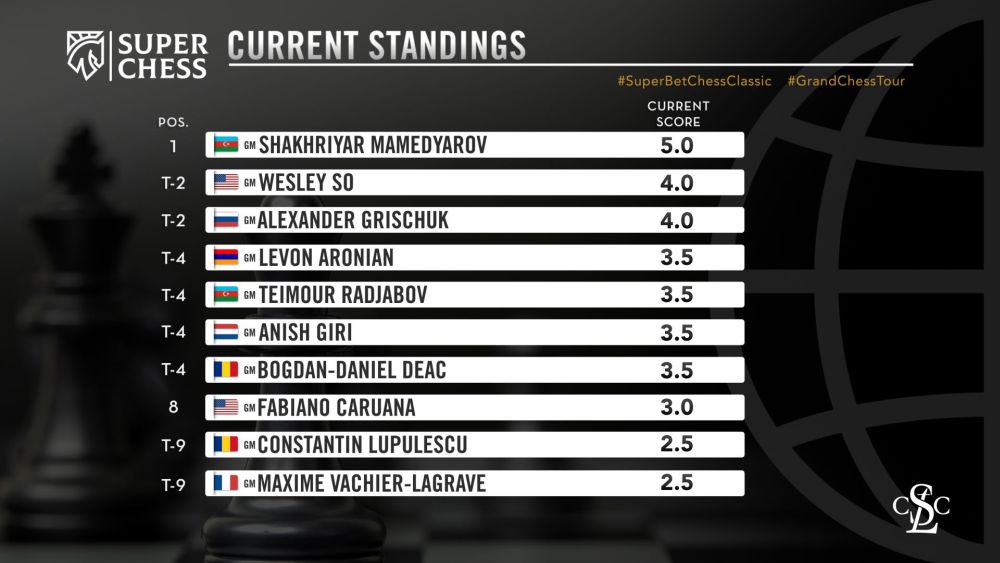 Links
Grand Chess Tour official site
---