Mamedyarov is a draw away from winning Superbet Chess Classic 2021
Mamedyarov is well on his way to win Superbet Chess Classic 2021 as he made a short draw with Giri to keep his full point lead 5.5/8. Aronian scored the sole victory of the round against Deac with a picturesque finish in the endgame. Grischuk battled for almost 5.5 hours against Caruana but the American did not budge and the game was drawn eventually. Mamedyarov just needs a draw in the final round to win the event as Aronian, So and Grischuk are at full point behind 4.5/8 each respectively. Round 9 starts today at 5:30 p.m. IST. Photo: Lennart Ootes/Grand Chess Tour
Aronian, So and Grischuk are at shared second place
Mamedyarov made a short draw with Giri to maintain his sole lead. Aronian scored the sole win of the round against Deac. Grischuk played the longest game of the round against Caruana. So drew with Vachier-Lagrave. Currently Aronian, So and Grischuk are tied at the second place with 4.5/8, one full point behind Mamedyarov.
So - Vachier-Lagrave: 0.5-0.5
So and Vachier-Lagrave had an uneventful draw.
Grischuk - Caruana: 0.5-0.5
Grischuk made an incorrect retreat of his bishop which cost him a pawn in the middlegame.
19.Bc2 drops the b2-pawn because of 19...Nc4 20.Re1 Nxb2 21.Qd4 Nc4. However, the computer says, 21...Na4 would have been better for black. Grischuk kept pushing for a win, but Caruana provided strong resistance. After almost 5.5 hour long grueling battle, moves were repeated in a seemingly equal rook endgame to make a draw.
Deac - Aronian: 0-1
Aronian had a picturesque finish in the endgame against Deac.
Black is completely winning in the above diagram, but what is the most beautiful way to win here?
Radjabov - Lupulescu: 0.5-0.5
One must applaud Lupulescu for declining a repetition draw in under 25 moves. He continued the game, took his chances and when there was nothing better to continue the game, only then he accepted move repetition to make a draw with Radjabov.
Photo Gallery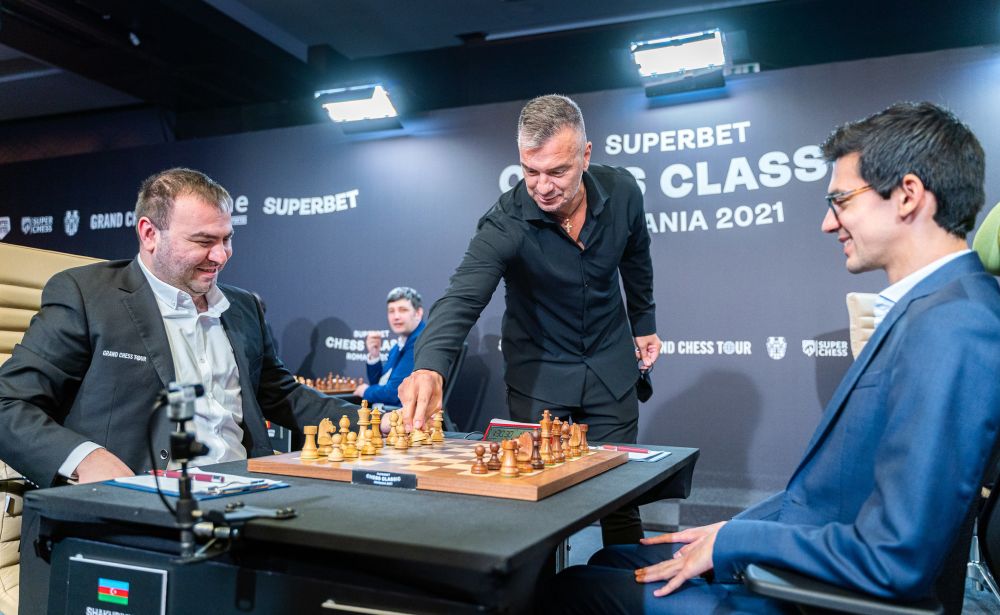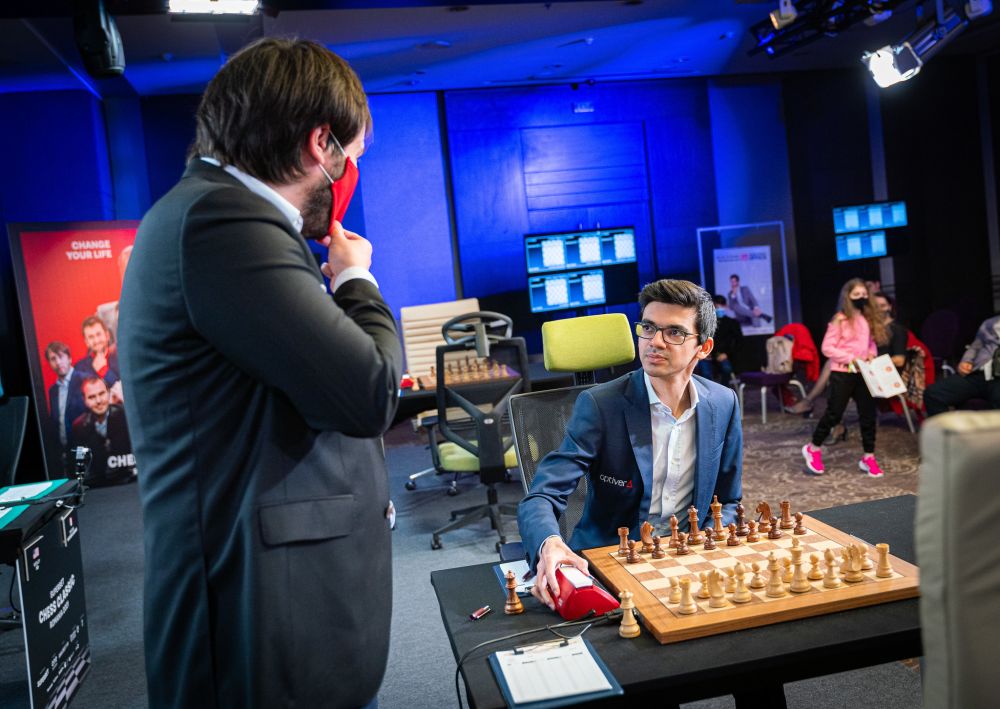 Replay Round 8 games
Round 8 results
Standings after Round 8
Links
Grand Chess Tour official site
---