Croatia Rapid and Blitz Day 3: A day of interesting draws
Anish Giri scored a big win against Anand which propelled him to the shared second place at the conclusion of Day 3 at Croatia Rapid and Blitz GCT. Nepomniachtchi maintained his sole lead 11.0/18. He is closely followed by four players - Vachier-Lagrave, Giri, Kasparov/Saric and Duda 10.0/18. Saric finished strong by remaining undefeated for two consecutive days. He will be replaced by the legend Kasparov for the Blitz event which starts today from 6:30 p.m. IST. Nine rounds of Blitz will be played today and tomorrow, making it a total of 18 rounds. Points system for Blitz goes back to the regular system. Photo: Lennart Ootes/Grand Chess Tour
Only Duda, Giri and Mamedyarov score a win each
Anish Giri, Jan-Krzysztof Duda and Shakhriyar Mamedyarov are the only three players to score a win each on the final day of the Rapid event. Remaining twelve games were drawn. Giri scored the biggest win of the day against Anand and he climbed to the shared second place 10.0/18.
Round 7: Duda - Anand: 1-1
Duda and Anand had a very interesting game. At one point, Anand was completely winning.
One of the simplest win for Black in the game was after 50.Nf2. Find out the winning continuation.
Jorden - Vachier-Lagrave: 1-1
Both Jorden van Foreest and Vachier-Lagrave had substantial against the other, but neither managed to capitalize on it.
White needed to play 26.Rd1 to prevent Black's tactical comeback, something 26.exd5 was unable to prevent. What is it?
Find out the correct plan to capture the d6-pawn. The text 41,,,Kg7 allowed White to defend it and save the game.
Round 8: Anand - Saric: 1-1
Ivan Saric made a hard-fought draw with Anand.
Grischuk - Duda: 1-1
Grischuk and Duda had a well-contested draw.
Round 9: Duda - Korobov: 2-0
Duda was in big trouble against Korobov.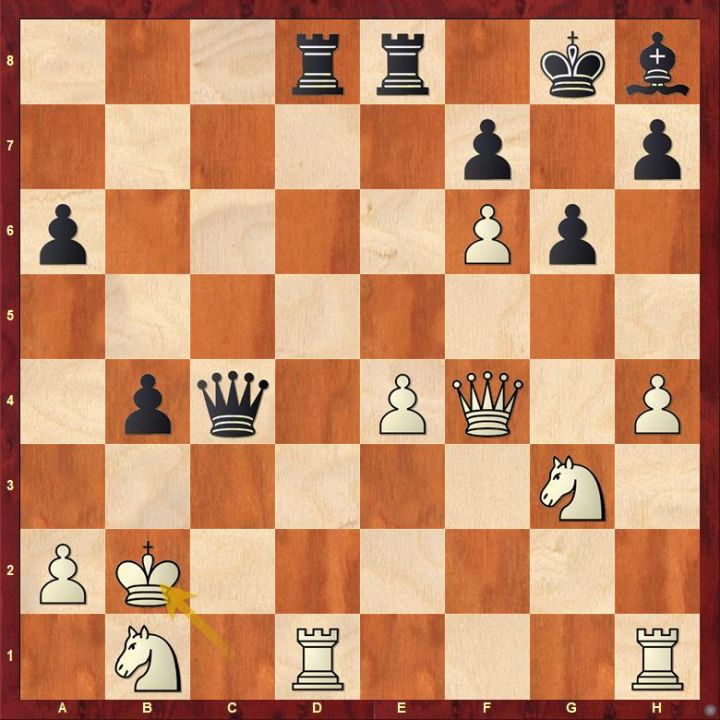 Black has enough compensation for White's extra piece. How can Black capitalize on the fact that the white king is exposed? 25...b3 allowed White to recuperate.
One of the final chances Black had was in the above diagram. 27...Rb8+ turned things in White's favor and Duda won the game eventually. What is it that Black should have done instead?
Saric - Grischuk: 1-1
The final moments of the major piece endgame seemed a bit dangerous for Saric. However, Grischuk decided not to press further, repeat moves and make a draw.
Giri - Anand: 2-0
Giri scored the biggest win of the day against Anand.
General instinct should say 28.Nxd5 should not work because of deliberately getting into a pin. Due to practical chances, White opted for it and things worked out. However, Black could have made things difficult for White by opting for 28...Rd8 instead of 28...Bxa3. White got a favorable position after the trade of queens and another mistake by Black gave White the decisive advantage.
Jorden - Mamedyarov: 1-1
In the endgame, Jorden needed to get rid of Mamedyarov's passed pawn which had the potential to be dangerous and as it turned out it did become the deciding factor of the game.
35.Ne4 is the first domino which fell against White. 35.Re1 and immediately getting rid of the e3-pawn should have been a priority for White.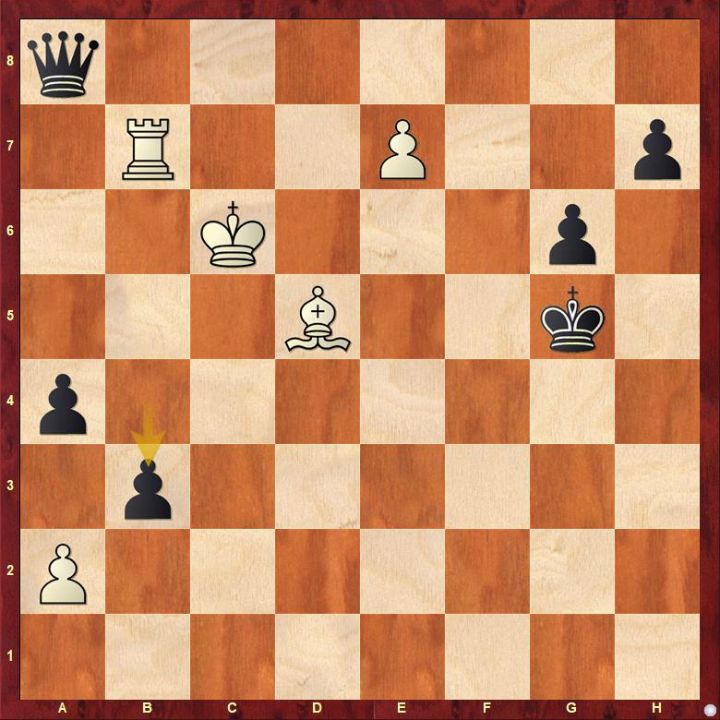 White could have still saved the game if the b3-pawn was taken 54.axb3 instead of the text 54.Kd7 which abandoned all hope.
Vachier-Lagrave - Nepomniachthci: 1-1
Vachier-Lagrave and Nepomniachtchi had a hard-fought draw.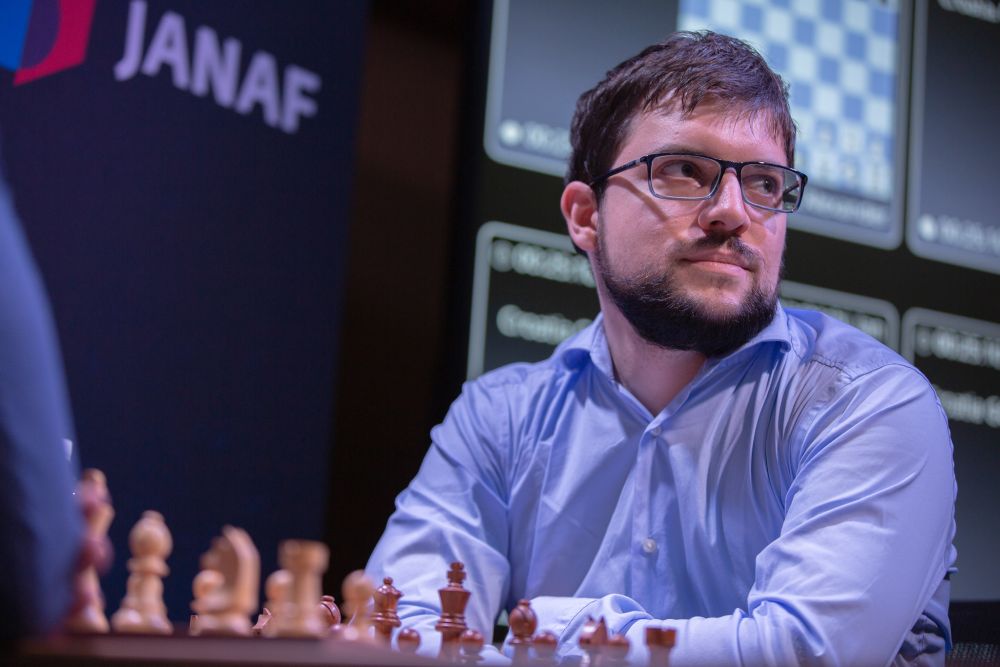 Scoring for the Rapid section: Win - 2 points, Draw - 1 and Loss - 0.
Scoring for the Blitz section will be usual, Win - 1 point, Draw - 0.5 and Loss - 0
Replay Round 7-9 games
Replay the livestream
Standings after Round 9 Rapid
Links
Grand Chess Tour official site
LIVE coverage on Kasparov chess
---