Superbet Classic R1: Giri escapes a scare against Bogdan-Daniel
The 2021 season Grand Chess Tour is off to a good start. The first round of the Superbet Chess Classic 2021 had five draws. When most of the players were playing safe and solid, Giri tried to create some imbalances which suddenly turned things into Romania no.2 and last minute replacement of Rapport, 19-year-old Bogdan-Daniel Deac's favor. However the youngster was unable to capitalize on his opportunity and convert it into a win. Giri managed to salvage a draw. Thus all ten players now have a half-point at the end of Round 1. Round 2 starts today from 5:30 p.m. IST. Photo: Lennart Ootes/Grand Chess Tour
No one left behind
The opening round of Superbet Chess Classic 2021 witnessed five draws. Players taking cautious approach, just to get themselves acquainted and adjusted to the new atmosphere before the gloves go off. However, 19-year-old Romania no.2 GM Bogdan-Daniel Deac created some good chances for himself but unfortunately for him he was unable to seize it and the world no.6 Anish Giri walked away with a draw.
Mamedyarov - So: 0.5-0.5
Mamedyarov and So had a rather calm draw.
Lupulescu - Aronian: 0.5-0.5
Romania no.1 GM Constantin Lupulescu made a good start by making a solid draw with Aronian.
Deac - Giri: 0.5-0.5
The most exciting game of the round was between Romania no.2 GM Bogdan-Daniel Deac and Anish Giri.
Black has two choices either play 16...Kb8 or get rid of the octopus knight with 16...Rxd6. Giri chose the latter to play actively. Soon Deac landed himself in a favorable position.
White is at an interesting predicament, black king is vulnerable and white needs to save the g3-pawn too. Which one should he do first? The game went on with 27.Qd3 Nc7 28.Qd6 c5, however 27.g4 was also playable.
White played 29.Qd7+ and slowly white's advantage dwindled, however there was a completely winning variation here for white. What is it? Giri managed to save the day eventually and make a draw.
Photo Gallery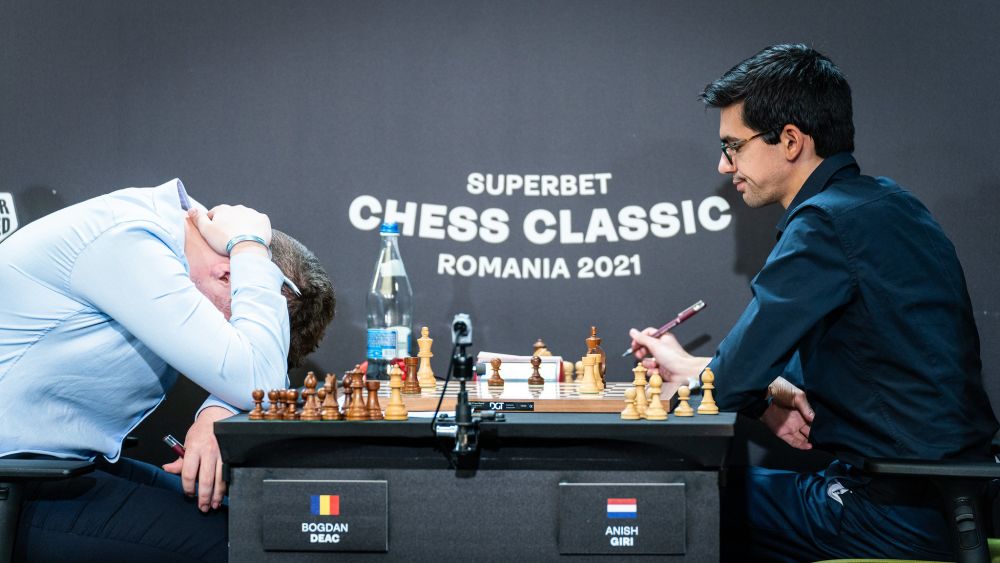 Replay Round 1 games
Standings after Round 1
Round 2 pairings
Links
Grand Chess Tour official site
---