Superbet Classic R3: When in Romania, Fear the Romanians
There is nothing to be afraid of the Romanians unless you are facing them in a chess tournament. Both Romania no.1 and 2 have been absolutely on fire in Superbet Chess Classic 2021. Lupulescu made a fantastic comeback after losing to Caruana in Round 2 as he beat Giri in Round 3 by capitalizing on his opponent's blunder. The Romania no.1 scored the sole victory of the round. 19-year-old Romanian sensation Bogdan-Daniel Deac made a solid draw with Mamedyarov. He is yet to show a chink in his armor in this event. Round 4 starts today from 5:30 p.m. IST. Photo: Lennart Ootes/Grand Chess Tour
Giri blunders and loses to Lupulescu
How does Romania no.1 Constantin Lupulescu bounce back after losing to Caruana in Round 2? By beating Giri in Round 3. Of course it was not easy for him and he did not make any significant mistake. It was Giri who made a devastating error in an all major piece endgame which forced him to resign as the Dutch could not find the perpetual check he was hoping for. Both Romanians have defeated two of the favorite Candidates in FIDE Candidates 2020.
Aronian - Caruana: 0.5-0.5
Aronian had a well contested draw with Caruana. At one point it seemed like Aronian had a complete control over the position.
White could have continued here with 21.h3 to build on the pressure as white's pieces are much better placed than black's. However the game continued with 21.Rg3 and after 21...Bb7 22.Rxg6 hxg6 23.Bxb7 Qxb7 the position equalized and the game headed towards a draw.
Deac - Mamedyarov: 0.5-0.5
19-year-old Bogdan-Daniel Deac continues his fantastic form and made a solid draw showcasing confidence in his play.
To understand how strong Deac is, he calculated the entire variation till 23.Bxd5 as that is the only good line for white here. The resultant is of course good enough for white where he has no remote chances of losing the game. It is no wonder that Deac was on the brink of a victory against Giri in the first round and beat Vachier-Lagrave in the second. With this draw Deac maintained his shared lead with Caruana at 2.0/3.
Kasparov was upset with the fact that a fighting opening like Grunfeld has also become another 'drawish desert'.
Lupulescu - Giri: 1-0
Undoubtedly the most exciting game of the round was played between Romania no.1 and World no.6.
Giri went for the flashy 21...Be4. It actually adds nothing to the position for black. In fact it only helps white to regroup his bishop. Instead black needed to play 21...Rh6 22.Bg3 Ne4 and make some serious threats on white's kingside.
It is true that black's back rank is weak but black does not need to play 30...Qc6 immediately because there is a checkmate threat at g2 and c7 does not need to be defended immediately either. 30...Rg5 would have been a better continuation for black than 30...Qc6 retreat.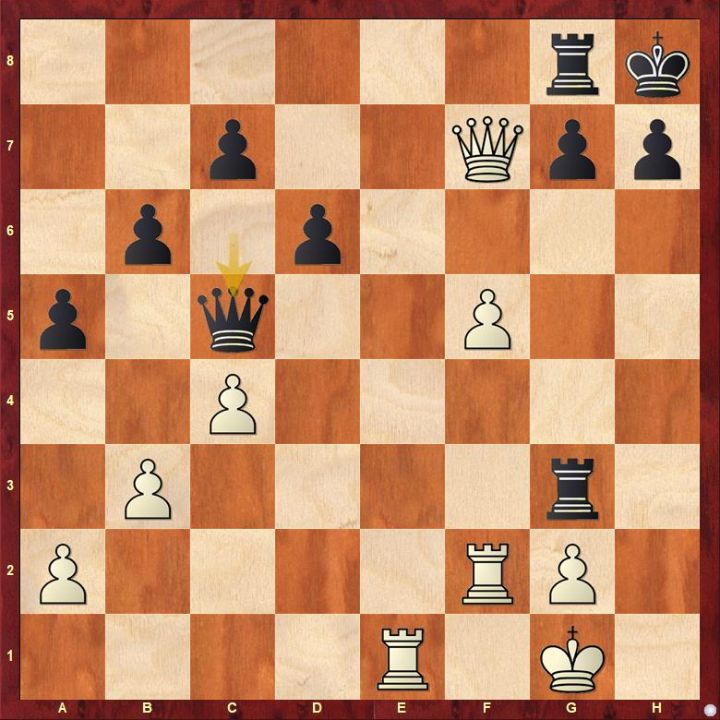 Position after 31...Qc5
31...Qc5 is a blunder as now white is completely winning. Which is the correct winning continuation for white in the above diagram? Try to find out.
Photo Gallery
Replay Round 3 games
Round 3 results
Standings after Round 3
Links
Grand Chess Tour official site
---