Saint Louis R&B Day 1: Caruana and Leinier share the lead 5.0/6
The first day of Saint Louis Rapid and Blitz witnessed a lot of exciting games. Caruana and Leinier has taken an early lead 5.0/6. They both scored two victories and a draw each. So and Nakamura also made an unbeaten start 4.0/6. Rapport, Mamedyarov and Liem suffered a loss each, and they are at 3.0/6 each respectively. Liem scored the fastest victory of the day against Mamedyarov in 23 moves, followed by Caruana's win over Xiong in 24 moves. Both of those wins happened in the third and final round of the day. Svidler and GCT debutants - Xiong and Shankland had a tough start as they scored only 1.0/6. Round 4 starts tonight from 1:30 a.m. IST. Photo: Lennart Ootes/Grand Chess Tour
Nine decisive games
The first day of Saint Louis Rapid and Blitz 2021 witnessed nine decisive games out of 15 which means 60% games were decisive. All five games in the third round, ended decisively.
Round 1: Shankland - Rapport: 0-2
Nepomniachtchi launched a premature attack but Korobov was unable to thwart it.
14.a3 is a big mistake because 14...axb3 15.axb4 Qxb4 and then Black has too many threats - b2, dxc4 and eventually the b5-knight will be in trouble too. 14.Nc3 would have been a better alternative.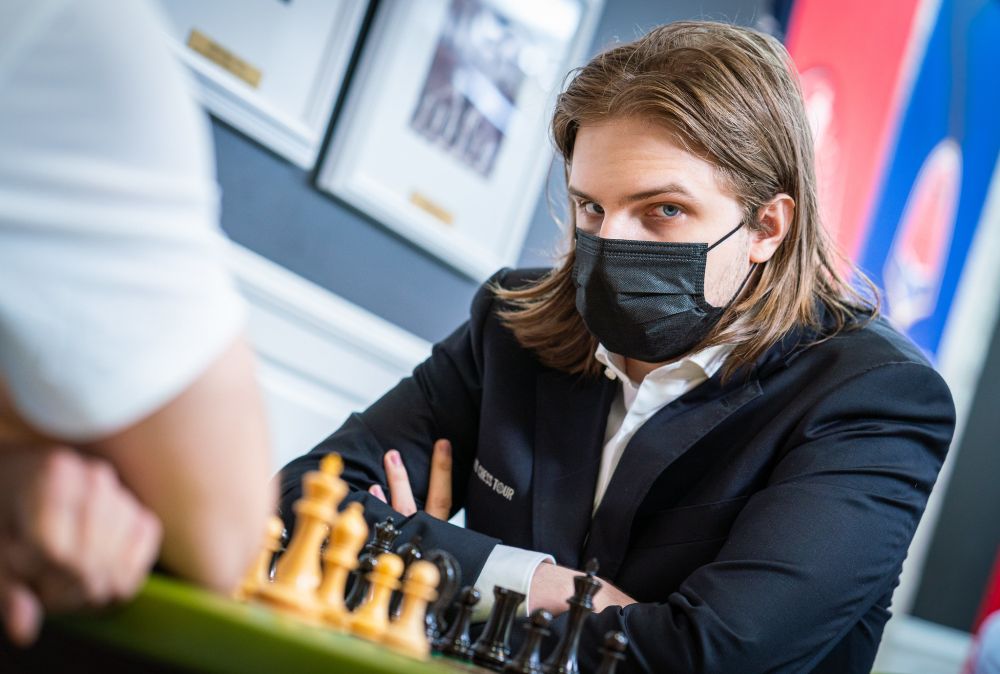 Leinier - Xiong: 2-0
Jeffery Xiong played the endgame passively, for which he had to pay a heavy price against Leinier Dominguez Perez.
Round 2: Svidler - Mamedyarov: 0-2
Svidler was completely winning but a few inaccuracies allowed his opponent, Mamedyarov to make a comeback and eventually win on time.
White needed to play 43.Rc3 to prevent Nd3 and keep his c5-pawn in the game. 43.Nf5 dropped the pawn as it allowed 43...Nd3.
Round 3: Leinier - Rapport: 2-0
Leinier scored a nice victory over Rapport as he unsettled his opponent's kingside and increased his advantage with a great positional play.
It is evident that White has an edge in the above position. Find out how should White play here.
So - Shankland: 2-0
Shankland's strategical mistake cost him the game against So.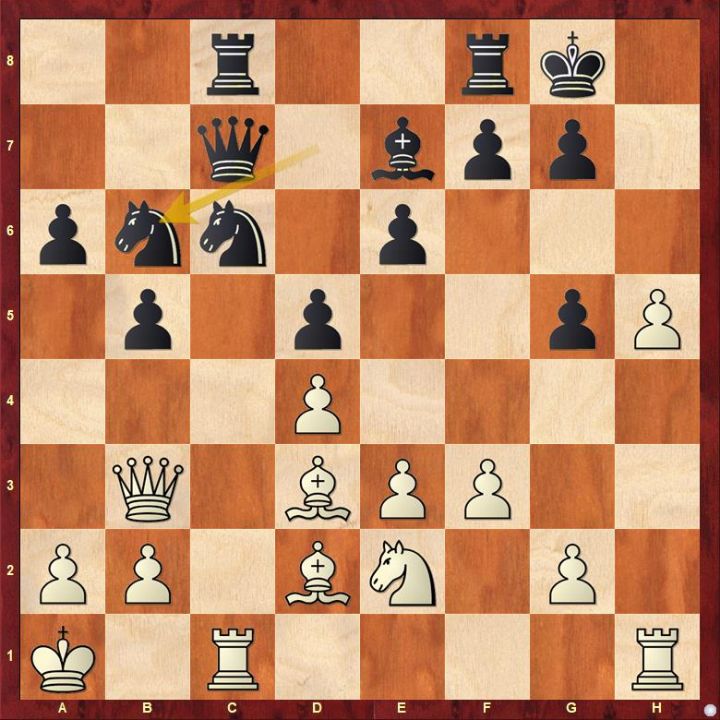 19...Nb6 leaves the black king vulnerable. How should White take advantage of it?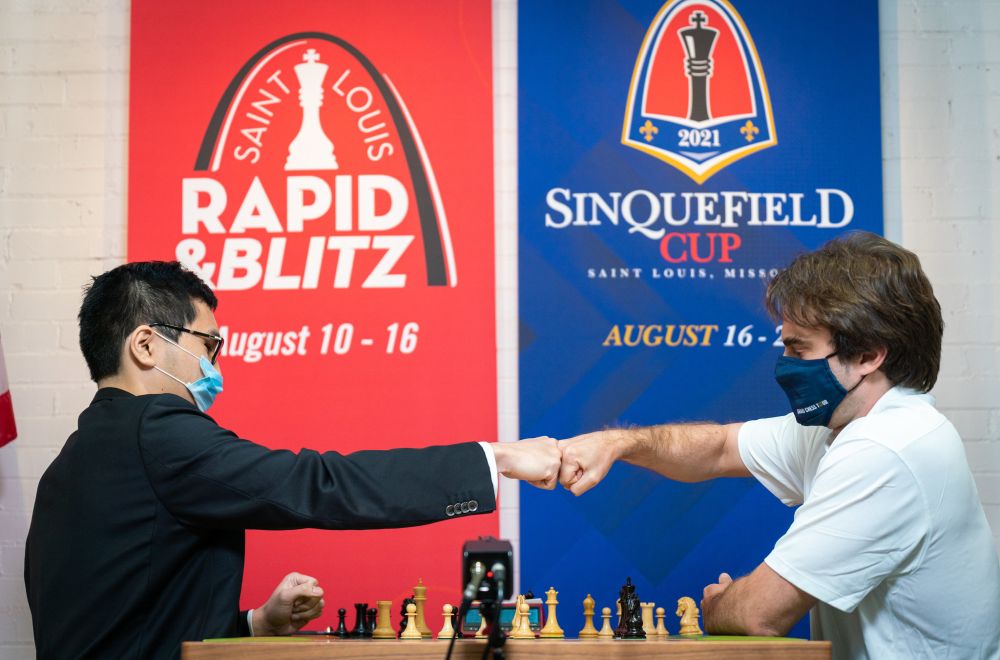 Caruana - Xiong: 2-0
Xiong made a tactical error and lost the game in just 24 moves.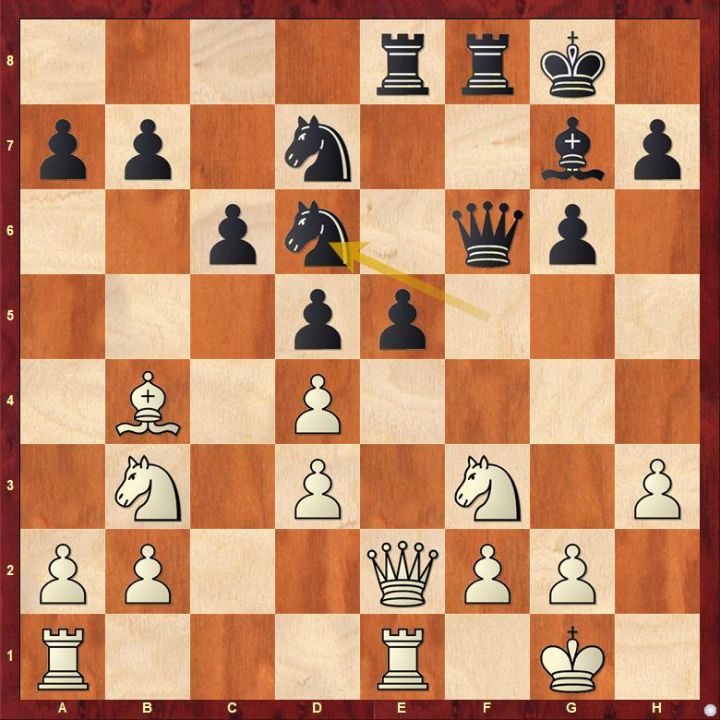 16...Nd6 is a big mistake. Why? Black should have played 16...Rf7 instead.
Mamedyarov - Liem: 0-2
World Blitz 2013 winner, Liem Quang Le is in terrific form lately. He unleashed has wrath on Mamedyarov who went wrong as early as ninth move of the game.
9.Nb1 is way too passive. 9.Na4 would have been much better and White could have avoided disaster in a few moves.
Nakamura - Svidler: 2-0
Nakamura crashed through Svidler's kingside in an almost one-sided domination.
Scoring for the Rapid section: Win - 2 points, Draw - 1 and Loss - 0.
Scoring for the Blitz section will be usual, Win - 1 point, Draw - 0.5 and Loss - 0
Replay Round 1-3 games
Replay the livestream
Standings after Round 3
Links
Grand Chess Tour official site
LIVE coverage on Kasparov chess
---