Jorden Van Foreest wins and brings Tata Steel Chess Championship back home after 36 years
Anish Giri once again repeated his 2018 tie-break result and finished as the runner-up in 83rd Tata Steel Chess 2021. Despite playing fantastic throughout the event, he had a difficulty against Anton. Jorden scored a fantastic victory over Grandelius to set tie-breaks against Giri and guaranteed for a Dutch to win the tournament. Giri had his fair share of chances in both first blitz and Armageddon but he was unable to seize them. Esipenko made a fantastic debut as he finished third with 8.0/13. Carlsen finished sixth with 7.5/13 and Harikrishna secured seventh position with 6.5/13. Photo: Jurriaan Hoefsmit/Tata Steel Chess Tournament 2021
So close yet so far
Anish Giri was the odds on favorite going into the final round to win the tournament. But he had a hard time against Anton who was determined to have a strong finish. Giri managed to make a draw while his protege, one of the seconds, Dutch no.2 scored a beautiful victory over Grandelius to force the tie-breaks. Giri was completely winning in the first blitz tie-break but he missed it. Second one ended up in a draw. In the Armageddon also Giri was once again had a completely winning position after Jorden blundered a complete piece but Giri was unable to win it. Giri at the closing ceremony shared a quote from his favorite singer Eminem, "Had to give you a career to destroy it". In my opinion, Elvis Presley's "So close yet so far" lyrics is apt to this situation.
David Anton's determination
At the end of penultimate round, in a post-match interview, David Anton proclaimed to go for a win in the final round to make up for a forgettable performance. He almost lived up to his words as he diminished Giri's championship hopes. Anton got a good position in the endgame while Giri was trying to play very solid.
26...Bc7 cramped up black's queen and Anton got an opportunity to land some offense starting with 27.b4. After 27...Qc6 28.b5 Qc5 what white needed to do was to force the trade of queens, according to the computer with 29.Qa3. Anton went with the more humane 29.b6 instead. The game eventually ended up in a draw and Giri finished with 8.5/13
Jorden's jaunty victory over Grandelius
Jorden played a fantastic game to beat Grandelius and set up tie-breakers with Giri.
The Dutch no.2 found a brilliant move in this position. Can you find it?
Black can still make a comeback after 28.Rxa1. How? Grandelius was unable to find it.
The final position was absolutely beautiful. It drew the praise of the 'Master of King Walks', none other than Nigel Short as he shared
Tie-breaks: Jordan Van Foreest - Giri 2-1
Giri got a brilliant opportunity in the first blitz game in the tie-breaks
Jorden - Giri, Game 1
Black is completely winning. Everything seems to be working in black's favor. However there is only one best way and it is not the most obvious way. The game continued with 21...Bh3 which is not a bad move by any stretch of the imagination but it doesn't necessarily help black in converting the decisive advantage.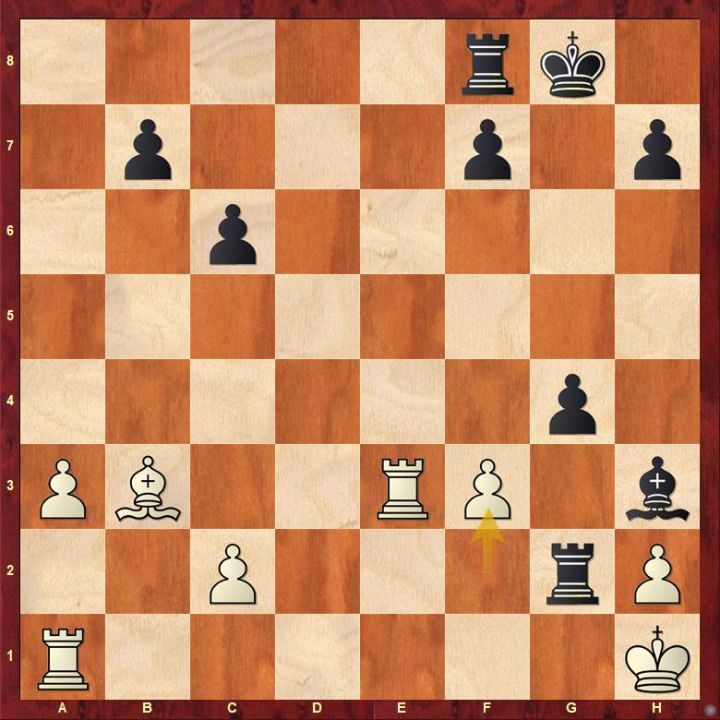 Black had another brilliant opportunity after 26.f3. What was it? Of course these chances are that much more difficult to spot when you are playing under time pressure but you need to spot them at the right moment when the stakes are higher. Unfortunately for black this was the last opportunity he had in the first blitz game.
The second game was just a quiet draw. Thus Armageddon was enforced.
Giri was in a must-win situation as he got the white pieces in the Armageddon. He opted for London system like opening and got a good position early in the middlegame.
Giri - Jorden, Armageddon
What should white play after 19...Nf6 to accentuate his advantage?
Just when it seemed like things were starting to go in white's favor, Giri made a huge positional mistake and played 26.c6. In a must-win situation when white has huge advantage, a move like 26.c6 doesn't make a lot of sense. Then again, when you are playing for a championship and you slowly feel losing the grasp, it becomes difficult to determine whether it's a good move or not.
Fate was taunting Giri and once again presented him with a completely winning position. Black had zero compensation for blundering the bishop with 56...Rxf4. But it was not meant to be Giri's day as he went to munch the wrong side of pawns which was not completely wrong either.
The only thing white needs to be concerned in this position is the g3-pawn. White blundered with 61.Rd8 and black won the game with 61...g2. What was the winning continuation which white missed here?
Donchenko - Esipenko 0-1
In a seemingly equal position, Donchenko made an incorrect pawn push which turned things completely into Esipenko's favor.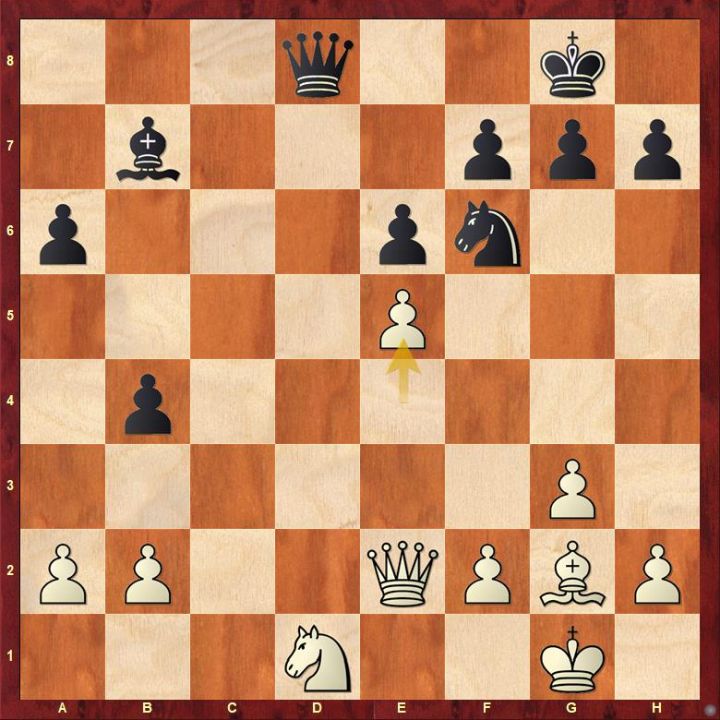 Find out why 27.e5 is a mistake. White could have simply gone with 27.f3
Carlsen - Vachier-Lagrave 1-0
Vachier-Lagrave's haunting form continued as he made a simple tactical blunder in an already difficult position against the world champion in the final round.
Firouzja - Wojtaszek 0.5-0.5
After prolonged back and forth battle, Wojtaszek blundered a crucial pawn which gave Firouzja a decisive advantage. However, fate had something else in store for him. Theire game was moved from their original table to facilitate tie-breaks to take place. Naturally this would cause any player to lose their concentration and especially when it implies that he is no longer eligible for tie-breaks even if he wins.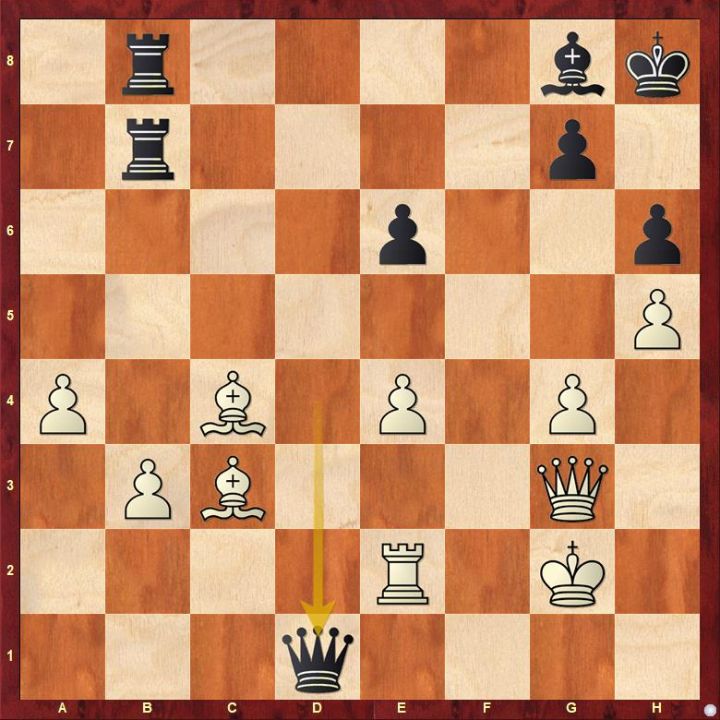 Tables turned completely, Firouzja lost his advantage and the game was drawn in the next four moves.
Duda - Harikrishna 0.5-0.5
Harikrishna made a solid draw against Duda.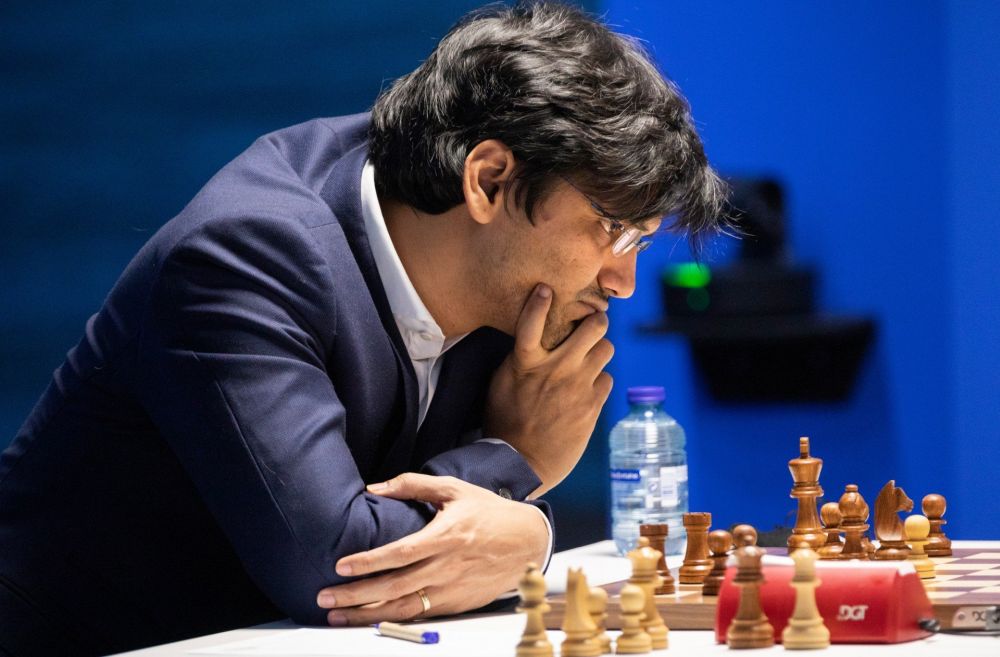 How the world reacted to the Jorden's victory
Replay all games from Round 13
Round 13 results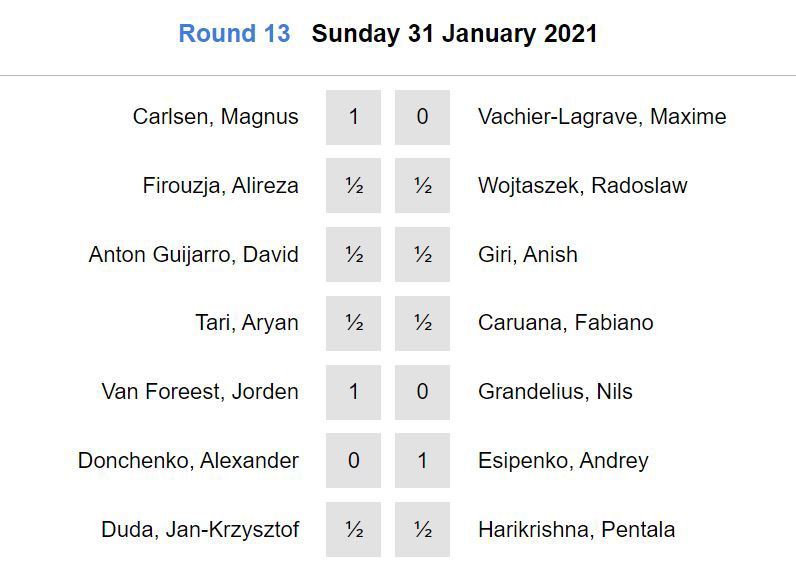 Final Standings after Round 13
Schedule
Starting from Saturday 16th January, all round starts at 6:30 p.m. IST, only Sunday 31st January, the final round will start at 5:30 p.m. IST. Rest days are - 20th, 25th and 28th January.
Time Control
100 Minutes for 40 moves, followed by 50 minutes for 20 moves, then 15 minutes for the remaining moves with 30 seconds cumulative increment for each move starting from the first move.
Links
Tata Steel Chess official site
---