Tata Steel Masters R5: Grandelius takes sole lead, Harikrishna close on his heels
Nils Grandelius scored his third victory of the tournament as he beat Maxime Vachier-Lagrave in his own domain Najdorf. Vachier-Lagrave went wrong with a novelty which Grandelius capitalized to pummel himself into the sole leader spot with 3.5/5 at the conclusion of Round 5. Giri made a move which he regretted immediately after making and made a draw with Harikrishna. Donchenko played solid and held the world champion Carlsen to a draw. Harikrishna, Carlsen, Giri and Caruana are at shared second spot with 3.0/5. Photo: Jurriaan Hoefsmit/Tata Steel Chess Tournament 2021
Grandelius scores the sole victory
Sweden no.1 Nils Grandelius beat World no.5 and Najdorf speacialist Maxime Vachier-Lagrave in his very own opening after the France no.1 made an inaccurate novelty. Grandelius admitted to spending almost an hour for the next two move but they were the right ones and eventually he converted his advantage into a victory. All other games ended up in draws, however Tari had a fantastic opportunity to beat Anton in the final parts of the endgame after fighting for a draw for the better part of the game.
Grandelius - Vachier-Lagrave 1-0
The Najdorf specialist Vachier-Lagrave made a novelty in the opening which was much less than perfect.
19...Qe6 not only drops the valuable b7-pawn but also throws black off-balance. What do you think black should have done instead? The rest was just a matter of technique and Grandelius had no trouble in converting it into a victory.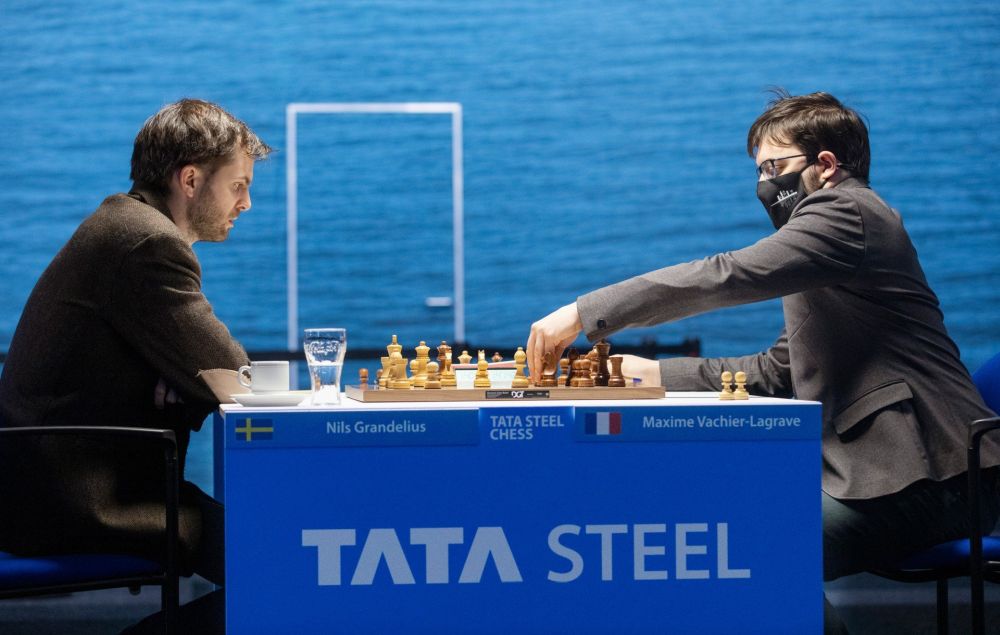 Carlsen - Donchenko 0.5-0.5
Germany no.2 Donchenko might not be having the perfect debut but that makes up for the fact that he managed to hold the world champion to a draw with some solid play in the fifth round.
The position is roughly equal but black has a weakness which white is looking for a way to exploit. Find out the best continuation for black after 39.Ra2.
Firouzja - Van Foreest 0.5-0.5
Firouzja had an uneventful draw with Jordan Van Foreest.
Anton - Tari 0.5-0.5
Anton had a completely winning position in the endgame against Tari.
Would you save a2 or go for h4? Eventually tables turned and it was Tari who had some winning chances.
Find out the winning continuation for black after 54.Ke3.
Giri - Harikrishna 0.5-0.5
Just when it seemed like things are getting interesting, the game ended up in a draw.
The d3-pawn seems to have cramped up white's pieces. However in reality it's just the opposite, it is a weakness for black. Find out why.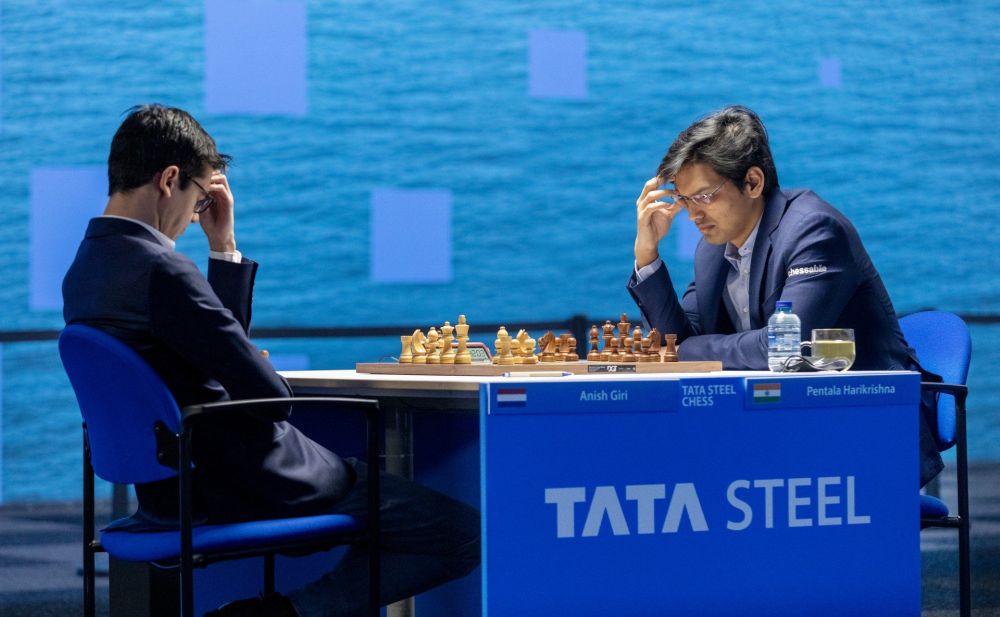 Caruana - Esipenko 0.5-0.5
The game between Caruana and Esipenko had an uneventful draw.
Wojtaszek - Duda 0.5-0.5
The battle between Poland no.2 and 1 as expected turned out to be a draw.
Replay all games from Round 5
Standings after Round 5
Schedule
Starting from Saturday 16th January, all round starts at 6:30 p.m. IST, only Sunday 31st January, the final round will start at 5:30 p.m. IST. Rest days are - 20th, 25th and 28th January.
Time Control
100 Minutes for 40 moves, followed by 50 minutes for 20 moves, then 15 minutes for the remaining moves with 30 seconds cumulative increment for each move starting from the first move.
Links
Tata Steel Chess official site
---