Tata Steel Masters R9: Giri regains his lead
One of the most anticipated match of Round 9 between Firouzja and Esipenko ended up in a draw. Giri defeated Vachier-Lagrave to regain his lead. Caruana made a unique choice against Wojtaszek which eventually paid off. The three of them - Giri, Caruana and Firouzja now share the lead with 6.0/9. Carlsen scored his second win of the event, this time Grandelius was his victim. He moves to 5.0/9. Harikrishna was held to a solid draw by Anton. He is now at 4.5/9. Photo: Jurriaan Hoefsmit/Tata Steel Chess Tournament 2021
Three way race among Giri, Caruana and Firouzja
Anish Giri scored a fine victory over Maxime Vachier-Lagrave to move to 6.0/9 and regain his lead. Caruana defeated Wojtaszek by making an anti-positional move which sent shockwaves in the chess universe. It is only after his win, everyone more or less accepted such a unique idea. Meanwhile one of the most anticipated match of the round between Firouzja and Esipenko ended up in a draw. Carlsen scored his second win of the event, this time against Grandelius to move to 5.0/6.
Giri - Vachier-Lagrave 1-0
Vachier-Lagrave's tough form continues as he lost his third game of the event, this time against the super solid Giri who once again took the lead.
21...d5 is an inaccurate break. Find out why. The game continued with 22.exd5 which was not the optimum reply. Thus Vachier-Lagrave got an opportunity to maintain pressure for a while as he had positional compensation for the exchange and a pawn.
Giri provided strong resistance and eventually his opponent played a strange move 38...Qd7. Because black is not getting the d6-pawn for free. The price is the f7-pawn which he had to pay and eventually arrive at a lost Rook and Pawn endgame.
White is completely winning here. However white needs to take care of something and make sure black cannot go for a draw/win after giving up his rook for the c-pawn. What should white do after 64...Rf7 ?
Wojtaszek - Caruana 0-1
Caruana played a novelty in King's Indian Classical which surprised a lot of people in the chess universe.
Nigel Short and Ivan Sokolov tweeted there thoughts about the move
13...Bxc3 is something we all can say to be anti-positional move. White has a bishop pair, the position is open, so white can easily control the dark squares. However if Caruana is playing it, you know he has good reasons behind it as he is almost always well prepared in these matters.
Now it is evident why Caruana chose to go with 13...Bxc3 as the position looks promising for black.
It is evident black is completely winning here. What is the best continuation after 33.hxg3 ? The game continued with 33...dxe4 and black won the game in another six moves.
Carlsen - Grandelius 1-0
One thing is for sure. After losing a game whoever Carlsen faces the next, he should be ready to face the wrath of the mighty world champion. Unfortunately for Grandelius, it was his turn to be the latest victim.
Grandelius' position looked good and he seemed to avoid any kind of trouble until 23...Rxf5. After a couple of moves he misjudged his opponent's threat.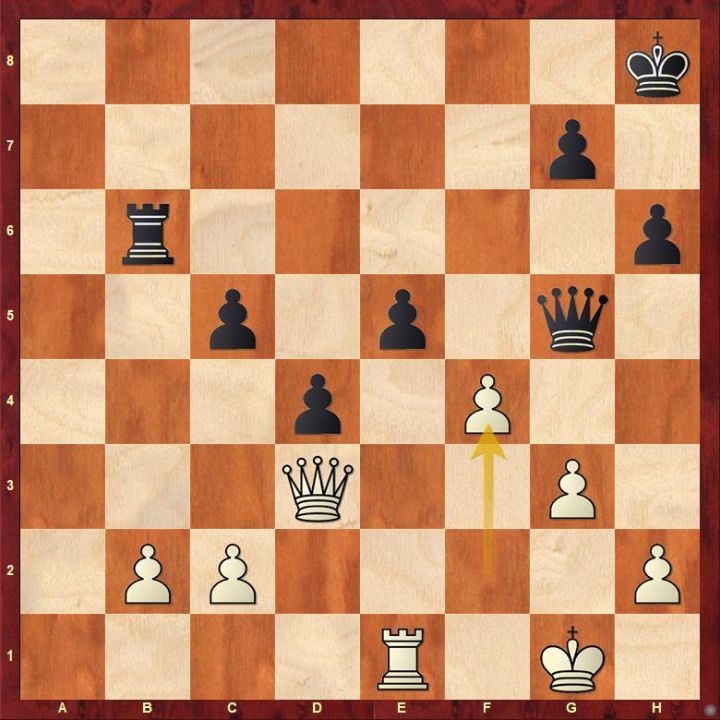 Black has back rank issues, but it's not fatal. Find out black's best defence here. In the game, Grandelius could not manage to find it and faltered with 30...Qd8. Thus things turned completely into the world champion's favor and it became just a matter of time for him to score a victory.
Firouzja - Esipenko 0.5-0.5
This was definitely one of the most anticipated match of the round, considering the tournament situation. The game lacked any kind of fireworks and it was a solid draw.
Black could have gone with 15...g5. Firouzja mentions in the post-match interview that computer might say black has an advantage after 15...g5 but in a practical game, it is dangerous to play. I completely agree with that thought.
Anton - Harikrishna 0.5-0.5
David Anton Guijarro held Harikrishna to a solid draw.
Anton made a very interesting journey of his king to the center, starting with 16.Kf3.
Replay all games from Round 9
Round 9 results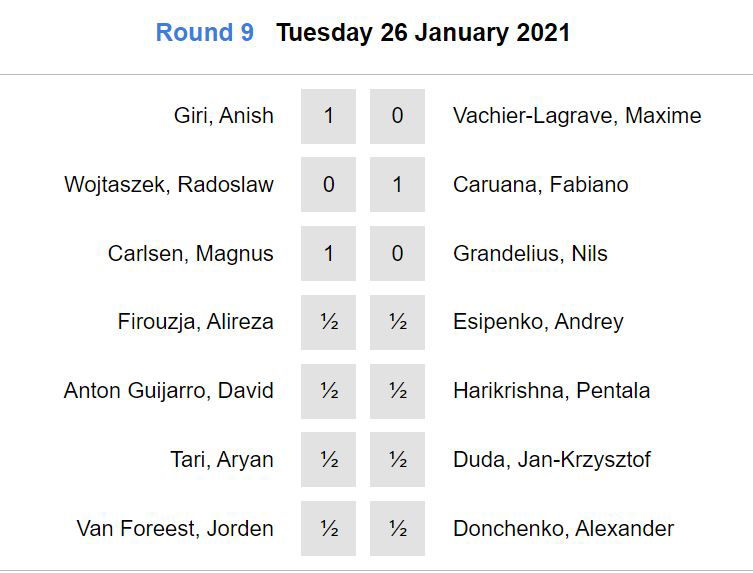 Standings after Round 9
Schedule
Starting from Saturday 16th January, all round starts at 6:30 p.m. IST, only Sunday 31st January, the final round will start at 5:30 p.m. IST. Rest days are - 20th, 25th and 28th January.
Time Control
100 Minutes for 40 moves, followed by 50 minutes for 20 moves, then 15 minutes for the remaining moves with 30 seconds cumulative increment for each move starting from the first move.
Links
Tata Steel Chess official site
---