Ian Nepomniachtchi wins FIDE Candidates 2020 with a round to spare
Reigning and two-time Russian Superfinal champion, Ian Nepomniachtchi sets up a clash for the World Championship against Magnus Carlsen later this year as he won the FIDE Candidates 2020 with a round to spare. Nepomniachtchi made a draw with Vachier-Lagrave once he realized that Giri has no chance to beat Grischuk. Thus Nepomniachtchi took a full point lead 8.5/13 heading into the final round, making it immaterial for Giri's victory in the last round as the Russian has already beaten the Dutch no.1 in the first round of the tournament, last year. Photo: Lennart Ootes/FIDE
Giri crumbles under pressure
Anish Giri's fantastic run at the FIDE Candidates 2020 came to an end as he lost the must-win game against Grischuk in the penultimate round. He admitted that Nepomniachtchi kept pressuring him by winning his previous game. Meanwhile Nepomniachtchi drew comfortably with Vachier-Lagrave to win the FIDE Candidates 2020 with a round to spare as his closest rival Giri is still a full point behind him and beating him in the very first round of the tournament last year gives Nepomniachtchi a better tie-break score.
Nepomniachtchi - Vachier-Lagrave: 0.5-0.5
"First of all thank you very much. It feels like such a huge milestone in my career and perhaps in my life also. Indeed I am extremely tired because I don't think I would like to play again a tournament which lasts like more than one year. It was like one year of thinking about this tournament, one year of preparation. I am very happy it has paid off in the end but I don't think I would like to have such experience again." - Nepomniachtchi on how he felt winning FIDE Candidates 2020 with a round to spare.
When asked about how nervous he was in the event, the Russian Superfinal 2020 champion responded, "The pressure was really high and unfortunately I just couldn't sleep for the first half of the tournament. I slept really poorly. So that's why I just decided to go for a quick draw against Anish when I had a chance. I was full of energy but it wasn't like my battery was low already but yeah it's difficult to play when you don't sleep enough. Before the game against Kirill, I had more or less enough time to sleep but anyway it was never easy and I don't think I could ever had a minute to rest without some preparing of thinking or let's say relaxing. It doesn't work like this."
"I guess every moment was very important and of course when you win some games like against Kirill, against Wang Hao, it's quite important but you know the thing I learned because actually I was commentating previous two editions of the Candidates. The thing which was most important that you should never go crazy and you probably shouldn't lose so you better say make a boring draw but you shouldn't lose. This was like the lesson I learned especially from Berlin and Kramnik was doing fine and then he just went crazy at some moment and he played all the decisive games but I think it was too much. Probably this commentating helps." - Nepomniachtchi on the most decisive moment of these days.
From being a commentator in commentator in Candidates 2016, to winning the Candidates 2020 - "I have worked on my chess, perhaps on my mental parts and there is always a lot of things you can work at and I think that it's very important to constantly improve. It's even difficult to keep your level, probably your level will go down or other guys will go ahead. Normally all you need is work all the time. Comparing let's say with myself when I was like 20-years-old to 25, I started to work in chess a lot more."
Keeping the green chair from the holy land and if Nepomniachtchi is superstitious - "It's not the most comfortable chair to say so but I think it's just okay so things like chair, they shouldn't kick you out of the mood and so on. During this year I also changed my computer chair... It looks ugly because my cat destroyed it but still it's more comfy than the new one. At this last online event, at some point I started poor and then I changed back my chair and started to play alright. I don't think it does really matter." Karlovich (Press Officer) - "From what you said actually it looks like it matters." Nepomniachtchi replied, "Well sometimes but I don't think the chair was the key."
Nepomniachtchi on improving his consistency, "I don't particularly remember these talks between me and Magnus but it could happen indeed. In general overall I have changed my attitude towards chess. I believe like several years ago, I considered myself of course like a chess pro but I never worked like a real pro, I never was dedicated, so I spent a lot of time on different hobbies and also some computer games, so intellectual games, some football, all kind of hobbies. Maybe the attitude overall has changed."
On being one of the few top players who has a plus score against Carlsen, "Because I won more games against him than lost. That's quite obvious."
In 2002, Nepomniachtchi finished ahead of Carlsen at World Under-10, how confident he is on repeating the same feat - "I don't think I can travel back in past. By the way, it was Under-12 but I don't think I can travel back in past become 12-years-old again... So we have a new situation."
His message for the world champion - "I guess it's already a message."
His thoughts on what the world champion is thinking after his victory - "What time is it now? I think now he is going to start some online event. That's what he is thinking."
Nepomniachtchi's team and whom he would like to thank - "First of all chess wise, it's my coach for many years - Vladimir Potkin. He is here. Thank you very much. Very very successful coach. He helped a lot of challengers, a lot of strong grandmasters and me too. Also my team I can reveal part of it, it's Ildar Khairullin, Nikita Vitiugov and Peter Leko. I am very thankful. I just can't describe it in words because in general I think especially in this last year, I used it quite well. Partially it was online training sessions but anyway it was like very very helpful. Also massive thanks to my doctor who was here with me and indeed to my girlfriend who was supporting me here."
Grischuk - Giri: 1-0
"My plan was to play like a terrorist, to terrorize him with a draw and if he goes for a worse position, then I will play. That's pretty much exactly what happened. If he played for equality, I would just try to force a draw and most likely succeed. He played a line I was somewhat familiar with.
First of all I played it with black. Although I usually play it with Ba6...
We analyzed this with Vishy. I think we have played some training games in this line.
Anish played it incredibly till some point. He managed to get h5, he has a lot of tricks. Let's say I play 20.h4 here because in general I wanted to play what I played in the game h4 then f3, Nf1, Ne3 then I will have big advantage but here if I go 20.h4 he has Nd7 so he wants Qxh4. Another nice line was 20.Re1 h4 21.Nf3 h3+ 22.Kxh3 Nh5 and there is a big attack. If the king goes back then 22...Ng4 and it's very unclear. So I played 20.Rb5. First of all he could try to play 20...Nc7 21.Rb2 Ne6 and it's not so clear if I achieved something by moving the rook from b1 to b2. Here again I could continue to terrorize him with repetition. There is nothing to be proud of in this game for me. I really feel like a terrorist." - Alexander Grischuk on his game against Giri. He also added, "Of course to lose to me, you need to play bad for sure."
"I think his last chance was here to play 28...f5. I have a lot of other options but there is 29.Qb2. If he takes 29...fxe4 I will play 30.f4 Ne7 I have 31.Rg5 and I think f5 is a huge threat. So he has to try 29...Ne7 using the fact that the e4-pawn is pinned, so I cannot take. Now I have maybe some other moves but there is a forced line 30.Rxb6 Rxb6 31.Qxb6 fxe4 32.f4 Nf5 32.Nxf5 Qxf5 33.Qxd6 e3 34.Qd5+ Qxd5 35.cxd5 e2 and this maybe is a draw." - Grischuk added further. "It's not like he was nervous, he just had a difficult task to win with black. There was like sort of a chain reaction. Lagrave had to win against Nepomniachtchi so there was a huge chance that he would lose and if he loses then Anish has to win to keep his chances. Then there is a big chance that he will lose. Actually Lagrave didn't lose but Anish lost. That's what I don't like about this Round-Robin tournament. Some people who are not relevant, they decide the outcome." - Grischuk on the tournament situation heading into the penultimate round and his opponent's chances.
Hao - Caruana: 0-1
Caruana on having mathematical chances before Round 13 - "No of course I didn't think about that. I wasn't even like in a mode where I thought you know I would play for a win necessarily because it was not even a million to one, it was a billion to one chance... I thought that this is of course a possibility but for every result to happen for two rounds, I didn't see that happen."
"This is a really stable position for both sides. I don't think either side is better. Maybe white has a slightly more pleasant version of it but it's basically equal." - Caruana on the above position. He also added, "I think the position never really changed from equality even though it changed in terms of the dynamics of it. This position should be equal in a number of ways."
40.Kh1 was the final mistake which cost white the game. Otherwise Caruana believed that white could have held a draw. Find out what was the only move which could have saved white.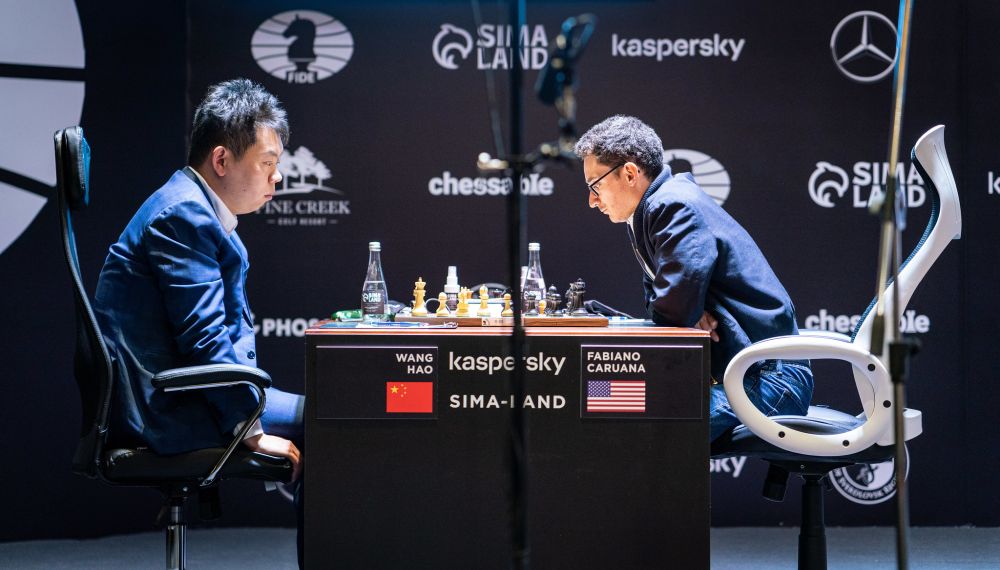 Alekseenko - Ding Liren: 0-1
Kirill Alekseenko played a fine game against Ding Liren. He even avoid a repetition, few moves before the 40th move.
44...Be4 is a bluff. Kirill called it rightly by taking it 45.dxe4 but he blundered in the next couple of moves.
47.Bc5 is a blunder as that allows black to go for a win. Find out why and what white should have played instead.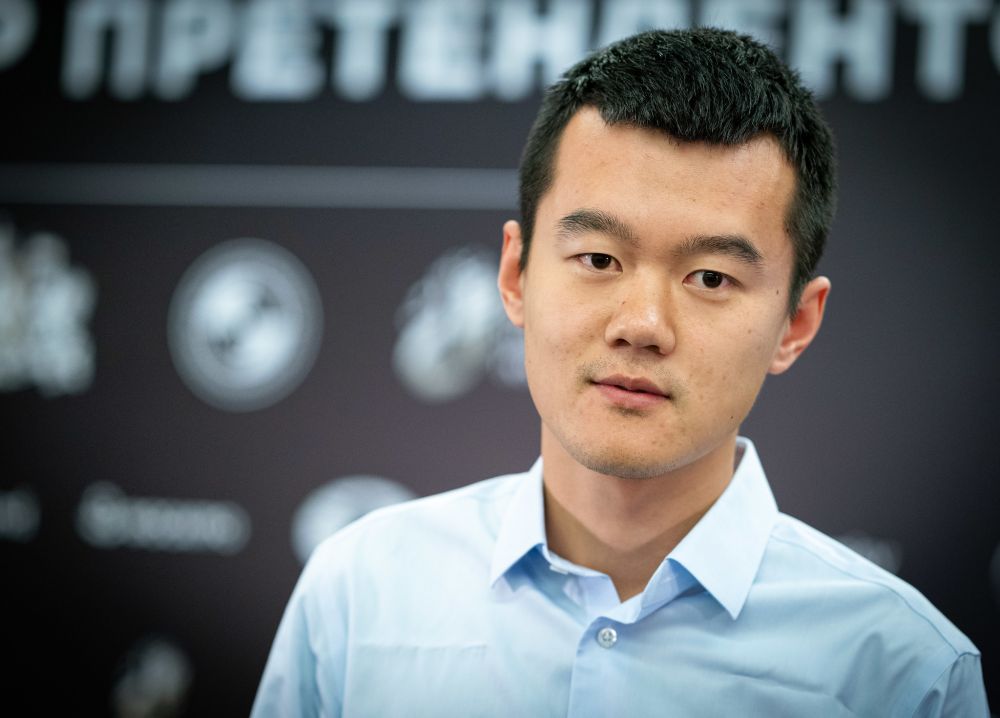 How the chess universe reacted to Nepomniachtchi's triumph
Round 13 results

Round 13 on 2021/04/26 at 16.00
Bo.
No.
Rtg
Name
Result
Name
Rtg
No.
1
7
2763
GM
Wang Hao
0 - 1
GM
Caruana Fabiano
2820
8
2
6
2789
GM
Nepomniachtchi Ian
½ - ½
GM
Vachier-Lagrave Maxime
2758
1
3
5
2696
GM
Alekseenko Kirill
0 - 1
GM
Ding Liren
2791
2
4
4
2777
GM
Grischuk Alexander
1 - 0
GM
Giri Anish
2776
3
Standings after Round 13
| | | | | | | | | | | |
| --- | --- | --- | --- | --- | --- | --- | --- | --- | --- | --- |
| Rk. | SNo | | | Name | FED | Rtg | Pts. | TB1 | TB2 | TB3 |
| 1 | 6 | | GM | Nepomniachtchi Ian | RUS | 2789 | 8,5 | 0,0 | 5 | 51,00 |
| 2 | 3 | | GM | Giri Anish | NED | 2776 | 7,5 | 0,0 | 4 | 46,00 |
| 3 | 8 | | GM | Caruana Fabiano | USA | 2820 | 7,0 | 1,5 | 3 | 43,25 |
| 4 | 1 | | GM | Vachier-Lagrave Maxime | FRA | 2758 | 7,0 | 0,5 | 3 | 45,25 |
| 5 | 4 | | GM | Grischuk Alexander | RUS | 2777 | 6,5 | 0,0 | 2 | 44,00 |
| 6 | 2 | | GM | Ding Liren | CHN | 2791 | 6,0 | 0,0 | 3 | 36,75 |
| 7 | 7 | | GM | Wang Hao | CHN | 2763 | 5,0 | 0,0 | 1 | 30,75 |
| 8 | 5 | | GM | Alekseenko Kirill | RUS | 2696 | 4,5 | 0,0 | 1 | 29,00 |
---