Candidates 2020-21 R11: Giri scores a thumping win over Ding Liren
Anish Giri continues his impressive run at the second half of FIDE Candidates 2020 with a brilliant win over Ding Liren in Round 11. He now moves to a sole second spot with 6.5/11 and breathes down the neck of the tournament leader Nepomniachtchi 7.0/11 who made a draw with Caruana. The former World Championship challenger is now at sole third spot with 6.0/11. Grischuk scored the only other victory of the round against Vachier-Lagrave. Both are now at 5.5/11. Game of the day definitely goes to Giri whose win was applauded by the chess universe. Photo: Lennart Ootes/FIDE
Giri reduces the gap with Nepomniachtchi
Candidates is an opportunity for the top players who work their entire career to deliver their best performance. Only in this tournament, the value of second and anything afterwards is same. Why? Because if you don't win it, you don't get to challenge the reigning world champion to defend his world championship. The mathematical odds on favorite at the moment might be Nepomniachtchi but it is far from over especially when Anish Giri is playing some of his best chess in his career who is looking to claim the throne for himself by becoming the no.1 contender for the world title.
Anish Giri - Ding Liren: 1-0
"Few people already told me that it was a great game but I don't think it was as great as it looked in the end. Until one point, he was the one who handled the play. He was dictating sort of the course of the game." - Giri on his win over Ding Liren.
"I didn't expect 10...0-0-0 but I should have. It's a very very reasonable way of playing and it's a very good way for black. I just somehow didn't really expect it." Giri also added, "I am not sure if 11.Qe2 is necessary." He thought that there are two queenside plans with either a3, b4 and c4 or c3, b4 and a4. He mentioned that he was probably surprised/confused/impressed with 13...c6. Upon knowing that Ding Liren was also surprised with his choice of move, Giri shared, "It is hard to expect such a stupid line, I mean it's the most harmless line we can imagine.
"At first I was happy because he goes 17...cxb4 18.axb4, I saw c4-b5 ideas but then it hit me that he's got 17...c4 18.dxc4 f5 which was very strong I think and then also he found the immediate 17...f5 which was also very strong. It was stronger than 17...c4 maybe.
"Here I am under huge pressure and I think black has all the trumps. At the very least, he can just take on e4. I was planning to take with the queen. He can take on f3 and we enter an endgame where he is slightly better at. I thought I should hold it but I am not playing for a win for advantage ever but I think he went a little over ambitious with 19...g5." Giri's thoughts on the above position. Ding also felt 19...g5 to be not so good.
What did black miss here when he went 20...g4 ? Ding admitted missing this which he felt was very strong. After that he thought for 30 minutes but he could not find a way to utilize it.
Giri thought that 23.d4 was very tempting, meeting 23...Kb7 with 24.Na5+. Strategically he felt that he needed to bring a knight to e4, block the c7-bishop and he felt that it looks good for white. He also shared that 23.Ne4 was one of his better sacrifices compared to other sacrifices he had done before. Black shouldn't have taken the bishop is what Giri thought.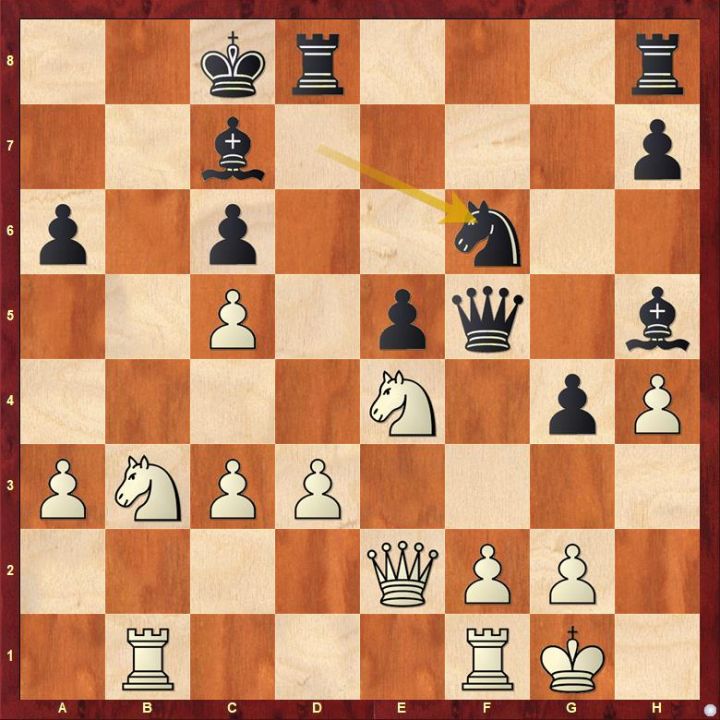 White is completely winning here. Find out the finish after 24...Nf6.
"Yeah you just summed it all up. I am behind Ian, also because of the tie-break that was well known but it was very good win against both Chinese players. It's very much a possibility that things go well. It's good because let's say if I lost today then Ian has one less headache. Now he has to still worry a little bit and I think a lot will depend on my next few games. The final games for me and Ian also because I am gonna have very exciting games coming up with Fabiano, Grischuk and Alekseenko. They are all very well prepared. Ian also has a lot of interesting games. He is going to play Wang Hao who also played very interesting today. So I think the game of Hao against Ian is going to be very exciting." - Giri on the tournament situation.
Grischuk - Vachier-Lagrave: 1-0
"9.Nge2 is a novelty, computer is laughing, black has ten good ways but also he has 20 bad ways." - Grischuk's first words on the game.
"I could not remember 12...Qb6. Maybe it's already an inaccuracy. Actually I spent whole morning, whole yesterday, tried to remember all these things but I still failed. I know for sure 13.h4, 14.h5 Nxh5 is just never good for black." - Grischuk on the above position.
Vachier-Lagrave opined, "I didn't spend two days trying to remember this line but I did spend some time and I also failed to remember all details... I never thought it's that bad until it became so after 18.g4." Grischuk thought that his opponent will play 19...Ng4 after 19.g5.
MVL thought about 21.Nd5 was a move but after 21..Nxd5 22.exd5 Grischuk did not like 22...Qf2. That's why he played 21.f6. "It's a bit like the game between Shirov and Kasparov in Linares. Shirov came maybe the closest to ever beating Kasparov. He had huge attack but somehow Kasparov jumped Qf2 and saved the game." - Grischuk shared.
Vachier-Lagrave acknowledged spending a lot of time on 22...d5. Also after 23.Nxh5 d4 24.Nd5 Rxd5 25.exd5 Rxc2 26.Qe1, he shared spending a good amount of time trying to figure out the position.
There was something for white after 30...gxh5. What was it? When Grischuk was asked if he spotted it at the Press Conference, he said, "Yes I saw but when you blunder two things in three moves..."
When asked about if Grischuk spotted 42...Ba3+ during the game, "Yes that's why I usually go to smoke after 40th moves and here I stayed to induce playing fast. It was my trick." To the same question, MVL responded, "I knew it was an option but I just thought it made no difference."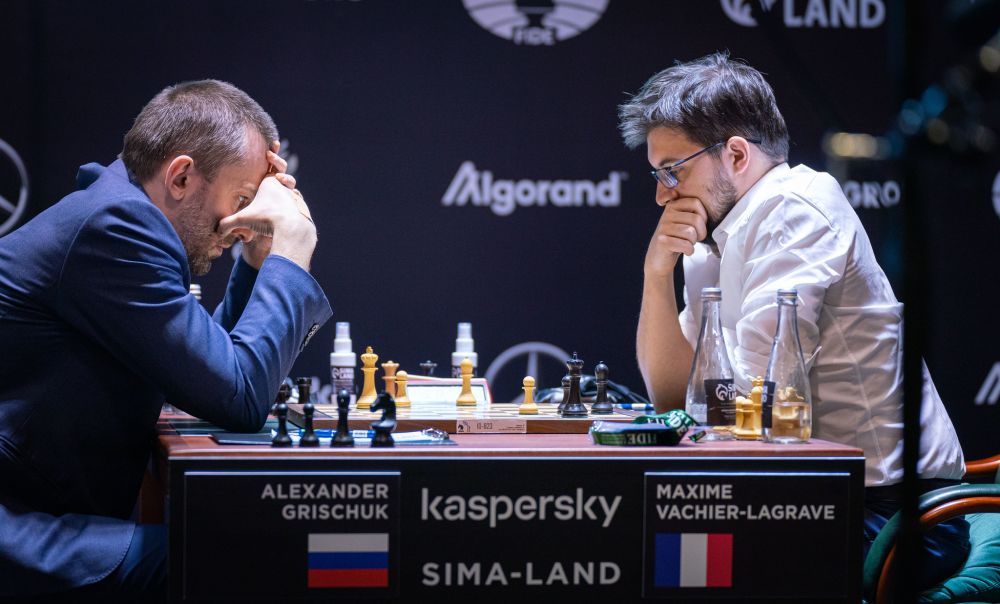 "Of course it's microscopic but as long as there are some theoretical chances are there to fight.." - Grischuk on his tournament situation. "Yes I will come back tomorrow, play some chess and whatever happens, happens." - Vachier-Lagrave on his tournament situation.
Ian Nepomniachtchi - Fabiano Caruana: 0.5-0.5
"I thought Ian might have two approaches - one, to get a complicated fight and another to play a more or less safe position with some very minor chances that I messed this position up but like 99% of the time this line will turn into a draw. Although players have had a lot of difficulties with black here. I remember Shakh lost with black against Yu Yangyi and I think there were some other games where black was struggling but it is a very drawish line. I still managed to get into some difficulties. This is a dead draw but I played a bit carelessly with 23...Qc5." - Caruana on his game against Nepomniachtchi.
"I felt like here my pawn suddenly goes somewhere to a5. If black puts the rooks in a passive way like rooks at a8 and e6 at least, I have some space advantage and with having queens on the board, I can try to combine some ideas of trading pair of rooks but indeed it's a draw..." - Tournament leader Nepomniachtchi on his game against Caruana. He also added, "I guess 23...Qc5 suddenly gave me a few chances but I think honestly it was never enough to hope for something serious."
When Nepomniachtchi was asked about his thoughts on moving to World number 3 in live rating list, "Thank you for such news but I guess I was like number three in live rating during this Russian Superfinal at some point so this is pleasant but I don't think it's such a big deal." On his approach towards the game, "One could call this tournament strategy but in general I expected Fabiano to play some Sicilian or some sharp lines. This e4-e5 is very solid and in general if everyone is prepared well after after e4-e5 anyway, you come to some equal positions..." Caruana on his approach for the game, "If this was the last round then I would... I did consider of course playing something a bit more double-edged than e4-e5. e4-e5 can lead to very double-edged positions anyway. It's still three rounds to go. I thought why would I burn my bridges. I don't think that this was like a must-win or anything like that."
Kirill Alekseenko - Hao Wang: 0.5-0.5
"I wanted to finish but somehow I thought I had some slight chances but okay it was not serious at all." - Hao on if he wanted to continue the game further. "I was surprised with the opening. I didn't expect this 6..g5 variation." - Alekseenko on the game. Hao chimed in with, "This one has been popular since 2019."
Round 11 results
Standings after Round 11
| | | | | | | | | | |
| --- | --- | --- | --- | --- | --- | --- | --- | --- | --- |
| Rk. | SNo | | Name | FED | Rtg | Pts. | TB1 | TB2 | TB3 |
| 1 | 6 | GM | Nepomniachtchi Ian | RUS | 2789 | 7,0 | 0,0 | 4 | 37,00 |
| 2 | 3 | GM | Giri Anish | NED | 2776 | 6,5 | 0,0 | 3 | 32,75 |
| 3 | 8 | GM | Caruana Fabiano | USA | 2820 | 6,0 | 0,0 | 2 | 32,50 |
| 4 | 4 | GM | Grischuk Alexander | RUS | 2777 | 5,5 | 1,5 | 1 | 30,75 |
| 5 | 1 | GM | Vachier-Lagrave Maxime | FRA | 2758 | 5,5 | 0,5 | 2 | 30,00 |
| 6 | 7 | GM | Wang Hao | CHN | 2763 | 5,0 | 0,0 | 1 | 25,00 |
| 7 | 5 | GM | Alekseenko Kirill | RUS | 2696 | 4,5 | 0,0 | 1 | 24,50 |
| 8 | 2 | GM | Ding Liren | CHN | 2791 | 4,0 | 0,0 | 1 | 22,50 |
---