Candidates 2020-21 R12: Giri beats Caruana with the black pieces
It would be an understatement to say Anish Giri is absolutely impressive in the second half of FIDE Candidates 2020. He continued his momentum and scored his third victory in the last five games. Only Nepomniachtchi has scored two wins since the tournament resumed. The reigning Russia champion Nepomniachtchi maintained his sole lead with a victory over Hao Wang and moves to 8.0/12. Giri is at 7.5/12. Giri must win the last two games and hope Nepomniachtchi scores less than 1.5/2 to win the event as the latter has the better tie-breaks over the Dutch no.1. Photo: Lennart Ootes/FIDE
Will Giri stand tall in the end?
FIDE Candidates 2020 for the first time witnessed four decisive results. This just shows that stakes are at an all time high and everybody wants to finish at the top. Anish Giri continued his impressive run as he beat Caruana for the first time with black pieces in almost a decade. The last time it happened was in 54th Reggio Emilia in 2011 which was also a double round robin tournament and Giri went on to win the tournament. Can he repeat the same feat again? We will only know in two days.
Fabiano Caruana - Anish Giri: 0-1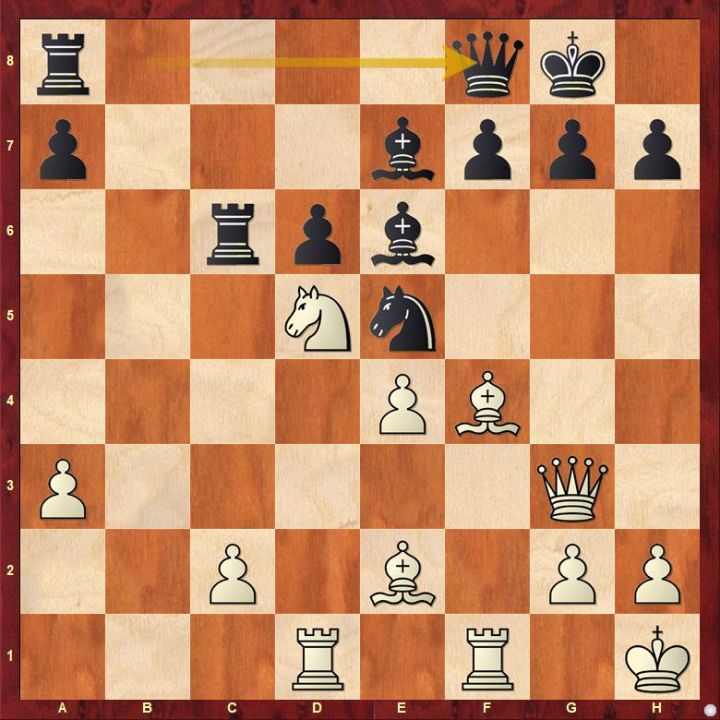 "Yeah I am very happy with the fact that I won another game. You have to be lucky of course. I think the pivotal moment was, here Fabiano I felt was quite enthusiastic about his position but after 20...Qf8 which is a good move. He probably realized that he no longer is playing for an advantage. Given that he was in a must-win situation, it was a big let down for him. It's hard when you play a position where you have to defend and you are in a must-win. You don't have any enthusiasm whatsoever." - Giri on his win against Caruana.
"I think here he is still okay. 22.Bg4 or maybe Bb5 but 22.Bd2 was definitely little soft. Now I think I am slightly better." - Giri's thoughts on the above position.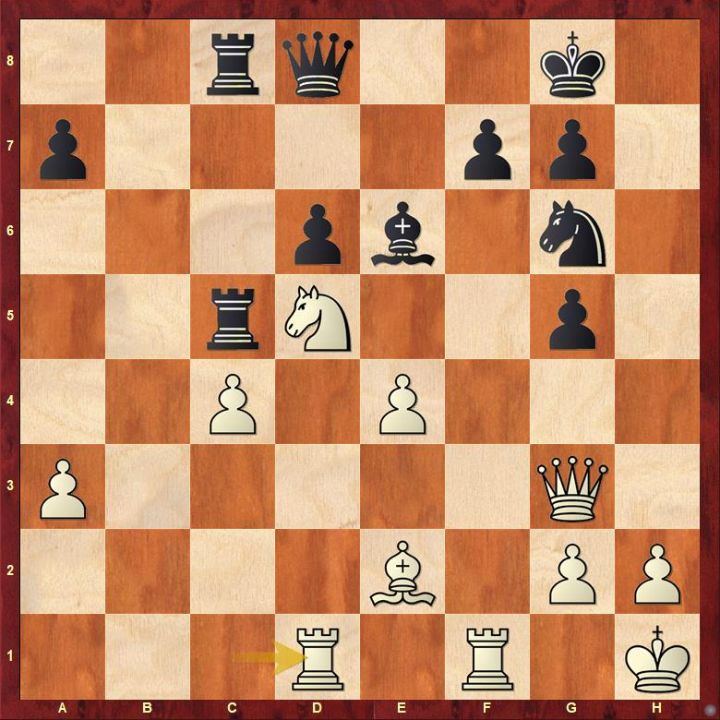 "It was just very pleasant for me and it was hard for him to defend I guess." - Giri added more.
Giri shared a crucial variation in the above diagram. After 36.Qb6 Rxa3 37.Qxd6 Rxf3 38.gxf3 Qe2. Based on this Giri kept an extra pawn according to him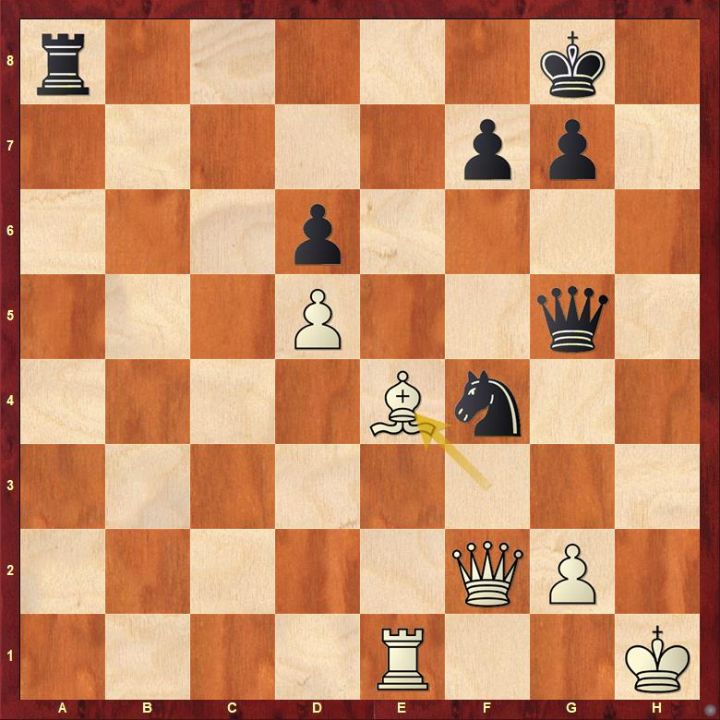 "There was a funny moment here before time control. I thought I am winning on the spot. Then I made a parlor move. 40...Ra2 I calculated 41.Bb1 and Bc2. Then I have Qh5-Ne2 idea after Bb1 for e.g. After 41.Bc2 I have Kf8. After 41.Rb1 I assumed I have Qh5-Ne2 but then I realized that I have a back-rank issue, he can sacrifice the queen. So here I had to go back. I did see that I can always go back so I thought it's not a very risky decision but still it was just very stupid. I should play 40...f5 right away. Probably here he can put up a better resistance but it's hard for him. I think he cannot really play 42.g3 because things like 42...Qh6+ 43.Qh2 Nh5 are quite annoying. So I guess he is just lost anyway but it was just a funny tactical..." - Giri on the final moments of the game. "I thought I already won. Here I was a little bit upset because I didn't see this (41.Rb1)." - Giri talks about if playing 41...Ra8 was difficult for him. "This position is just winning, tactically as well. So it was just a funny little moment otherwise. After 20...Qf8 I felt the game sort of started turning around and for me I thought this moment (diagram 1)." Giri shared further.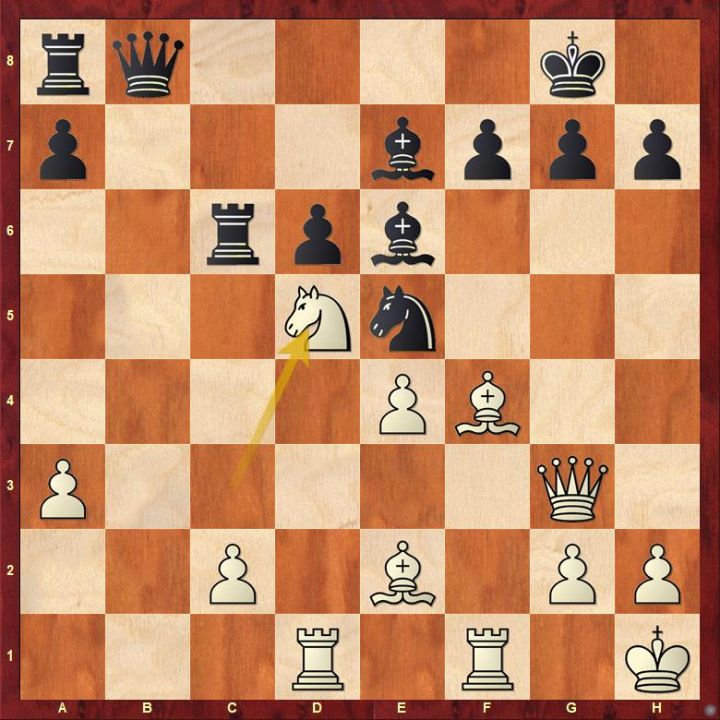 "If I take 20...Bxd5 then I am losing right away 21.exd5 Rxc2 22.Bxe5 dxe5 23.Bd3 Rc7 24.d6 Bxd6 25.Be4 my rook on a8 is trapped. I just have this quiet move 20...Qf8 and I am fine." Giri shares a variation on what would have happened if he became too enthusiastic at a certain moment. "I don't think it's changing. I think from Day 1 Ian is steadily doing his thing. So I don't really think too much is going on..." - Giri's thoughts on the tournament situation.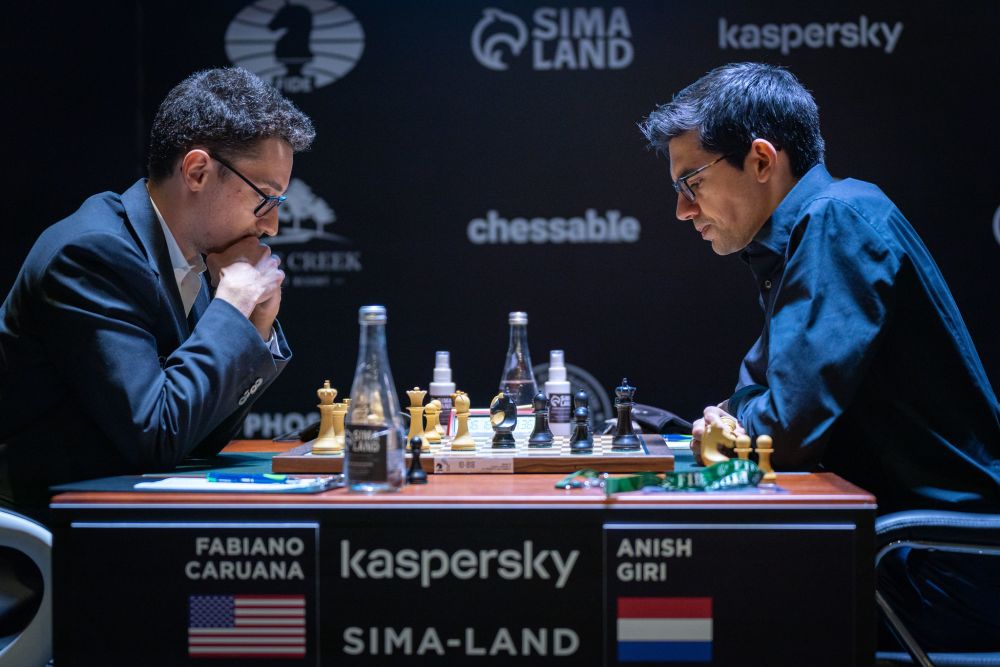 "A little bit surprised. I wasn't unhappy, it looked like a fight. I thought I had a very promising position at some point. After 20...Qf8 I lost the thread. Up to here I thought that I was pressing and his position was very dangerous. Then I couldn't quite see how to play it and unfortunately things just went down. I played very very badly after 20...Qf8. Maybe white is not much better but at least I should be able to put pressure on him." - Caruana on if the opening surprised him and the game. "I didn't want to play 21.c3 or 22.Rc1 but then I was getting low on time and I had to play something. My first idea was to play 21.c4 but after Nxc4 I didn't see how to really prove an advantage there. I just didn't see clear moves. Maybe I could have taken on e5 (21.Bxe5) and played 22.Bg4 but there were so many optins and I couldn't quite sort through them. Yeah of course I don't want to play passively like this but I thought that at least I will be able to play a4, Bxe5 or something like that. But then after 22...Ng6 I guess also 23.Bd2 is bad. Of course I should never get worse here at the very least but then after 25...h6, I already disliked my position and things went downhill." - Caruana on playing passive moves like c3, Rc1. "Yeah it was a pretty much a must-win. That's what I thought before the game so I was happy at least that I got a tough fight. I would have liked at least, after getting some initiative to put more pressure on him. It felt like after I got a good position I didn't even like really give him any problems to solve." - Caruana on the game being a must-win for him.
Hao Wang - Ian Nepomniachtchi: 0-1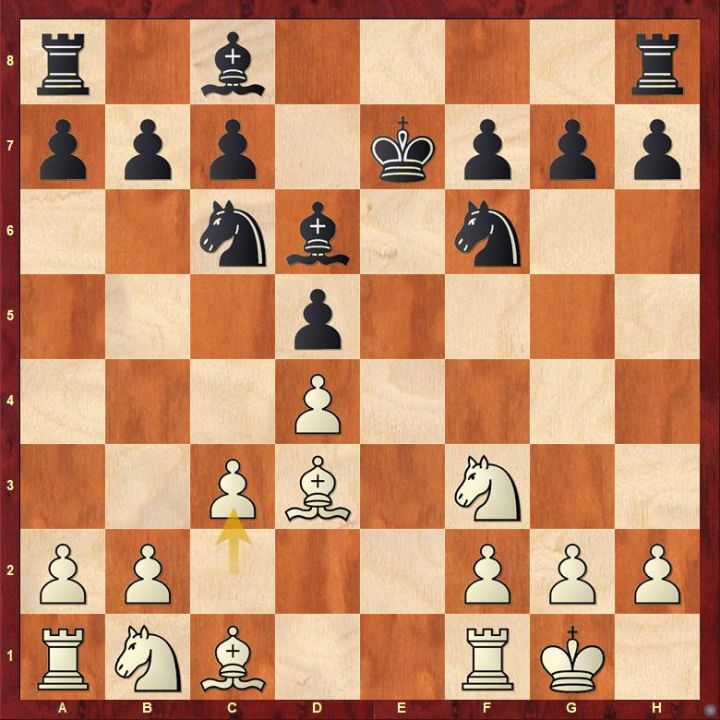 "I only was thinking how not to get into trouble because I think this position is of course it's equal but it can be sometimes unpleasant like two bishops and white very slowly builds up especially if they trade a couple of rooks and then try to make a breakthrough so. I have very very little experience." - Nepomniachtchi if he thought he would be winning this game at the opening. "I am a new player to Petroff's Defense here so I have no experience. 12.Nh4 is the move I surely missed. I only calculated 12.Ne5 here. I thought it's interesting as I can't take with knight since I lose a piece here. I think I can try 12...Bxe5 13.dxe5 Nxe5 14.Re1 Kd6 15.Bf4 Nd7. Maybe I can keep this knight alive, f6, c6 and so on. I didn't see how do I lose here. So I was already happy about it." - Nepomniachtchi added further.
"After 13...Bxf5 14.Bxf5 looks like a very small edge for white but white doesn't have such a good development. I had no idea what to do so I just started to move around and try to fix the structure.
21.f3 is a weird move to me. I think knight on e3 has to be supported because with this setup like Ne4, you can more or less ignore it like play b3, Bb2, Ne3, Rc1, c4.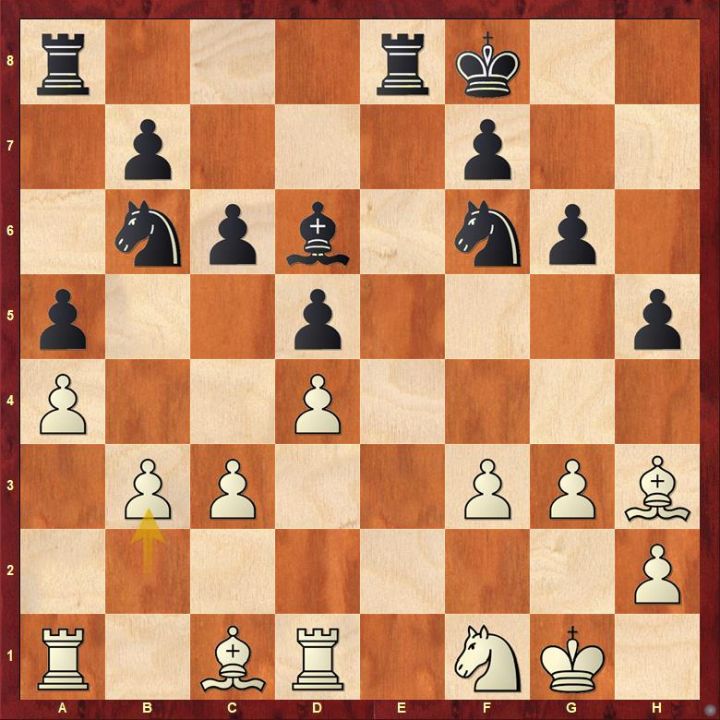 Here black can also stand still but since f3 and b3 has been played and bishop on h3 is slightly misplaced, I thought maybe there is a plan for me to play c5.
This was of course welcome like Bg5 gives me a tempi. Of course white could play something like 26.Bxe6 fxe6 27.Bxf6+ Kxf6 and then play 28.f4 maybe g5 29.fxg5+ Kxg5 30.Nd2 and make a draw. Somehow 26.Be3 also doesn't spoil anything Rac8 27.Bd2 c5. I think play of both sides could be improved many times.
So here I thought maybe there is some tiny pressure for black and here I was very lucky to find this idea of Nc7. So basically white is okay but bishop on h3 is just likely.
After 31.b4 axb4 I think even 32.cxb4 is good then a5, b5 and so on." - Nepomniachtchi on the game. When asked about the idea behind Rc6, Nc7, Nepomniachtchi answered, "The idea is not to let the bishop on h3 get traded too soon. This setup is clumsy. Of course white has two bishops which is well known as advantages.
Here I was of course happy when this thing appeared (above diagram). There is also 34...d4 but I think 35.c4 Nd6 more or less the same. I thought maybe 34...Nd6 is a little bit more tricky. 35.Ra7 Bxc3 36.Bd7 is a nice way because if you play something like 36.Bf4 then Nc4 and black can ask some questions here. There was 36...Rc4 was as well but I thought this endgame would be unpleasant for white after 36...Nxd7 37.Bxc3+ Rxc3 38.Rxd7 Rc6." When Hao was asked what was the moment when something went wrong, he answered, "I don't know. I was very tired. I couldn't calculate anything and somehow blundered somewhere, just lost and like it happened every time here. I didn't have any energy left. If I can make draw probably it's equal, probably I would lose this and whatever. After 40th move, I started to play like 2200 player."
According to Nepomniachtchi, 54.Rc3 was the only mistake for white. Instead he should have played 54.Ne4. When asked about some spectator's not being sure about why he resigned after 59...Ra3, Hao replied, "Because I did not want to continue. I think it's a problem for black. Maybe I can defend somehow but I didn't want to. I think it was close to losing." Nepomniachtchi showed a line where I could have continued in the final position after 59...Ra3 60.Kf2 Nd3+ 61.Kf3 Ne5+ 62.Kf4 Nf3. When asked about Giri's two consecutive victories and Vachier-Lagrave also winning his game, Nepomniachtchi said, "Well I guess it's very complex and still two rounds to go."
Vachier-Lagrave - Alekseenko: 1-0
Vachier-Lagrave on winning his first game in the second half of the Candidates 2020, "I feel mostly relieved. Of course it's a case of opening gone bad.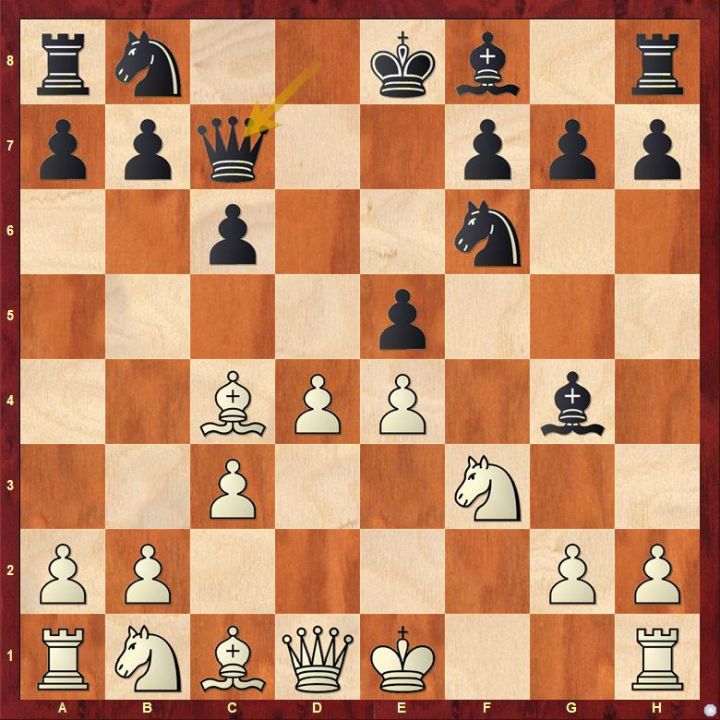 7..Qc7 for sure is already sort of unpleasant.
This point after 10.Bf4 where you cannot retake 10...Qxe4+ because now I go 11.Qxe4 Nxe4 12.Nd2 and next move I will just castle and Re1. His king is just not safe." When asked about black playing 6...Nf6 too fast and after that black's position being not so great, the France no.1 replied, "Yeah it's a difficult line to play. I don't remember many details. I didn't remember all of them but just enough."
Ding Liren - Grischuk: 1-0
"I played it many many times with white but it didn't help me to play with black" - Grischuk on playing this opening many times before. He added, "I thought I will try to complicate the position but it doesn't work, it just loses tempi for me. I think you played very good."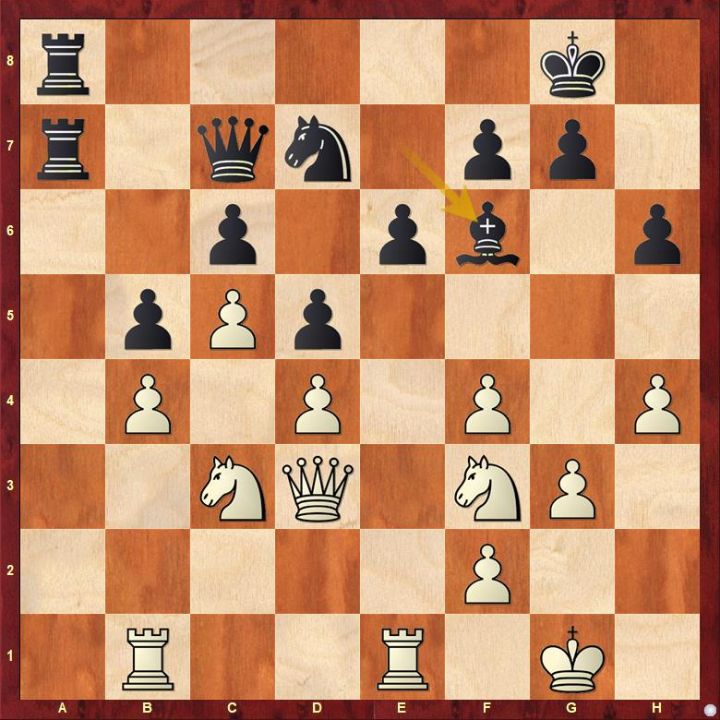 Grischuk thought maybe 21...Bf6 is very bad. He thought maybe 21...h5 is okay.
"This is what I was always dreaming to get with white but never could in ten games." - Grischuk shared.
"Here if I played 37...Qa8... I thought it's more or less the same." On this game being an all-in game for him, "No, after the opening, I had no chance to win.
Round 12 results

Standings after Round 12
| | | | | | | | | | |
| --- | --- | --- | --- | --- | --- | --- | --- | --- | --- |
| Rk. | SNo | | Name | FED | Rtg | Pts. | TB1 | TB2 | TB3 |
| 1 | 6 | GM | Nepomniachtchi Ian | RUS | 2789 | 8,0 | 0,0 | 5 | 44,50 |
| 2 | 3 | GM | Giri Anish | NED | 2776 | 7,5 | 0,0 | 4 | 41,75 |
| 3 | 1 | GM | Vachier-Lagrave Maxime | FRA | 2758 | 6,5 | 0,0 | 3 | 38,00 |
| 4 | 8 | GM | Caruana Fabiano | USA | 2820 | 6,0 | 0,0 | 2 | 36,00 |
| 5 | 4 | GM | Grischuk Alexander | RUS | 2777 | 5,5 | 0,0 | 1 | 34,25 |
| 6 | 7 | GM | Wang Hao | CHN | 2763 | 5,0 | 1,5 | 1 | 27,50 |
| 7 | 2 | GM | Ding Liren | CHN | 2791 | 5,0 | 0,5 | 2 | 29,00 |
| 8 | 5 | GM | Alekseenko Kirill | RUS | 2696 | 4,5 | 0,0 | 1 | 26,00 |
---