Julius Baer Challenge 2022 R1-7: Prraneeth and Leon make an unbeaten start
GM Andrey Esipenko made a perfect start 21/21 at Challengers Chess Tour 2022 Julius Baer Challenge. He won all seven games on the first day. IM Prraneeth Vuppala and GM Leon Luke Mendonca made an impressive start 15/21. Both of them scored four wins and three draws each. They are undefeated so far. GM Raunak Sadhwani scored 12/21. WGM Vantika Agrawal 10/21, IM Aditya Mittal 8/21 and WIM Savitha Shri B 6/21 have a lot to catch up in the last eight rounds. Since it's a blitz tournament, a lot can change. Only top two of this leg will advance to the Finals. Round 8 starts today from 6:30 p.m. IST. Photo: Rupali Mullick
A perfect day for Esipenko
Since it's a blitz event, we will take a quick glance at some interesting games.
Round 2: Vantika - Malicka: 3-0
WGM Vantika Agrawal outplayed FM Maria Malicka (POL) beautifully.
Assaubayeva - Prraneeth: 0-3
Reigning World Blitz Women's champion, IM Bibisara Assaubayeva (KAZ) made a simple tactical error against IM Prraneeth Vuppala. She had to pay a heavy price for it.
Aditya - Jonas, Round 3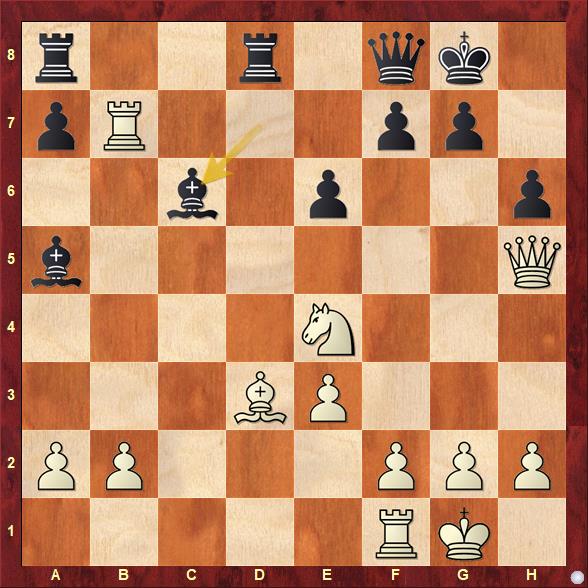 Find out the winning combination for White which IM Aditya Mittal executed in the above position against GM Jonas Buhl Bjerre (DEN).
Savitha - Salimova: 3-0
World no.3 among Junior girls and India no.3 woman, WIM Savith Shri B gained an exchange against World no.5 among girls and Bulgaria no.2 woman, IM Nurgyul Salimova. The former converted her advantage and went on to win the game.
Round 4: Svane - Savitha: 0-3
WIM Savitha Shri B persevered in a tough position and seized her opportunity in the endgame against IM Frederik Svane (GER).
Round 5: Savitha - Vantika: 0-3
WGM Vantika Agrawal displayed fantastic positional understanding to outplay WIM Savitha Shri B.
Round 6: Jonas - Raunak: 0.5-0.5
GM Raunak Sadhwani made an incredible save in a completely lost queen vs two rooks endgame against GM Jonas Buhl Bjerre (DEN).
Replay the live stream
Standings after Round 7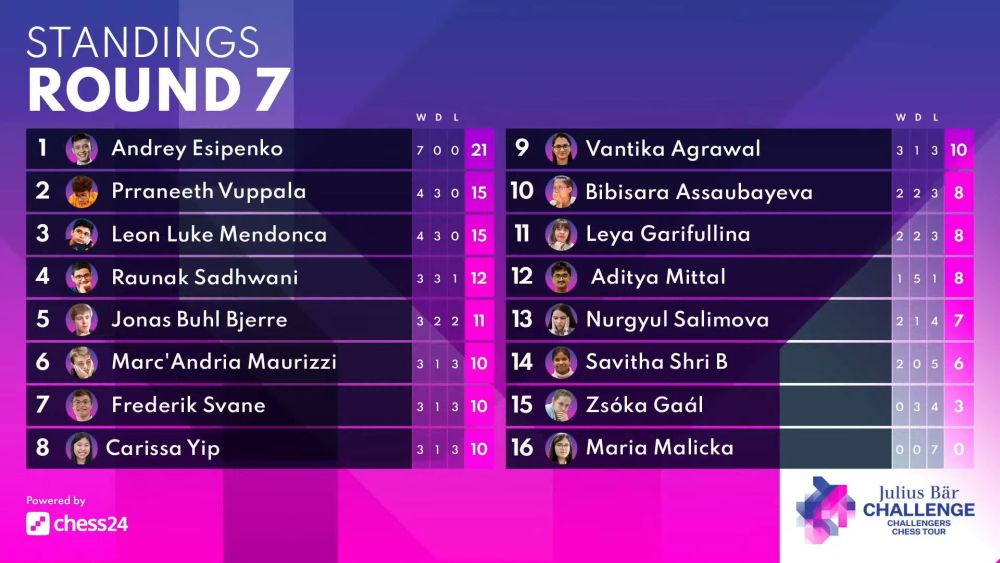 Replay Round 1-7 games
Links
---