Five Indian juniors will feature in Magnus Chess Academy Challenge starting today
The second leg of Challengers Chess Tour 2022 starts today with Magnus Chess Academy Challenge. 15-players including five Indians - GM Pranav Venkatesh, GM Bharath Subramaniyam H, WIM Sahithi Varshini, Ilamparthi A R and WIM Vishwa Vasnawala will take part. The Total prize fund for each tournament is US$10,000. A total of 14 rounds of Blitz games will be played in two days. Andrey Esipenko won the previous leg. The total prize fund for the entire season is $30000 + wildcard for Champions Chess Tour 2023 and a $10000 match against the previous season winner, GM Praggnanandhaa in Tel Aviv, Israel. The tournament starts tonight from 11 p.m. IST tonight. Photo: Challengers Chess Tour
World's youngest GM heads line-up for Magnus Academy Challenge
The new Magnus Academy Challenge, the second stage of Play Magnus Group's ground-breaking Challengers Chess Tour, kicks off on Saturday with a line-up of top young talent mentored by legend of the game Judit Polgar. The roster for the round-robin tournament, named after the new Magnus Academy training app, features 15 of the top age-group players in chess and is led by the world's youngest grandmaster, 13-year-old Abhimanyu Mishra from New Jersey.
Mishra will go head-to-head with one of the game's most exciting young talents, Turkish prodigy Yagiz Kaan Erdogmus. The 11-year-old is on course to beat Mishra's record as the youngest person to get GM status. Mishra was 12 years, 4 months and 25 days when he achieved the grandmaster title. Erdogmus is one of three Turks representing a new rising force in chess. Five Indians are in, including India's 75th GM Pranav Venkatesh, and two youngsters from Ukraine.
Magnus Chess Academy teaches online chess classes and camps to students from all over the United States, as well running in person camps, classes, and scholastic tournaments in several markets in the US. They're a recognised leader in chess education.
Adam Weissbarth, the CEO of the academy and a national master said: 'I'm looking forward to seeing these talented young players compete in a fast, high-stakes environment!'
The Challengers Chess Tour's first edition was won by the Indian sensation Rameshbabu Praggnanandhaa, who has since become a superstar in chess. The series focused on promoting youth and was shortlisted for a prestigious ESG Award for promoting gender equality.
The Challengers Chess Tour 2022 started last month. Andrey Esipenko won the first leg, Julius Baer Challenge. He won the first prize US$ 2000. Esipenko and runner-up, Raunak Sadhwani have qualified to the Challenger's Chess Tour Final Four on October 29-30. They will be joined by the top two in the Magnus Academy Challenge round-robin event.
In December, the overall 2022 Tour Champion will go on to face 17-year-old Praggnanandhaa, the 2021 Tour Champion, in a finale to the season worth a further $10,000 in prize money. That match, named the Julius Baer Challenger Championship, will be held on-site in Tel Aviv, Israel.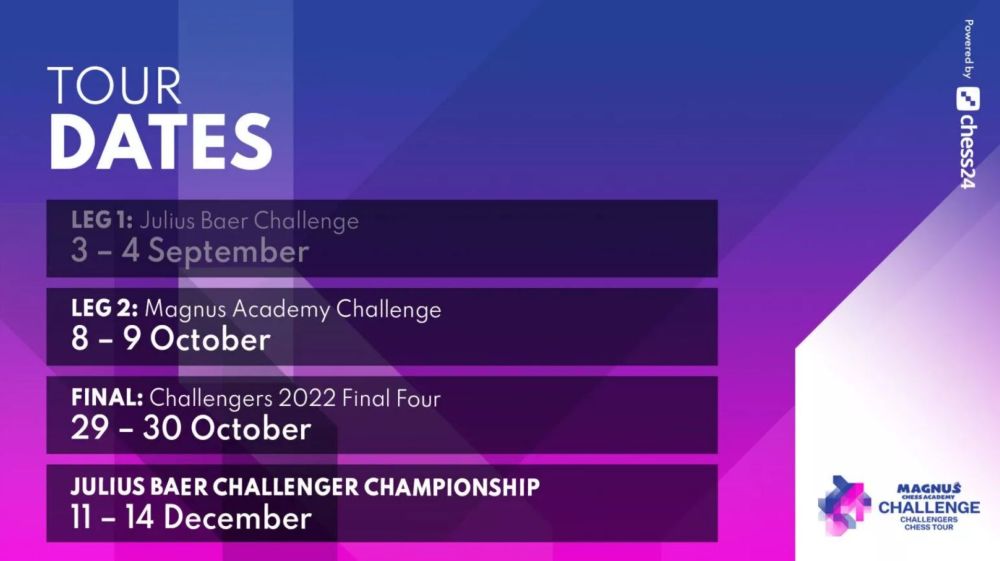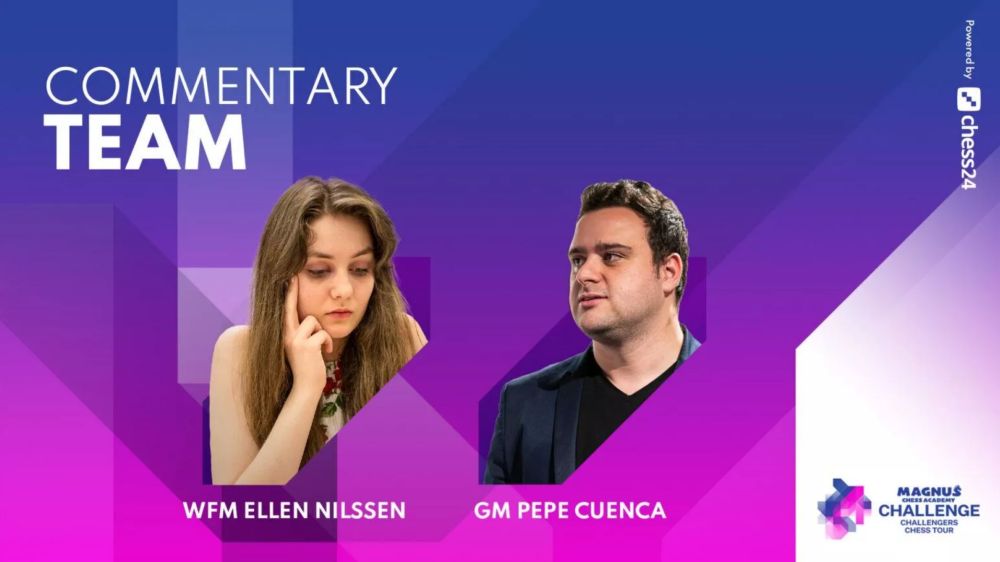 GM Judit Polgar, the strongest female player in history, will return to the commentary box to give expert insights on their players. She will be joined by popular Spanish commentator, GM Jose Fernando Cuenca Jimenez, famously known as GM Pepe Cuenca and WFM Ellen Nilssen.
Links
---