Magnus Academy Challenge 2022 R1-8: Pranav, Ilamparthi and Bharath in a four-way lead
GM Pranav Venkatesh scored 19/21 on the first day of Challengers Chess Tour 2022 Magnus Chess Academy Challenge. Since it is a 15-player round robin event, in each round one player gets a mandatory Bye. Thus, Pranav got one on the first day and he played seven games, unlike the remaining three leaders - IM Ihor Samunenkhov (UKR), the World Under-14 Open champion, Ilamparthi A R and India's 73rd GM Bharath Subramaniyam H. Those three players scored six wins, a draw and lost a game each. WIM Vishwa Vasnawala got herself a very good opportunity to beat the World's youngest GM Abhimanyu Mishra in the fifth round. Round 9 starts today at 11 p.m. IST. Photo: Sagar Shah
Very close competition
Since it's a blitz event, we will take a quick glance at some interesting games.
Round 1: Abhimanyu - Pranav: 0-3
GM Pranav Venkatesh started the tournament with a victory over World's youngest GM in history, Abhimanyu Mishra (USA).
Round 2: Ilamparthi - Erdogmus: 3-0
The newly crowned World Under-14 Open champion, Ilamparthi A R checkmated IM Yagiz Kaan Erdogmus (TUR) who is poised to break World's youngest GM record set by Abhimanyu last year.
Round 5: Abhimanyu - Vishwa: 1-1
WIM Vishwa Vasnawala was completely winning against GM Abhimanyu Mishra.
53...Nc2 54.Bg7 Ne3 defends the f6-pawn tactically as well as attacks the f5-pawn too. 53...Bh5 54.Bg7 Bg4 is how the game went on.
Replay the live stream
Standings after Round 8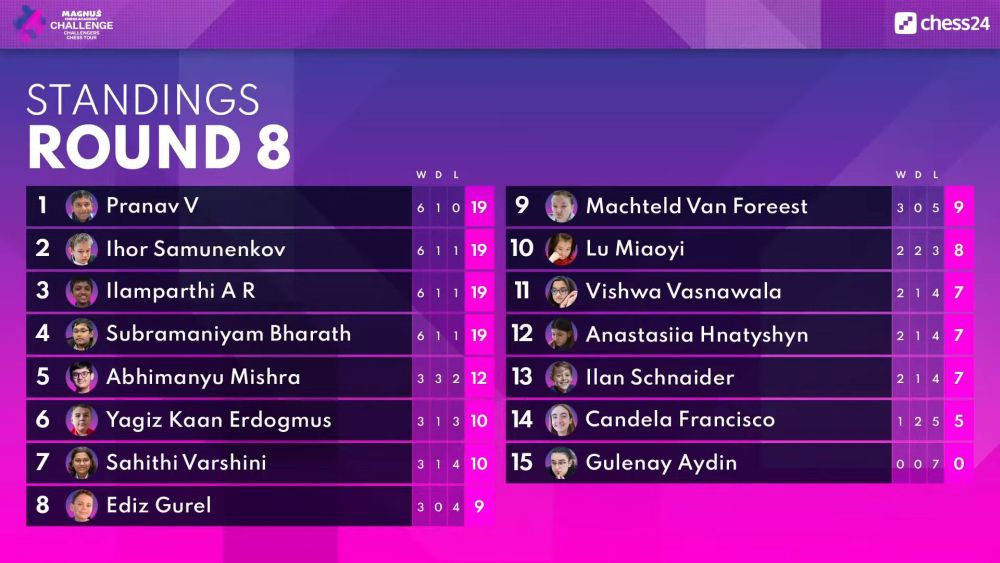 Replay Round 1-8 games
Links
---