Superbet Classic 2023 R7: Firouzja and Giri get the better of Nepomniachtchi and Ding Liren
When someone sees Ding Liren and Ian Nepomniachtchi lose again at Superbet Chess Classic 2023, the first thing that should come to mind is fatigue. Playing the World Championship Match is bound to take a toll. It does not necessarily mean that Ding Liren is a beatable or a weaker world champion. Their tiredness is bound to be utilized by their opponents. Anish Giri right out of the opening got an advantageous position by sacrificing his knight against Ding Liren. Alireza Firouzja capitalized on his chance when Ian Nepomniachtchi made a mistake in the endgame. Firouzja has caught up Fabiano Caruana in the lead 4.5/7. Round 8 starts today from 3 p.m. local time, 5:30 p.m. IST. Photo: Lennart Ootes/Grand Chess Tour
World Championship Contenders lose again
Alireza Firouzja became the first person to beat both FIDE World Championship 2023 contenders in the same event. Anish Giri won his first game of the event after six consecutive draws.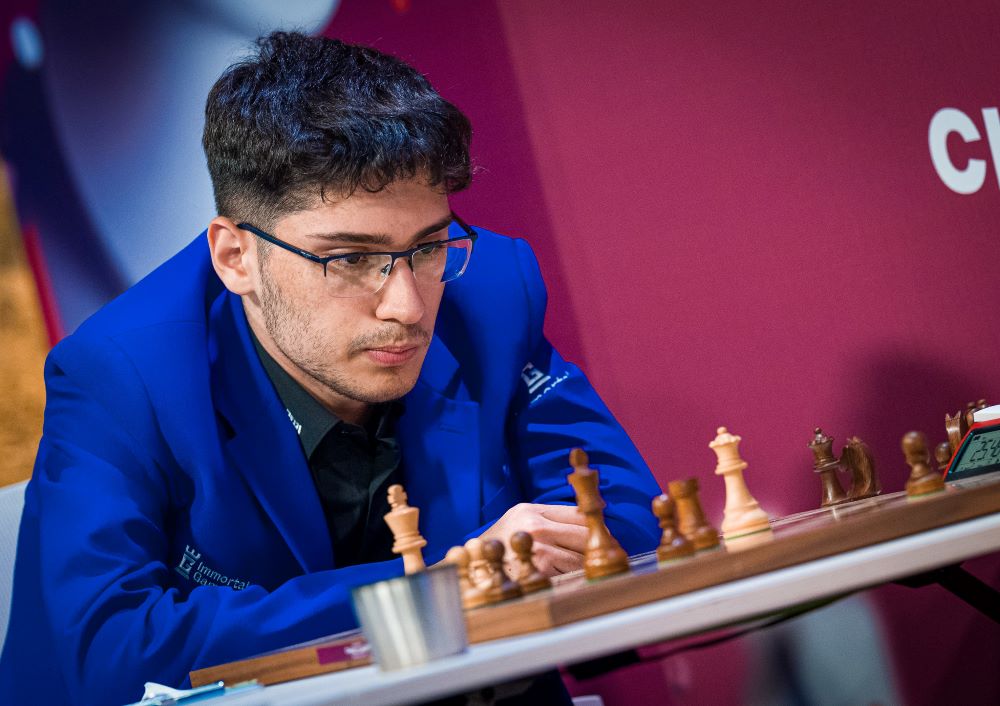 Firouzja - Nepomniachtchi: 1-0
Ian Nepomniachtchi (2794) defeated Alireza Firouzja (FRA, 2785) in their last Classical game in the final round of Sinquefield Cup 2022. Firouzja won the Playoff afterwards but that's besides the point. He got an opportunity to avenge his loss and he capitalized on it.
28...Qe2? was a mistake on Black's part. 28...f6 blocking the bishop's diagonal would have kept the game going. 29.a6! White forcibly creates a passed pawn on the queenside. 29...Qxf3 30.Qg4 Qd5 31.e4 Qxb5 32.Ba1 prolonged the inevitable Qxa6 33.exf5 Qxa1 34.Rxa1 Rxa1+ 35.Kg2. Instead, 32.Rc2 Rxa6 33.exf5 perhaps would have allowed White to win much earlier.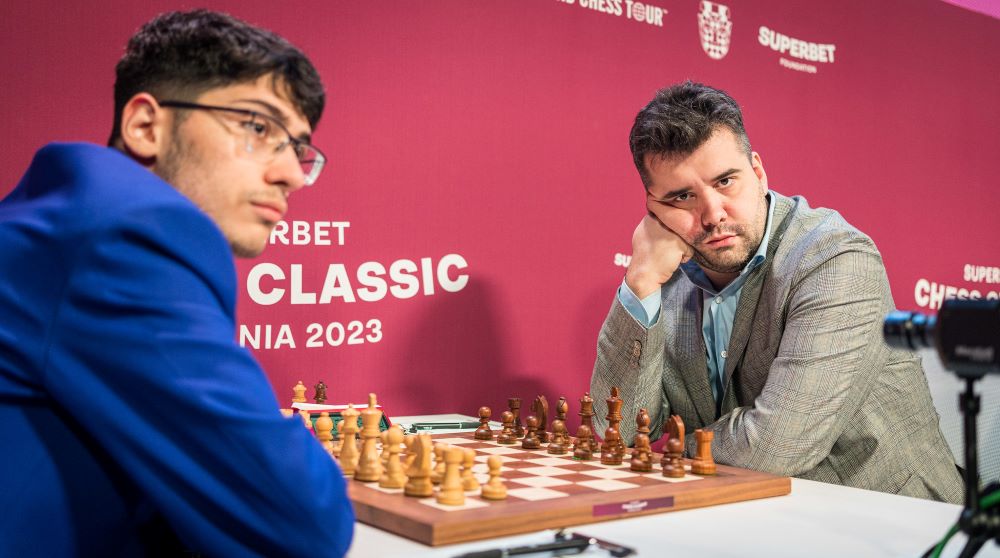 Giri - Ding Liren: 1-0
Anish Giri (NED, 2768) defeated Ding Liren (CHN, 2789) in their last two Classical battles - early this year at 85th Tata Steel Masters and the other one was at Candidates 2021. Giri knew that Ding is exhausted after the world championship and now is his best chance to beat him.
Giri knew what he was playing for. He went for the exciting 11.Nxg5! hxg5 12.Bxg5 Kg7 13.Qf3 and it is not easy for Black to get out of the nagging relative pin. 13...Be6 14.Nf1 Rh8 15.Ne3 Qe7 16.0-0-0 Rag8 17.Rhf1 Nb8 18.d4
The game continued 18.d4 exd4 19.cxd4 Nbd7 20.e5 dxe5 21.d5 and White won the game eventually. However, 18.Nf5+ would have been a better choice for White Bxf5 19.Qxf5 Nbd7 20.Kb1 Kf8 21.h4 c6 22.f4 seems much more convincing.
Replay Round 7 games
Round 7 results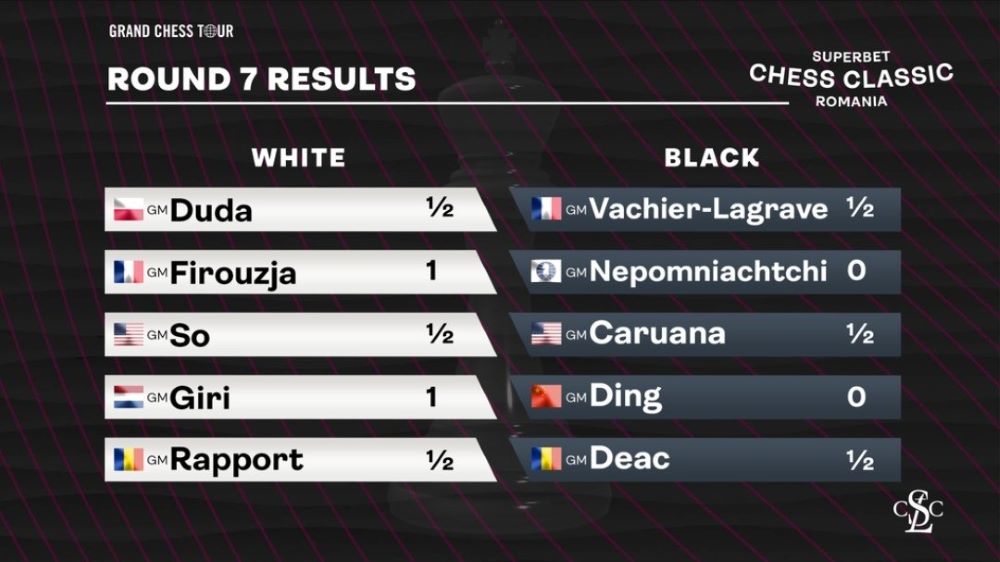 Standings after Round 7
Prize
The total prize fund for each of the classical event is US$ 350000 with the first prize being US$ 100000.
Schedule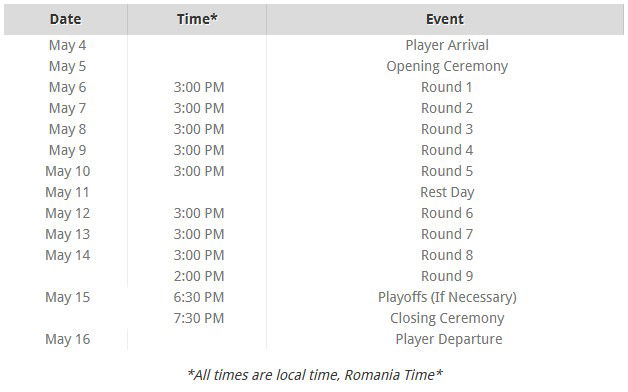 Links
---