Superbet Classic 2023 R6: Exciting draws and missed opportunities
For the first time in Superbet Chess Classic 2023, all five games ended in draws. However, there were plenty of exciting games. Maxime Vachier-Lagrave and Richard Rapport had n intriguing queen and minor piece endgame. Both sides were unable to push hard as that could have turned fatal. Wesley So had an opportunity to beat the new world champion Ding Liren. He could have sacrificed an exchange to gain the upper hand, before he exchanged his queen for rook and two bishops. Fabiano Caruana missed a great opportunity in the rook and knight endgame against Alireza Firouzja. The win would have extended his lead. Round 7 starts today from 3 p.m. local time, 5:30 p.m. IST. Photo: Lennart Ootes/Grand Chess Tour
"The evaluation is inhuman"
Vachier-Lagrave - Rapport: 0.5-0.5
The last Classical rated game played between Maxime Vachier-Lagrave (FRA, 2764) and Richard Rapport (ROU, 2745) was exactly a year ago at the same event on the exact same day. The former World Blitz champion won that game. However, this time, Rapport ensured that the result is different.
While both sides are trying to promote their respective pawns, there is no clear way to push for a win for either side. An overpush for a win could be detrimental to that player. 42.cxb3 Qa2+ 43.Ke1 Qh2 44.bxc4 Qxf4 45.Be2 Qg3+ 46.Kd2 Qg5+ 47.Ke1 Qg3+ and the game ended in a draw via perpetual check.
Ding Liren - So: 0.5-0.5
The last time Wesley So (USA, 2760) had a decisive Classical game against the new world champion Ding Liren (CHN, 2789) was back in June 2019. So won that game and he could have repeated the same. He only had to calculate like a computer.
According to the computer, 25...Rxd5 gives Black a decisive advantage 26.exd5 Nf4 27.Ne3 a6 28.Qa5 Bd7. Instead, So opted for the humane 25...Bd7 26.Qa5 Nd4 27.Rd1 Nxe2 28.Rh3 b6 29.Qa6 now Black decided to exchange his queen for a rook and two bishops Bxg4 30.Rxg3 Nxg3+ 31.Ke1 Be6 and the game eventually ended in a draw via repetition.
Caruana - Firouzja: 0.5-0.5
Fabiano Caruana (USA, 2764) and Alireza Firouzja (FRA, 2785) traded wins at the Candidates 2022 last year. That was the last time they had a decisive Classical rated game. In the sixth round, Caruana had a substantial advantage in the rook and knight endgame.
Black's king and knight are stuck, the rook does not have a lot of options either. 39.h4 Rc8 40.g4 Nc5 41.Re7 and White would have won the game as Black's position is paralyzed and mobility of his pieces is quite limited. Instead, White went 39.Nf7+ Kg8 40.Nd6 f5 41.Nc4 Rf7 42.Rb8+ Rf8 43.Rb7 Rf7 and the game ended in a draw via repetition.
Replay Round 6 games
Round 6 results
Standings after Round 6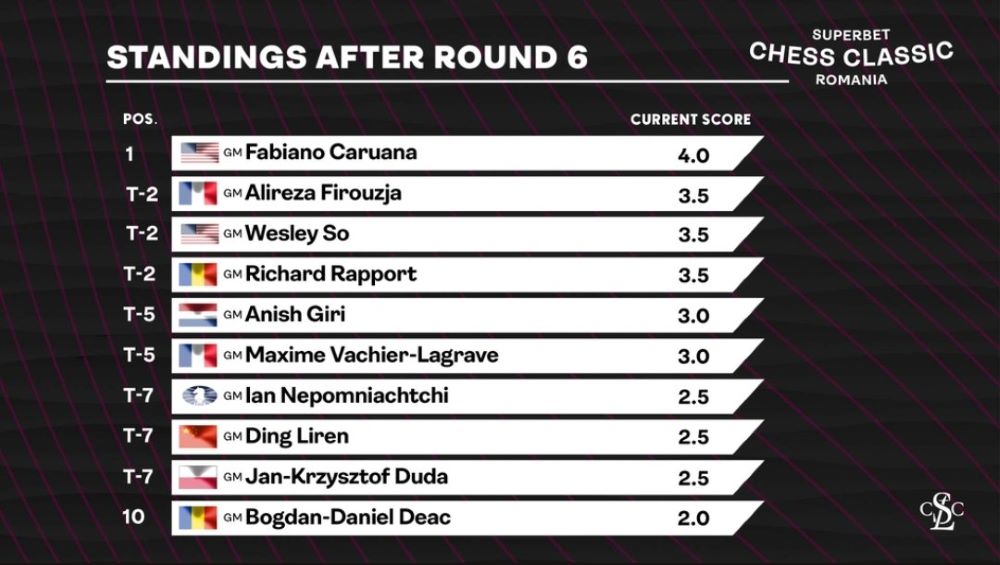 Prize
The total prize fund for each of the classical event is US$ 350000 with the first prize being US$ 100000.
Schedule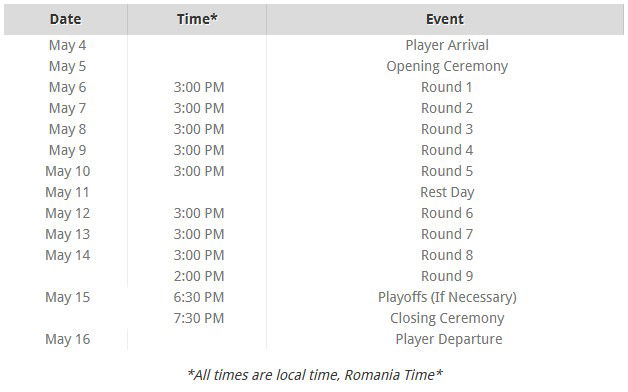 Links
---