Fabiano Caruana wins Superbet Chess Classic 2023
Fabiano Caruana drew against Richard Rapport in the final round to win Superbet Chess Classic 2023. The remaining three - Alireza Firouzja (FRA), Wesley So (USA) and Anish Giri (NED) who could catch him, also drew their respective games. Thus, Caruana became a clear champion. He won 13 GCT points and US$ 100000. Giri's overpush against Ian Nepomniachtchi almost cost him the game. Nepo's tiredness made him miss his chance and Giri escaped with a half point. The new world champion, Ding Liren finished the tournament with a win over the Romania no.2 Bogdan-Daniel Deac. This was Ding's only win out of nine games. The next event of Grand Chess Tour is Superbet Rapid & Blitz Poland 2023. World no.1 Magnus Carlsen will be seen in action. Photo: Lennart Ootes/Grand Chess Tour
Giri almost crashes
There is a reason world-class players do not take risks when they are not fighting for the first place, or a crucial spot. If the stakes are not high enough, there is no need to raise them. In case if you disagree with these words, you just need to see the Giri-Nepomniachtchi game of the final round.
Giri - Nepomniachtchi: 0.5-0.5
The last decisive Classical game between Anish Giri (NED, 2768) and Ian Nepomniachtchi (2795) was back in FIDE Candidates 2020. It was over three years ago. However, Giri surely has not forgotten about it. He knew he had a good opportunity to avenge that loss. The Dutch no.1 pushed too hard and was at the brink of a loss. His opponent's tiredness cost him miss his opportunity.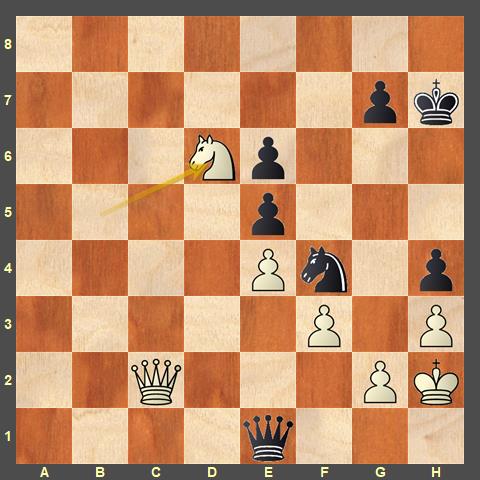 47.Nd6?? is a big mistake. Black could have won the game by utilizing the fact that his opponent's king is vulnerable. 47...Ne2 48.Qc5 and now Qg3+ 49.Kh1 Qf4 50.Qc2 Ng3+ White can no longer avoid the material loss or prevent checkmate at the same time. Black had to find the key move 48...Qg3+ to win the game. He played 48...Ng3 and Giri realized how narrowly he escaped a loss 49.Qg1 and the game ended in a draw soon.
Deac - Ding: 0-1
Ding Liren (CHN, 2789) quite possibly faced the Romania no.2 Bogdan-Daniel Deac (2700) for the very first time in a rated game in any format.
White is behind a pawn. Despite having a bishop pair, Black has a firm control of the center which tips the scale in his favor. 31.hxg6 did not help White as after hxg6, the h-file getting opened created a new avenue for Black to spread out his plans. 32.Kf1 Kg7 33.a5 Qf5 it is not easy to displace Black's queen from f5 34.Bc1 Rh8 35.axb6 axb6 36.f4 Rh2 37.R3d2 Rdh8 38.Qd5 Bf6 Black's position is so good that he has no problem trading the queens as he can still win the game with the remaining pieces.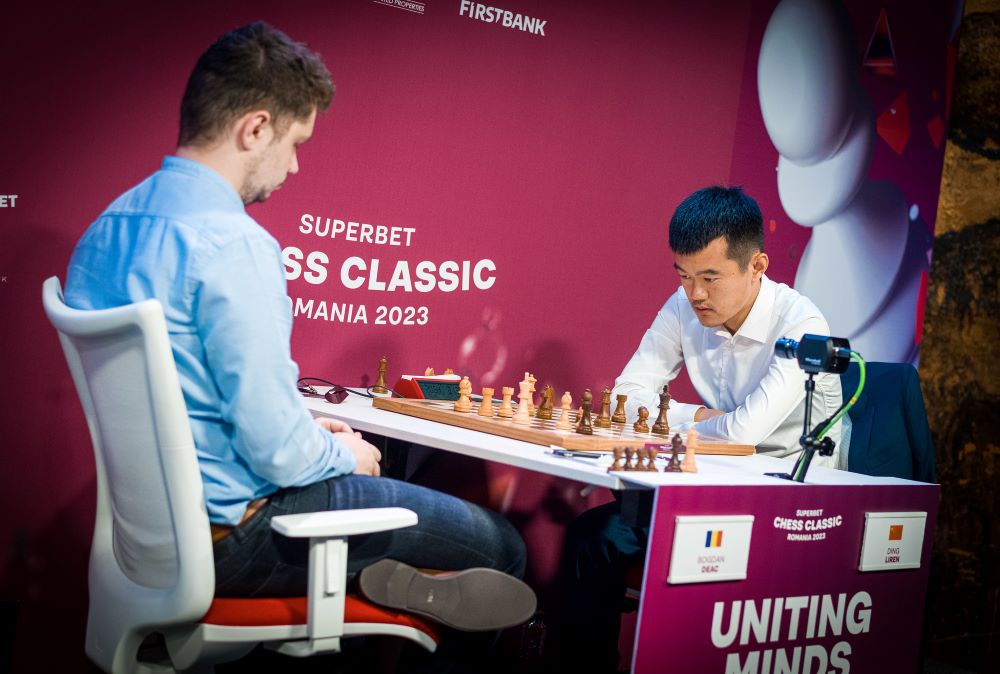 Photo Gallery
Replay Round 9 games
Round 9 results
Final standings
Prize
The total prize fund for each of the classical event is US$ 350000 with the first prize being US$ 100000.
Schedule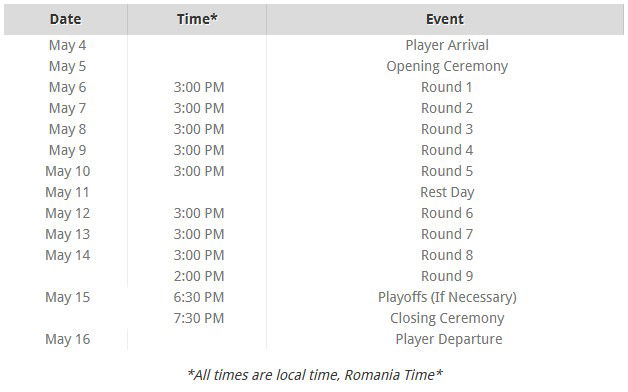 Links
---