Superbet R&B 2023 Day 4: Carlsen slays sole leader Duda, reduces the gap
When Magnus Carlsen decides that he will wreck through the competition, very few can stop him. The world no.1 started the fourth day of Superbet Rapid and Blitz with a three points gap 10/18. He scored 7/9, to reduce the gap to only a half point, finishing the day by beating the tournament sole leader, Jan-Krzysztof Duda. The rook and opposite color bishop endgame seemed to be heading towards a draw. However, Carlsen is well-known for grinding out these positions and squeezing a win. This was no different at all. After winning the game, he showed a huge sigh of relief as he managed to beat his Kryptonite Duda once in this event. Can he repeat it today and win the tournament? Blitz Round 10 starts today from 2 p.m. local time, 5:30 p.m. IST. Photo: Lennart Ootes/Grand Chess Tour
Carlsen overcomes his Kryptonite
Time and time again, Jan-Krzysztof Duda has been Magnus Carlsen's biggest nemesis among all top players. Why? Because Duda has defeated at big stages and when stakes are high. The final day of the Blitz will have nine rounds but this game will once again be a highly anticipated encounter.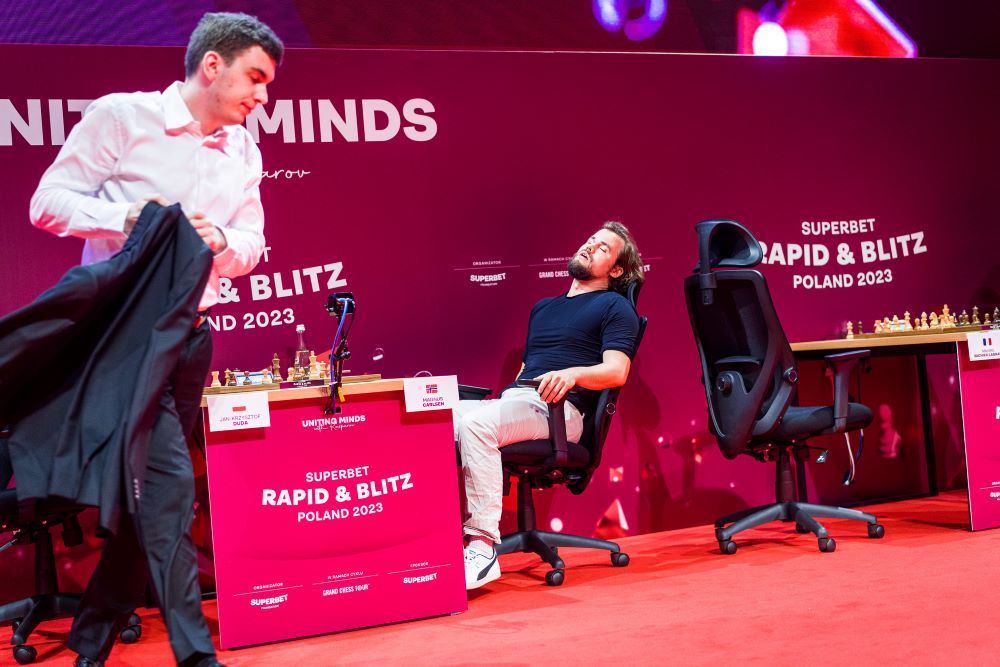 Highlights of Day 4
Replay Blitz Round 1-9 games
Standings after Blitz Round 9
Prize
The total prize fund for each of the Rapid and Blitz event is US$ 175000 with the first prize being US$ 40000.
Links
---