Deep Dive into Day 1 of Tata Steel Chess India 2021
IM Sagar Shah brings you a few positions from day one that will help you to go deeper into the games. That's why we call the series as Deep Dive. You will be able to understand some of the best moves played by players and also you will get to know which were the great possibilities missed by them. On day 1 of the Tata Steel Chess India Rapid, we had 15 games and we have chosen six positions for you. Levon Aronian leads the tournament with 3.0/3 followed by three Indian players - Pragg, Arjun and Vidit.
If you haven't read it already, you can read the day 1 report by Shahid Ahmed on ChessBase India on the Tata Steel Chess Rapid 2021. What I would like to do with this report is tell you about some of the most interesting chess moments and try to explain them to you with the help of words and some variations.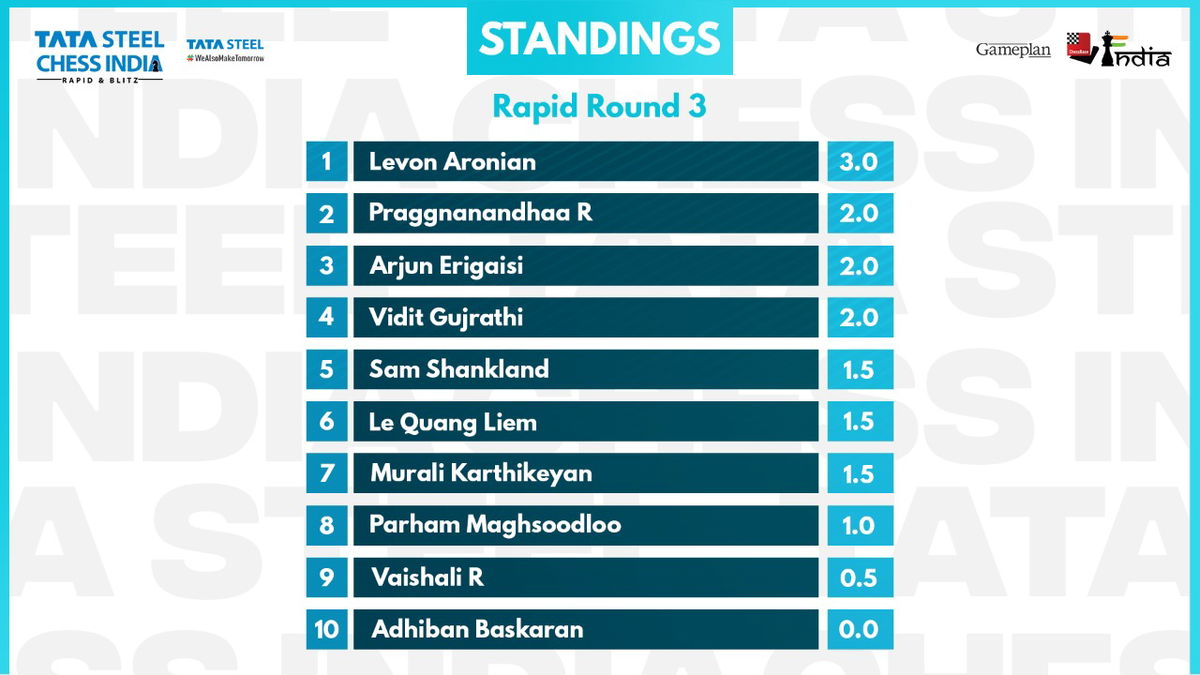 1. Vaishali vs Praggnanandhaa
Vaishali vs Praggnanandhaa
Vaishali correctly found the move Kf1 in this position. After Bxf2, she took on d8 with Bxd8 Rxd8 and now she played Rxf2. Instead Rxd6 would have kept her in complete control and would have given her excellent chances of winning the game.
Sam Shankland vs Levon Aronian
Sam Shankland vs Levon Aronian
The position is drawn, but Black is trying to break in somehow. Aronian explained this position in a simple way. White should get his bishop to f1 and then Black has no way to breakthrough. Hence, Bd7! giving up the d5 pawn would have given White an easy draw. Instead, Sam played Kg2 and after h3+! Black started creating real threats and Aronian went on to win the game.
Adhiban vs Vidit Gujrathi
Adhiban vs Vidit Gujrathi
In this position Adhiban went Bxe5 which was an error. Instead he should have played Nxg5 and after Nxg5 Qxh5+ Nh7 we reach the following position...
f4! is the strongest move here! Otherwise Black is doing fine. Adhiban had also seen this move during the game, but he thought that Black can hold on to his position after f6. The unfortunate part is that after fxe5 fxe5 Bxe5 dxe5 Qxe5 it is all over for Black.
Praggnanandhaa vs Arjun
Many weird things happened in this game. Firstly Praggnanandhaa made an illegal move! Secondly Arjun underpromoted to a knight! This was surely a game filled with great excitement.
Praggnanandhaa vs Arjun Erigaisi
In this position it was extremely important for Arjun to play Re3. The reason is that he anyway has to go to g3 with his king and so he shouldn't be wasting time take the pawn on g3 with his rook. His king can do that role. Arjun played Rxg3 in the game and this turned out to be the fatal error. Instead, after Re3 Kd6 Kg4 e6 Kxg3 e7 h4 Rd5 Rxe7 Kxe7 Kxg2 and Black has a full extra tempo over the game that helps him draw the battle.
Maghsoodloo vs Shankland
Parham Maghsoodloo vs Sam Shankland
Black has an excellent winning move here exploiting the backrank weakness. The move is ...Rb5!! Shankland missed it but anyway went on to win the game.
Vidit vs Aronian
In this position Vidit went b4. If he had chosen instead of b4, the move f5! he would have had a very big advantage. The threat is to push further with f6. And if you stop it with exf5, then after Rxf5. The bishop on c4 with the rooks doubling on the f-file give White a close to decisive advantage.
Follow the LIVE commentary on day 2 by Sagar Shah, Tania Sachdev and Samay Raina
---