The 'Age of Arjun Erigaisi' begins with a monumental triumph at Tata Steel Chess India 2021 Rapid
Arjun Erigaisi started hitting the next level at Goldmoney Asian Rapid this past summer when he ended Aronian's undefeated streak at the event. The healthy rivalry with Aronian began since then. The most anticipated match of the event between Aronian and Arjun did not disappoint. It delivered everything one can fathom - action, drama, high stakes, high-tension match which showcased Arjun's another quality which the majority of the Indian youth possess - true grit. No matter how adverse things might get, one needs to have the courage to fight back, even if your opponent is the mighty, only two-time World Cup winner in the history of chess. If you are wondering when are we going to get more Aronian-Arjun, you don't have to wait longer as they will play two blitz games in the next two days, starting tomorrow from 2 p.m. IST at Tata Steel Chess India 2021 Blitz. Photo: Lennart Ootes
Only Praggnanandhaa remains undefeated
Praggnanandhaa holds the unique distinction of the only player beating the eventual champion, Arjun Erigaisi. He is also the only player who has remained undefeated. The tournament lineup selection has truly been fantastic as there was no theoretical or quick uneventful draws. There was plenty of fighting chess, creative play and some beautiful positions and executions. The tournament has been the perfect example of what super tournaments should have, a great mix of world class players along with the youth.
"I think it's a huge discovery for India. For him, it's a great boost of confidence and maybe for us, we have discovered a star." - Vishy Anand on how important Arjun Erigaisi 's triumph is for the Indian chess at this stage.
"Before the game, I was trying to calm myself down, be normal and play as I usually do. As the game started, I started feeling nervous and especially after I got into a bad position, I was really regretting my previous draw with white. In the end, I am very happy" - Arjun Erigaisi on his mindset before and during the game against Levon Aronian, one whom he was looking forward to play since the 'Draw of lots'.
Round 7: Shankland - Liem: 1-0
Although the rook, knight and few pawns' endgame seem relatively equal, it is very easy to go wrong, especially when you are down on the clock and not in your best shape.
The human instinct tells us to bring the king towards the queenside to prevent the pawn promotion. Only when we remove the practical aspects, one can see it may not work the way Black wants it to be. Shankland having a very strong endgame knowledge, correctly punished his opponent for the mistake. 41...Ke7 42.a5 Kd8 43.Nc5 Kc8 44.Re2 Ne5 45.f4 Nd3 46.Re8+ and it's all over for Black. Not only Black is unable to prevent White rook's entry but also both white rook and knight get better placed, and it helps to push the protected passed pawn on the a-file.
Adhiban - Arjun: 0.5-0.5
They say, Decisions are always correct, only in retrospect we realize where it went wrong. Playing high-quality chess against strong opponents definitely takes a toll on a person. In the eighth round, Arjun for the first time since his loss against Praggnanandhaa in the second round, made a subtle inaccurate decision probably also due to time scramble, which shifted the balance in Adhiban's favor.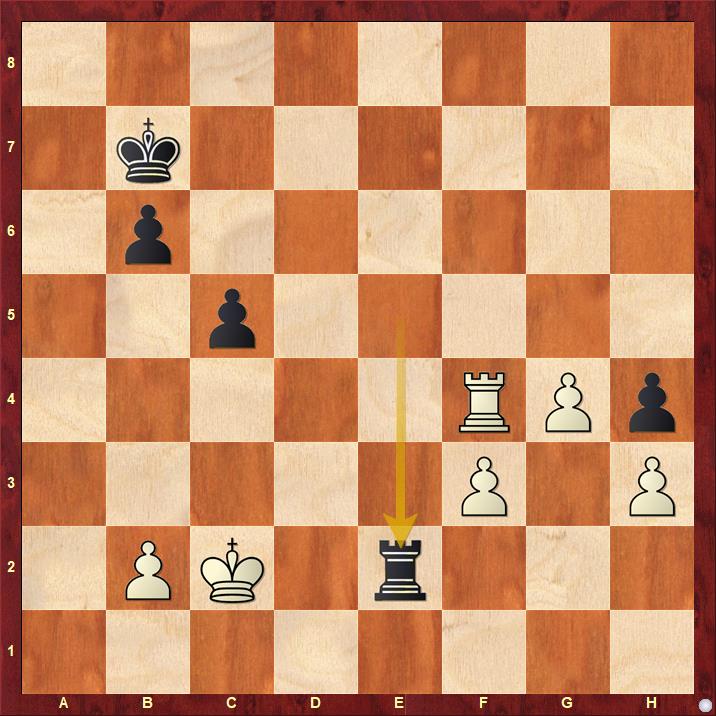 White has decisive advantage in the above position. However, White needs to choose the correct direction in which he should move the king. Where would it be? The game continued 42.Kc3 which led to a draw.
Round 8: Karthikeyan - Parham: 1-0
After drawing four consecutive games, Karthikeyan Murali scored his first win since Round 2, as he beat Parham Maghsoodloo by launching a devastating attack on his kingside.
32...Qb4 is a mistake. It is time to beat Parham in his own game. Try to think like Karthikeyan and find out the plan here.
Vaishali - Aronian: 0.5-0.5
Like I mentioned in previous day's report, Vaishali has played fantastic chess in this event, although the results may not reflect it. That changed on the final day as she drew with Aronian, in a game where we once again got a glimpse of the ever-creative Aronian.
17...Kd8 is a unique move, something that can only come in someone like Aronian's mind. He had decisive advantage for the better part of the game, however, Vaishali fought back well and managed to salvage a draw.
Arjun - Vidit: 0.5-0.5
Arjun Erigaisi had the shortest game of the tournament against Vidit Gujrathi. It was a 12-move draw which he almost regretted when his position turned worse against Aronian in the final round.
Round 9: Aronian - Arjun: 0.5-0.5
Arjun opted for the trusty Petroff's Defence against Aronian. It is known to be solid for Black as it gives him a good chance to get a draw, which is exactly what he needed to win the tournament.
White had a decisive advantage for quite some time and everyone thought Aronian may play a spoilsport in Arjun's breakout performance. Thankfully, that did not happen and White made the mistake of playing 35.Qe7 which allowed Black to get back in the game 35...Qxa4. 35.f5 would have moved White closer towards victory. Anyway, Arjun started munching his opponent's pawns, eventually the d6-pawn did not prove to be enough for White and Black found a perpetual check which led to a draw. Thus, Arjun won his career's biggest tournament - Tata Steel Chess India 2021 Rapid.
Photo Gallery
Some clips to watch
Replay Round 7-9 games
Round 7-9 results
Round 7 on 2021/11/19 at 1400 h
Bo.
No.
FED
Rtg
Name
Result
Name
FED
Rtg
No.
1
4
USA
2647
GM
Shankland Sam
1 - 0
GM
Le Quang Liem
VIE
2715
10
2
5
IND
2626
GM
Adhiban B.
½ - ½
GM
Erigaisi Arjun
IND
2323
3
3
6
IND
2639
GM
Vidit Santosh Gujrathi
1 - 0
WGM
Vaishali R
IND
2210
2
4
7
ARM
2761
GM
Aronian Levon
½ - ½
GM
Karthikeyan Murali
IND
2388
1
5
8
IRI
2516
GM
Maghsoodloo Parham
½ - ½
GM
Praggnanandhaa R
IND
1821
9
Round 8 on 2021/11/19 at 1530 h
Bo.
No.
FED
Rtg
Name
Result
Name
FED
Rtg
No.
1
10
VIE
2715
GM
Le Quang Liem
½ - ½
GM
Praggnanandhaa R
IND
1821
9
2
1
IND
2388
GM
Karthikeyan Murali
1 - 0
GM
Maghsoodloo Parham
IRI
2516
8
3
2
IND
2210
WGM
Vaishali R
½ - ½
GM
Aronian Levon
ARM
2761
7
4
3
IND
2323
GM
Erigaisi Arjun
½ - ½
GM
Vidit Santosh Gujrathi
IND
2639
6
5
4
USA
2647
GM
Shankland Sam
½ - ½
GM
Adhiban B.
IND
2626
5
Round 9 on 2021/11/19 at 1700 h
Bo.
No.
FED
Rtg
Name
Result
Name
FED
Rtg
No.
1
5
IND
2626
GM
Adhiban B.
0 - 1
GM
Le Quang Liem
VIE
2715
10
2
6
IND
2639
GM
Vidit Santosh Gujrathi
½ - ½
GM
Shankland Sam
USA
2647
4
3
7
ARM
2761
GM
Aronian Levon
½ - ½
GM
Erigaisi Arjun
IND
2323
3
4
8
IRI
2516
GM
Maghsoodloo Parham
1 - 0
WGM
Vaishali R
IND
2210
2
5
9
IND
1821
GM
Praggnanandhaa R
½ - ½
GM
Karthikeyan Murali
IND
2388
1
Standings after Round 9
| | | | | | | | | | | | | |
| --- | --- | --- | --- | --- | --- | --- | --- | --- | --- | --- | --- | --- |
| Rk. | SNo | | | Name | sex | FED | Rtg | Pts. | TB1 | TB2 | TB3 | TB4 |
| 1 | 3 | | GM | Erigaisi Arjun | | IND | 2323 | 6,5 | 0,0 | 26,50 | 5 | 1 |
| 2 | 7 | | GM | Aronian Levon | | ARM | 2761 | 5,5 | 1,5 | 24,00 | 3 | 2 |
| 3 | 9 | | GM | Praggnanandhaa R | | IND | 1821 | 5,5 | 1,0 | 24,00 | 2 | 0 |
| 4 | 6 | | GM | Vidit Santosh Gujrathi | | IND | 2639 | 5,5 | 0,5 | 20,75 | 3 | 2 |
| 5 | 1 | | GM | Karthikeyan Murali | | IND | 2388 | 5,0 | 0,5 | 19,75 | 2 | 0 |
| 6 | 4 | | GM | Shankland Sam | | USA | 2647 | 5,0 | 0,5 | 19,00 | 3 | 1 |
| 7 | 8 | | GM | Maghsoodloo Parham | | IRI | 2516 | 4,5 | 0,0 | 15,75 | 3 | 2 |
| 8 | 10 | | GM | Le Quang Liem | | VIE | 2715 | 4,0 | 0,0 | 14,25 | 3 | 2 |
| 9 | 5 | | GM | Adhiban B. | | IND | 2626 | 2,0 | 0,0 | 9,00 | 0 | 0 |
| 10 | 2 | | WGM | Vaishali R | w | IND | 2210 | 1,5 | 0,0 | 6,50 | 0 | 0 |
Links
---