Tata Steel Chess Blitz: Arjun grabs sole lead, now World no.14 in Blitz
Records keep tumbling when Arjun Erigaisi plays tournaments. The 18-year-old continues his brilliant momentum in Blitz as he scored an unbeaten 6.5/9 to gain sole lead. He is the only player who remained undefeated for nine rounds of Blitz. His total unbeaten streak is at 16 games now at Tata Steel Chess India 2021. That's not all, he has climbed to World no.14 and India no.2 in Blitz in the live ratings. Aronian is once again in pursuit of Arjun as he is just a half point behind him at 6.0/9. They will face each other in the 14th round. The final day of Blitz starts tomorrow, Sunday 21st November from 1 p.m. IST at National Library of India, Kolkata. Photo: Lennart Ootes
Can Arjun do a Magnus?
In the previous edition, Magnus Carlsen won both Rapid and Blitz section of Tata Steel Chess India 2019. Arjun Erigaisi seems to be on the path to etch his name in history in the same line as the world champion. If he manages to achieve this feat, it will be something that cannot be broken, only tied further by future players. However, one must keep in mind that six players have played 18 games in a span of four consecutive days. It is quite obvious that tiredness and fatigue is developing. Arjun however seems to have plenty left in his tank.
Round 1: Vidit - Raunak: 1-0
Vidit and Raunak had an interesting rook, bishop and four same side pawns endgame.
The material is balanced, yet a quick glance reveals that Black's king is in a precarious position. The endgame is definitely difficult to play with only last few seconds left on the clock. Raunak being a very strong player managed to prolong the fight until he eventually fell into a mating net.
Find out the finish after 59...Ba3. 59...Ra4 would have continued the fight a bit longer.
Round 2: Raunak - Parham: 1-0
Raunak bounced back immediately, played excellent chess to beat Parham in the second round.
29.f5 is a powerful move, utilizes the pin on the e-file. The game continued 29...Bxg3+ 30.Kxg3 Rc6 31.Nc1 e5 32.dxe5 fxe5 33.Nxe5+ Nxe5 34.Rxe5 Rxe5 35.Rxe5 and now Black self-pinned the d5-pawn 35...Rc5. White won the game in a few more moves.
Arjun - Shankland: 1-0
Arjun Erigaisi played the endgame beautifully against Sam Shankland.
25...Red6 seems to be very natural and absolutely fine. However, computer does not like the move. Guess who else did not like the move? Arjun. He made the most out of it, 26.Bc5 Rxd5 27.exd5 Ne7 28.c4 and White has gained a substantial advantage. The conversion was not easy, yet Arjun converted it into a full point and made it look easy against someone who is very strong at endgame like Shankland.
Gukesh - Liem: 1-0
D Gukesh scored a very nice victory against the former World Blitz champion Le Quang Liem.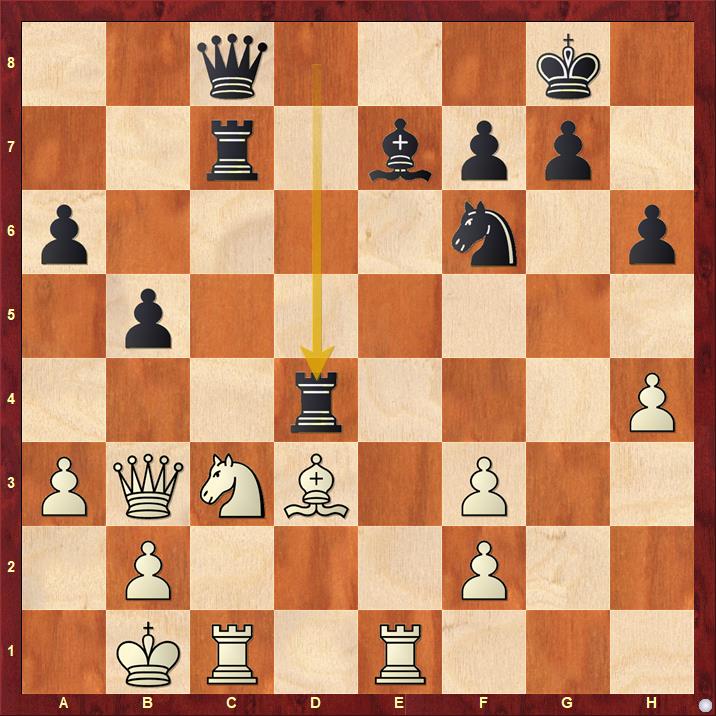 Find out what tactics Gukesh employed here to gain a significant advantage.
Round 3: Nihal - Gukesh: 0-1
Nihal and Gukesh had an exciting back and forth game which was won by Gukesh.
White's final mistake turned out to be 37.Qg4+ in an already difficult position. 37...Rg5 38.Qe2 hxg3 39.hxg3 Rh8 and Black won the game in the next few moves.
Round 4: Vidit - Nihal: 1-0
Vidit played a fantastic positional game to outplay Nihal.
The g5-knight is heading towards e6. Can you figure where should White plan to place the d1-knight?
Round 6: Gukesh - Arjun: 0-1
Arjun Erigaisi seized his opportunity when his opponent Gukesh started playing passively in a difficult position.
Arjun played incredible on all parts of the board to score a victory after making a hat-trick of draws.
Liem - Nihal: 0.5-0.5
Nihal made a Houdini-like escape in a completely lost position against Liem.
White can still win this via 47.f4. However, 47.Bg7 was played and Black managed to save the game 47...Kxa7.
Round 7: Nihal - Raunak: 0-1
Raunak Sadhwani won an exciting battle against Nihal Sarin which was anybody's game to win. Both of them mutual errors which the other player was not able to capitalize it. Eventually, Raunak won the game.
Arjun - Vidit: 1-0
Arjun Erigaisi flagged Vidit in a position where there was a checkmate in two moves.
Round 8: Raunak - Gukesh: 1-0
Raunak was worst against Gukesh for the better part of the game. However, he endured difficult positions and eventually turned things around in the final moments of the game to win it.
Vidit - Aronian: 0-1
Aronian's creative side got the better of Vidit in the eighth round.
Photo Gallery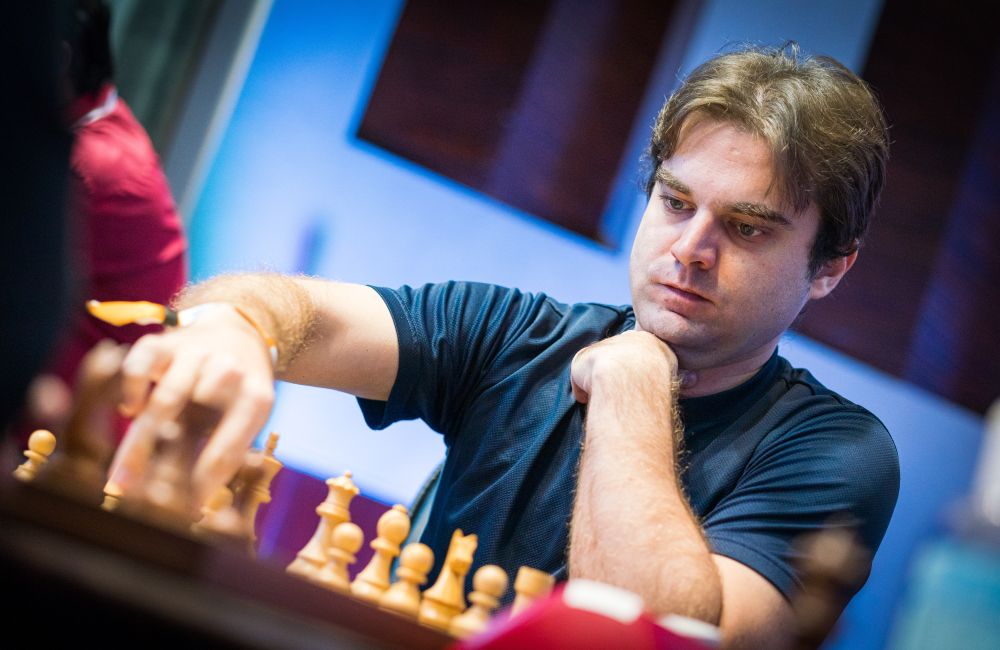 Highlights
A few interesting finishes
Replay Round 1-9 games
Round 9 results
Round 9 on 2021/11/20 at 1800 h
Bo.
No.
FED
Rtg
Name
Result
Name
FED
Rtg
No.
1
5
USA
2660
GM
Shankland Sam
1 - 0
GM
Sadhwani Raunak
IND
2517
10
2
6
IRI
2601
GM
Maghsoodloo Parham
0 - 1
GM
Nihal Sarin
IND
2667
4
3
7
IND
2616
GM
Erigaisi Arjun
½ - ½
GM
Le Quang Liem
VIE
2774
3
4
8
ARM
2767
GM
Aronian Levon
1 - 0
GM
Harika Dronavalli
IND
2422
2
5
9
IND
2376
GM
Gukesh D
1 - 0
GM
Vidit Santosh Gujrathi
IND
2739
1
Standings after Round 9
| | | | | | | | | | | | | |
| --- | --- | --- | --- | --- | --- | --- | --- | --- | --- | --- | --- | --- |
| Rk. | SNo | | | Name | sex | FED | Rtg | Pts. | TB1 | TB2 | TB3 | TB4 |
| 1 | 7 | | GM | Erigaisi Arjun | | IND | 2616 | 6,5 | 0,0 | 26,00 | 4 | 2 |
| 2 | 8 | | GM | Aronian Levon | | ARM | 2767 | 6,0 | 0,0 | 23,00 | 4 | 3 |
| 3 | 3 | | GM | Le Quang Liem | | VIE | 2774 | 5,5 | 1,0 | 22,50 | 4 | 1 |
| 4 | 6 | | GM | Maghsoodloo Parham | | IRI | 2601 | 5,5 | 0,0 | 22,75 | 5 | 3 |
| 5 | 9 | | GM | Gukesh D | | IND | 2376 | 4,5 | 1,0 | 19,00 | 3 | 1 |
| 6 | 4 | | GM | Nihal Sarin | | IND | 2667 | 4,5 | 0,0 | 20,50 | 3 | 1 |
| 7 | 5 | | GM | Shankland Sam | | USA | 2660 | 4,0 | 0,0 | 15,25 | 3 | 0 |
| 8 | 10 | | GM | Sadhwani Raunak | | IND | 2517 | 3,5 | 0,0 | 17,75 | 3 | 1 |
| 9 | 1 | | GM | Vidit Santosh Gujrathi | | IND | 2739 | 3,0 | 0,0 | 10,00 | 3 | 0 |
| 10 | 2 | | GM | Harika Dronavalli | w | IND | 2422 | 2,0 | 0,0 | 7,75 | 1 | 0 |
Links
---