Express Report: Levon Aronian wins Tata Steel Chess Blitz in Armageddon Playoffs
Levon Aronian beat Arjun Erigaisi in the Armageddon Playoffs to win Tata Steel Chess India 2021 Blitz. The second day of the Blitz event saw several players at the top throughout the day between Nihal, Gukesh, Levon, Parham and Arjun. However, in the end it was Aronian and Arjun who tied for the first place at 11.5/18 each. Arjun was completely winning in both Playoff games and Aronian admitted that he should have lost at least one of them. It was absolutely fitting that Arjun and Aronian finished at the top in Blitz and they had to play the tie-break games after their virtual final in the Rapid two days ago. The Aronian-Arjun saga is certainly far from over. It is just getting started. Photo: Lennart Ootes
A poetic finale
"First of all, I didn't expect to be playing in the Blitz event. I am very happy that I got this as well. I am happy about rapid. I could have probably done better on the second day. I had a slightly off day today but nevertheless I had a good finish. It went down to the wire. I would like to thank everyone, Tata Steel for giving me this opportunity, to play against such strong players like Levon Aronian, Le Quang Liem and others. Also being mentored by Vishy sir is just fantastic. I am thankful to my family, friends, coaches, everyone. A special mention to Ramaraju sir who is here, who helped me a lot in the past. Also Srinath who has been a great support and he had seen the potential in me before anyone else did. I hope to reach greater heights." - Arjun Erigaisi, winner of Tata Steel Chess India 2021 Rapid. He also added, "This is surely my best event of my career so far and it's a fantastic feeling.
"It's a wonderful experience because you have such fans and such devoted people to chess that organize such an event. I am extremely grateful to everybody who is following and making this tournament happen, to Tata Steel, Anand who I witnessed for the first time as an organizer and as a person who doesn't actually want to hurt me (laughs)..." - Aronian on his experience playing Tata Steel Chess India 2021." Anand chimed, "I am sure the feeling was mutual when you were playing but one of my closest friends and a very enjoyable company. So I am sure most of you have seen that side of him as well. Congrats Lev! In spite of the fact, that you are probably not in the best shape, you hung in there and came back in the blitz. His knowledge about obscure facts about India is amazing and he is also a big fan of Indian movies. Always a pleasure to have him here."
"I think discovering something is always very important and for me this is the driving force of my life, learning new things. You know a country like India, has so much knowledge, wisdom, that you can learn every day. The most of the things I have learned here was from the young players. They are incredible and also the lady players were giving us a hard time. The only reason I got this cup, I think Arjun is a very strong player in chess but he is not physically so strong to carry two cups. So that's why he thought about this and said okay, one is enough for me." On getting into the zone for Playoffs, Aronian shared, "Of course I was very lucky to be able to play in tie-break. My games were very poor and also I have to admit I should have lost in maybe both games, definitely in one in the tie-break. I think throughout the day I played one good game, it was the Armageddon.I can tell you I spent a long time preparing mentally ready but no-no I was just very lucky."
Playoff 1: Aronian - Arjun: 0.5-0.5
Levon Aronian won the toss and opted for White in the first game of the Playoffs. Arjun Erigaisi chose the solid Petroff's Defence with the black pieces. Time control was the same as the Blitz event, was 3 mins + 2 seconds increment.
Things quickly started turning in Arjun's favor as Aronian made a few bold decisions which left his king vulnerable. 25.Rxf3 turned out to be a huge mistake as Black gave a couple of checks and displaced the queen to h4 with the rest of the position staying intact. The game continued, 30...Re1+ 31.Rf1 Qd4+ 32.Be3 Qxe3+ 33.Kh1 Rxa1 34.Rxa1 Re8 35.Rf1
One of the beautiful variations discussed during live commentary by Anand and Sagar is, 35...Qf2 36.Rg1 Nd3 and White has no way to avoid checkmate or heavy material loss. We must remember that both Aronian and Arjun have played 27 games in total combining rapid and blitz event games before this game which means they were already spent, thus the inaccuracies. One should also factor in the pressure of a high stakes match in front of a packed audience and several thousands watching live all across the globe. Now it doesn't sound easy making these moves in that situation, right?
Maestro Anand shared more with the viewers, instead of Black the b-pawn from b4, he could have moved the rook to e2 and got this position - 41...Re2 42.Rb3 b5. This ensures that White does not get to create a passed pawn on queenside. For instance, if you go a3, b3 before going a4, Black will go Rb2 and prevent White from creating a passed pawn on a-file. This would have been a better attempt to score a victory for Black. The game eventually ended in a draw.
Playoff 2: Arjun - Aronian: 0.5-0.5
The second game was also an exciting encounter. Aronian opted for Queen's Gambit Accepted for the fourth time in the Blitz event. A rook lift on the kingside landed himself in a precarious situation.
A lot of activity is taking place on the c and d-file. Arjun did what was required 23.b4 e5 24.bxc5 exd4 25.cxb6 Qd7 26.Qxd4 Rd5 27.Qa1 Qe6 and the queens got traded after a few moves. Once again, Arjun got himself in a good position which eventually ended up in a draw. It was time for Armageddon.
Armageddon: Aronian - Arjun: 1-0
Aronian being in a must-win situation as per Armgeddon rules, gave his all by tapping into his creative side.
Aronian did a rook lift in all three playoff games. However, this time he was successful, as he won the important Armageddon.
Position after 23...Ngxe5
Black opted for an interesting knight sacrifice for three pawns, 23...Ngxe5 24.dxe5 Qxf2 25.Qc2 Nxe5. It looked good practically but realistically it did not turn out well for him. White wisely traded one of his knights, 26.Nf3 Nxf3 27.gxf3. Soon black king became vulnerable which Aronian exploited nicely to score a win and clinch the event too.
Photo Gallery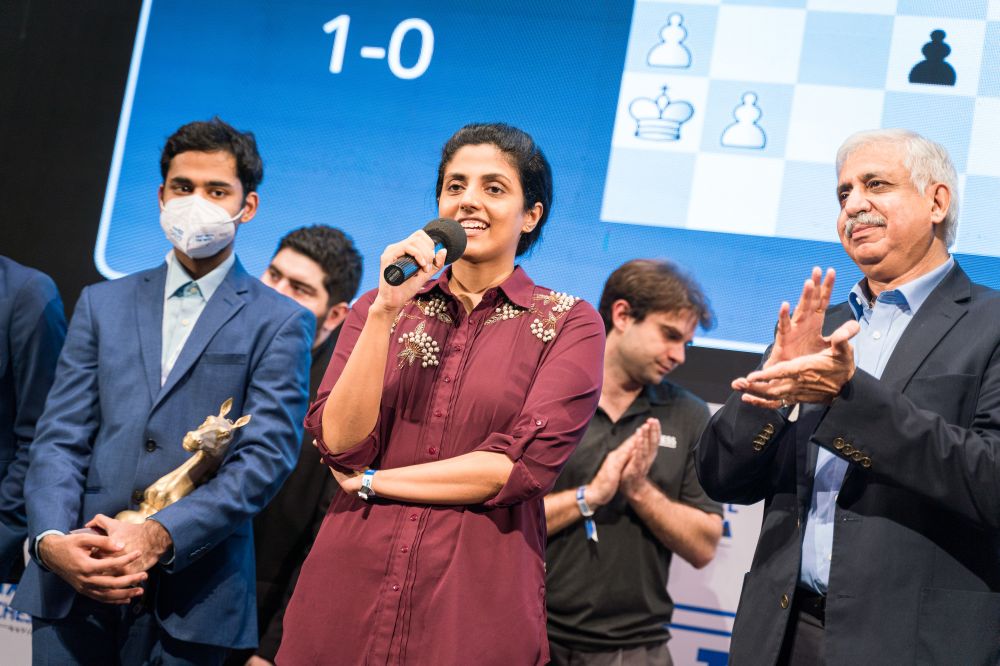 Replay Playoff games
Links
---