Tata Steel 2023 R4: Praggnanandhaa stuns World no.2 Ding Liren, Giri beats Carlsen
R Praggnanandhaa scored his biggest Classical win of his career in the fourth round of 85th Tata Steel Masters 2023. The teenager grinded a relatively balanced rook, knight and many pawns endgame to beat the World no.2 and World Championship Contender, Ding Liren. Anish Giri beat Magnus Carlsen for the second time in his career in a Classical encounter, exactly after 12 years. The World no.7 has beaten the World no.1 in Blitz but Classical chess is what matters the most to any strong player. This event is called the 'Wimbledon of Chess' for a reason - it is where the mighty fall and new heroes are born. Abdusattorov defeated Parham to join the lead with Giri 3/4. Today is a rest day for the Masters. Challengers Round 5 starts today at 6:30 p.m. IST. Photo: Lennart Ootes/Tata Steel Chess Tournament 2023
History repeats exactly after 12 years
The only time Anish Giri had defeated Magnus Carlsen in a Classical battle was when the former was just 16 years old. It did make an impact back then but he was not content with that victory. Finally, he got to beat the world triple crown champion in a full-fledged game is what made him happy, Giri shared in a post-match interview.
Giri - Carlsen: 1-0
Anish Giri (NED, 2784) pulled off a huge upset against the world no.1 Magnus Carlsen (NOR, 2859). The world no.7 got a pleasant position out of the Queen's Indian opening. Black's position seemed to be fine, until he decided to take the d7-pawn in a strange way.
22...Ne5 was the simplest way for Black to capture the d7-pawn. However, sometimes we do not like to go for the obvious ones. After 22...Nd4, Giri found the nice hook 23.b4. Black made another mistake 23...Rxd7. This was the significant one. 24.Bd5 and Black's position is falling apart. It is not everyday we see Carlsen's position is crumbling in 25 moves, that also in a Classical game. White won the game in another eleven moves.
Ding Liren - Praggnanandhaa: 0-1
R Praggnanandhaa (2684) grinded a relatively balanced rook, knight and many pawns endgame against the World no.2 Ding Liren (CHN, 2684).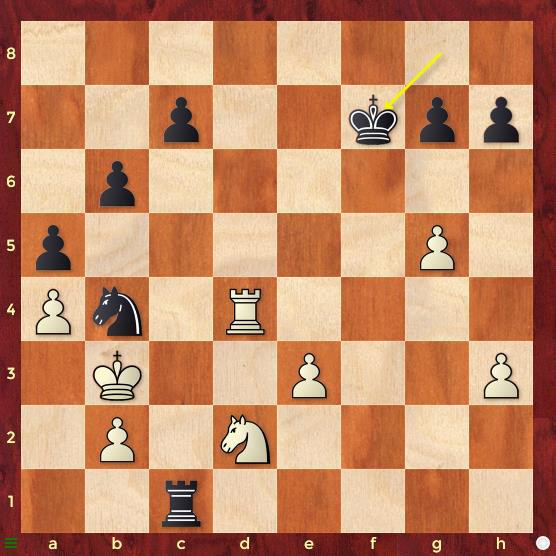 Praggnanandhaa found this fantastic idea of brining his king to h5 via g6. His rook at c1 keeps the c7-pawn protected as well as keep the white king cut-off from accessing the center of the board. The teenager beautifully converted his advantage into a win without allowing his opponent to make a comeback.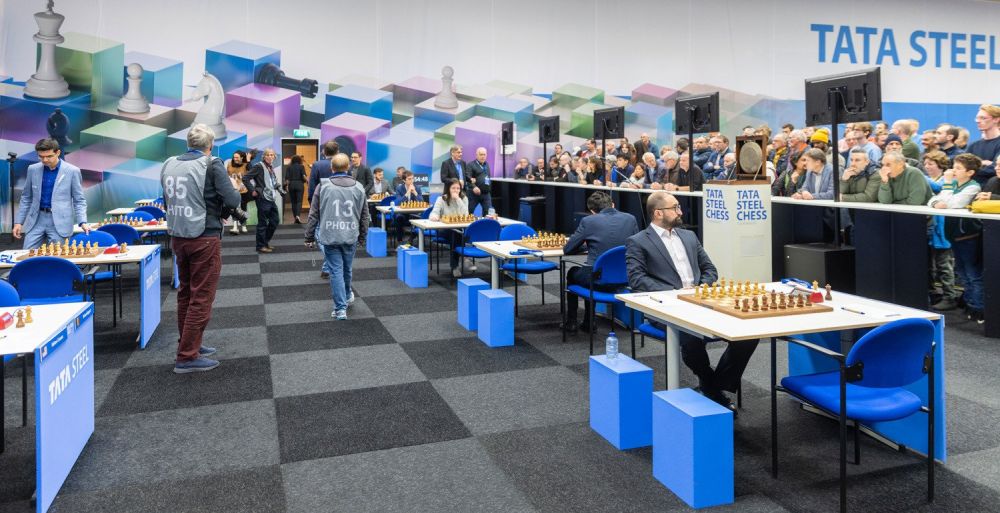 Replay Round 4 Masters games
Replay Round 4 Challengers games
Round 4 results
Round 5 pairings
Standings after Round 4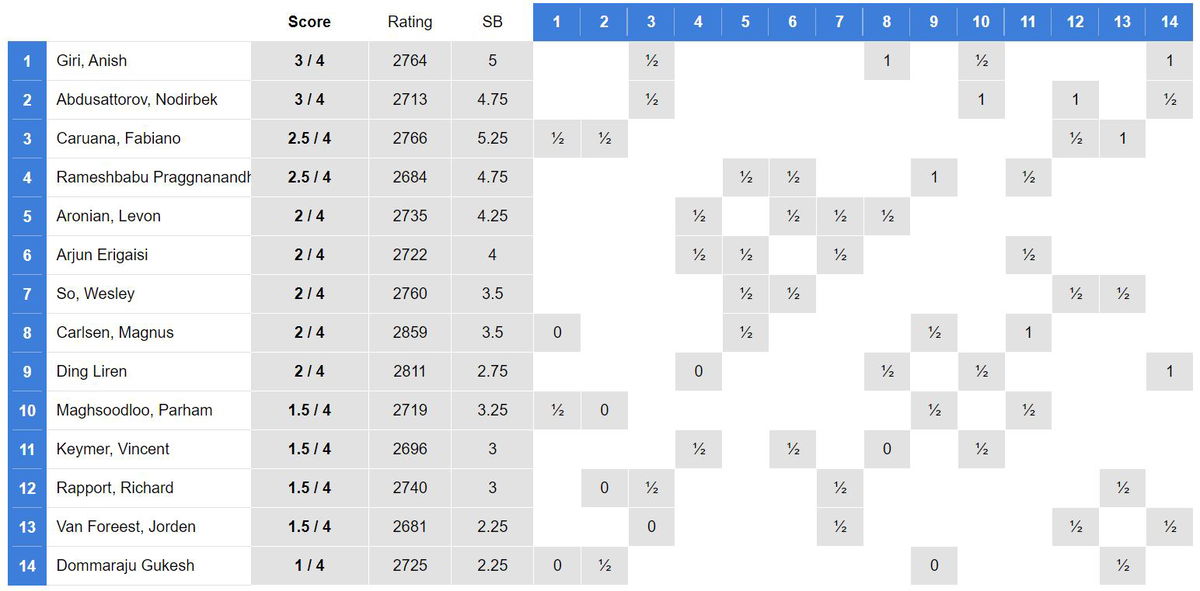 Schedule
Starting from Saturday, 14th January, all round starts at 6:30 p.m. IST, only Sunday 29th January, the final round will start at 4:30 p.m. IST. Rest days are - 18th (Masters), 19th (Challengers), 23rd and 26th January.
Time Control
100 minutes for 40 moves, followed by 50 minutes for 20 moves, then 15 minutes for the remaining moves with 30 seconds cumulative increment for each move starting from the first move.
Links
---