Tata Steel 2023 R10: Gukesh bests Praggnanandhaa, Carlsen makes a comeback
D Gukesh continues his great momentum at 85th Tata Steel Chess Masters 2023. He defeated Praggnanandhaa in an exciting game. Almost a year later, Gukesh avenged his last Classical loss against Pragg at Reykjavik Open 2022. The 16-year-old announced his intentions of playing for only one result with 10.Rg1, 11.g4. The dynamic play certainly upstaged his opponent who generally prefers to play solid chess. Magnus Carlsen defeated Parham Maghsoodloo to reduce the gap 6/10 with Nodirbek Abdusattorov 7/10. Anish Giri drew with Wesley So to remain at sole second place 6.5/10. Arjun Erigaisi made a solid draw with Fabiano Caruana. Today is the final rest day. Round 11 starts tomorrow Friday 27th January at 6:30 p.m. IST. Photo: Lennart Ootes/Tata Steel Chess Tournament 2023
"This was important and I'll keep on trying"
Whenever Magnus Carlsen plays a tournament, he always goes for the first place. He is never content with anything less. That was evident both from his play and his words. Carlsen needed to beat Parham to keep practical chances. However, as he said, not everything is in his hands. If Abdusattorov decides to run away with the championship in the last three rounds then a comeback won't suffice.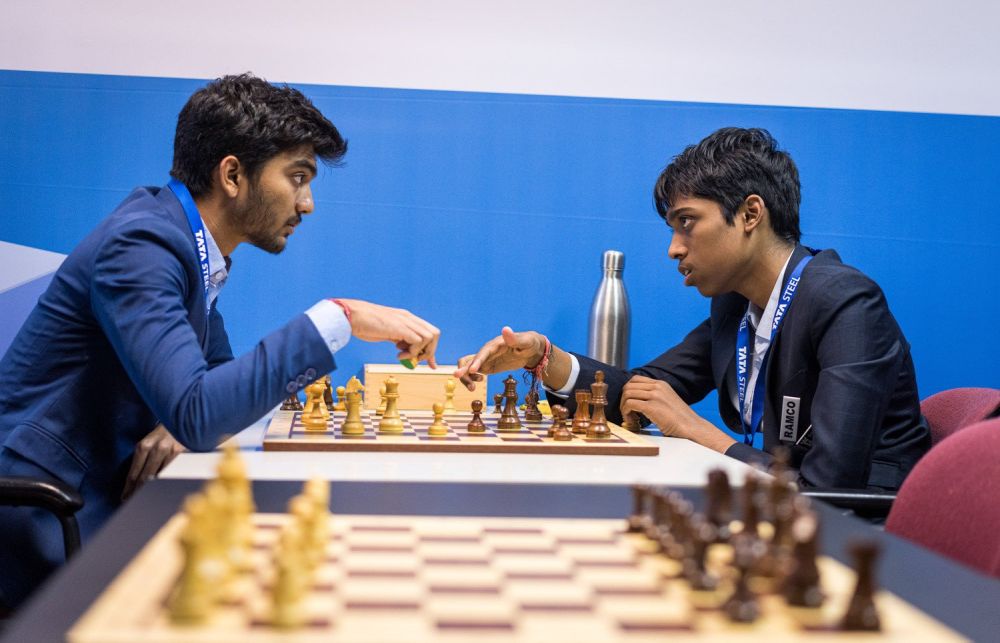 Gukesh - Praggnanandhaa: 1-0
D Gukesh (2725) took a page out of Adhiban's book and made his intentions clear that he is only playing for one result against R Praggnanandhaa (2684).
10.Rg1 followed by 11.g4 is something Adhiban does, however as mentioned by Gukesh, he saw this line long back and could not recall the details. He was hoping that his opponent would not know this but surprisingly he did. 11...Nxg4 12.cxd5 exd5 13.Nxd5 Bc5 14.Qe2 f5 15.Nf4 Qf7 till this point both of them were well aware of what they were doing.
16.Rg2 was not a good idea. Black should have gone 16...fxe4 immediately. 16...Qe7 allowed White to sacrifice a pawn 17.e5! It prevented Black's counterplay and ensured White's pieces get enough play.
21...Bxf4+ 22.Qxf4 Nf6 23.Re1 Rf7 keeps Black in the game. However, Black decided to sacrifice a piece 21...Be5 22.hxg4 Bxc3 23.bxc3 Rxc3 White found the key move 24.gxf5 and it was over. Black did not have enough for the sacrificed piece.
Parham - Carlsen: 0-1
Magnus Carlsen (NOR, 2859) played a very very rare move 7...Bg4 in the QGD Exchange variation. He mentioned that the lines are very concrete. He thought that his opponent will spend a lot of time which he did in the game. His opponent, Parham Maghsoodloo (IRI, 2719) went for 8.Qa4+ which he dubbed as an interesting move. Later on, he knew that 15...Nxg4 was okay for Black.
White eventually made a mistake in the endgame, as Carlsen mentioned that he is not the favorite to hold the position in time trouble. 28.Rf1 dropped the b2-pawn without compensation or reason.
Replay Round 10 Masters games
Replay Round 10 Challengers games
Round 10 results
Round 11 pairings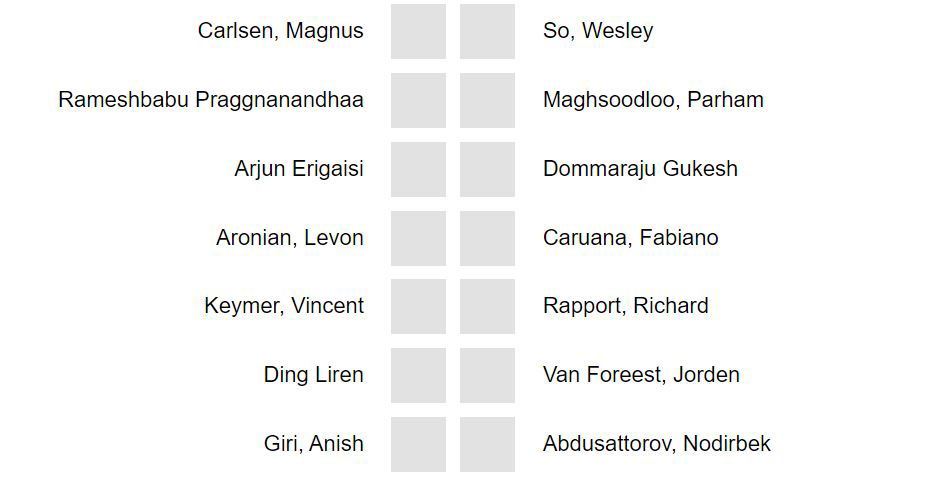 Standings after Round 11
Schedule
Starting from Saturday, 14th January, all round starts at 6:30 p.m. IST, only Sunday 29th January, the final round will start at 4:30 p.m. IST. Rest days are - 18th (Masters), 19th (Challengers), 23rd and 26th January.
Time Control
100 minutes for 40 moves, followed by 50 minutes for 20 moves, then 15 minutes for the remaining moves with 30 seconds cumulative increment for each move starting from the first move.
Links
---