Delving deep into the Arjun Erigaisi vs Levon Aronian endgame from Tata Steel Masters 2023
Arjun Erigaisi reached an extremely difficult endgame against Levon Aronian in the third round of the Tata Steel Masters 2023. Many players would have collapsed, but the 19-year-old Indian talent is a tough nut to crack. He held his own and managed to draw the game. After the game you could see Arjun and Levon analyzing the game, trying to understand what exactly was happening. But it was all just to complex to figure out without an engine. IM Sagar Shah spent a lot of time on this endgame in his LIVE commentary and then also spent another 4 hours next day morning to go to the depth of the position and share the findings with you. Do check out the analysis to unlock the secrets of a complex knight vs bishop endgame.
An extremely complex Knight vs Bishop endgame
In the third round of the Tata Steel Masters 2023, Arjun Erigaisi landed in a difficult endgame against Levon Aronian. It was so complex that in spite of the fact that both sides had only one minor piece and three pawns, Aronian could not find a win. I was commentate live on this game and during my commentary, I couldn't understand what was the clear path to victory. So I woke up next day and spent 4 hours studying this position closely. I would like to present my learnings below. First I would like to explain the endgame and then you could check the replayable board for all the analysis, or you could play the YouTube video or you could go to ChessRanga and try your hand at solving the positions in an interactive format.
Arjun Erigaisi vs Levon Aronian, Round 3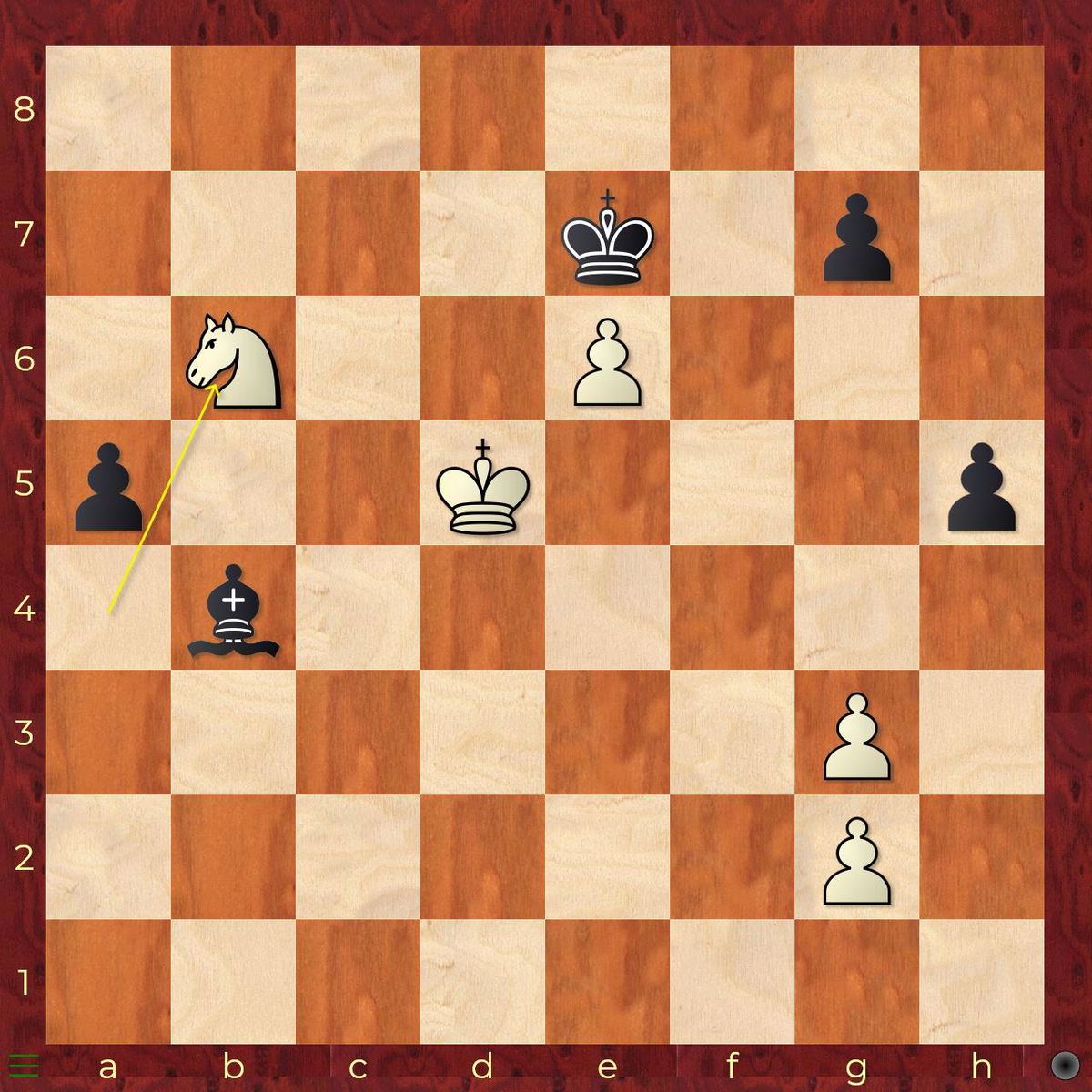 This is one of those positions where there are so many possibilities for each side that it is extremely difficult to analyze move by move. The good news for Aronian (black) was that he reached this position where he had ample time on the clock and after 6 more moves he would get an additional 15 minutes! While time in plenty in Wijk Aan Zee, energy is not! When you are in the 5th hour of play, you often are unable to calculate with the same accuracy as you could in the first couple of hours when the game began. But let's just imagine if you were to reach the above position in your game, how would you tackle the task of trying to play for a win?
What I did was that I spent around an hour analyzing different variations. Once I did that I realized that there were a few positions which were extremely important to understand. Once I understood what was happening in those positions, it became easier to avoid errors as Black and find ways to win. Let's have a look at three important positions. Please note: In most of the lines White gives up the g-pawn with g4 hxg4 because he doesn't want Black to come with his bishop and win the g-pawn and have his h and g pawns intact.
Important position no.1
This position is a drawn position. Why? Because the knight and the pawn on e6 create a barrier for the black king to approach towards the e6 pawn. At the same time White king handles the black a-pawn. This is the scenario that White is aiming for to draw the game.
Important position no.2
If Black were to get this position, then he is winning. That's because white is in a zugzwang. The king is coming to b6 and there is no way that White can stop it.
Important position no.3
This one was a very nice Zugzwang position that I discovered. Black's last move could be Bg5-h4 or Bh4-g5 depending on where the bishop is. And now White is lost because the knight cannot let the a-pawn run. So he can go Na4 but then Kf5-f4 wins. If instead Kd6 then Kf5 once again wins as the White king is too far away and cannot stop the a-pawn. The above position is also winning for Black.
Once you have understood these three positions, you will realize that it is not so difficult for Black to win. I would call this schematic thinking. You think what position you want to reach and then work out the moves to reach it. But I can tell you that along the way there are many tricks and the position is not as static as one would imagine! A lot of calculation is also involved. Just to give you an example:
Aronian blundered in this position by playing Kd8. This allowed Nd5 and the game was drawn. But imagine in the above position if Aronian had instead played Ke8 then he was still winning. That's because after Nd5, Black still has Bf6+! And the key point here is that after Kd6 a4 e7 Bxe7 Nxe7 a3, there is no Nc6 check! (which would have happened if the king were on d8) back to b4 and stopping the a-pawn. It's variations like these which show that the position is sharp and requires accurate calculation. But at the same time if you don't know where you want to reach then it's very difficult to calculate as there are too many branches! This is the reason why I would call this endgame an extremely difficult one.
(Check the section below to understand what ChessRanga is)
ChessRanga by ChessBase India
We, at ChessBase India, are developing an interactive platform where all our YouTube content is properly organized. We would have called it the ChessBase India Academy, but we wanted a slightly more colourful name for it and we came up with ChessRanga! ChessRanga is a completely free platform where all that you have to do is sign in and then try to solve the positions as they crop up. You can solve them in two ways. First one is to start the video and then whenever the question is asked, the video pauses and the board pops up and you can answer the question. The other one is to not go into the video analysis and just do it on normal board. Here are a few screenshots that will help you to make use of the platform:
Step 1: Sign in
Now you can go to "Fresh from the Oven" course. This course will give you access to the latest games that happen every month and interesting positions related to it.
ChessRanga by ChessBase India is a project we are extremely passionate about and we will ensure that you get world class training material very nicely arranged on the website. We are also upgrading the website to make it easier for you to use. But for now, if you can sign up, use it daily and give us feedback, it will help us immensely.
---