Tata Steel 2023 R11: Calm before storm
Six out of seven games ended in draws in the eleventh round of 85th Tata Steel Chess Masters 2023. The only decisive game was won by Parham Maghsoodloo against R Praggnanandhaa. The teenager made a questionable choice of offering his knight for exchange after spending the majority of the opening maneuvering it on the board. This was his second consecutive loss and he will face Magnus Carlsen in the penultimate round. The Norwegian would certainly try to win his last two games and hope things work out in his favor for a Playoff and possibly win the event too. Round 12 starts today at 6:30 p.m. IST. Photo: Jurriaan Hoefsmit / Tata Steel Chess Tournament 2023
Top six remain unchanged
Six draws in Round 11 ensured the top six in the standings remain unchanged. B Adhiban and IM Vaishali drew with GM Abhimanyu Mishra (USA) and GM Erwin l'Ami (NED) respectively.
Praggnanandhaa - Parham: 0-1
R Praggnanandhaa (2684) maneuvered his knight from d4 to e3 via f3-h2-g4. He spent five out of the first ten moves moving his kingside knight only. His opponent was surprised with his strange choice of 8.Nh2. 17.Nf5 eventually allowed the knight to be exchanged, hence all his previous knight moves were wasted.
Parham mentioned that White underestimated Black's position after 17...Bxf5 18.exf5 d5. Black is completely fine, has total control of the center and White does not have much to do in the position. White made some bold attempts on the kingside but it did not work out and the position crumbled.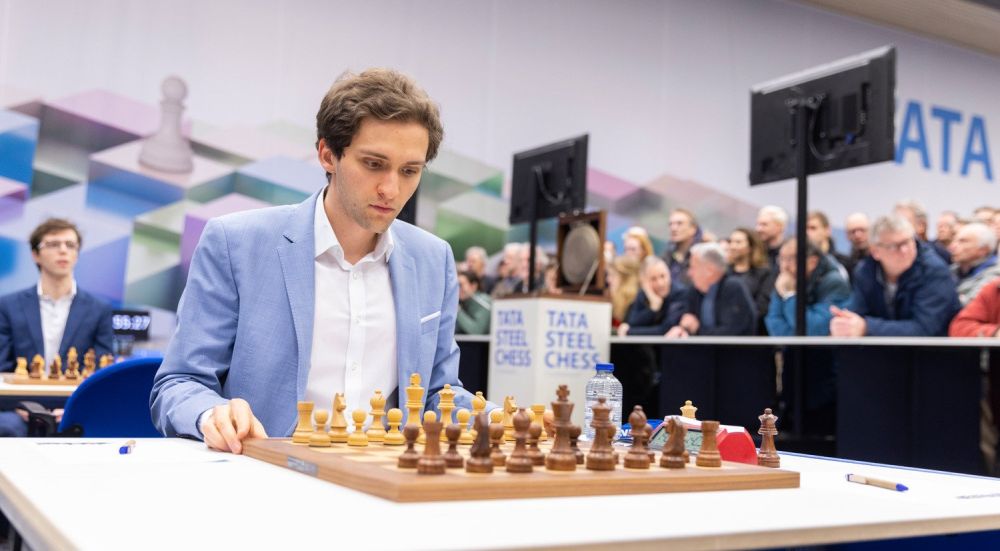 Replay Round 11 Masters games
Replay Round 11 Challengers games
Round 11 results
Round 12 pairings
Standings after Round 12
Schedule
Starting from Saturday, 14th January, all round starts at 6:30 p.m. IST, only Sunday 29th January, the final round will start at 4:30 p.m. IST. Rest days are - 18th (Masters), 19th (Challengers), 23rd and 26th January.
Time Control
100 minutes for 40 moves, followed by 50 minutes for 20 moves, then 15 minutes for the remaining moves with 30 seconds cumulative increment for each move starting from the first move.
Links
---