The Anish Giri Interview: Winning Tata Steel Masters 2023
Anish Giri won the Tata Steel Chess Masters 2023 ahead of all the top players in the world - Magnus Carlsen, Wesley So, Ding Liren, Fabiano Caruana. He played some phenomenal chess throughout the event to win it with a rating performance of 2849, scoring 8.5/13 and gaining 16 Elo points. Anish has been very close to winning the tournament multiple times, but this is the first time he has clinched the trophy at Wijk Aan Zee! We invited him for a livestream to get his thoughts on winning this prestigious tournament. Check out his full interview with IM Sagar Shah below.
Anish Giri conquers Wijk Aan Zee
SS: Guys,join me in welcoming the man, the myth, the legend, the one and only Anish Giri!
AG: Thank you Sagar, thank you very much.

SS: Anish, huge congratulations for this amazing feat. When you started winning in the final round game against Rapport, so many people started joining and they were happy from the bottom of their heart. But when they saw your interview, they were like "What's up with Anish? He does not look happy in this video!" You were so calm.
AG: Yeah, I mean I don't know. It's difficult to somehow express or maybe even feel emotions about this. Because you know, I always tell you that I don't care so much. I also don't care so much about not winning, it also works the other way unfortunately [laughs].
SS: These emotions that you're showing, is it true? Or is it like you said that and later on it sunk in and you were like "Oh my god, I won this tournament". Or was it like what you showed was what you felt?
AG: Definitely, yeah. I mean, I wish I could show something better. I didn't have anything prepared for this, it was so unexpected also that I would win. Of course, the whole tournament I was playing very well. I had a great game with Gukesh, great game with Magnus, of course I thought that things are looking really really good. But I knew it was gonna be hard, because I knew that 2 wins is not even close to be enough. I need to win atleast couple of more games, and it was unclear where they would come from. I missed some chances against Arjun, it happens to me often and to all players, and that doesn't feel good. Even though I got lucky against Ding, I had this crucial game against Nodirbek with White. Not only did I not win, but I didn't even get close. The opening didn't go well at all, and he neutralised me completely. I got some chance at some point, but he found the defence right away. After that, I thought the chances are not so high. There are 2 rounds to go, I've already played Nodirbek and have half point less than him. If anything,it's gonna be tiebreaks. I couldn't see this happening, so I wasn't so ready for it I think. Otherwise, I would've been more prepared and I would've prepared some kind of jump or something [chuckles].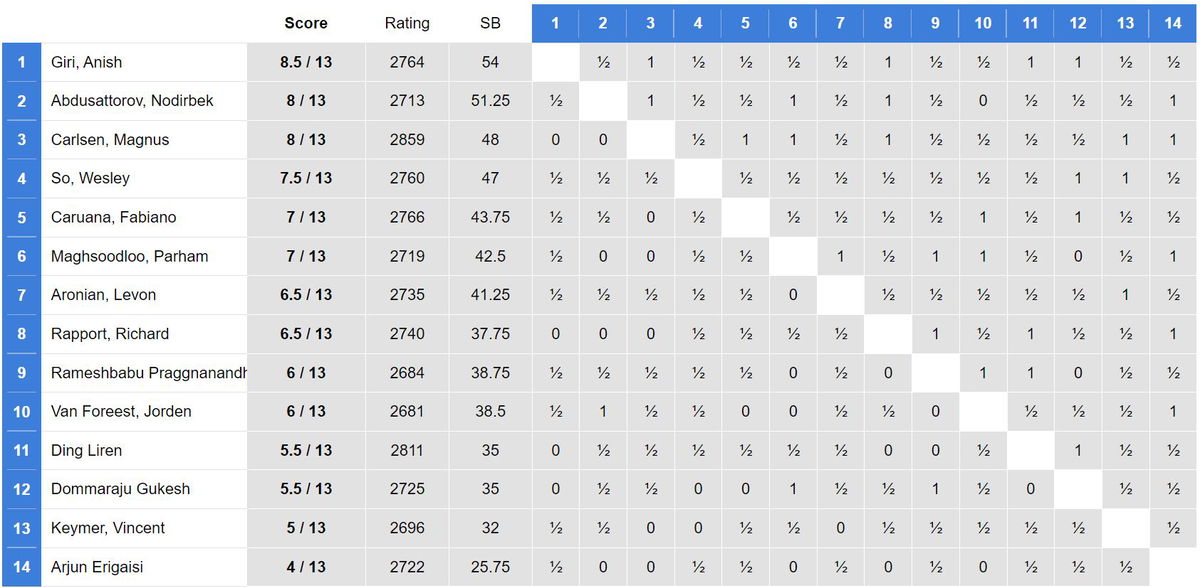 SS: But you are ready now, it has been 12 hours!
AG (laughing): But I have been very busy Sagar. I was sleeping, and then I had to bring my son to school. It was a very busy morning, I'm not prepared still.
SS: Guys, this is the perfect example of a family man. Wins Tata Steel Chess, and next day has to go and drop his son to school. But Anish, it has been phenomenal. There has been one question that a lot of people have been asking, it was revealed on the Chicken Chess Club Podcast that Jan Gustafsson is working with you as your new second. How impactful was that and how much would you credit that to your tournament victory?
AG: Well, this fact was known somewhere around Wijk Aan Zee, because I took him there as my second, and we were not hiding like some old fairytales like Romeo and Juliet [smiles]. My opponents there knew that Jan is my trainer, but at some point it was revealed I guess in this podcast. I mean, it could've been reported by anyone, but it happened this way. For many years, my main coach Erwin L'Ami who you know very well, he participates in the Challengers group most of the years. He cannot combine playing himself and being my coach. I've always had various different seconds in the Tata Steel Tournament, but for this year I thought it was a good time to try out working with Jan. I work with lot of young players and new people, they give me a fresh look on things. But when you have a second, I usually prefer someone who is experienced, someone who knows the preparation that goes into these events. When I was looking for a long-term second other than Erwin, there was a very limited list of people. I'm too old to take someone inexperienced and wait till he gains experience, I have to strike here and now. So, I was looking at people who have worked in the highest level before. The choice is rather limited in fact, and luckily Jan was one of the people that came to my mind. I have good relations with him, and I was able to do it because Carlsen announced he has stopped running for the World Championship title, because Jan has been involved in those matches. As far as I know, he was not like a full-time coach or anything, but he was involved for the matches. I thought to check with him what is the situation after the match was not happening anymore. It's already been over a year from the match I think, and he wasn't going to work anymore with Carlsen. He's also worked in the past with Jan Smeets, Loek Van Wely and he has been to Wijk Aan Zee a few times. He's one of the most experienced trainers and seconds.
There are some other great trainers and seconds that come to my mind that have experience - for example, I worked with Vladimir Chuchelov. Also, people that worked for Carlsen and Anand in the matches were great coaches, like Kasimdzhanov, Wojtzhachek, Surya Sekhar Ganguly. These seconds who have gone through the World Championship matches or atleast the candidates, they know the depth to which extent the players need to be prepared. That's very important! When I was a kid you know, I thought I was very well prepared, then Vishy Anand invited me to his camp for the 2008 World Championship Match.
I was 15, I was working very hard - I don't know what Vishy was doing [chuckles], but I was working really hard with my coach. I bought a good laptop, like dualcore, Quadcore, I don't know what I bought exactly. I knew everything, and the Grunfeld was my speciality, Be3 Grunfeld is my thing. So I was ready to Surprise Vishy, and I play one of my novelties. Vishy starts thinking, makes some move, then I lose the game. I check my computer, the computer goes from better for white, and changes to minus, better for Black. I think "Okay, wow", then I try another idea, the same thing happens. Another idea, same thing happens. There's nothing that I played that he doesn't know, everything is broken. In half a day we played 5 games all in my Be3 Grunfeld, everything is destroyed. I realized that maybe I'm not so well prepared, not so hardworking. You often think that you're well-prepared, because you only know yourself. This is the case with many young seconds as well, they think they are very good and very well-prepared. They send you files, you see the files, you see they tried, but it's only a start, it's only the beginning. People like Jan Gustafsson, they know exactly what top chess preparation is like, and that's why I think it's important to work with people like that for me.
But of course,as I said, I also work with a lot of young players, that gives you a lot of different perspective. It's actually very important because it also inspires you. Because often you are stuck in your top chess bubble, deep analysis upto move 40, ends in some draw everywhere all the time. You get completely crazy, you think it's all over, and then some young kid says okay, I'm going to crush with this move, and you lose. Then you realize okay, you're too deep in your bubble. Sometimes you have to dive up from the depth of the analysis ocean, and just go on the surface and see that you cannot play chess and blunder Rook in 2 moves.
SS: But it's such a wonderful start to your relationship with him, and I think that would definitely build up because this is a very important year for you. You're going to play so many events - in fact, the WR Chess Masters is coming up in 15 days. After that, you also have the Candidates cycle which you will enter into and so on.
AG: To be honest, let's say I'll play 70 classical games approximately, and here I played the first 13. Whether I lose or win the last round or anything like that, I still saw it this way. It's very nice of course, but most of it is still to be played. Of course, the start was really good, but I have to say there was some blessing from above here and there. The luck doesn't last forever, so I hope to compensate with the work. It is not possible to stay on this height, I am not going to win all the tournaments. I mean, I haven't turned into Magnus Carlsen overnight, there's no reason for that to have happened. He's still the best player in the world. I've had a good event, but atleast what I want is to show consistent high level of chess. Okay, maybe I'll have a bad tournament somewhere at some point, but I want to still have a few good ones as well. I don't expect to win everything, but nor would I be satisfied with winning this one and let the whole year go to hell, that's not the point. I really intend to, as I planned before the start of the tournament, to try to elevate my game and achieve certain goals this year.
SS: Anish, where does this objectivity come from? Because generally after winning a tournament, you feel like the wind is blowing, but you are still so balanced!
AG: I think it comes from experience. Especially in my case, I've had a lot of good and bad results in all kinds of orders. So that keeps me grounded. I remember my huge result was Reggio Emilia 2011-12. People forget, they all make jokes that I never won any super tournament. But, the kind of articles that were written that time, they don't remember, I remember because I was reading them. They were writing that this is the youngest player to ever win a super-tournament, only matched by Karpov. It was a historic thing!
SS: Would it be like if Nodirbek won this event right now, something like that?
AG: I was younger, I was 17! It was really a historic event. I was 17, younger than Nodirbek. I was Gukesh+ yeah, Gukesh is 16. And I'm not from India by the way, from where everybody expects to be prodigy. The kind of articles that were written, it was really looking like I am the future and the future is now. I was really thinking that I'm gonna crush everyone and nothing can stop me. I had a good time for 2 weeks, then I went to Wijk Aan Zee. In the first round, I beat Gelfand with Black, as expected - who was going to play the World Championship match by the way. You realize, I'm 17 and I beat Gelfand also. I really think "Okay, this is really it, yeah." Then I lose my game somewhere, of course next day I bounce back because that's what Champions are made of. Then I lose one game, okay it happens, then I lose another one. Then I lose another one, I think "Okay, you cannot lose more than 3 in a row". After that, I lose another one. Then I thought anyway, let's make a draw, I try and I lose another one, so this is already 5 losses in a row. These are the things that later keep you grounded!
SS: Yeah, it's not at all easy and I agree with what you said, it's built up through past experiences. Of course, you were not like this, and not many people are aware of this because when you were at this prodigy status at 16/17, even I was not following chess so closely back then, I was a player.
AG: Yeah yeah, they really think that I was making all draws all the time, then at some point I started winning some things and this is my life story. It's really not like that, I was bigger than all of these boys, all of these Gukesh's and Abdusattorov's [chuckles]. I had my moments, at one point I was higher than all of them.
But it's not easy - you have setbacks and the other top players teach you lessons you acquire. Nemesis that you can't overcome - I was actually doing fine with Carlsen, but I was losing all my games to Kramnik and Aronian. At some point, I would have years where I would lose 4 games a year, I would not lose any other game, only 2 to Kramnik and 2 to Aronian. If you take Kramnik and Aronian out of the equation, I would have 100 game non-losing streaks. They were the only people, but they would beat me all the time. Also, as a kid it's harder for you to deal with the psychology. You could also see this now in prodigies, you could see in certain matches and when people are playing Magnus, you see that it's hard to overcome. Because as a youngster, it's harder for you to deal with these things. I had a lot of experiences, let me put it this way, but now in Wijk Aan Zee was definitely a good one.
SS: Would you rate this as bigger, or the Reggio Emilia one as a bigger victory?
AG: Well, in hindsight Reggio Emilia didn't really turn out to be like what it was looking like to be. I mean, if I had crushed everything since then and became World Champion at the age of 19 or whatever, that would've been my breakthrough. But in hindsight, after Reggio Emilia I had a bad Wijk, I had bad European Championship, I dropped out of 2700. I needed a few more months to get out of that, stabilized at 27 something, and then slowly grew. I've had a lot of good Wijk Aan Zee tournaments, a lot of them, they've helped me at various points in my career. At one point, I dropped out of top 10, I had a very tough period in Bilbao. I had a bad tournament, I lost to Carlsen for the first time ever in Bilbao, and I lost a couple more. I think after that few bad events happened, I stopped working with my trainer at the time. I didn't know how to resolve that and my rating slowly was going down, then I dropped out of top 10. After that, I resumed working with Chuchelov, my good old coach who I worked with a lot in the past.
We had 2 instances when we worked - for many years once, then we quit, and then again for a stretch of one and half year or something like this. We resumed working with him and I had a fantastic comeback in Wijk Aan Zee where I shared first with Carlsen, lost on tiebreaks. It was a great result, and it brought me back into the top 10. I've had many good results in Wijk, but of course in terms of the status of the tournament that I won, I think Reggio Emilia had a lower status somewhat. It's also because at some point the tradition had to end, because they had a very unfortunate earthquake there. It was no longer possible to host a tournament, and that's why I stopped. Otherwise, it would keep going every year, it would still be a regular tournament like Norway Chess and Wijk Aan Zee. But somehow it stops, and people forgot it existed. It was a top tournament of course, but Carlsen was playing here, not in Reggio Emilia. At that time, Morozevich and Ivanchuk were playing and they were very good at the time. Hikaru and Fabi actually played, but they were not as good as now. Actually Fabi and me were young, and Morozevich, Ivanchuk, were the top guys, Morozevich was fighting for the first place. But now with Carlsen playing and so many rounds, and this is such a famous tournament,probably the oldest tournament out there, the 85th edition. For sure, this is a very big one.
SS: This is the first time I think which is not an online event you've won where Magnus is also playing. So that makes it special, right?
AG: Yeah, in this Magnus Carlsen Invitational which was a big online tournament,it was the same in the sense that I beat him as well in the start in the qualification stage. I won the finals against Nepo, quite some luck there as well. But I always say that I'm not good enough to win without having some luck. But if I have some luck [smiles], I was always saying it and I'm glad that it worked out. But I'm not ashamed of it!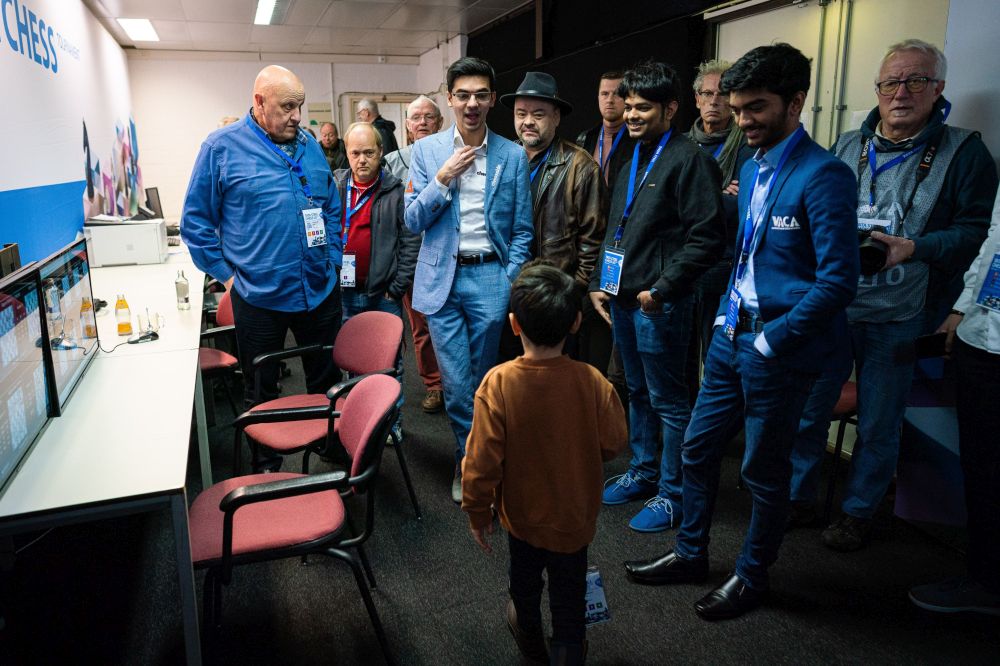 SS: This is a very beautiful picture that was captured yesterday. This is Danny entering the press room there, you have a very nice expression. What did he tell you, did he understand that you won the tournament?
AG: Yeah! He started to really follow lately, because he's 6 and he's around the stage where they really become conscious of what's going on. He was fascinated by these standings. There is this app, the chess24 app I think where you can click on players, see who they played, see the results, how many points, how many wins and losses. At some point, he was like "Wow papa, you didn't lose any game, wow, so cool!" He was telling us the rankings in the car yesterday, and I was like "how does he know all this"? He was kind of consciously watching and he finds it fun of course, all this stuff. It's great to see!
SS: We also have this very nice picture, this was captured by Lennart. Did your family (Sopiko, Michael and Danny) arrive when they got to know you're first, or they were anyway going to come?
AG: They were anyway going to come, especially because Danny wanted to see the tournament. He wanted to see the tournament, how people play and it's very near honestly. In weekend it's possible, because he doesn't have school. They were gonna come anyway, but when they came I won my game and then we had to wait a little more for Jorden to do his job. Also, my parents and sisters also came later on, so it was very nice.
SS: Could you tell us a bit about Sopiko's role in general, because I find this to be a milestone in your chess journey. What would you say about it?
AG: Yeah, of course she supports me greatly. When you have a family, there's two ways of supporting I guess. One way to support is let's say you are alone, you are dating or married, but you don't have family. Wife can offer you support almost like a coach. Let's say you lost a bad game, or whatever is going on in chess career, you can talk about it with your wife, she can support you and all that. Another way to support of course, which is even harder is that when you have family, then you have a lot of things that you have to do. You have to take care of the kids, house and all this. If you have to do it by yourself, or if you would have only half of the help from your wife, then besides that you have this chess thing, you also have to do all the other things. You have to do laundry, go to the supermarket, groceries, all of these. But also, it's a mental thing as well. It's very important that you know that things are peaceful and taken care of. It's not only literally you have to go the supermarket, but just the thought of that. Okay, Supermarkets' like a joke but of course there can be more serious things. It's really great that she's taken care of so much of the family and household things, because otherwise it will be very difficult. You have to already worry about Nodirbek and Queens Gambit accepted, and you also have something in your home or family, and children are also crying because they want some toy, and it's too much. There are people who do that all, but then Nodirbek and Queens Gambit accepted will be even worse. So definitely, she's offering great support in all senses and it's incredible. You have to really be fortunate sometimes in married life, especially with big family. There are so many things that have to be done and you have to somehow find a way that the two of you manage the whole crazy house.
SS: That's amazing! Anish, this is something I was also discussing with Amruta when you were playing. Everyone gets messy after a while after six hours of play, but you had impeccable hairstyle!
AG: I think good hair gel there is doing the magic, this 48-hour protection or whatever they say. I mean, messy is just a matter of hair, you make it like this and it already looks like you should go to bed [chuckles].
SS: But it doesn't happen to you!
AG: Yeah, it's fixed, it's good hair gel. It puts the hair back into place and everything's good. Otherwise, I'll look like Carlsen suddenly. You look unfresh, then you go to the mirror and you make your hair neat, and you already look like a professional chess player.
SS: Anish, what was this moment like? It's such a nice picture that was captured.
AG: Yeah, it's amazing. The photographers sometimes capture things that don't exist [smiles]. I recall the moment, he congratulated me, he didn't look that happy, but here it seems very generous! [laughing] Honestly, I recall that moment, it was very kind of Magnus to congratulate me. It didn't feel like he was happy for me at all, but I think I told him that it wouldn't have happened without you. Probably that's why I smiled, and maybe that made him smile for a second.
SS: Why did you say that? Ah, because you beat him, okay got it.
AG: Yeah, but also you have to say something, yeah? When you see a big hero in front of you, you can't just say I want an autograph, you have to say something! But it's really a beautiful picture, it's more beautiful picture than how the reality was. But maybe he really was happy, I just couldn't believe my eyes.
SS: You know, there was this one picture of Vishy Anand in the Moscow Candidates 2016. Karjakin had won and then Anand was just kind of like giving his hand, sort of like passing off, now Karjakin will play the World Championship.
Similar vibes here, where Magnus won last year and you won this year.
AG: Yeah, that's why I really like the picture. It's very beautiful, especially that I managed to win the tournament. Also, to be very honest, like low-key, don't tell anyone, but I really liked the idea that he was in the podium as well. I really liked that idea, because after World Blitz, I felt such a pity that. The last game of Fabiano against Hayk which Fabiano lost, because if he had won, I would be so lucky to even finish 3rd. I would stand at the podium with Hikaru, Magnus and me in a Blitz tournament. You know, these are the two absolute Blitz gods, and I would be there at the same podium. I wanted that picture, I thought that would've been a nice picture. That's why I really liked that he managed to get to the podium in this event, even though at the start things clearly didn't work out his way. He was really unfortunate at the start, I don't think he played so bad but things just didn't work out for him. I was happy that he managed to climb back all the way and now it looks like I edged him out by half a point [chuckles]. It doesn't tell the full story, but it's very nice.
SS:Also, another nice picture captured here is with you and Jorden. The nice thing about this is that in 2021, while Jorden beat you and you had to finish second and he won in the armageddon, this time he actually helped you by beating Nodirbek. So it was like life comes full circle!
AG: Yeah yeah, there's people who believe in Karma,they keep believing [chuckles]. It was definitely very nice, yes, very symbolic in a way. Of course it's not accidental, he's a great player, he managed to beat me there and he managed to beat Nodirbek here. It's not just a coincidence, there's definitely something to that.
SS: Anish, how much does this mean to you? From 2764 to 2780, and you have told this in the past that you have reached 2790 and above.
AG: I think I reached 2803 in live ratings, and on the list maybe 2798 is my peak. There was this famous tweet by Hans, I made fun of it a long time ago before all this situations. He had this screenshot with a rating of 2689 or something, and made a big speech [chuckles] and I was like okay, 2689, why such a number? 2779 is also not a very round number. But I was making this joke that because I am six points away from Alireza, if I reach this rating I'll start asking for very different conditions in tournaments [laughs]. Also, there is inflation and deflation. New players come, so that creates a deflation at the top as far as I know. I didn't think of about this deeply, but I believe if a young player enters he should be eating rating of others from the top. He takes it first from down, and he brings it to the top. Obviously, if 2730 Nodirbek starts playing only top players and he goes to 2780, obviously he ate rating of other top players, so there will be deflation of other people compared to Nodirbek. I don't know what 2780, I mean they are nice numbers. But of course, it is a ranking relative to other players and it looks like a fine rating right now. In Wijk Aan Zee, I played some games which are really good but in general, over the course of 100 games, I don't know how I will perform, if I'll be able to show 5th in the World level or maybe higher, maybe lower. Hopefully not too much lower in any case, hopefully higher. It's hard for me to tell, we only played the one tournament. Things don't always work out - for example, Arjun is not always out of form you know. So we'll see - but of course it is always nice to see these big gains at the top, because it's hard. To gain more than 10 points, something exceptional has to happen, because it's very incremental and one win is 5 Points, another win is 10 points, then you lose sometimes, it's just difficult.
SS: Absolutely. About Nodirbek, I think he played amazing chess here. He was right there at the top. He's one of these brightest young talents, and this tournament had many. There was Vincent, there was Pragg, Gukesh, Arjun, I think five of them mainly. What would you say? Was this like Nodirbek is starting to move to a different level, this is the question on minds of people. Or do you think that all these prodigies, youngsters are kind of even - one guy has a good tournament now, then the other guy has a good tournament.
AG: That's hard to say, that's a very good question. It's very hard to say, honestly. Before the tournament, I wouldn't have guessed which one. In general for Nodirbek, I know him for a very long time. I've lost to him in the World Cup before the big audience heard of him, and I knew that I didn't lose to a Newbie. I realized that he's a good player,then I played him in various Blitz Games and rapid games. Sometimes I won, sometimes I lost. I played him also in the qualifier to the Fischer Random World Championship. I lost a very close match on tiebreaks, like in the World Cup. At some point, I was very motivated around October or something like this, and I Was preparing for two big events: Fischer Random Knockouts and CGC. Both were big, because if you get to the finals, the prize fund was very big and they were big events. I thought okay, I'm close to qualifying both, I hope I'll manage one of the two,but I was very motivated. I prepared very well for these two, and had my focus there. I saw in the pairing tree that the final hurdle will be Nodirbek in both, and I thought, imagine he knocks me out of World Cup, he knocks me out of Fischer Random, then he knocks me out of the chesscom Global Championship. Imagine there's one guy who stops you in all of them, blocks you everywhere. Indeed, I started winning all the other stages and I was going to that. The Fischer Random Championships happened, I lost to him in the finals. Luckily though for me, in the CGC, he lost himself to Ponkratov, so I had to play Ponkratov. I won against Raunak and I had to play Ponkratov, I managed to beat Ponkratov and I got to CGC semifinals. But I knew that he is good, and now he's not only my problem, because he was like my problem, now he's everybody's problem. That feels better, now also I feel more comfortable playing him because it felt like I am underperforming when he beats me. It's still the case, but when someone is so low rated and nobody takes him seriously, you think maybe it's you who is wrong. Maybe you have some psychological issues, maybe I'm afraid of this guy Nodirbek. I didn't think so, but he's just very good. Okay, things work out a bit better for him than for me, but it's just he's very good. Okay, I mean it looks stupid if I tell everyone he's good after I lost to him, so I was just quietly waiting till he beat someone else as well, and now I saw he's very good. But it's the same about others though - honestly, if Arjun was at his place, I think no one would have been surprised at all, including the players and the viewers and Arjun himself. I think a lot of it is momentum too, especially in Wijk Aan Zee. It's a special place with momentum, it's a very special tournament. It's like a reality show - I was making this joke with my second:
It's like a reality show where they make the conditions such, let's make it as long as possible.
Tata Steel Chess Tournament 2023 | Official aftermovie| Video: Tata Steel Chess Tournament
The game: let's make the game as long as possible. Let's make the number of games as long as possible. Let's make the place as windy as possible. Let's give them as little as possible food and restaurants [laughs], lock them in the room, put as much pressure as possible [chuckles].They call it the Wimbledon of Chess! So, it's like a reality show, and it is meant to break people. It's like the torture room in a sense [laughing]. Of course, it's the biggest stage there is for a great result. But if things don't go your way, you see the it's the biggest torture of your lifetime. You see these interviews of people who are there for the first time, and this year again I saw one player from The Challengers, and they are all broken in the exact same way. I'm there for 14 years, and the place breaks some people, it's just crazy. It's just hard - so much momentum, people go play very good or very bad, then there are also these sequences at some point. Parham started solid, then at some point Parham had a bad stretch, then he recovered . In tournaments, there are periods that you play well ,few rounds you play bad, then you can again play well then you play your best. It's so long, I even made this joke with Amin Tabatabaei who's playing the Challengers. He started quite badly, and I don't know, maybe to change the vibe a little bit, he decided to shave his head. He came with a new haircut which is the absence of haircut, he was bald. But by the last round I saw him, and I said "The tournament is so long, your hair grew back!" This is how long the tournament is - the guy shaves during the tournament and then the hair grows back. It's a very long tournament!
SS: [laughing] Maybe he was in the room and he said "let me go out, but it's too windy" "let me eat some food, but I have gone to each restaurant" What should I do? Okay, let me shave my head! [laughing]
AG: [chuckles] Of course , he tried to try to change something probably. But it's a very long special tournament. Yes, things happen of nature that some people are on a roll, like I've had multiple tournaments that I'm on a roll and I've had five losses in a row as well. That's what Arjun also had - not in a row, but he had five losses I believe. It happens - there is nothing wrong with you, it's just that sometimes it happens. Nodirbek is World no. 18 right now, by the way people can also go down, even prodigies. I was also a prodigy, and then I dropped out of 2700. There's no promise that you stay right away, sometimes you enter, you come back out and then you go back in - but now with new knowledge. Probably he will do very well now, but sooner or later probably most other kids as well. When I compare these kids, my personal favorite is always Gukesh. It's because of the age - he's younger (16), and these two years is a lot - me at 16 and me at 18 were two different players. So I think if I had to bet, I always would bet on Gukesh, because he's the younger one. He also showed a lot of great qualities, even in this tournament.I expect all of them to do very well of course in the future!
SS: By the way, that's you when you were 17, and this was when you beat Magnus on the same day - 17th of January and I think we are going to name that as Anish giri Day. Because you beat him in 2011, and you beat him on 2023, and both of these days are 17th, and also it was Tuesday both days!
AG: Wow! I would have played Titled Tuesday, but instead [smiles] no no, But it's very remarkable. It makes you think of those astrology stuff, because usually they tell sometimes yeah like the Saturn is crossing the Venus or something like this, and this is your moment to strike. Some astrological stuff is going on there, definitely some miracles have to happen - some stars have to cross each other for this to happen.
Videos/Timestamps of Anish and Sagar analysing Anish's various games on stream:
Anish Giri vs Arjun Erigaisi : 1:19:10 -1:28:27
Ding Liren vs Anish Giri: 1:28:29 - 1:34:22
Anish Giri vs Jorden Van Foreest: 1:34:22 - 1:55:48
Anish Giri vs Richard Rapport: 1:55:48 - 2:04:00
All games of Anish Giri at the Tata Steel Masters 2023
Final thoughts and just chatting
SS: I think a lot of people in the chat mentioned that while the commentators do show them two or three lines, the players look at 7-8 deep lines you know - that's the difference.
AG: Because players actually calculate. The commentators, they're chilling there but players actually have to calculate. There's always a lot of hidden lines there, a lot. You always are much more surprised with how many beautiful lines exist in chess games, that are not shown on the board like. Every game, you can't even imagine how many lines are behind the scenes. I really appreciate when commentators sometimes finds something a little deeper. Because then I see they're actively thinking, because they're capable of course. As a titled player, you're capable of finding, but sometimes you go into lazy mode which is understandable as a commentator. But I like good commentary for sure.
SS: Anish, I remember your win in the Shenzhen Masters in 2018. That was one of our first interviews - we went through your games and that was very memorable.
I think this one is equally, if not even more very enjoyable watching these games. Now what's the plan till WR Masters?
AG: Thank you Sagar! So the plan is to go to school in 10 minutes, not to forget to pick up my son [laughing]. I need to prepare - because you know Sagar, i was preparing for the games, you can't imagine how pissed I was at myself. I was thinking like I could have done this, I could've looked at that as well. Towards the end especially, I was completely pissed. There was the game against Nodirbek and Richard, we are going towards the end of the event, and I needed some ideas. I had some ideas, okay I always have something, but I was quite pissed at myself, because I always think that it was possible to do much better. Of course, it's tricky because before the tournament you don't know exactly what you will need. You don't even know the pairings and colors, but I need to do a lot of work I think for the upcoming classical games. Because classical games, they require completely different preparation - because the main difference is that these guys are preparing for you and they're repeating their files, which they don't do in Rapid. They come and they blitz out all their moves, because they are fresh in their head. Because they spend the entire evening preparing only for you, which they never do the rapid. So it requires a whole different level of prep, and I think it's important to do that. While of course trying to rest very much as well, but not forgetting to prepare because I already know, I told you from my previous victories, that the biggest mistake to make is to celebrate and let the competition get ahead.
SS: But but I thought after 13 Rounds you would be tired, and just take some break no?
AG: Yeah, today of course I'm taking a break.

SS: But today you did this huge interview, like it's been almost two hours!
AG: Yeah,but this is fun of course, to show someone the variations. Because other interviews they take of me, they are telling you know, "tell us your emotion" and "are you playing more aggressively now", "are you then you're a safer player". All this nonsense, you know that I hear all the time from this media that doesn't understand anything. Here at least, you can look at some chess and I can show you some lines. It's much more fun of course to discuss these games, to see the positions again. It reminds me of Kramnik. You know, Kramnik was showing his games, he would always say "I saw this", and then as he would show the game, he would add more as he sees. So by the end, he would show like some kind of 200 lines that he that he claims he saw, but he just was making up as he goes [chuckles] [Sagar laughing]
By the way, in my endgame with Jorden, I believe the moves that I said are like great and only - might not be only. I think maybe engine showed some alternative ways, but they were even weirder than what I did. Even this Kg7 is maybe not the only move. I don't remember for sure, maybe there was some other move as well.
SS: You know, when we were looking at the Jorden endgame, we thought it's so random. It's not easy to calculate, but you actually try to make sense of that randomness, by saying that you didn't want the Bishop to go to f3 and all of that stuff.
AG: Yeah, but that was the problem. I tried to make sense of the randomness and got myself in trouble. But then when the randomness left and just the pawns started to crush me, then I realized I have to stop them. It was random, but it was hard to play because it was really hard to understand what you want. What does Black want - like if you just push the a-pawn mindlessly, sometimes you might allow e5 and lose. It was very weird, and you cannot control the pawns forever. You cannot Block it forever. If you start defending too much with the Rooks, defending all the entry squares, he might find one entry Square you missed. Like you go to g8 f8 a8 h8. It was very weird, the endgame. I felt that I cannot be worse here,I thought I found this clean solution to go Rf2 and have draw in the pocket. But it was not so clean after all. It was an interesting endgame.
SS: Amazing. Thank you for your time, it is now time for you to go to school and pick up Danny!
AG: Thank you Sagar! Yeah, now it's almost time. I think it was very enjoyable and for your support also during the event! You are always very kind with your messages so thank you very much. I'm enjoying your commentary and content!

SS: Thank you Anish! I think I'll see you in Germany now.
AG: You're coming?
SS: Yes!
AG: Oh, that's nice!
SS: I'm somewhere in the halfway point. I'm trying to apply for my Visa, I don't know if it will happen but if it does I'll come.
AG: Hopefully it does. Dear distinguished ambassadors, Grant Sagar the visa [Sagar laughing] I know he will return because Amruta is there, she will never let him stay in Europe - don't worry [chuckles]. He'll return for sure!
SS:Take care Anish, see you next time.
AG: Bye Sagar!
---