Tata Steel 2023 R7: Abdusattorov increases his lead, Praggnanandhaa in pursuit
As a fan of the sport, one could not have asked for a better day at the Tata Steel Chess 2023. The seventh round witnessed the maximum number of decisive games in both Masters and Challengers section. Nodirbek Abdusattorov defeated Arjun Erigaisi to increase his sole lead by a full point 5.5/7. R Praggnanandhaa and Wesley So won their respective games to join Anish Giri and Fabiano Caruana at 4.5/7 each. Magnus Carlsen got back to winning ways by defeating Richard Rapport. IM Vaishali beat her second consecutive GM of the event, Brazil no.1 Luis Paulo Supi. Round 8 for both Masters and Challengers section starts today at 6:30 p.m. IST. Photo: Lennart Ootes/Tata Steel Chess Tournament 2023
Extreme decisive day
A total of ten out of 14 games, combining both Masters and Challengers section, ended decisively. Three in the Masters and only one in the Challengers section had a draw. GM Alexander Donchenko (GER) beat the coleader GM Mustafa Yilmaz (TUR) to emerge as the new sole leader in the Challengers section 5.5/7.
Arjun - Abdusattorov: 0-1
Arjun Erigaisi (2722) continued his play of exciting chess in this event. He played aggressively and advanced his kingside pawns. According to his opponent, Nodirbek Abdusattorov (UZB, 2713), White had to play 17.h4 when he went 17.Qc2.
\
Now was the right time to go h4, but White opted 17.Qc2. Abdusattorov immediately spotted Qa6, having the idea of d3. He was not sure how to continue after 17.h4. Black's only play was to create some counterplay at the center of the board, hence he created a passed pawn on the d-file. 17...Rd8 18.h4 Qa6 19.cxd4 cxd4 20.Qb3 d3 21.h5 Bxf5 22.gxf5 Nd4 23.Nxd4 Rxd4 24.Bg3 d2 25.Re3 and now Black played Qh6 after ten minutes of thinking. White could have still continued the fight with 26.Rd3. However, the position was quite complicated and 26.Qxb7 Bg5 turned the tide in Black's favor and he went on to win the game.
Praggnanandhaa - Jorden: 1-0
Jorden van Foreest (NED, 2681) made a surprising decision to sacrifice his pawn early 10...b4 for almost little to no compensation. R Praggnanandhaa (2684) was not expecting his opponent to play 4...Bf5 line in the Slav Defence.
Praggnanandhaa thought that 15...e4 was a very bad move by Black which stopped all counterplay possibilities. Afterwards, White had an easy play to go for b4-idea 16.Ne1 Bg4 17.Rdb1 Qc7 18.h3 Bxe2 19.Nxe2 Qa7 20.b4. White consumed a lot of time and it cost him a few hours of play as mentioned by him in the post-game interview.
Gukesh - So: 0-1
Exchanging pieces is the best way to reduce the intensity of opponent's attack. D Gukesh (2725) should have traded his bishop for the knight at f4 at the first opportunity he got. As his opponent, Wesley So (2760) said, 16 moves in five minutes at this event is certainly not going to be an easy task.
28.Bxf4 exf4 29.c4 would have been fine for White. However, 28.Rd2 Qd5 just abandoned all hope for White to fight back.
Vaishali - Supi: 1-0
IM Vaishali R (2425) registered her second consecutive victory. Her opponent, Brazil no.1 GM Luis Paulo Supi (2608) made a thematic exchange sacrifice in the Sicilian Najdorf. However, he was unable to get things going. Eventually a blunder before the first time control ended cost him the game in an already dwindling position.
35...Bf6 would have still kept the game going. 36...Bh4 immediately ends the game after 37.Nxg6.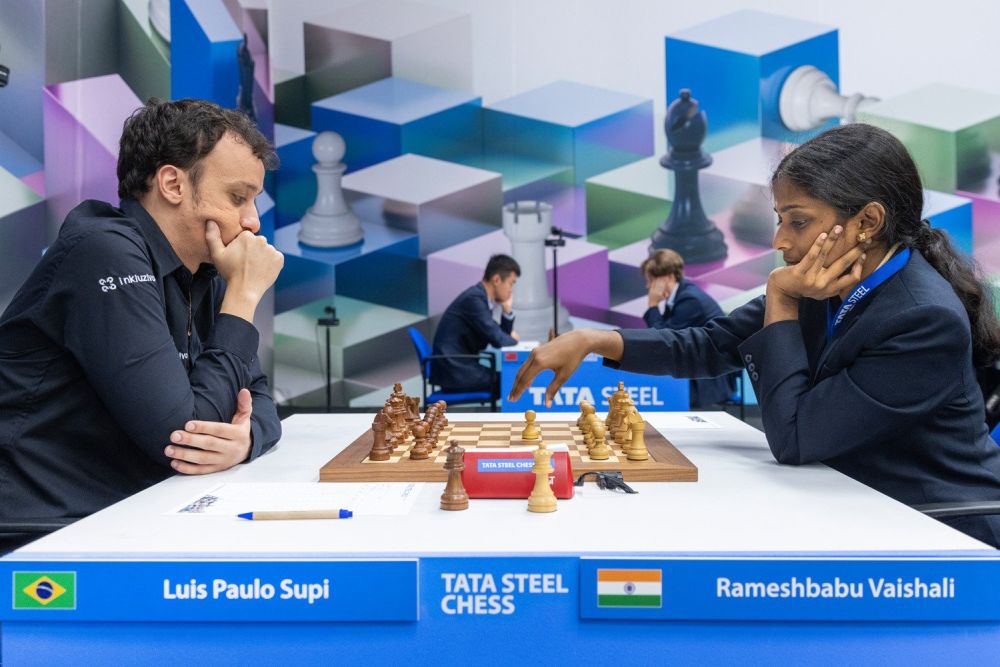 Erwin - Max, Round 6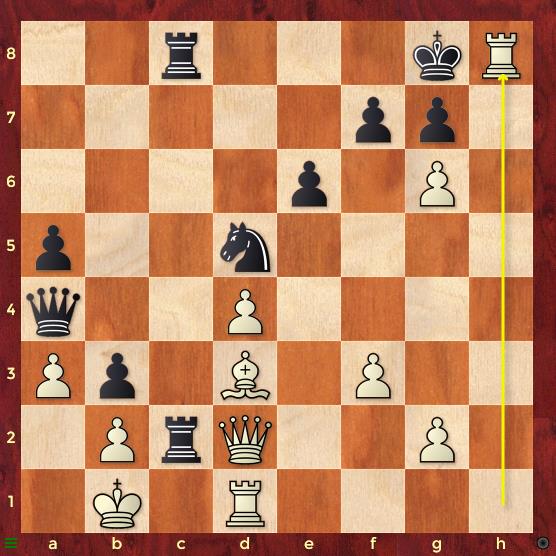 It would be a remiss if I do not mention a fantastic finish by the reigning Netherlands champion, GM Erwin l'Ami (2627) against the previous champion, GM Max Warmerdam (2616) in the previous round six. What's the best way to finish off a game with a beautiful tactic? Doing it against someone who likes to play sharp chess himself.
Replay Round 7 Masters games
Replay Round 7 Challengers games
Round 7 results
Round 8 pairings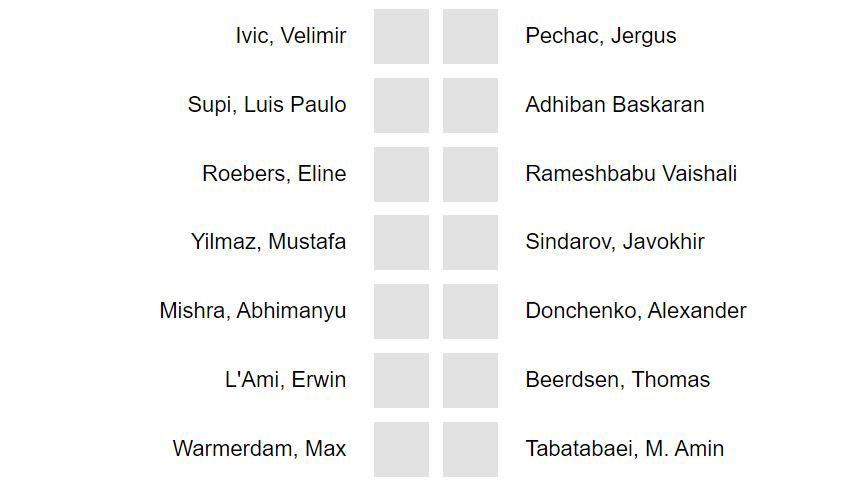 Standings after Round 7
Schedule
Starting from Saturday, 14th January, all round starts at 6:30 p.m. IST, only Sunday 29th January, the final round will start at 4:30 p.m. IST. Rest days are - 18th (Masters), 19th (Challengers), 23rd and 26th January.
Time Control
100 minutes for 40 moves, followed by 50 minutes for 20 moves, then 15 minutes for the remaining moves with 30 seconds cumulative increment for each move starting from the first move.
Links
---