Tata Steel 2023 R12: Praggnanandhaa makes an epic draw against Carlsen
Praggnanandhaa quite possibly made one of the best saves of his career against Magnus Carlsen. The teenager drew with the world no.1 for the first time in a Classical game in their second ever Classical encounter at the penultimate round of 85th Tata Steel Chess Masters 2023. He deservedly received the compliment of "...he defends very well". No matter how the tournament ends for Pragg, he has certainly shown that he hang with the very best in the world. Abdusattorov drew with So. He is in a very good position to win the tournament. If he draws and Giri wins the final round, we might see a Playoff. Gukesh drew with Aronian in a well contested battle. Final Round 13 starts today at 3:30 p.m. IST. Photo: Lennart Ootes / Tata Steel Chess Tournament 2023
Donchenko wins Challengers with a round to spare
B Adhiban defeated the new Netherlands champion, Erwin l'Ami (NED). The game seemed to be headed towards a draw when the latter attempted to break the position open and invited trouble. GM Alexander Donchenko (GER) defeatted IM Thomas Beerdsen (NED) to win the Challengers section one round to go. Only GM Mustafa Yilmaz (TUR) has a mathematical chance to tie his score. However, even in that case Donchenko qualifies to the next year's Masters section as their direct encounter was won by the German in the seventh round.
Carlsen - Praggnanandhaa: 0.5-0.5
R Praggnanandhaa (2684) felt that he was lost out of the opening against Magnus Carlsen (NOR, 2859). He admitted making random moves 18...Be6, 20...Bf5, 22...Be6 as he had to play something. Soon he sacrificed a pawn to prevent his position from being worse.
23...b6! is a very nice move. 24.Rb3 Qc7 25.Nxb6 Rab8 gave Black some counterplay for the lost pawn. Carlsen realized immediately after making Nxb6 why it's wrong. 26.Na4 Rxb3 27.Qxb3 Bxe5 and White had to take on e5 with the pawn as Rxe5 runs into Qc1+.
White allowed Black to have two queens on the board momentarily against a queen and rook. It started with 33.Re4 dxc4 34.Qxd7 c2 and we reach the above position. 35.Qxe8+ Kg7 36.b4 Qc3 37.f4 c1Q 38.f5 and White made a very good attempt to make some checkmate threats.
Carlsen is not the kind who will draw a game easily. He made some deadly threats on the kingside 38.f5. Praggnanandhaa found the only resource to save the game Qc7 39.f6+ Kh7 40.Qf8 Qxe5+ the only way for Black to prevent the checkmate threat at g7. 41.Rxe5 Qf4+ 42.Kg1 Qc1+ 43.Kf2 Qf4+ 44.Ke2 Qxe5+ 45.Kd3 Qxf6 and Black managed to save his king. However, it is still not over, Carlsen made one last attempt to stir up trouble for the teenager.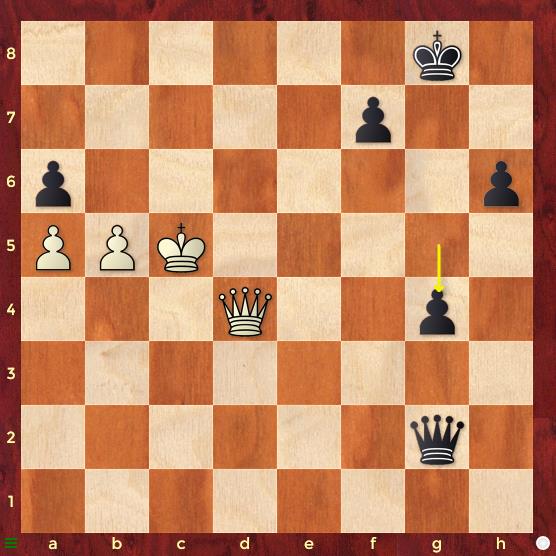 The multi-stage, extremely complex Queen endgame did not rattle Praggnanandhaa. He correctly calculated everything and put a good stop to his opponent's plans. 56.b5 g4 57.bxa6 g3 58.a7 Qa8 59.Kd6 g2 60.Ke5 Qf3 61.Qd8+ Kh7 62.a8Q Qc3+ 63.Qd4 because moving the king and allowing Black to promote another queen is disastrous for White. The only safe haven for the king was 63.Kf4 but why bother putting the king in the peril. 63...Qxd4+ 64.Kxd4 g1Q+ 65.Kd3 Qd1+ 66.Ke3 Qe1+ 67.Kd3 Qd1+ and the game ended in a draw. What a fantastic fight!
Replay Round 12 Masters games
Replay Round 12 Challengers games
Round 12 results
Round 13 pairings
Standings after Round 12
Schedule
Starting from Saturday, 14th January, all round starts at 6:30 p.m. IST, only Sunday 29th January, the final round will start at 4:30 p.m. IST. Rest days are - 18th (Masters), 19th (Challengers), 23rd and 26th January.
Time Control
100 minutes for 40 moves, followed by 50 minutes for 20 moves, then 15 minutes for the remaining moves with 30 seconds cumulative increment for each move starting from the first move.
Links
---