Tata Steel Masters 2023 R5: Abdusattorov beats Carlsen, gains sole lead and now World no.18
The 44th Olympiad Gold medalist, Nodirbek Abdusattorov defeated Magnus Carlsen in fifth round of 85th Tata Steel Masters 2023. The former World Rapid champion won against the reigning champion similarly as his first win back at World Rapid 2021. The world no.1 could not navigate a way to bring his king to g7 or h7 in the queen endgame, which would have been a theoretical draw as mentioned by the teenager. Speaking of teenagers, Arjun Erigaisi had an exciting game against Ding Liren which the former saved from the brink of a loss. Gukesh and Praggnanandhaa drew with Rapport and Giri respectively. Round 6 for both Masters and Challengers section starts today at 6:30 p.m. IST. Photo: Tata Steel Chess Tournament 2023
Arjun Erigaisi makes an incredible save against World no.2 Ding Liren
The fifth round was played at the Johan Cruijff ArenA, the home stadium of AFC Ajax in Amsterdam, Netherlands. The new beautiful blue light setting of the hall witnessed some exciting games. Nodirbek Abdusattorov could not have asked for a better way to get into the sole lead as he defeated the world no.1 to move his score to 4/5. Two consecutive losses in a Classical tournament, for the first time since Norway Chess in 2015, set back Carlsen to the shared tenth place with a score of 2/5.
Carlsen - Abdusattorov: 0-1
The Olympiad Gold medalist, Nodirbek Abdusattorov (UZB, 2713) opted for the Symmetrical English. He made an unnatural move 13...Bf6 allowing 14.Ba3 and preventing his king from castling on the kingside.
13...Bf6 almost provoked Carlsen into sacrificing an exchange 14.Ba3. Black decided to take it as he had the option of castling on the queenside 14...Bxa1 15.Qxa1 0-0-0 16.Rc1 Kb8 17.Qxg7 White had enough compensation for the sacrificed exchange. The game eventually liquidated to a queen endgame where Abdusattorov had an extra pawn.
The above endgame should end in a draw considering Carlsen is an endgame maestro and queen endgames even with an extra pawn is not easy to convert into a win. One must not forget that Carlsen is a human too, after close to 5.5 hours of play, the World no.1 could not find a way to get his king to g7 or h7 where it is a theoretical draw as mentioned in the post-game interview by Abdusattorov.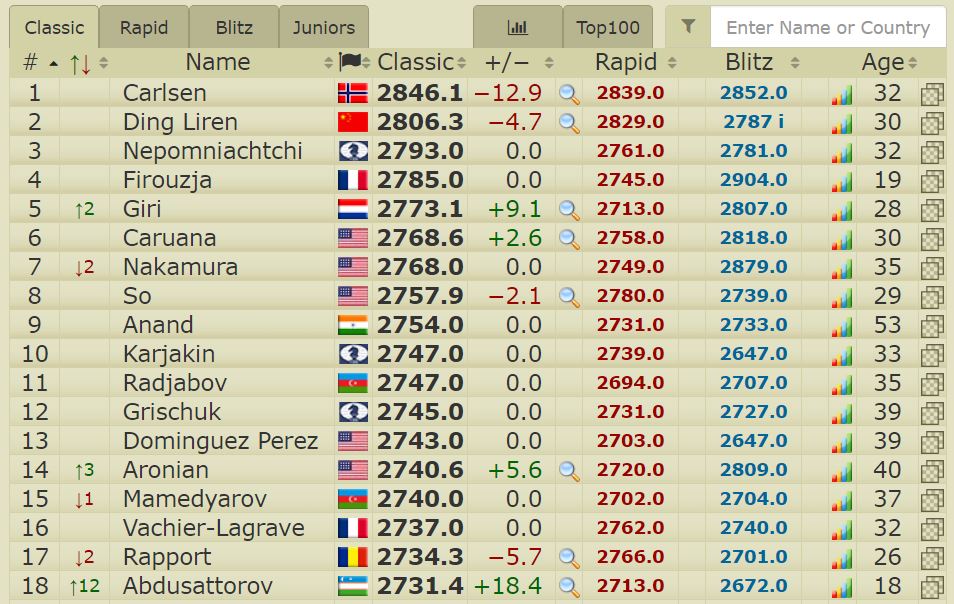 World Blitz 2021 champion and World no.16 Maxime Vachier-Lagrave tweeted his thoughts on the endgame
English legend, Nigel Short tweeted on Carlsen's two consecutive losses
When was the last time Carlsen lost two in-a-row?
If we strictly consider Classical chess, 3rd Norway Chess 2015 was the last time when Carlsen lost two Classical games consecutively against Veselin Topalov and Fabiano Caruana in Round 1 and 2 respectively. However, if we consider all rated Rapid and Blitz, and also World Fischer Random Championship games, then Carlsen has lost two games in-a-row every year since 2015 except 2020. We all know 2020 had the least over-the-board events due to the pandemic, so the mathematical probability of Carlsen losing a rated game, let alone two in that year reduced drastically too.
2015
3rd Norway Chess - Veselin Topalov and Fabiano Caruana in Round 1 and 2 in June.
2016
• Paris GCT Blitz - Giri and Topalov in Round 15 and 16 on 12th June.
• Leuven Grand Chess Tour Rapid - Caruana and Hikaru Nakamura in Round 4 and 5 on 17th June.
2017
Paris Grand Chess Tour Blitz - Sergey Karjakin, Maxime Vachier-Lagrave and Nakamura in Round 14, 15 and 16 respectively.
2018
World Rapid - Adam Tukhaev and Shamsiddin Vokhidov in Round 1 and 2 respectively.
2019
• Saint Louis Blitz - Caruana, Yangyi and Leinier in Round 14-16 on 14th August.
• Saint Louis Rapid - Caruana and Aronian beat Carlsen in Round 4 and 5 before Sinquefield Cup. The gap between two losses in-a-row was 18 days.
• Sinquefield Cup 2019 Playoffs - Ding Liren beat Carlsen twice in-a-row in August.
• World Fischer Random Championship - Carlsen lost three in-a-row against Wesley So (Game 2-4 in Round 3) in October.
2021
• World Blitz - Bartosz Socko and Vladimir Fedoseev in Round 4 and 5; Anish Giri and Alexander Grischuk in Round 15 and 16.
2022
• SuperUnited Blitz - Wesley So and Leinier Dominguez Perez in Round 3 and 4; Alireza Firouzja and Ivan Saric in Round 17 and 18 respectively in Zagreb, Croatia.
• Norway Blitz - So and Anand in Round 6 and 7 respectively.
Arjun - Ding Liren: 0.5-0.5
"It was a rollercoaster game I think" - Ding Liren (2811) on his encounter against Arjun Erigaisi (2722).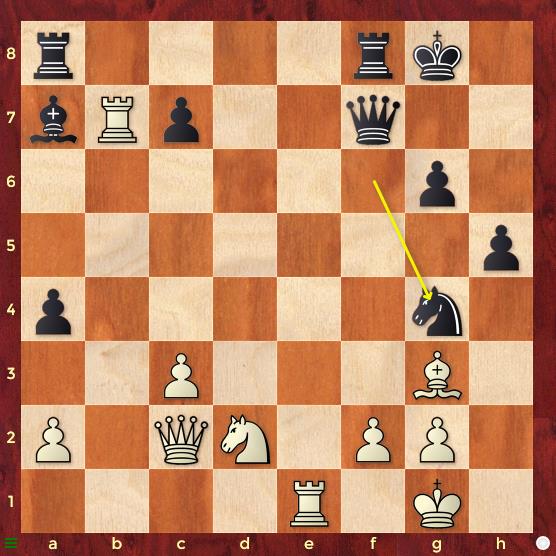 Ding Liren felt White shoulld have gone for 26.Ne4 here having the idea of c4, c5. Instead 26.Nf3 is an inaccuracy. After 26...Bb6 27.c4 Ra5 Black is back in the game.
The world championship contender felt that the position changed completely after 31.Qe4 and it should have been winning for him. He admitted missing 29.Bxc7. He didn't know whether there was a win for him. He felt that he should have gone 31...Bc5 instead of 31...Rxf3. 32.Bg3 Bd6 which felt like it should be much better for Black. That's why he is so disappointed with the draw.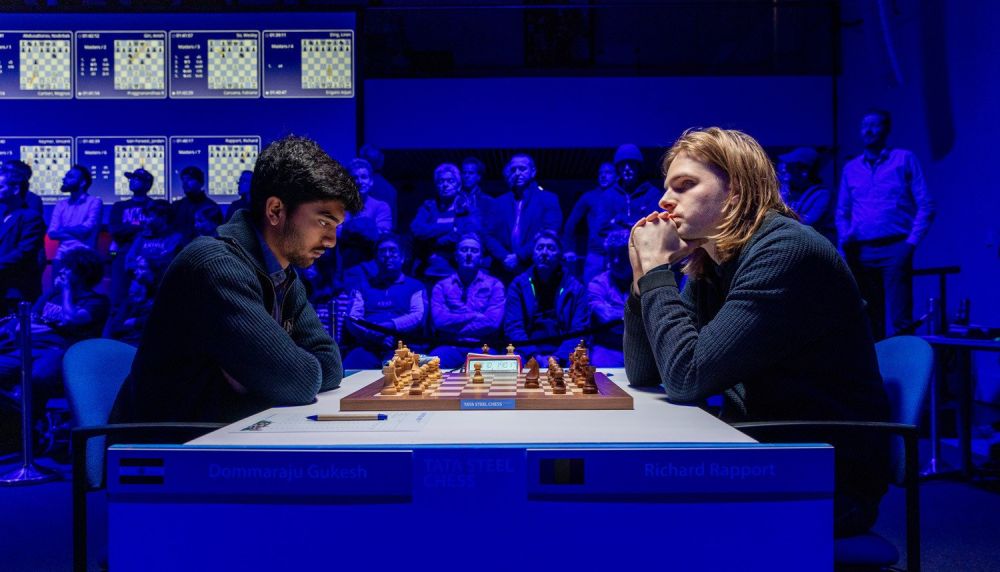 Replay Round 5 Masters games
Round 5 results
Round 6 pairings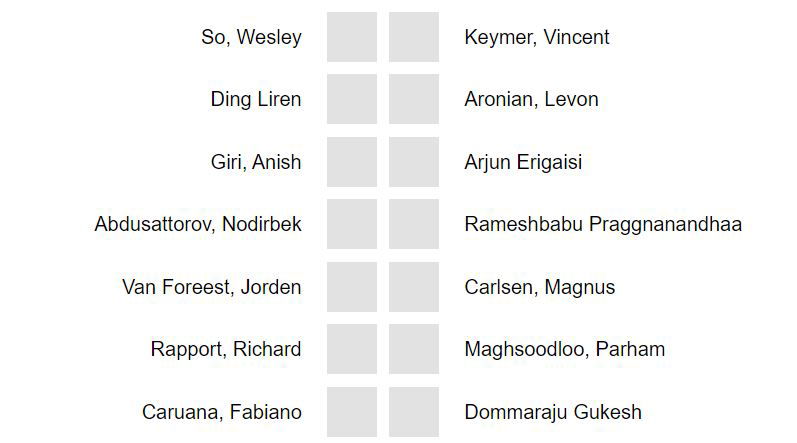 Standings after Round 5
Schedule
Starting from Saturday, 14th January, all round starts at 6:30 p.m. IST, only Sunday 29th January, the final round will start at 4:30 p.m. IST. Rest days are - 18th (Masters), 19th (Challengers), 23rd and 26th January.
Time Control
100 minutes for 40 moves, followed by 50 minutes for 20 moves, then 15 minutes for the remaining moves with 30 seconds cumulative increment for each move starting from the first move.
Links
---