Tata Steel 2023 R6: So and Caruana win, Abdusattorov still in sole lead
Wesley So and Fabiano Caruana are the two victors of the sixth round at 85th Tata Steel Chess Masters 2023. Vincent Keymer went wrong in the endgame which cost him the full point against So. D Gukesh made some wrong calls early in the middlegame which gave his opponent, the former World Championship Challenger, a substantial positional advantage. Arjun Erigaisi had another exciting draw, this time against Anish Giri. R Praggnanandhaa drew his game against the sole leader of the tournament, Nodirbek Abdusattorov. IM Vaishali, GM Donchenko and GM Erwin scored a win each in the Challenger section. Round 7 for both Masters and Challengers section starts today at 6:30 p.m. IST. Photo: Jurriaan Hoefsmit/Tata Steel Chess Tournament 2023
Vaishali scores her first win of the event
IM Vaishali R scored her first win of the tournament against Slovakia no.1 GM Jergus Pechac. GM Alexander Donchenko (GER) defeated IM Eline Roebers (NED) to join GM Mustafa Yilmaz (TUR) in the lead 4.5/6.
So - Keymer: 1-0
The former World Fischer Random champion, Wesley So (USA, 2760) scored his first win of the event against the Germany no.1 Vincent Keymer (2696). The teenager surprised his opponent by going 9...Rb8 quickly after 8.a4, 9.a5 in the Ruy Lopez.
So felt Black blundered 31...Na3 and should have gone c4 first which would have led to a draw. 32.c4 a4 33.g3 Nb1 34.bxa4 b3?? now things went completely out of Black's hand. 34.Kf1 Ba5 35.Bb2 Nc3 36.Nd2 Nxa4 37.Nxb3 Bb4 38.Bc1 and White went on to win a bishop vs knight endgame.
Giri - Arjun: 0.5-0.5
Arjun Erigaisi (2722) made a bold decision of going for a queenside castle against Anish Giri (NED, 2764).
While this is not a unique idea, only twice 13...0-0-0 has been played previously. Both games ended decisively. Arjun has been playing exciting chess throughout the event. He is going for some sharp, imbalanced positions, which are quite difficult to calculate correctly for humans. Computer might say that Black was worse for the better part of the game but it was certainly not easy to figure out the 'how' part.
Computer might take no time to find 32.Kf1 to be the best continuation for White. However, for humans, it is certainly not easy to figure out that walking towards the line of danger is the best choice in the above position. The game continued 34.Rxa4 Bxf2+ 35.Kh2 Rd2 36.e7 Bxg3+ 37.Kxg3 Re8 38.Rxd2 cxd2 39.Rxa6+ Kb7 40.Rd6 and the game headed towards a draw.
Caruana - Gukesh: 1-0
D Gukesh (2725) did not react correctly to Fabiano Caruana's (2766) battery of queen and bishop on the long diagonal.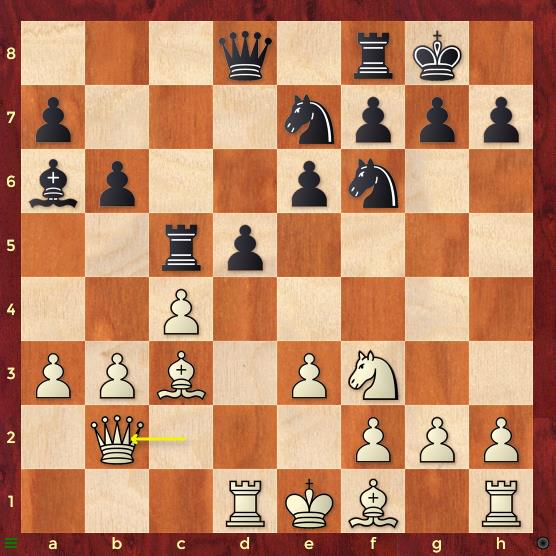 Caruana thought 12...c5 is a big mistake. After 13.dxc5 Rxc5 14.Qb2 Qc8? was another mistake. 15.Bxf6 gxf6 16.Qxf6 and Black is positionally lost. The former World Championship challenger felt that instead of 20.bxc4 there should have been a clear win which he couldn't find.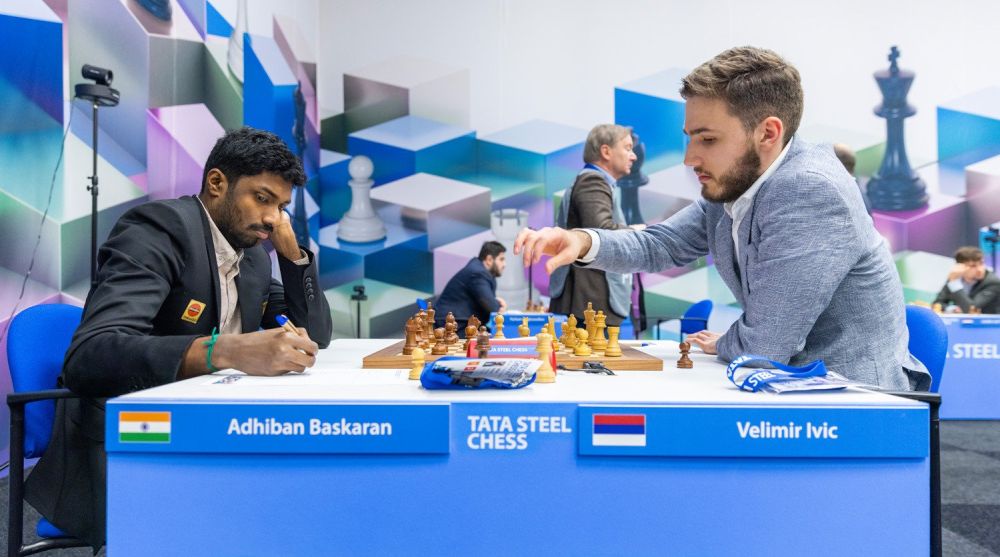 Jergus - Vaishali: 0-1
IM Vaishali R (2425) got into an unpleasant endgame out of the Exchange Grunfeld opening against GM Jergus Pechac (SVK, 2637). A grave mistake in time trouble cost Jergus the game in a relatively balanced endgame.
Some big reveals happened on the 38th episode of Chicken Club Podcast:
Replay Round 6 Masters games
Replay Round 6 Challengers games
Round 6 results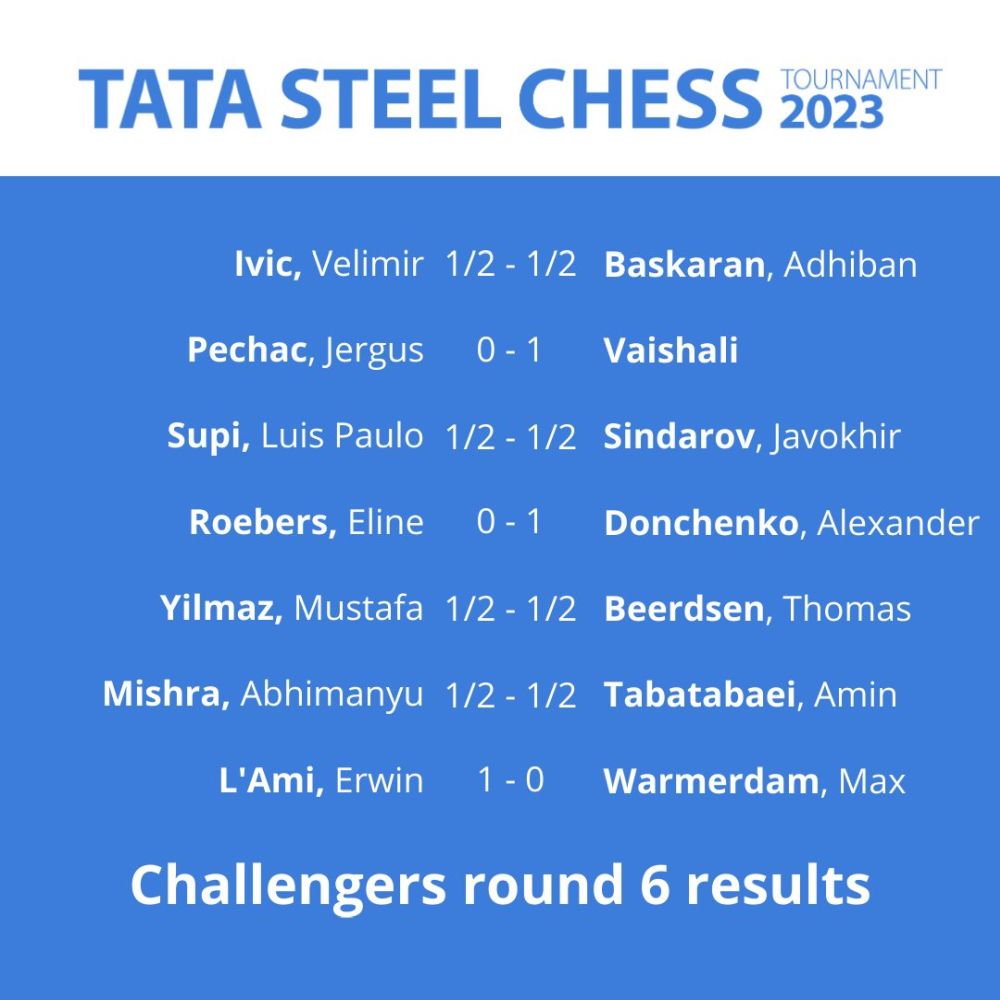 Round 7 pairings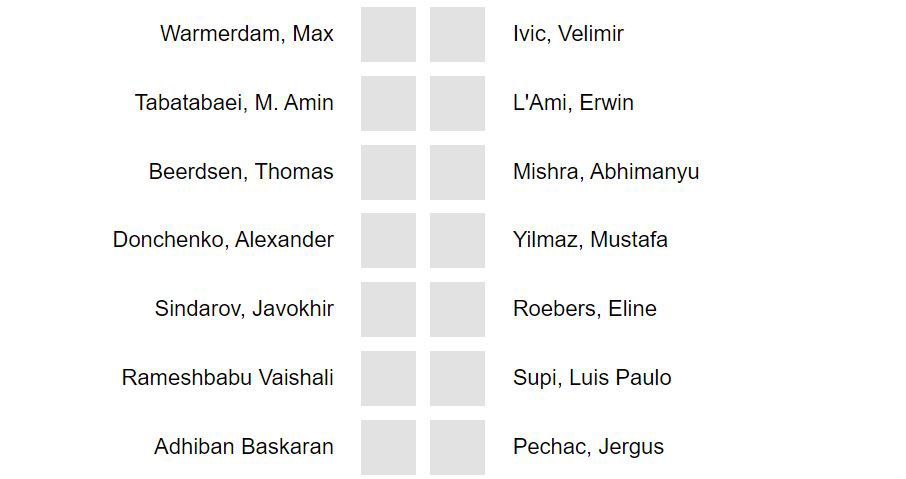 Standings after Round 6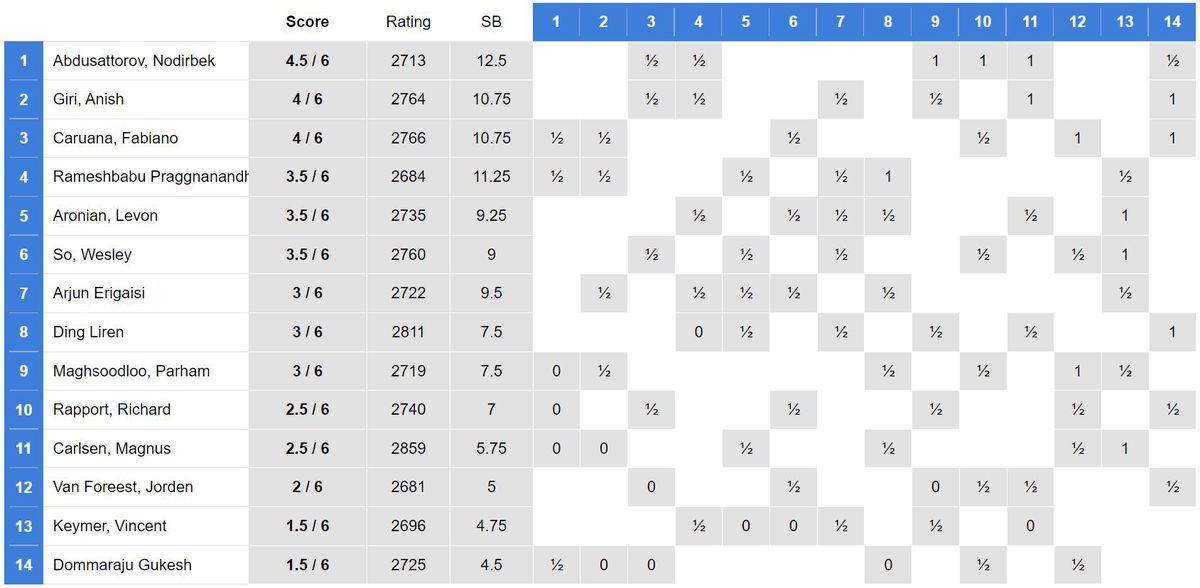 Schedule
Starting from Saturday, 14th January, all round starts at 6:30 p.m. IST, only Sunday 29th January, the final round will start at 4:30 p.m. IST. Rest days are - 18th (Masters), 19th (Challengers), 23rd and 26th January.
Time Control
100 minutes for 40 moves, followed by 50 minutes for 20 moves, then 15 minutes for the remaining moves with 30 seconds cumulative increment for each move starting from the first move.
Links
---