Anish Giri deservedly conquers 85th Tata Steel Chess Masters 2023
Anish Giri has finally won the ever alluring Tata Steel Masters. What an amazing way he has won the 85th Tata Steel Chess Masters 2023. Firstly, it is a jubilee edition, secondly he defeated both World no.1 and 2, a week apart. Finally, he remained undefeated and played fighting chess throughout the event. There was never a doubt whether Giri can win a super tournament. He was very close to winning the 83rd edition, but he didn't, due to tie-breaks which makes him absolutely dislike the Playoffs after such a grueling 13-round event. The question was always about when. That has been answered on 29th January 2023. This might just be Giri's year as he cemented his legacy by winning the strongest 'Wimbledon of Chess' as his first proper super tournament victory.
"I still remembered what it takes to play Classical chess well"
"I can't say I feel any particular emotion right now, but of course it's really nice that it happened like that. I personally didn't really care too much whether it's shared or unshared, again like I said earlier already in interviews like imagine today Nodirbek would win, that wouldn't have changed like my result right. It wouldn't have changed my performance and what I have displayed. I always knew that this stuff is random but of course people still count victories and I think it's really important to win it once at least." - Anish Giri on he felt winning the 85th Tata Steel Chess Masters 2023. He added, "Yeah I cannot say it's the best day but of course it's the best result I have had so far obviously. I think Jorden said also when he won, it's hard to have a better result, other than win the world championship... This doesn't change very much in terms of what I have to do looking forward and I have a lot of challenges this year. Yeah it stays the same and there's a lot to accomplish..."
Giri - Rapport: 1-0
Anish Giri (NED, 2764) has never lost a tournament game against Richard Rapport (ROU, 2740). He has defeated the creative genius thrice and the remaining encounters ended in draws. Obviously, this statistic gave Giri the extra boost he needed to push for a win in the final round.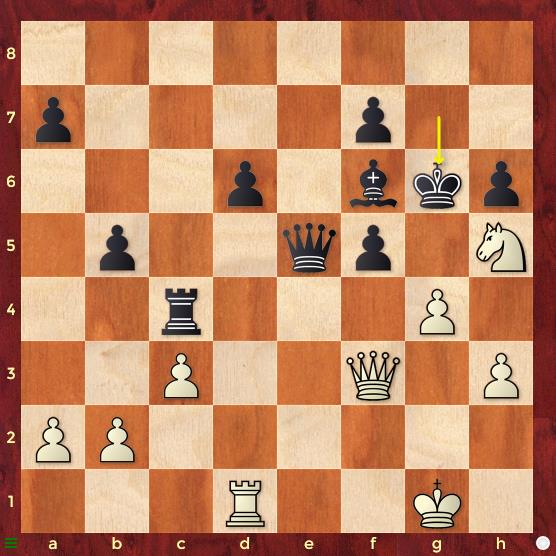 34...Kg8/h8/h7, even Kf8 is also okay for Black according to the computer which no human would want to play. However, Rapport opted for 34...Kg6 and Giri found the 'cheapo' 35.Rxd6! and it was over for Black. After 35...Kg5 36.Rd5 there is no way to save the day. Giri of course saw this all before he went 35.Rxd6 because calculating all these when you are nervous makes things difficult, he shared in the post-game interview. This win put him in a momentary first place which was cemented when Jorden defeated Abdusattorov and ensured Giri won the tournament without the need of any Playoffs, something Giri only found tolerable to play because his son Danny wanted to see his dad play over-the-board Blitz.
Abdusattorov - Jorden: 0-1
Jorden van Foreest (NED, 2681) opted for the Sicilian with the black pieces against Nodirbek Abdusattorov (UZB, 2713) as the former felt that a draw is a good result for his opponent. So he chose his opening to see how things goes as the Olympiad Gold medalist will already be in some pressure. He wanted an interesting game and that's what he got.
Although White had two strong knights, he made some questionable decisions. One of them is, 25.Ngf6?! Black's knight at g8 is sitting like a furniture, adding nothing to Black's position. He would certainly be delighted to exchange it with a much stronger knight. 25...Rh8 26.Nxg8+ Rdxg8 27.Nf6 Rd8 sure the knight at f6 is well-placed, however, the pawns - e5 and g5 supporting the knight are not as strong as White want them to be. Defending them won't be either. 28.Re1 h3 29.gxh3 Rxh3 30.Bg4 and White might have momentarily managed to keep the fifth rank pawns alive but certainly not for long.
The straw that broke the camel's back for White would be 38.Be2. White's position was dwindling anyway. 38.Be2 accelerated its demise, 38.Bf3 could have probably delayed the inevitable. Jorden was surprised that White went for 37.a4 and locked the position instead of taking the pawn after 36...b4. The game went on 38...Bxe2 39.Rxe2 Nf7 loose pawns fall off the board 40.c3 bxc3+ 41.Kxc3 Nxg5 42.b4? dropped another Rh3+ and Black won the game in another seven moves.
"I feel bad for Nodirbek. He was leading all the way basically and it's really tough especially the first time you are in this position. Even when you have a lot of experience, like leading such a tournament is really hard. I feel for him. As for Anish, he broke a lot of... he won a super tournament and beat me for the first time in a long while. Huge congrats to him. I guess it was about time. He has been very close so many times. I guess he was fortunate today but on the other hand, looking at the games he had and the positions he had through the tournament, it's not remotely undeserved that he wins." - Magnus Carlsen on Nodirbek Abdusattorov and Anish Giri's performance at this event.
It takes a lot to shed tags like 'Drawnish Giri', 'The guy who only wins soft super tournaments' or 'The best average player' and break the jinx. From now onwards, he can be called the 85th Tata Steel Chess Masters 2023 winner.
Five reasons why Anish Giri won 85th Tata Steel Chess Masters 2023
1. Fighting Chess - The last two years of chess evolving as an esport during the pandemic meant too much chess, more focus on quantity and less on quality. It made a lot of players appreciate Classical chess more than ever before. It was evident in both Wesley So and Anish Giri when they opined individually that they will focus more on Classical chess this year.
2. Change in seconds - Anish Giri admitted to working with many players. The key change in seconds which was revealed initially on Chicken Chess Club podcast and Giri also acknowledged in his interview after the confirmation of him clinching the tournament. While, GM Jan Gustafsson (GER) is one name that is out in the public, there might be some more new addition to his seconds which is kept a close secret for now.
3. Beating World no.1 and 2 in a week - If you beat the World no.1 exactly after 12 years at the very same event and then beat the World no.2 who is also the current World Championship contender, a week later, that is bound to give one, a sea of confidence. Some would consider that winning the tournament itself irrespective of the final standings. It is certainly poetic that he went on to win the tournament convincingly while remaining undefeated.
4. Retiring drawish play - It is true that Giri has won four games and had nine draws but not a single game was quick or Grandmaster draw. He played fighting chess. The draws which happened in less than 30 moves, well a lot of game was played before that and draw was the obvious result.
5. Jorden van Foreest - Last but certainly not the least, Jorden van Foreest is certainly the hero in Giri's triumph which should not be forgotten. While Jorden might be universally accepted to be known as one of the most handsome active male players today, he is also the man who is ready to play fighting and fantastic chess. That was proved when he opted to play interesting chess and beat Nodirbek Abdusattorov in the final round. The Uzbek teenager had had a phenomenal run until the final game.
Replay Round 13 Masters games
Replay Round 13 Challengers games
Round 13 results
Final standings after Round 13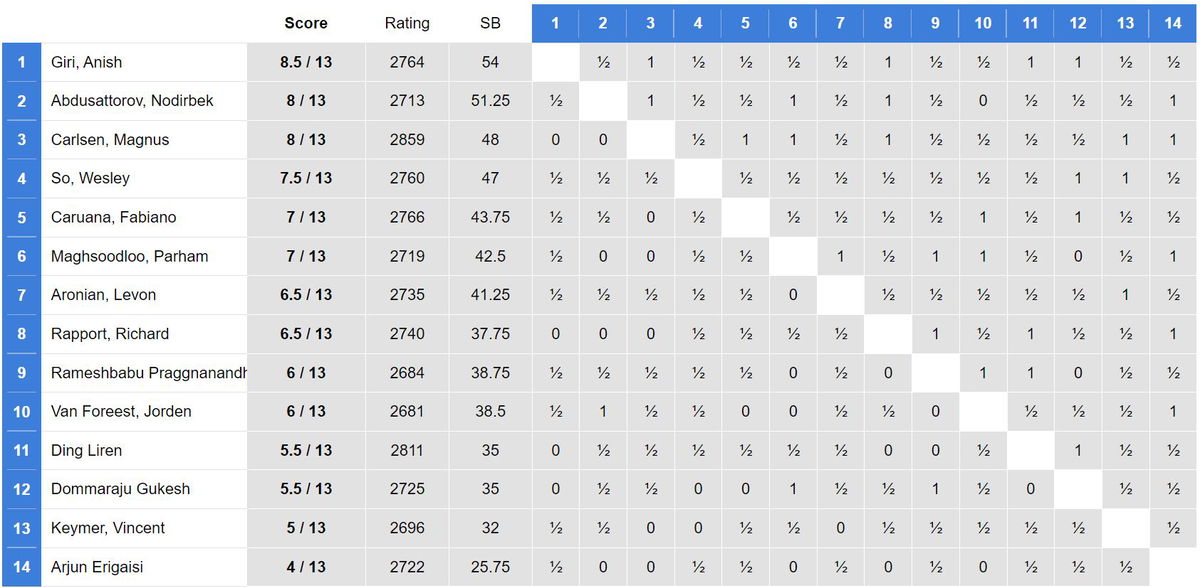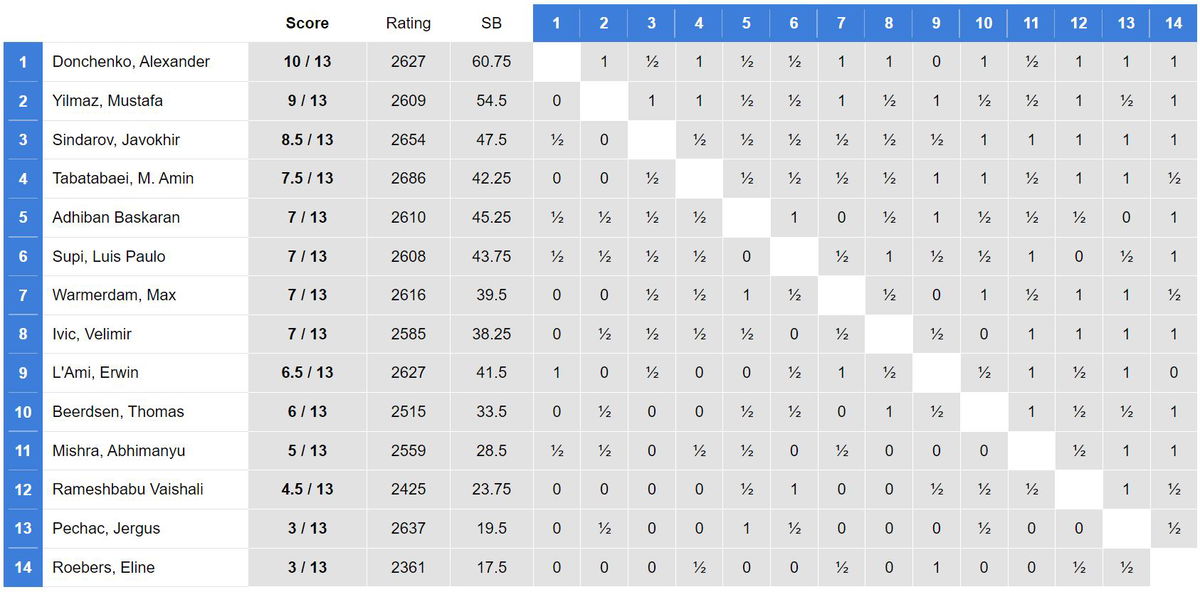 Schedule
Starting from Saturday, 14th January, all round starts at 6:30 p.m. IST, only Sunday 29th January, the final round will start at 4:30 p.m. IST. Rest days are - 18th (Masters), 19th (Challengers), 23rd and 26th January.
Time Control
100 minutes for 40 moves, followed by 50 minutes for 20 moves, then 15 minutes for the remaining moves with 30 seconds cumulative increment for each move starting from the first move.
Links
---