Tata Steel 2023 R8: A day of firsts
Even though the eighth round of Tata Steel Chess 2023 concluded, a lot of firsts happened. Jorden van Foreest, Richard Rapport, D Gukesh and Adhiban scored their first wins of the event. Arjun Erigaisi and Luis Paulo Supi suffered their second consecutive loss. Magnus Carlsen won his second game in-a-row. Nodirbek Abdusattorov drew his game against Levon Aronian to stay a full point ahead 6/8. Giri and So continue their chase at 5/8 each. In the Challengers, Donchenko maintained his sole lead by 6/8. Mustafa Yilmaz beeat Javokhir Sindarov to move to shared second place with Velimir Ivic 5.5/8. Today is a rest day. Round 9 for both Masters and Challengers section starts tomorrow Tuesday 24th January at 6:30 p.m. IST. Photo: Lennart Ootes/Tata Steel Chess Tournament 2023
"I have five pretty winnable games left"
"I didn't expect this win. That's very good. Now I have five pretty winnable games left. So I'll just try and keep going..." - Magnus Carlsen after winning two games in-a-row. His last five opponents are - Gukesh, Parham, So, Praggnanandhaa and Arjun Erigaisi. The world no.1 has made a subtle challlenge to the remaining five to stop him if they can and also to the tournament leader, Abdusattorov.
Caruana - Carlsen: 0-1
Chess is not just about preparation and executing it correctly on the board by recollection. Magnus Carlsen (NOR, 2859) decided to play solid in the eighth round as his opponent Fabiano Caruana (USA, 2766) had a long day at the office on the previous day and the outcome was certainly not what the American was hoping for. That certainly gave Carlsen an advantage if his opponent was willing to go for a fight. That's what Caruana went for and things did not work out for him.
The world no.1 thought that 16.Na3 was a poor choice. He felt it was difficult for white to equalize after 16...Re8. White went for 18.f4 which is what his opponent was hoping for as he had the little trick Bc6. 18...Nc6 19.e5 dxe5 20.fxe5 Nxd4 21.cxd4 Bc6 and we reach the above position. Initially the Norwegian was worried about e5 but as soon as he saw Bc6, he realized that he is doing just fine. White's pieces are hanging and the center being quite soft, it's not a surprise that Black is doing well. 22.Rc1/Bh4 were some of the better choices than Bc2 which ended things in a hurry for White after Qd5 23.Re2 Rb4. The position became completely lost for Caruana.
Rapport - Praggnanandhaa: 1-0
R Praggnanandhaa (2684) started running away with his king, when it was in the face of danger against the artist, Richard Rapport (ROU, 2740).
24...Kf8 was probably not the best idea as White attack free flows afterwards 25.Bd1 Qf6 26.f4 Ke7 27.d4 Kd7 28.e5 Qe7 29.Rg2 g6 30.f5 and Black's position crumbled soon. 24...d5 was a better choice. 25.Rg1 Kf8 26.Rxg7 meets with Be3!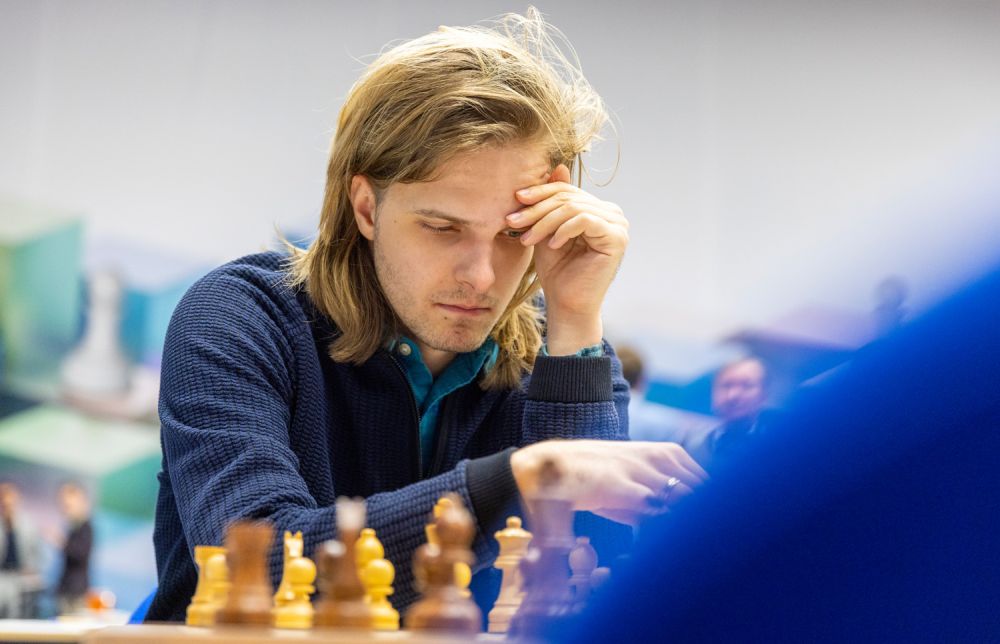 Jorden - Arjun: 1-0
Jorden van Foreest (NED, 2681) made a very nice positional sacrifice against Arjun Erigaisi (2722). The Netherlands no.2 had to sacrifice his knight for two pawnns because there were no other alternatives and it is what the position demanded.
Jorden felt that he did not enough compensation after 34...Rxa7 35.Rxd6. However, he had a very straightforward play of pushing his pawns. If Black does not play properly, he will just simply roll his passed a and b-pawns which is what he did in the game.
Gukesh - Parham: 1-0
D Gukesh (2725) got himself a good position in the middlegame against Iran no.1, Parham Maghsoodloo (2719). However, he couldn't figure out how to maximize his advantage. Parham got an opportunity to win the game after the first time control.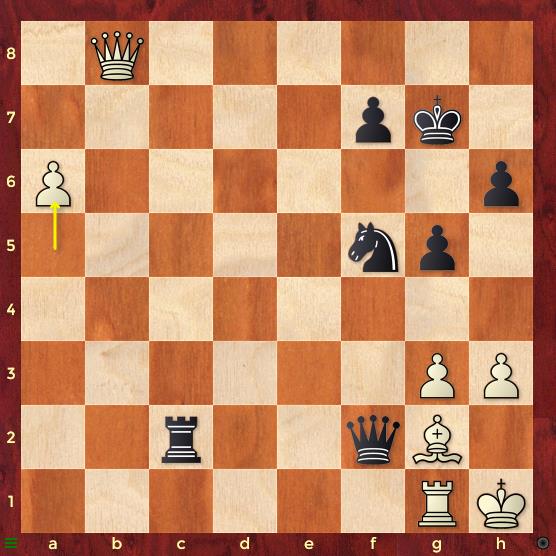 Here 41...Nxg3+ is winning for Black. 42.Kh2 Nf5 43.a7 Ra2 44.Qe5+ f6 Parham missed this move which is why he played Ra2 42.Qe5+ Kg6? 43.g4! now Ng3+ does not work due to 44.Qxg3 Qxg3 45.Be4+ and the resultant endgame is winning for White. The game continued 43...Ne3 44.Be4+ f5 45.Qd6+ Kf7 46.gxf5 g4 47.Qe6+ Kf8 48.Qf6+ Kg8 49.Bd5+ and Black resigned as the checkmate is inevitable.
Supi - Adhiban
Adhiban (2610) is completely winning in the above position against the Brazil no.1 Luis Paulo Supi (2608). Can you figure out the move of the day which Adhiban played in the above position?
Replay Round 8 Masters games
Replay Round 8 Challengers games
Round 8 results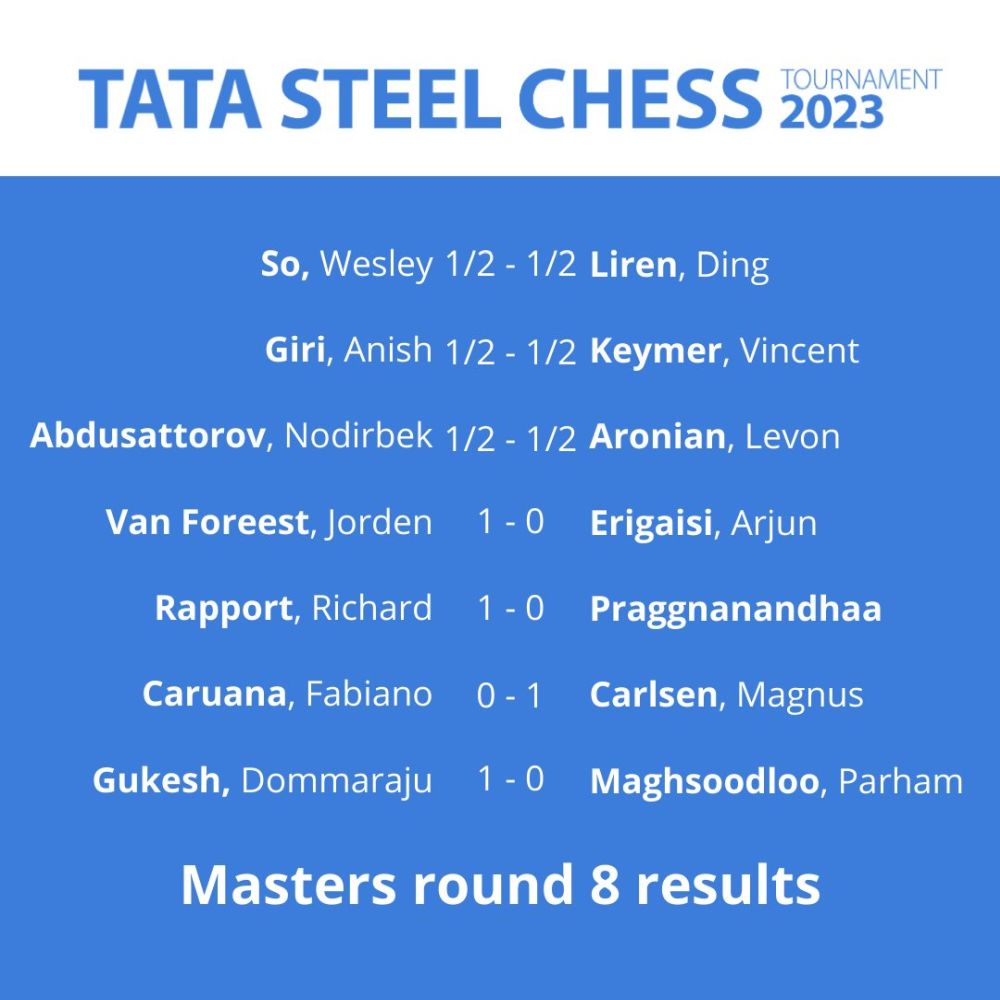 Round 9 pairings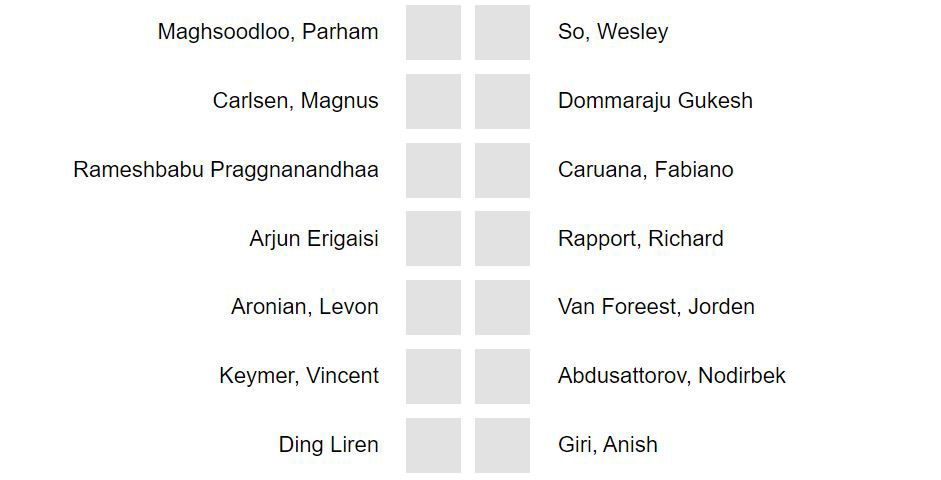 Standings after Round 8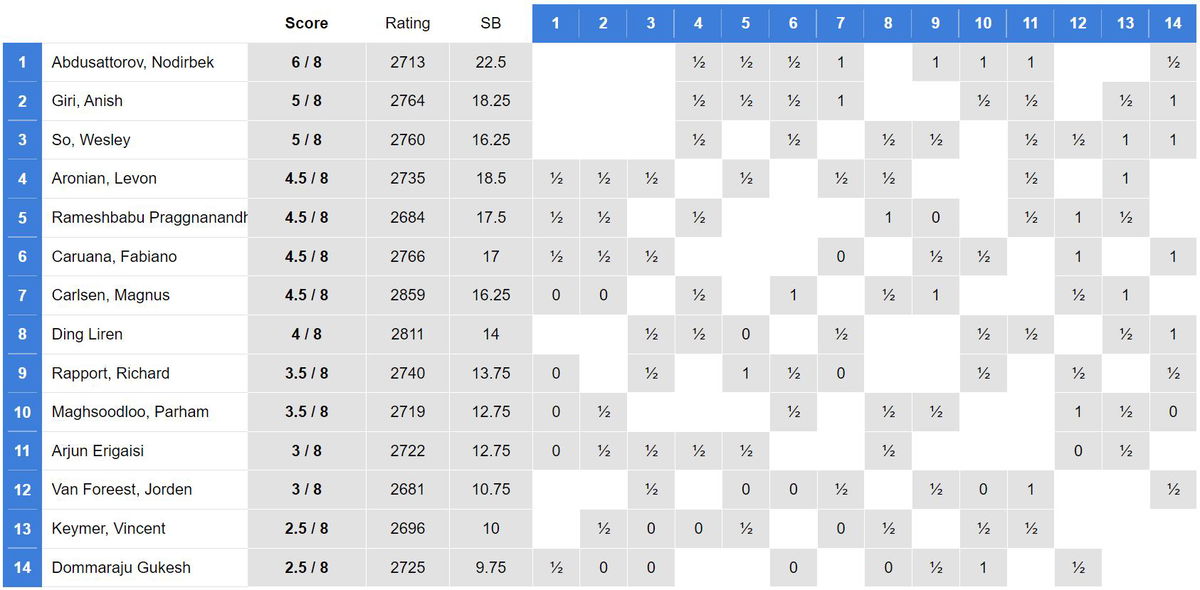 Schedule
Starting from Saturday, 14th January, all round starts at 6:30 p.m. IST, only Sunday 29th January, the final round will start at 4:30 p.m. IST. Rest days are - 18th (Masters), 19th (Challengers), 23rd and 26th January.
Time Control
100 minutes for 40 moves, followed by 50 minutes for 20 moves, then 15 minutes for the remaining moves with 30 seconds cumulative increment for each move starting from the first move.
Links
---