Tata Steel 2023 R2: Anish Giri plays spectacularly against Gukesh
It is not everyday we get to see Anish Giri sacrificing a piece, let alone three. In the second round of 85th Tata Steel Chess 2023, Giri defeated Gukesh by making a thematic knight, followed by two rook sacrifices for a queen. In a post-game interview, Giri mentioned that it was part of his preparation. 17...Kh8 only invited the trouble. Arjun Erigaisi made an impressive draw against Wesley So in their first-ever Classical encounter. According to So, a lot of players would not have played 18...g5 which Arjun deemed to be a necessity. Carlsen scored the only other victory of the round in the Masters section. Round 3 starts today at 6:30 p.m. IST. Photo: Lennart Ootes/Tata Steel Chess Tournament 2023
16-year-old Eline beats Erwin
Praggnanandhaa made a solid draw with Levon Aronian. GM B Adhiban was disappointed with himself for missing out a win against IM Thomas Beerdsen (NED). IM R Vaishali lost on time in an already difficult position against GM Alexander Donchenko (GER). The teenager IM Eline Roebers scored a sensational victory over the reigning Netherlands champion, GM Erwin l'Ami.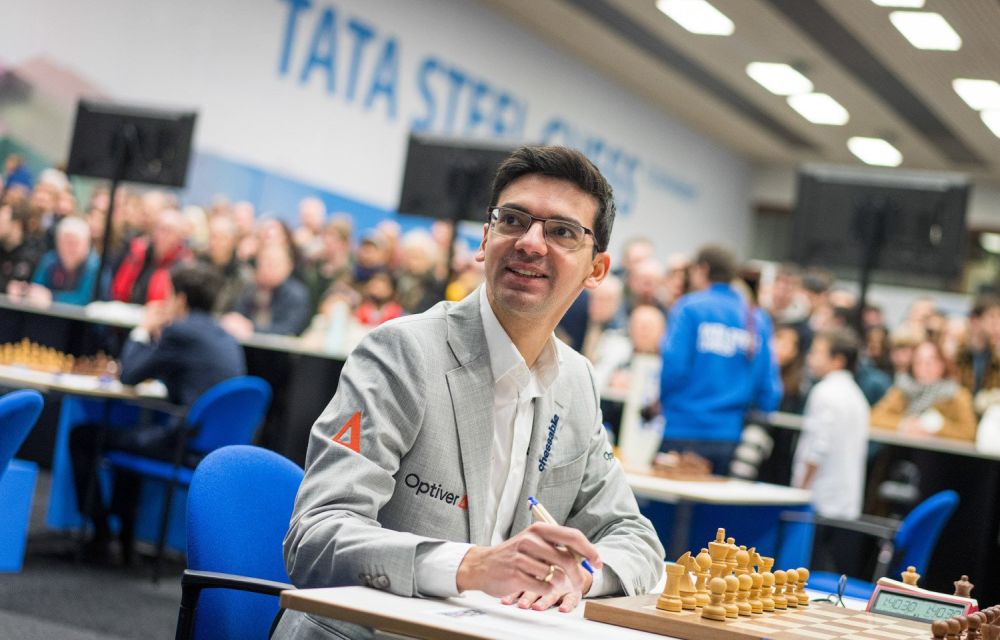 Vincent - Carlsen: 0-1
The world no.1 Magnus Carlsen (NOR, 2859) opted for the Grunfeld against the Germany no.1 Vincent Keymer (2696). The teenager got himself in a difficult position in the middlegame. It followed a tactical error which did not help his case.
28.Bg5 threatening Ne7+ does not work due to Nxe4 which is what happened in the game. 29.Ne7+ Rxe7 30.Bxe7 Nxc3 Black gained two critical pawns for the exchange. Vincent kept fighting despite the position not giving much to make a comeback.
43...a1Q 44.Rcxa1 Bxa1 45.Rxa1 Rd5. The endgame expert had no trouble converting his advantage into a win, although first he went for his king's transfer to the queenside, later he realized that the three pawns on the kingside is what will fetch him the win.
So - Arjun: 0.5-0.5
Arjun Erigaisi (2722) had a difficult position against the former World Fischer Random champion, Wesley So (USA, 2760).
Black's king is stranded in the middle. However, Arjun managed to do what was necessary, push White's pieces back. He found the excellent move 18...g5! 19.Rf3 Qe5 gave up the c6-pawn 20.Bxc6+ Ke7 21.Ba4 h5 22.a3 Rbb8 24.e3 Rbd8 24.exd4 Rxd4 25.Rxd4 Qxd4+ Black has successfully managed to reduce the pressure. Arjun played excellent chess to hold a draw which was certainly not easy till the very end.
Giri - Gukesh: 1-0
D Gukesh (2725) neglected the development of his pieces and had to pay a heavy price for it. World no.7 Anish Giri (NED, 2725) channeled his inner Tal.
It is not often we get to see Giri sacrificing his pieces and playing attacking chess. Giri made a thematic sacrifice 18.Neg5! hxg5 19.Rxe6!! fxe6 20.Rxe6 Qxe6 21.Bxe6 Bxf3 22.Qf5 Be4 23.Qxe4 Rxd4 24.Qf3 g4 25.Qf8+ Kh7 26.Bf5+ Kh6 27.Bc2 and Black resigned. Black's extra pieces for the queen was of no use as they were sitting at their original squares and there was no harmony among his pieces.
Replay the game in an interactive format at ChessBase India Academy - ChessRanga here.
Giri's sacrifice surprised the legend, Nigel Short
Adhiban - Beerdsen: 0.5-0.5
GM B Adhiban (2610) had a rollercoaster of a game against IM Thomas Beerdsen (NED, 2515). The game could have gone either players way. It was certainly not easy to predict that the game would end in a draw.
White needed to play 36.a5 here which would be winning for him. 36...Nxd7 37.Nb7 Rdc8 38.cxd7 Rxc3 39.dxc8Q+ Rxc8 40.axb6 and it's over for Black. The game continued 36.Ne8 dropped the crucial pawn Rxc6 37.a5?? bxa5 and the game meandered into a draw. Find out what Black could have done instead of 37...bxa5 to seize his opportunity.
Eline - Erwin: 1-0
The 16-year-old prodigy IM Eline Roebers (NED, 2361) made the most of her opportunity against the reigning Netherlands champion, GM Erwin l'Ami (2627).
White brought her queen to h1 on the 26th move when she was required to do so. Once again, White did what the position needed her to do 35.Bxe5! gxf4 36.fxe7+ Kg8 37.exf8Q+ Kxf8 38.Bxd6+ Ke8 39.Bxf4 and White went on to win the game soon.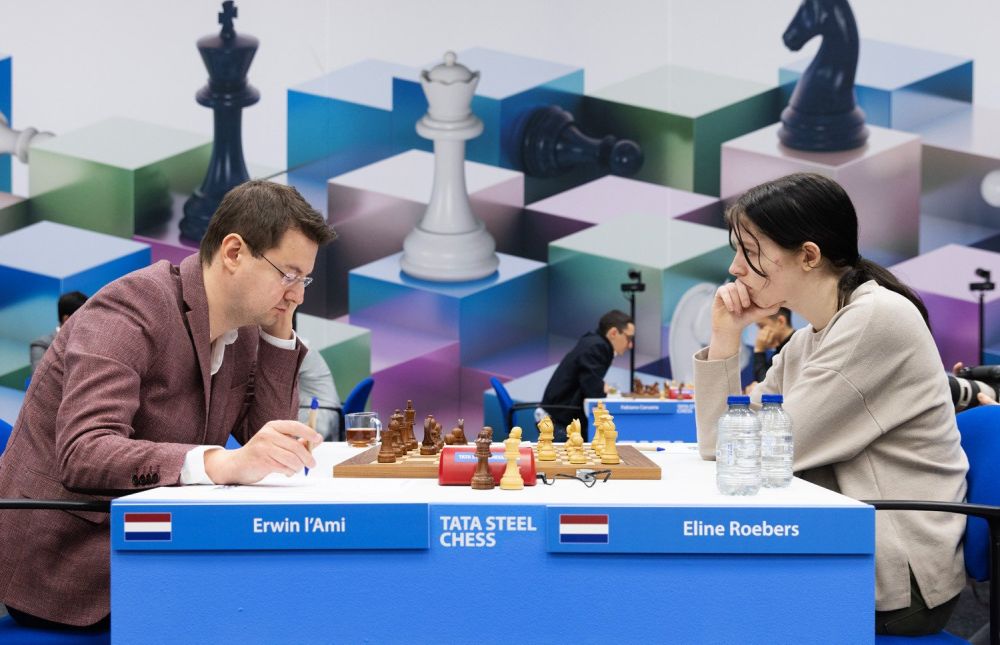 Replay Round 2 Masters games
Replay Round 2 Challengers games
Round 2 results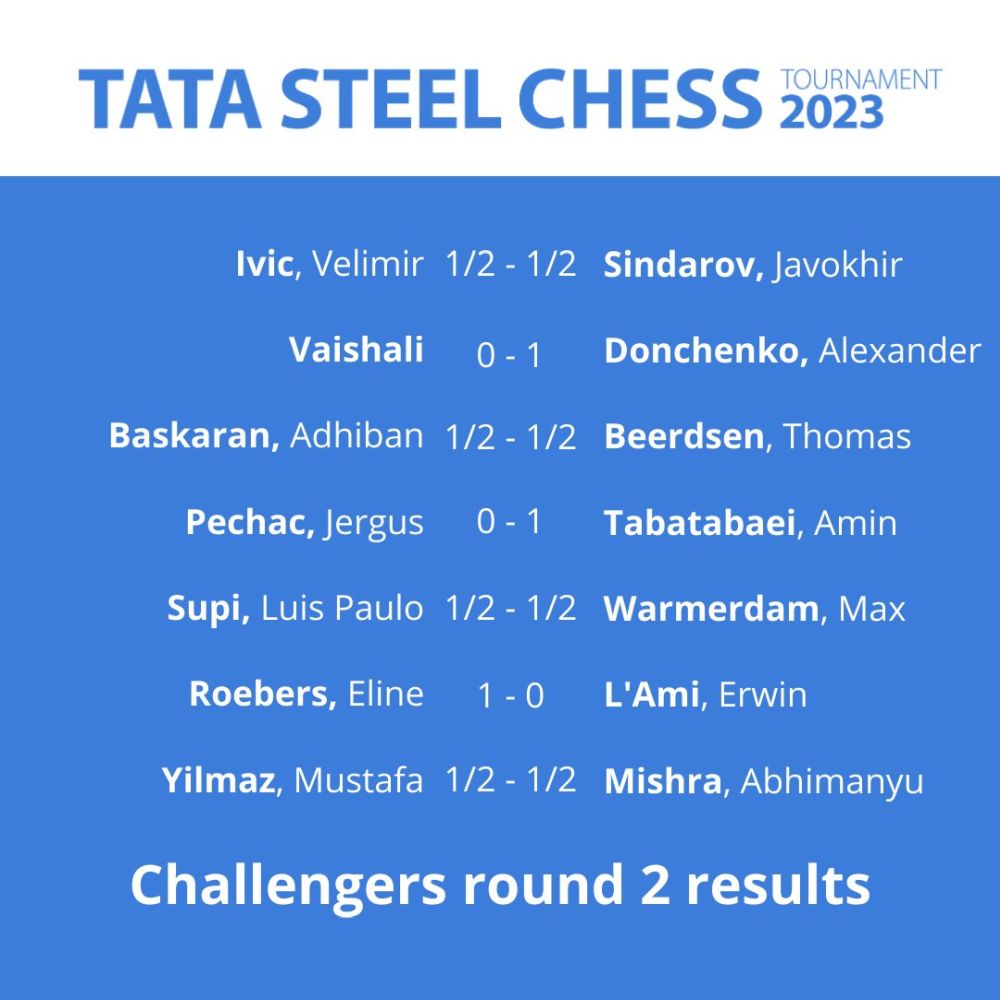 Round 3 pairings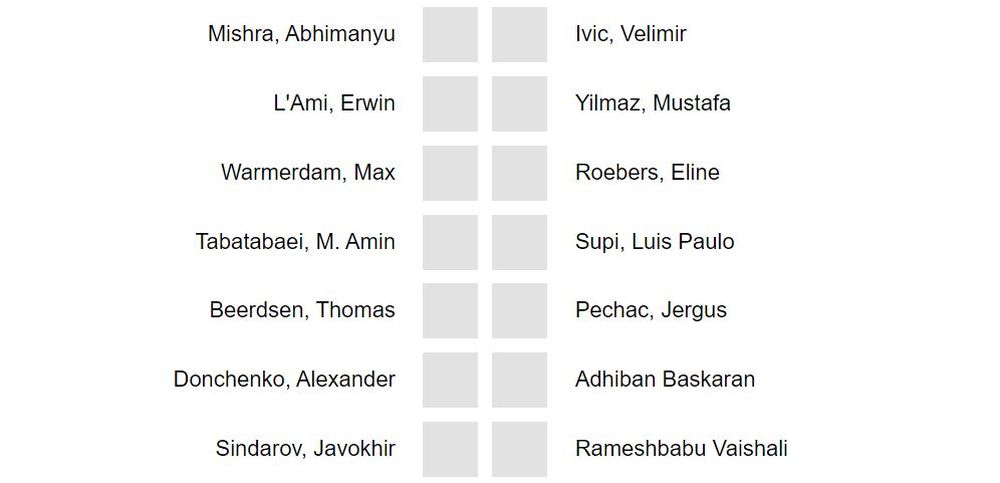 Standings after Round 2
Schedule
Starting from Saturday, 14th January, all round starts at 6:30 p.m. IST, only Sunday 29th January, the final round will start at 4:30 p.m. IST. Rest days are - 18th (Masters), 19th (Challengers), 23rd and 26th January.
Time Control
100 minutes for 40 moves, followed by 50 minutes for 20 moves, then 15 minutes for the remaining moves with 30 seconds cumulative increment for each move starting from the first move.
Links
---