Tata Steel 2023 R9: Gukesh aces the Magnus Carlsen test, Praggnanandhaa draws with Caruana
D Gukesh won the individual Gold medal at the 44th Chess Olympiad, ahead of Abdusattorov and Carlsen. The 16-year-old won it for a reason and the world no.1 did not forget about it. Wesley So reminded the world about the same after his seventh round win over him. Even though Gukesh's score was a meager 2.5/8 until the ninth round, he is always a force to be reckoned with. Carlsen tested the teenager in various ways, but the boy won't budge. The game ended in a draw and he got to analyze with the three-time world triple crown champion for 50 minutes. Gukesh just silenced the doubters who wondered how the boy will fare against the world no.1 in a classical game in his first super tournament. Well the boy always answers everything eloquently on the board and yesterday was no different. Praggnanandhaa had a solid draw against Caruana. Round 10 starts today at 6:30 p.m. IST. Photo: Jurriaan Hoefsmit/Tata Steel Chess Tournament 2023
Abdusattorov survives a scare against Keymer
The former World Rapid champion, Nodirbek Abdusattorov (UZB) admitted in a post-match interview that he is embarrassed with his play against Vincent Keymer (GER). Well, he should not be, considering the endgame was not an easy one to play and he managed to survive the game after all. Anish Giri (NED) made a great turnaround from a difficult position and defeated the World no.2 Ding Liren (CHN) who made some strange decisions. Adhiban scored his second win in-a-row to take his score 5/9 and move to the fifth position on the standings.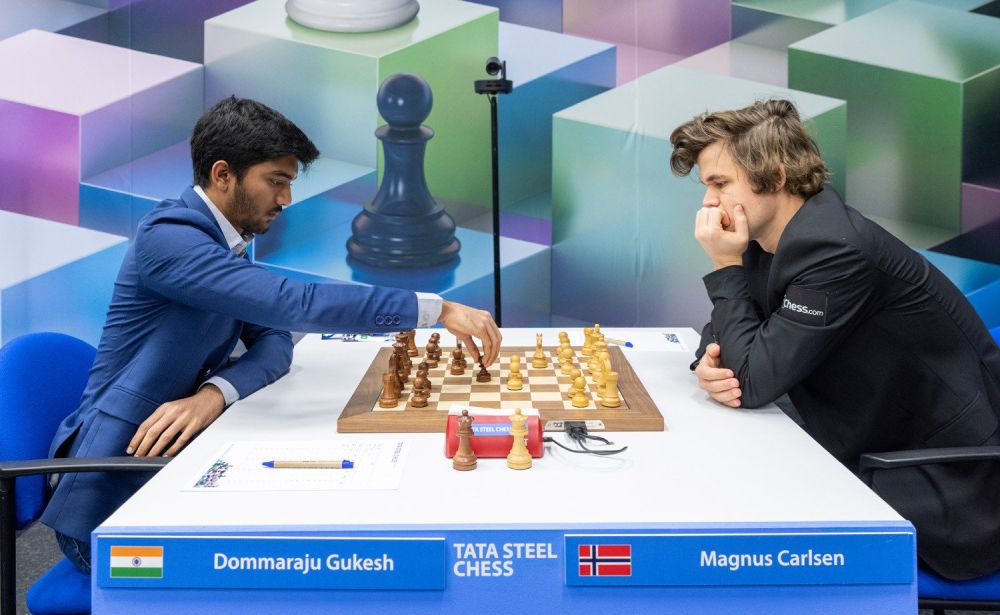 Carlsen - Gukesh: 0.5-0.5
D Gukesh (2725) was quite well-prepared in his first-ever Classical game against Magnus Carlsen (NOR, 2859). The teenager went for 7...Nd7 in the QGD Exchange variation, which his opponent was not that familiar with.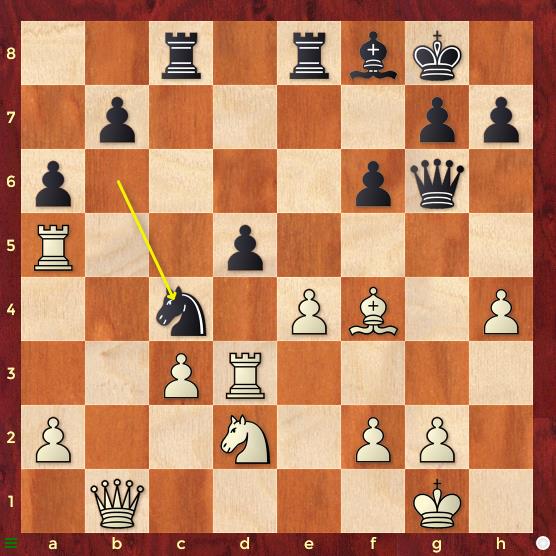 White was looking to destabilize the center and attack the b6-knight 28.e4. Gukesh correctly found 28....Nc4. The game continued 29.Raxd5 Nxd2 30.Bxd2 Qxe4 31.R5d4 Qe6 32.Qxb7 Qxa2 33.h5 Qf7 34.Qf3 h6 35.Rd7 Qe6 36.Qg3 Qf5 a stiff resistance by Gukesh. 37.Qg6 Qxg6 38.hxg6 Ra8 39.R3d4 f5 White's position certainly looked great but there was no easy way to capitalize on his advantage.
Arjun - Rapport: 0-1
Arjun Erigaisi (2722) went for the a3 variation in the Nimzo-Indian defense, while Richard Rapport (ROU, 2740) was expecting for another battle in the 4.f3 line. The teenager won their last encounter at World Rapid 2022, so it is quite obvious why the Romania no.1 was expecting it.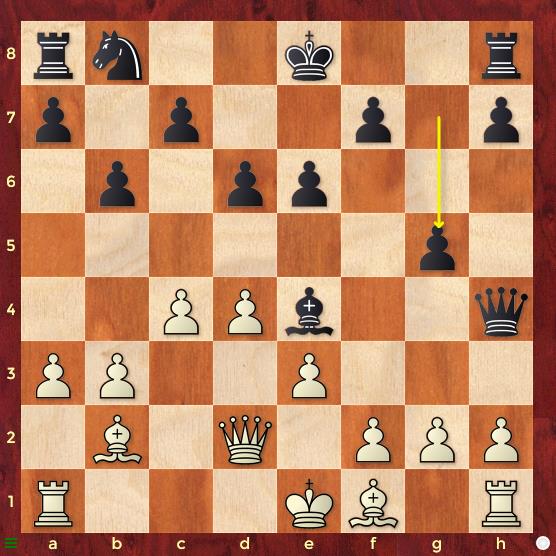 When you are playing against a creative genius like Rapport, you have to expect moves like 12..g5. He suggested that White had to go 12.Ke2 in reply to 11...Be4 to enable him getting f2-f3 because 12.Qd2 allowed g5 and now if you go 13.0-0-0 g4 will make f3 less effective. It turns out that computer also thinks 12.Ke2 to be the best choice in that position. The game continued 13.h3 g4 14.0-0-0 Rg8 15.Qe2 Qh5 16.Rg1 Nd7 17.Qe1 gxh3 18.Be2 Qh6 19.gxh3 0-0-0 and White's position slowly went out of hand. He blundered a discover check eventually which would have cost him the queen, thus he had no choice but to resign.
Keymer - Abdusattorov: 0.5-0.5
Vincent Keymer (GER, 2696) got a few good opportunities to upstage the tournament leader, Nodirbek Abdusattorov (UZB, 2713) in the endgame.
Black had to go for 38...g5 to prevent Kf4/Nf4. 38...h6 allowed 39.Nf4, although computer likes Kf4 more due to Ke5-e6 invasion. It is quite unnatural for a human to figure that out over the board.
62...f3 keeps Black in the game. However, 62...d3+ turns things in White's favor. Keymer correctly found the correct move 63.Kf3! It gave White a decisive advantage.
Which is the right placement for the white rook to win the game - f8 or b6? This was Keymer's last opportunity to push for a win and he missed it too. Abdusattorov managed to save the day and maintain his sole lead.
Scenes like these are generally seen when someone is watching football or some other spectator sport. Well things are changing a lot and we might see more of these when it comes to chess
If anyone thinks rook and pawn endgames are easy, the above game was a testament to the fact that it is not. The legend Nigel Short says the same too
Ding Liren - Giri: 0-1
Ding Liren (CHN, 2811) played some strange moves and handed over all his advantage to his opponent Anish Giri (NED, 2764). Working with Gustafsson certainly brought a positive change in Giri's play. He is taking chances when an opportunity is presented to him.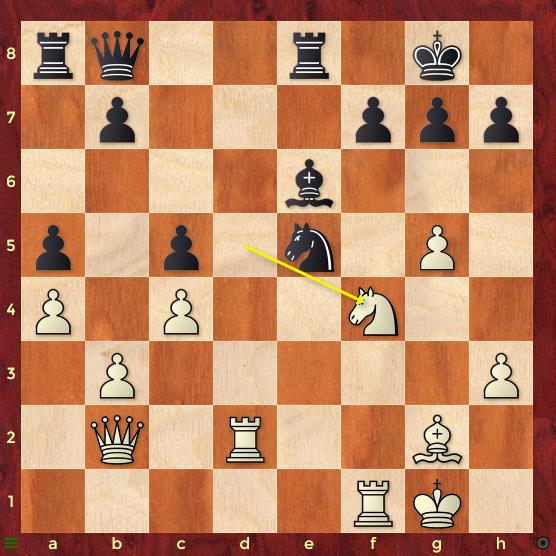 The Giri we are used to knowing would not have played 28...Bxc4! However, the new Giri does. There is no doubt the evolved version of the world no.7 defeated world no.1 and 2 in the same event, a week apart. A series of bad choices by the world championship contender, punctuated by a desperate attempt of grasping at straws allowed the Dutch no.1 to walk away with a win and move to sole second place.
Adhiban - Eline
Adhiban (2610) is at his best when he plays in his signature style of bold, attacking chess. Try to think like Adhiban and find out the best continuation for White which he executed on the board.
Replay Round 9 Masters games
Replay Round 9 Challengers games
Round 9 results
Round 10 pairings
Standings after Round 10
Schedule
Starting from Saturday, 14th January, all round starts at 6:30 p.m. IST, only Sunday 29th January, the final round will start at 4:30 p.m. IST. Rest days are - 18th (Masters), 19th (Challengers), 23rd and 26th January.
Time Control
100 minutes for 40 moves, followed by 50 minutes for 20 moves, then 15 minutes for the remaining moves with 30 seconds cumulative increment for each move starting from the first move.
Links
---