Arjun Erigaisi clinches Masthanaiah Rapid Rating Open 2021
The first quarter of 2021 witnessed very few rating tournaments in India because of the ongoing pandemic. While most of them got either cancelled or rescheduled, Masthanaiah Chess World took a big risk of holding a tournament with a total prize fund of ₹500000 which is the highest of the year so far and they did it successfully. A total of 288 players from all over the country took part in this event. Arjun Erigaisi won the event and received ₹100000 cash, Runner-up Harsha Bharathakoti received ₹50000 and Muthaiah Al earned ₹20000 cash prize. A short interview with the champion and he shares two of his games annotated by himself. Photo: Masthanaiah P
Harsha Bharathakoti finishes sole second
GM Arjun Erigaisi scored an unbeaten 8.5/9 to win Masthanaiah Rapid Rating Open. His only draw was against the top seed of the tournament GM Harsha Bharathakoti who remained undefeated en route 8.0/9 to secure second position. Six players finished at 7.5/9, out of them IM Muthaiah Al of Tamil Nadu was placed third according to tie-breaks. Apart from the champion and runner-up, IM Raja Rithvik R and IM Harikrishnan A Ra are the only two among top ten to remain undefeated.
We caught up with Arjun after he won the Masthanaiah Rapid Open to get to know his thoughts on his victory.
Shahid Ahmed (SA): How did it feel to win an over-the-board event after a year in your home state?
Arjun Erigaisi (AE): Firstly it felt wonderful to play an otb tournament and winning it was like cherry on the top.
SA: You played excellent in the Bangladesh Premier League last month and in this tournament also you became an unbeaten champion. How has it been to get back to the otb tournaments?
AE: I'm glad that I got to play two otb events and I performed pretty decently in both of them.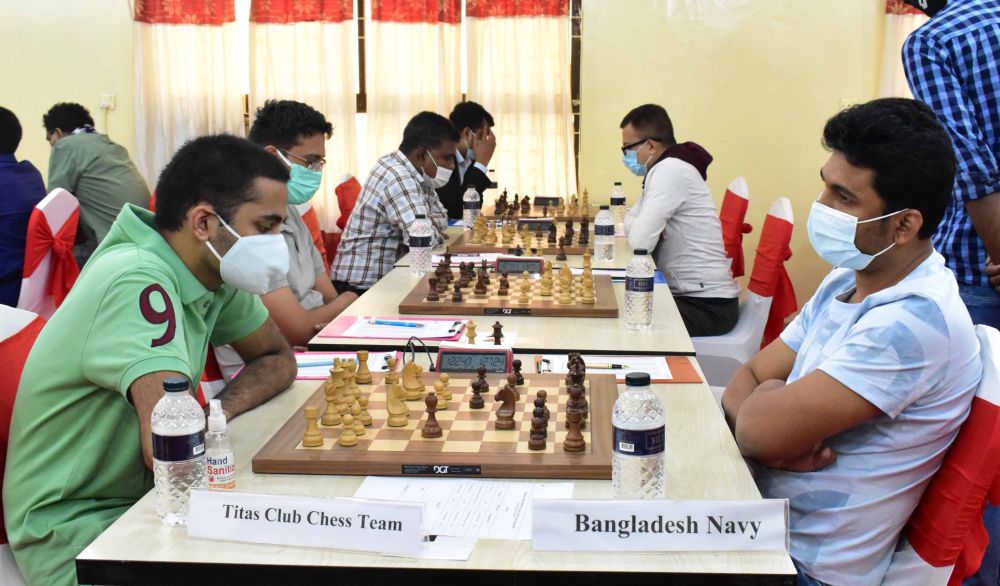 SA: Who was the strongest challenge you faced in the tournament?
AE: Harsha was clearly the strongest opponent I faced in the tournament.
SA: How are you dealing with the ongoing pandemic situation?
AE: Currently, I'm staying indoors practicing chess, managing studies and playing Among Us with my friends :P
SA: What's next for you?
AE: As of now it's uncertain but I hope to play some tournaments in June/July.
SA: Thank you for taking the time to answer these questions. I wish you all the best in your future endeavors.
AE: Thank you.
Arjun shared two games of his from the tournament because he really liked the way his opponent played and the complexities present in those two games.
Rakshith - Arjun, Round 2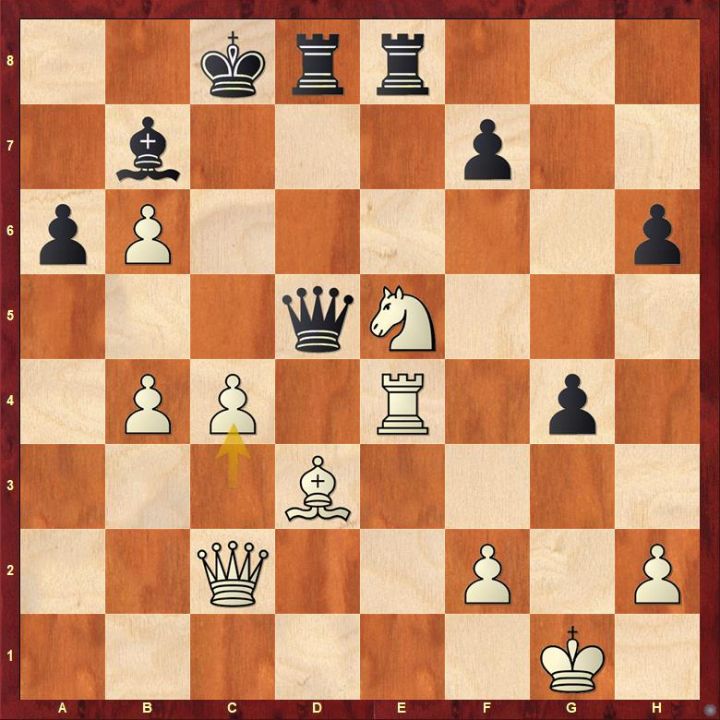 Try to think like Arjun and find out how black can continue after 28.c4.
Arjun's favorite game of the tournament was against IM Muthaiah Al from Round 6.
Arjun - Muthaiah, Round 6
The beauty of chess lies in the fact that no matter how strong of a computer you might have, some things can only human comprehend, not the silicon. Just when it seemed like black has managed to thwart all attempts of an attack by white, Arjun found a way. What is it?
Photo Gallery
For more photos, check out Masthanaiah Chessworld's fb page where a lot more photos from this event can be found.
A total of 288 players including 2 GMs, 6 IMs and a WIM participated from Andhra Pradesh, Delhi, Gujarat, Karnataka, Kerala, Madhya Pradesh, Maharashtra, Punjab, Tamil Nadu, Telangana and Uttar Pradesh, in this two-day nine-round Swiss league event. The tournament was organized by Masthanaiah Chess World on 17th and 18th April 2021.
Final Standings
| | | | | | | | | | | | | | | | |
| --- | --- | --- | --- | --- | --- | --- | --- | --- | --- | --- | --- | --- | --- | --- | --- |
| Rk. | SNo | | Name | Typ | sex | Gr | FED | RtgI | Club/City | Pts. | TB1 | TB2 | TB3 | TB4 | TB5 |
| 1 | 6 | GM | Erigaisi Arjun | | | | IND | 2254 | Tel | 8,5 | 53,0 | 58,0 | 54,00 | 0,0 | 8 |
| 2 | 1 | GM | Harsha Bharathakoti | | | | IND | 2488 | Tel | 8,0 | 54,5 | 59,5 | 51,50 | 0,0 | 7 |
| 3 | 2 | IM | Muthaiah Al | | | | IND | 2295 | TN | 7,5 | 55,0 | 59,0 | 46,75 | 0,0 | 7 |
| 4 | 23 | IM | Raja Rithvik R | | | | IND | 1819 | Tel | 7,5 | 53,0 | 57,0 | 46,00 | 0,0 | 6 |
| 5 | 8 | | Bharat Kumar Reddy Poluri | | | | IND | 2102 | Tel | 7,5 | 52,0 | 55,0 | 43,25 | 0,0 | 7 |
| 6 | 18 | | Vishwanath Prasad | | | | IND | 1936 | Tel | 7,5 | 47,0 | 50,0 | 39,75 | 0,0 | 7 |
| 7 | 9 | IM | Harikrishnan.A.Ra | | | | IND | 2088 | TN | 7,5 | 45,5 | 49,5 | 40,50 | 0,0 | 6 |
| 8 | 3 | IM | Sai Agni Jeevitesh J | | | | IND | 2277 | | 7,5 | 44,5 | 48,5 | 38,50 | 0,0 | 7 |
| 9 | 10 | IM | Pranesh M | U15 | | | IND | 2031 | TN | 7,0 | 52,5 | 57,0 | 41,25 | 0,0 | 6 |
| 10 | 11 | | Rao J. Malleswara | | | | IND | 2028 | AP | 7,0 | 50,0 | 55,0 | 41,00 | 0,0 | 6 |
| 11 | 24 | CM | Kushagra Mohan | | | | IND | 1766 | Tel | 7,0 | 48,5 | 51,0 | 36,00 | 0,0 | 7 |
| 12 | 45 | | Aditya Varun Gampa | U15 | | | IND | 1535 | Tel | 7,0 | 47,5 | 51,5 | 36,00 | 0,0 | 7 |
| 13 | 15 | | Balkishan A. | | | | IND | 1964 | Kar | 7,0 | 47,5 | 51,0 | 36,75 | 0,0 | 6 |
| 14 | 21 | | Suresh Duvvala | | | | IND | 1846 | | 7,0 | 47,0 | 51,0 | 38,50 | 0,0 | 6 |
| 15 | 26 | | Sreehith Reddy R | U15 | | | IND | 1744 | Tel | 7,0 | 46,0 | 50,5 | 37,00 | 0,0 | 6 |
| 16 | 31 | | Md Imran | U13 | | | IND | 1659 | AP | 7,0 | 45,5 | 50,0 | 36,50 | 0,0 | 7 |
| 17 | 91 | | Md Bashiq Imrose | U15 | | | IND | 1244 | Tel | 7,0 | 44,0 | 47,0 | 32,00 | 0,0 | 6 |
| 18 | 89 | | Arunkumar Muthukumar | | | | IND | 1264 | | 7,0 | 43,0 | 46,0 | 33,00 | 0,0 | 7 |
| 19 | 17 | WIM | Harshita Guddanti | | w | | IND | 1949 | | 6,5 | 49,0 | 53,5 | 36,00 | 0,0 | 6 |
| 20 | 69 | | Kheerthi Ganta | F15 | w | | IND | 1373 | Tel | 6,5 | 49,0 | 53,0 | 35,00 | 0,0 | 5 |
| 21 | 7 | | Varun V | | | | IND | 2153 | | 6,5 | 47,5 | 51,5 | 33,50 | 0,0 | 6 |
| 22 | 27 | | Ramachandra Bhat | S60- | | | IND | 1739 | Kar | 6,5 | 47,0 | 51,0 | 34,25 | 0,0 | 6 |
| 23 | 32 | | Shanmukha Pulli | | | | IND | 1653 | Tel | 6,5 | 46,5 | 50,5 | 33,25 | 0,0 | 6 |
| 24 | 50 | | Nihal Swarna | U13 | | | IND | 1487 | AP | 6,5 | 46,5 | 50,0 | 32,00 | 0,0 | 6 |
| 25 | 12 | FM | Purushothaman Thirumalai | | | | IND | 1986 | | 6,5 | 44,5 | 48,5 | 33,50 | 0,0 | 6 |
---