Shubham Kumar wins SLAN 1st Below 1600 Rating Tournament 2023
Shubham Kumar, Yashvi Jain, Sathwik D S S U, Vangala Prashanth and Gagan Sahu scored 8/9 each at SLAN 1st Below 1600 Rating Tournament 2023. Shubham won the tournament due to better tie-breaks. The remaining four were placed second to fifth. Except Prashanth, the remaining four were undefeated. The total prize fund of the tournament was ₹1000000. The top three prizes were ₹100000, ₹60000 and ₹40000 along with a trophy each respectively. The tournament was organized by SLAN Sports from 25th to 27th August 2023 at Sri Kotla Vijaya Bhaskar Reddy Indoor Stadium in Hyderabad, Telangana. This was Shubham's first tournament triumph of his career. Photos: Naveen Naik Jarupla/SLAN Sports
Top five score 8/9
Yashvi Jain and Shubham Kumar were the coleaders 7.5/8, heading into the final round. They drew their match against each other. Sathwik D S S U, Gagan Sahu, Vangala Prashanth defeated Satvik Andabatla, Mukesh Muthukumar and Arav Baid to finish with a score of 8/9. The five players were placed first to fifth according to tie-breaks. Yashvi became the sole finisher not only among top three but also top 30.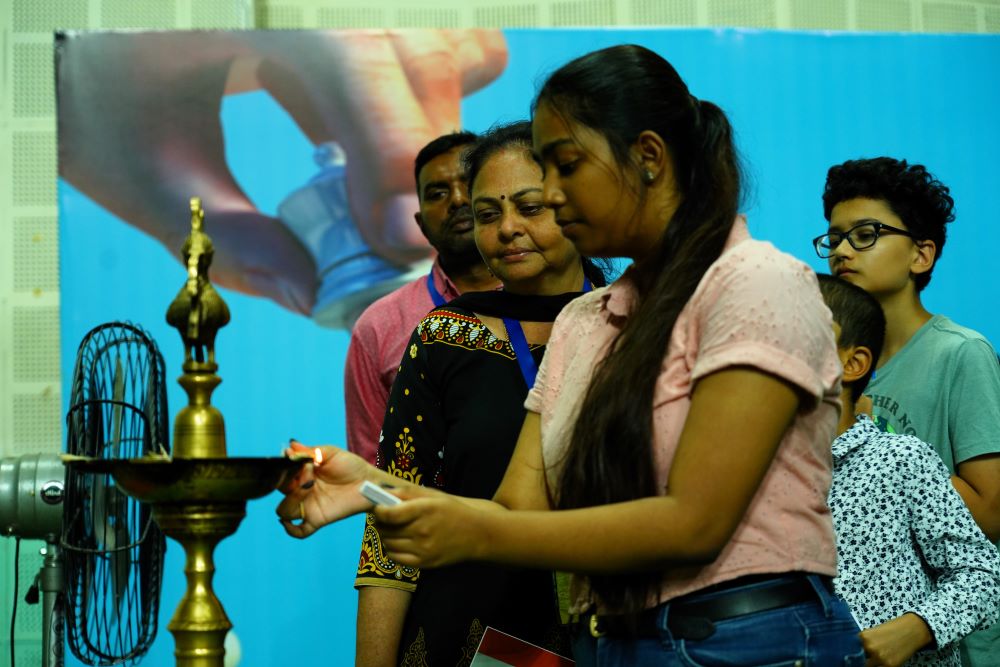 Thanks to the Tournament Director, Naveen Naik Jarupla, COO of SLAN Sports, for sharing the photos.
A total of 560 players took part from various states across the country, two from Canada and six from USA in this three-day nine-round Swiss League Below 1600 Rating tournament. The event was organized by SLAN Sports at Sri Kotla Vijaya Bhaskar Reddy Indoor Stadium in Hyderabad, Telangana from 25th and 27th August 2023. The time control of the event was 30 minutes + 30 seconds increment from move no.1.
Replay all available games
Final standings
| | | | | | | | | | | | | | | | | |
| --- | --- | --- | --- | --- | --- | --- | --- | --- | --- | --- | --- | --- | --- | --- | --- | --- |
| Rk. | SNo | | | Name | Typ | sex | Gr | FED | Rtg | Club/City | Pts. | TB1 | TB2 | TB3 | TB4 | TB5 |
| 1 | 29 | | | Shubham, Kumar | | | | IND | 1468 | BR | 8 | 52,5 | 57 | 49,25 | 0 | 7 |
| 2 | 24 | | | Yashvi, Jain | F15 | w | | IND | 1474 | TG | 8 | 52,5 | 56,5 | 49,25 | 0 | 7 |
| 3 | 4 | | | Sathwik, D S S U | | | | IND | 1550 | AP | 8 | 51,5 | 56,5 | 49,50 | 0 | 7 |
| 4 | 89 | | | Vangala, Prashanth | | | | IND | 1347 | TG | 8 | 50 | 54,5 | 48,00 | 0 | 8 |
| 5 | 36 | | | Gagan, Sahu | U15 | | | IND | 1454 | CT | 8 | 47 | 51,5 | 46,00 | 0 | 7 |
| 6 | 10 | | | Kesavan, G | | | | IND | 1528 | TN | 7,5 | 54,5 | 59,5 | 47,50 | 0 | 7 |
| 7 | 35 | | | Mokshith, Pasupulety | U15 | | | IND | 1457 | TG | 7,5 | 50 | 54,5 | 43,50 | 0 | 7 |
| 8 | 15 | | | C, R Ritvik | | | | IND | 1491 | TG | 7,5 | 47,5 | 51 | 41,25 | 0 | 6 |
| 9 | 60 | | | Phani, Kanuri | | | | IND | 1397 | AP | 7,5 | 46,5 | 51 | 40,25 | 0 | 7 |
| 10 | 41 | | | Aaditya, Ranjan Sahu | U13 | | | IND | 1444 | KA | 7,5 | 45 | 48 | 40,00 | 0 | 7 |
| 11 | 22 | | | Subhash, Chandrama Naidu | | | | IND | 1480 | TG | 7,5 | 44 | 47 | 38,75 | 0 | 7 |
| 12 | 16 | | | Baid, Arav | | | | IND | 1489 | AP | 7 | 54 | 57,5 | 41,50 | 0 | 7 |
| 13 | 8 | | AIM | Muthukumar, Mukesh | U13 | | | IND | 1532 | TN | 7 | 52 | 55,5 | 39,50 | 0 | 7 |
| 14 | 54 | | | Prithvi, Sharma | | | | IND | 1409 | HR | 7 | 50 | 54 | 40,00 | 0 | 6 |
| 15 | 31 | | | Nijesh, R | U11 | | | IND | 1463 | TN | 7 | 50 | 54 | 39,75 | 0 | 6 |
| 16 | 62 | | | Ameya, Abhay Shrivastava | | | | IND | 1395 | MH | 7 | 49 | 53 | 39,00 | 0 | 7 |
| 17 | 57 | | | Ravi, Palsule | | | | IND | 1406 | MP | 7 | 49 | 52 | 36,50 | 0 | 7 |
| 18 | 111 | | | Patil, Shantanu S | U15 | | | IND | 1301 | MH | 7 | 49 | 50 | 37,00 | 0 | 6 |
| 19 | 34 | | | Parab, Rishikesh | | | | IND | 1458 | GOA | 7 | 48,5 | 52,5 | 39,00 | 0 | 7 |
| 20 | 115 | | | Shantharam, K | S55 | | | IND | 1296 | KA | 7 | 48,5 | 52 | 37,50 | 0 | 7 |
| 21 | 87 | | | Abhinav, Anand | U09 | | | IND | 1351 | KA | 7 | 48 | 52,5 | 38,50 | 0 | 7 |
| 22 | 38 | | | Andabatla, Satvik | U13 | | | IND | 1451 | TG | 7 | 47,5 | 51,5 | 38,00 | 0 | 6 |
| 23 | 37 | | | Arnav, Pradhan | U15 | | | IND | 1452 | TG | 7 | 47 | 51 | 38,50 | 0 | 6 |
| 24 | 63 | | | Aditya, Narendra Ukey | | | | IND | 1391 | MH | 7 | 47 | 50 | 37,75 | 0 | 6 |
| 25 | 49 | | | Divith, Reddy Adulla | U07 | | | IND | 1420 | TG | 7 | 45,5 | 49,5 | 36,50 | 0 | 6 |
Link
---