Arjun Erigaisi and Gukesh dominate 2nd Terras de Trás-os-Montes Open
by Shahid Ahmed - 25/08/2021
Arjun Erigaisi scored an unbeaten 8.5/9 to win 2nd Terras de Trás-os-Montes and finish a half point ahead of the competition. He performed at 2822, gained 18.7 Elo rating points, taking his live rating to 2626.6 which makes him the current India no.9. Gukesh's no-draw approach paid off as he scored eight wins and suffered only one loss against the eventual champion. He scored 8.0/9, performing at 2747, he gained 17.7 which takes his live rating to 2592.9. Gukesh finished a full point ahead of the field. They both have reached their career high ratings, and they have no plans of slowing down as they started playing their next event Guimarães Open in Guimarães, Portugal. Photo: Portuguese Chess Federation
Arjun Erigaisi enters India top 10
GM Arjun Erigaisi and GM D Gukesh both played fantastic in 2nd Terras de Trás-os-Montes in Braganca, Portugal. Both of them finished 1.5 and 1 point ahead of the competition. While Gukesh played very sharp chess and made zero draws, Arjun played steady and clinched the championship convincingly. Arjun won €1000 for his efforts and Gukesh received €600.
While Arjun scored eight wins and only one draw, his best win according to him was against IM Balazs Csonka (HUN) in the penultimate round.
Csonka - Erigaisi, Round 8
It is evident that Black is the one who is in driver's seat, although White is trying to build an attack of his own on the kingside. Find out the correct plan for Black in the above position and see if it matches with Arjun.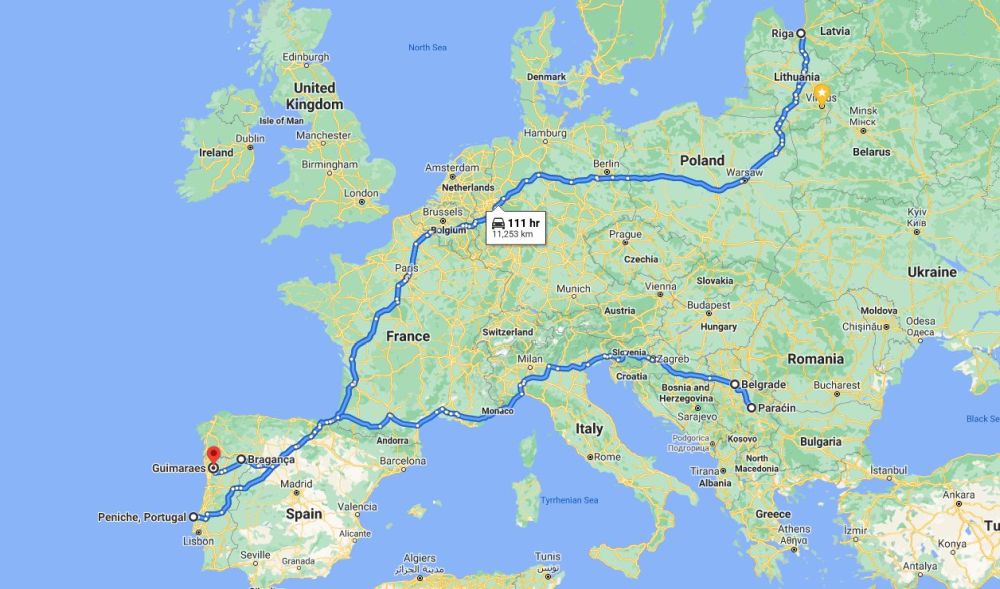 Gukesh scored a lot of fantastic wins in this tournament. If we have to pick one, the best one would be against FM Hampus Sorensen in the third round.
Sorensen - Gukesh, Round 3
Black is poised for a deadly attack but how to initiate it? Try to think like Gukesh and see if you can calculate like him.
One of the variation in his game ends in a beautiful checkmate at the center of the board. Of course Gukesh saw this and his opponent managed to avert this but could not avoid a loss.
Replay all Arjun and Gukesh's games
Final Standings
| | | | | | | | | | | | | | | | | |
| --- | --- | --- | --- | --- | --- | --- | --- | --- | --- | --- | --- | --- | --- | --- | --- | --- |
| Rk. | SNo | | | Name | Typ | sex | FED | Rtg | Pts. | TB1 | TB2 | TB3 | TB4 | TB5 | K | rtg+/- |
| 1 | 3 | | GM | Erigaisi Arjun Kumar | U20 | | IND | 2597 | 8,5 | 0,0 | 49,0 | 53,0 | 50,00 | 4 | 10 | 18,7 |
| 2 | 4 | | GM | Gukesh D | U16 | | IND | 2578 | 8,0 | 0,0 | 51,0 | 55,5 | 47,50 | 5 | 10 | 17,7 |
| 3 | 14 | | IM | Beerdsen Thomas | | | NED | 2454 | 7,0 | 0,0 | 47,5 | 51,5 | 38,25 | 5 | 10 | 13,8 |
| 4 | 11 | | IM | Zwardon Vojtech | | | CZE | 2466 | 7,0 | 0,0 | 45,5 | 50,0 | 36,50 | 4 | 10 | 6,1 |
| 5 | 2 | | GM | Niemann Hans Moke | U20 | | USA | 2606 | 7,0 | 0,0 | 45,0 | 49,5 | 37,50 | 4 | 10 | -3,2 |
| 6 | 5 | | GM | Warmerdam Max | | | NED | 2562 | 6,5 | 0,0 | 49,5 | 54,0 | 37,75 | 4 | 10 | -0,2 |
| 7 | 9 | | IM | Csonka Balazs | | | HUN | 2490 | 6,5 | 0,0 | 49,0 | 53,5 | 32,75 | 4 | 10 | 5,6 |
| 8 | 13 | | IM | Martinez Ramirez Lennis | | | CUB | 2458 | 6,5 | 0,0 | 47,5 | 50,5 | 33,50 | 4 | 10 | 6,4 |
| 9 | 16 | | IM | Rakotomaharo Fy Antenaina | | | MAD | 2444 | 6,5 | 0,0 | 46,0 | 50,5 | 33,25 | 4 | 10 | 10,1 |
| 10 | 28 | | FM | Akhvlediani Irakli | | | GEO | 2359 | 6,5 | 0,0 | 42,5 | 46,0 | 31,75 | 5 | 20 | 26,2 |
| 11 | 27 | | FM | Domingo Nunez Ruben | | | ESP | 2365 | 6,5 | 0,0 | 41,5 | 45,5 | 33,00 | 4 | 20 | 17,6 |
| 12 | 32 | | FM | Jogstad Martin | | | SWE | 2334 | 6,0 | 0,0 | 51,5 | 55,5 | 32,50 | 5 | 20 | 41,2 |
| 13 | 10 | | IM | Pulvett Marin Daniel Eduardo | | | ESP | 2487 | 6,0 | 0,0 | 48,5 | 53,0 | 32,75 | 5 | 10 | 4,5 |
| 14 | 6 | | GM | Korpa Bence | | | HUN | 2545 | 6,0 | 0,0 | 47,5 | 51,5 | 31,25 | 5 | 10 | -4,5 |
| 15 | 24 | | IM | Moksh Amit Doshi | U20 | | IND | 2380 | 6,0 | 0,0 | 46,0 | 49,5 | 27,00 | 4 | 20 | 9,8 |
---
Related news
:
There was a bank row!

@ 25/09/2023 by Frederic Friedel (en)
There was a bank row?

@ 17/09/2023 by Frederic Friedel (en)
Gukesh dethrones Vishy Anand's 37-year-long reign as India no.1 officially, also becomes World no.8

@ 01/09/2023 by Shahid Ahmed (en)
The most valuable chess guestbook ever

@ 17/08/2023 by Sneha Tiwari (en)
Gukesh reaches 2756 Elo, surpasses Vishy Anand as the new India no.1

@ 04/08/2023 by Sagar Shah (en)
From an IM to an unrated player - Reviews for Attack like a super GM video course with Gukesh

@ 27/07/2023 by Sagar Shah (en)
When Arjun Erigaisi took on 8 opponents in his first ever blindfold simul

@ 13/07/2023 by Sagar Shah (en)
Gukesh glorious at Armageddon Championship Series: Asia and Oceania

@ 10/04/2023 by Shahid Ahmed (en)
Ilamparthi tests Gukesh from Dusseldorf to Hamburg!

@ 01/03/2023 by Sagar Shah (en)
Sumer Arsh wins the Arjun Erigaisi Death Match 2.0 scholarship of Rs.3,25,000

@ 10/02/2023 by Sagar Shah (en)
Delving deep into the Arjun Erigaisi vs Levon Aronian endgame from Tata Steel Masters 2023

@ 17/01/2023 by Sagar Shah (en)
Gukesh and Vaishali in Forbes India Showstoppers 2022-23 Top 50 list

@ 08/01/2023 by Shahid Ahmed (en)
Gukesh gets signed by FairPlay Sports

@ 17/12/2022 by Himank Ghosh (en)
Velammal Nexus felicitates Gukesh

@ 16/12/2022 by Himank Ghosh (en)
Arjun Erigaisi signs a Rs.12.4 crore (US$1.5 million) long term sponsorship deal with Quantbox

@ 13/12/2022 by Sagar Shah (en)
The Arjun Erigaisi Livestream!

@ 03/10/2022 by Himank Ghosh (en)
Your chance to meet Vishy Anand and the young super talents of Indian chess in Bangalore!

@ 06/09/2022 by Sagar Shah (en)
Gukesh continues his meteoric rise, now World no.18

@ 19/08/2022 by Shahid Ahmed (en)
मौका मिले तो मैं विश्व चैम्पियन कार्लसन से सीरीज खेलना चाहूँगा – गुकेश

@ 15/08/2022 by Niklesh Jain (hi)
Reaction of top Indian GMs after Gukesh hit 2700 Elo

@ 24/07/2022 by Sagar Shah (en)
गुकेश नें रचा इतिहास :उम्र 16 और हुए 2700 के पार

@ 17/07/2022 by Niklesh Jain (hi)
Gukesh dominates 14th Gijon City Closed, now World no.41

@ 09/07/2022 by Shahid Ahmed (en)
Gukesh scores a hat-trick by winning Chessable Sunway Formentera Open, now World no.66

@ 09/05/2022 by Shahid Ahmed (en)
Gukesh marvels at 1st Menorca Open, now World no.80

@ 25/04/2022 by Shahid Ahmed (en)
15-year-old Gukesh becomes the youngest Indian ever to break into World Top 100

@ 22/04/2022 by Shahid Ahmed (en)
Gukesh set to star at 55th Biel Chess Festival GMT 2022

@ 12/03/2022 by Shahid Ahmed (en)
The Calm Warrior - Arjun Erigaisi on his Tata Steel Challengers 2022 triumph

@ 02/02/2022 by Shahid Ahmed (en)
Astounding Arjun Erigaisi finishes third in Lindores Abbey Blitz, now World no.31 in Blitz

@ 09/11/2021 by Shahid Ahmed (en)
Gukesh makes a Golden debut for Prilep at 36th European Chess Club Cup 2021

@ 25/09/2021 by Shahid Ahmed (en)
Gukesh clinches Norway Open 2021 Masters, Iniyan finishes second

@ 18/09/2021 by Shahid Ahmed (en)
Gukesh triumphs 4th Concello de Carballo Clasico

@ 12/09/2021 by Shahid Ahmed (en)
Gukesh crosses 2600 at the age of 15 years 2 months and 27 days

@ 26/08/2021 by Sagar Shah (en)
Raunak and Arjun Erigaisi shine at Portuguese 1st Division 2020-21

@ 26/07/2021 by Shahid Ahmed (en)
Arjun Erigaisi clinches Masthanaiah Rapid Rating Open 2021

@ 01/05/2021 by Shahid Ahmed (en)
Arjun Erigaisi - a peaceful warrior and the future of Indian chess

@ 10/02/2021 by Saishyam Srikanth (en)
Blitz Challenge with GM D.Gukesh

@ 07/08/2020 by Sagar Shah (en)
Lucena in Lockdown #5 : GM D.Gukesh

@ 20/04/2020 by Avathanshu Bhat (en)
Gukesh wins Cannes Open and moves to a live rating of 2565!

@ 25/02/2020 by Sagar Shah (en)
Gukesh wins the tournament held to celebrate 110th anniversary of the Hillerød Chess Club

@ 18/02/2020 by Sagar Shah (en)
Gukesh's unbelievable fortune in Denmark

@ 14/02/2020 by Sagar Shah (en)
Shanghai Haiwan 2019: When you play well and still lose

@ 09/09/2019 by Sagar Shah (en)
World's youngest GM Gukesh is now a teenager

@ 29/05/2019 by Sagar Shah (en)
Gukesh sizzles at the Grenke Open 2019 with a 2700+ performance

@ 25/04/2019 by Sagar Shah (en)
Endgame Magic with Gukesh and Karsten Mueller is LIVE!

@ 24/04/2019 by Sagar Shah (en)
What happened when Gukesh and Pragg visited Vishy Anand's home in Chennai

@ 07/02/2019 by Sagar Shah (en)
Watch out for the Indian talents born in 2006! They are coming!

@ 07/02/2019 by Sagar Shah (en)
How strong is GM Arjun Erigaisi?

@ 31/01/2019 by Sagar Shah (en)
Gukesh felicitated with Rs.1,00,000 from Microsense and Rs.30,000 from TNSCA

@ 20/01/2019 by Sagar Shah (en)
Gukesh becomes 2nd youngest GM in the history of chess at 12 years, 7 months and 17 days

@ 15/01/2019 by Sagar Shah (en)
Karjakin's youngest GM record still stands

@ 23/12/2018 by Sagar Shah (en)
Gukesh with 2 GM norms and 2490 Elo is on the verge of becoming world's youngest GM

@ 09/12/2018 by Sagar Shah (en)
Victor Mikhalevski on India's 54th GM Arjun Erigaisi

@ 29/10/2018 by Sagar Shah (en)