Gukesh marvels at 1st Menorca Open, now World no.80
GM D Gukesh scored the lone victory among the leaders in the final round over GM Adhiban B. For the second consecutive tournament, the youngest GM of India, became a clear champion 6.0/7 at 1st Menorca Open. He also gained 13.4 Elo rating points, taking his live rating to 2659.9 and becoming World no.80. Seven players scored 5.5/7. GM Aryan Chopra secured second position for the second event in-a-row. GM Shant Sargsyan (ARM) was placed third according to tie-breaks. Total prize fund of the tournament was €8000. Top three prizes were €1600, €1200 and €800 along with a trophy each. Photo: Gukesh's twitter
Second consecutive triumph for Gukesh, no tie-breaks needed
Seven out of top ten places were secured by the top Indian players.
Heimann - Gukesh, Round 4
Black is completely winning in the above position due to the fact of weak light squares in front of the castled king. What makes stronger and in-form players separate from others is how cleanly they can convert a decisive advantage. 23...Rad8 24.Qe4 Ne5 25.f4 Ng4 26.f5 Qg5 27.Qf4 Qh5 28.e4 g5 because you have to do as per the requirement of the position
28...g5 forces White to concede the d2-square and allow the rook invasion. If White desperately tries to control the d2-square via Qc1 with or without fxg6, the consequences will be dire in both cases. The game continued 29.Qf3 Rd2 30.Nb6 Rg2+ and it's all over for White. Rest became just a matter of time for Black to win the game. Not all attacks necessarily will lead to checkmate or huge material gain, sometimes it liquidates into a winning endgame which is what happened here.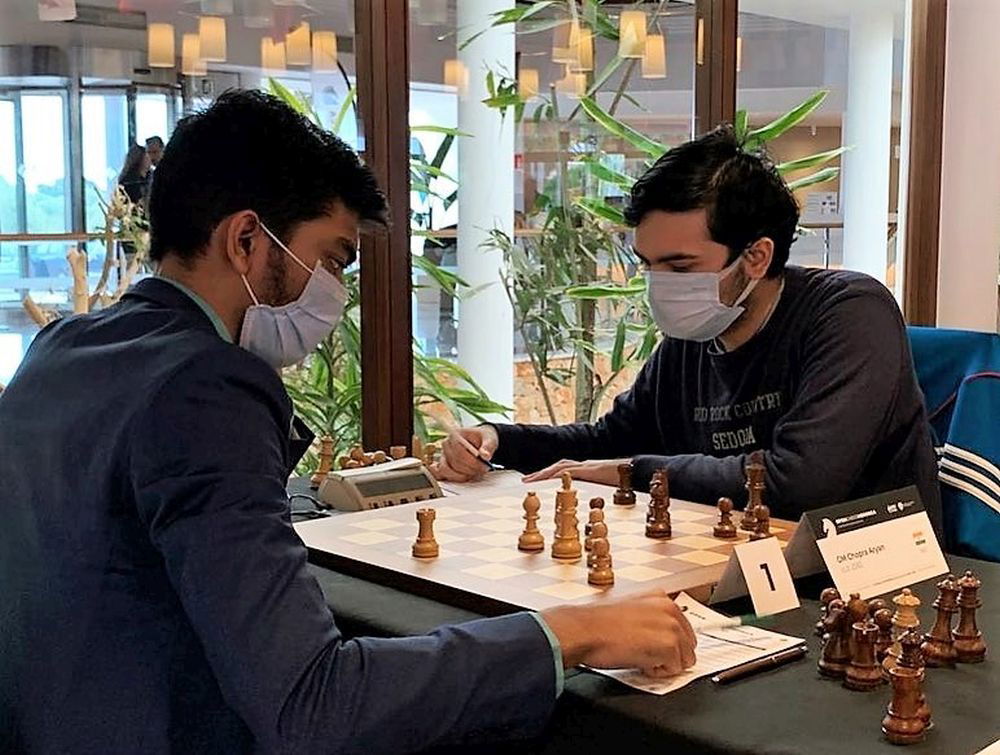 Gukesh - Adhiban, Round 7
Gukesh just gobbled up two pawns at a7 and d6 in quick succession. 27...g4 would have been an attempt to get some kind of semblance back into the game. However, 27...Bf8 just put things further away from Black's grasp. Find out the winning continuation for White after 27...Bf8.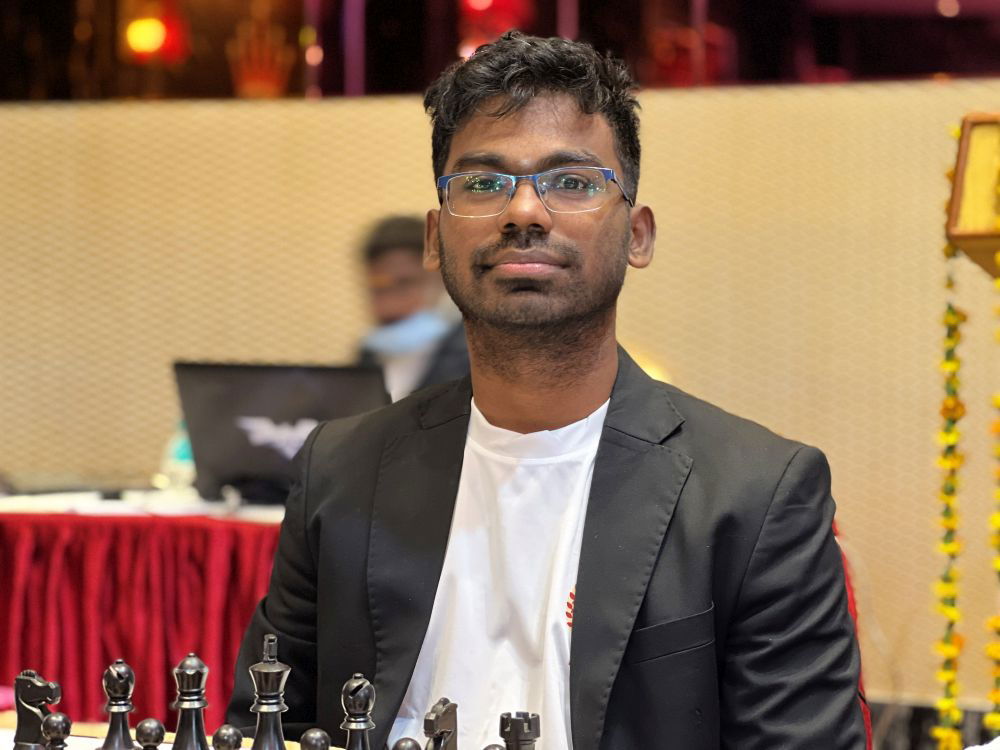 Gukesh tweeted his thoughts on his triumph
He went on to explore the beautiful Menorca island with his friends
Menorca Chess Open congratulated Gukesh
A total of 137 players including 21 GMs, 12 IMs, a WGM and 2 WIMs took part from 25 countries across the world in Group A. The tournament was organized by Menorca Chess Association from 20th to 24th April 2022 at Hotel Princesa Playa, Menorca, Spain. The seven-round Swiss league tournament had a time control of 90 minutes each with 30 seconds increment from move no. 1.
Replay Round 4-7 games
Round 7 results
Final standings
| | | | | | | | | | |
| --- | --- | --- | --- | --- | --- | --- | --- | --- | --- |
| Rk. | SNo | | Name | FED | Rtg | Pts. | TB1 | TB2 | TB3 |
| 1 | 5 | GM | Gukesh D | IND | 2637 | 6,0 | 29,5 | 24,0 | 25,5 |
| 2 | 11 | GM | Aryan Chopra | IND | 2592 | 5,5 | 30,5 | 24,5 | 25,0 |
| 3 | 4 | GM | Sargsyan Shant | ARM | 2639 | 5,5 | 30,5 | 24,5 | 24,0 |
| 4 | 7 | GM | Martirosyan Haik M. | ARM | 2633 | 5,5 | 29,5 | 24,0 | 24,0 |
| 5 | 9 | GM | Sethuraman S.P. | IND | 2610 | 5,5 | 29,5 | 24,0 | 24,0 |
| 6 | 2 | GM | Santos Latasa Jaime | ESP | 2656 | 5,5 | 29,0 | 23,5 | 23,5 |
| 7 | 8 | GM | Sadhwani Raunak | IND | 2628 | 5,5 | 28,5 | 23,0 | 24,0 |
| 8 | 3 | GM | Nihal Sarin | IND | 2648 | 5,5 | 28,0 | 22,5 | 22,5 |
| 9 | 1 | GM | Erigaisi Arjun | IND | 2675 | 5,0 | 30,0 | 24,5 | 22,5 |
| 10 | 6 | GM | Adhiban B. | IND | 2633 | 5,0 | 29,5 | 23,5 | 23,0 |
Links
---