Gukesh continues his meteoric rise, now World no.18
When 44th Chess Olympiad ended, GM D Gukesh won a Gold on Board no.1 ahead of Nodirbek Abdusattorov and Magnus Carlsen. He also won a team Bronze for the India 2 team. His world ranking at that time was 24 in live ratings. A week later, Gukesh started playing for Turkish Airlines Sports Club (THY) in Turkish Isbank Chess Super League. The 16-year-old won his first three games against GM Aryan Gholami, GM Andrey Esipenko and Turkey no.3 GM Vahap Sanal. All three were strong opponents, the Gukesh juggernaut continues. His live rating is now 2735.9 and currently he is World no.18. He is facing GM Mikhail Kobalia in Round 4. Photo: Official site
The momentum continues from 44th Chess Olympiad
GM D Gukesh is doing what he does best, play good chess on the board and let his moves do the talking. He single-mindedly continues his journey towards the top. India's top 3 has already changed during the Olympiad and it will certainly take a new shape by the end of this year as hungry talented youth have announced their arrival. They do not plan on slowing down anytime soon.
Round 1: Turkish Airlines Sports Club (THY) - Bursa Metropolitan Municipality Sports Club: 5-1
GM D Gukesh's team THY defeated BMMSC 5-1 without conceding a single game. The other victors for his team were GM Nodirbek Abdusattorov (UZB), GM Ivan Cheparinov (BUL) and GM Cemil Can Ali Marandi (TUR).
Gukesh - Gholami
GM Aryan Gholami (IRI) of BMMSC, made a dubious sacrifice 15...Bxb4 16.axb4 Nxb4. He did not get as much compensation as he would have preferred 17.Qc3 Nxd3 18.Qxd3 b5 19.cxb5 cxb5 20.d5! Gukesh opened up the position by giving up a pawn. Black was not able to get much for the three pawns he had for his opponent's knight and went on to lose the game.
Round 2: Bayegan Pendik Chess Sports Club - Turkish Airlines Sports Club: 2-4
In Round 2, Gukesh, Abdusattorov and Cemil scored the wins for the team. Cheparinov and IM Ekaterina Atalik drew their games. IM Isik Can (TUR) suffered the sole loss.
Esipenko - Gukesh
GM Andrey Esipenko gained a huge space advantage. However, his pieces were lagging in the development department. Gukesh kept his calm and did what was required. He started chipping away at White's overstretched and strong pawn center. 21...f6 was the first step towards it. 22.exf6 Qxf6 23.fxg5 Nxd4 in just two moves, Black's position suddenly looks more promising than White's. 24.Bg4 Nf3+ 25.Bxf3 Qxf3 26.gxh6 Rf5, Now White should have exchanged some heavy artilleries to reduce the intensity of attack 27.Rf1 Qxf1+ 28.Qxf1 Rxf1+ 29.Kxf1 b4+ 30.Kg1 would have kept the fight going. 27.Re1 e5 28.Nd2 Qh5 29.Kg2 Raf8 and Esipenko felt it was too little too late, he resigned.
Round 3: Turkish Airlines Sports Club (THY) - Sea Water Aquamatch Chess Youth and SP : 4-2
GM D Gukesh and GM Bartlomiej Heberla (POL) were the only two full point scorers for their team. The remaining four games ended in draws.
Gukesh - Vahap
Gukesh created a pawn wedge 18.c6 which partially paralyzed Black's position. The c8-bishop does not have a good square to go. Be6 would certainly limit the mobility of the e5-rook who will desperately gasp for some breathing room.
35.e6 is beautiful move which completely disintegrates Black's position. It is safe to say that Black is positionally lost here. White won the game in another six moves.
Try to solve the questions posed by IM Sagar Shah in this interactive format. It is completely free, you just need to create an account.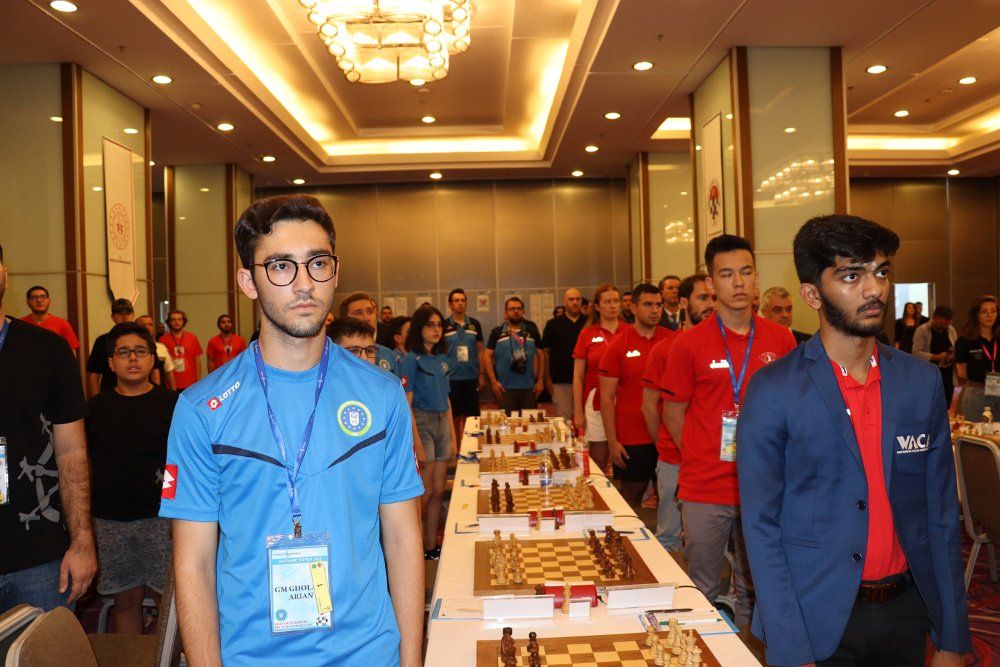 To understand why Gukesh is climbing the ranks so quickly, you have to listen to his support system - his father, Dr. Rajinikanth and his coach GM Vishnu Prasanna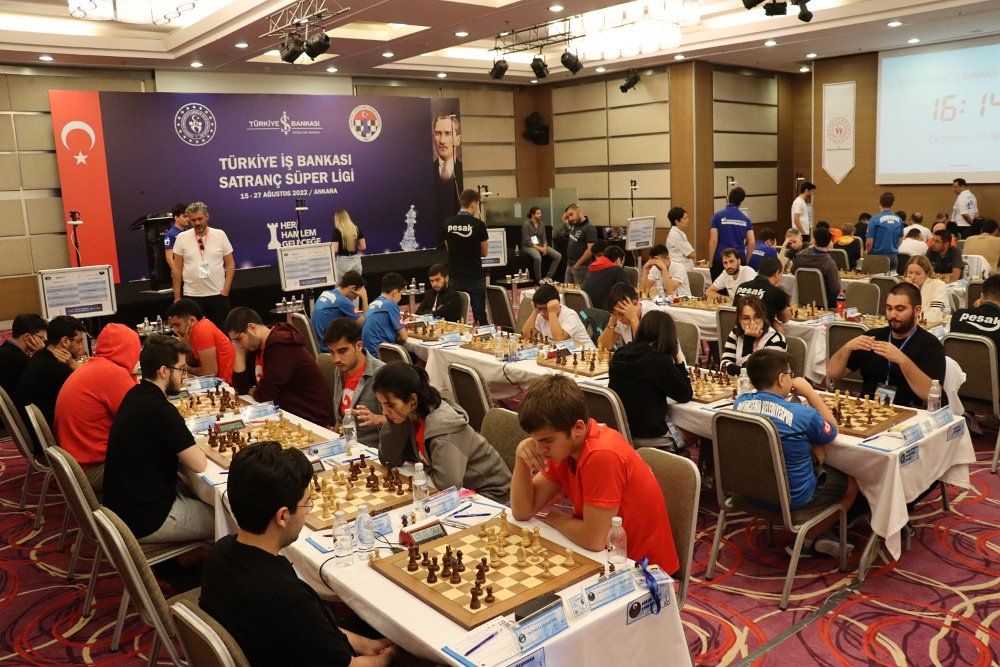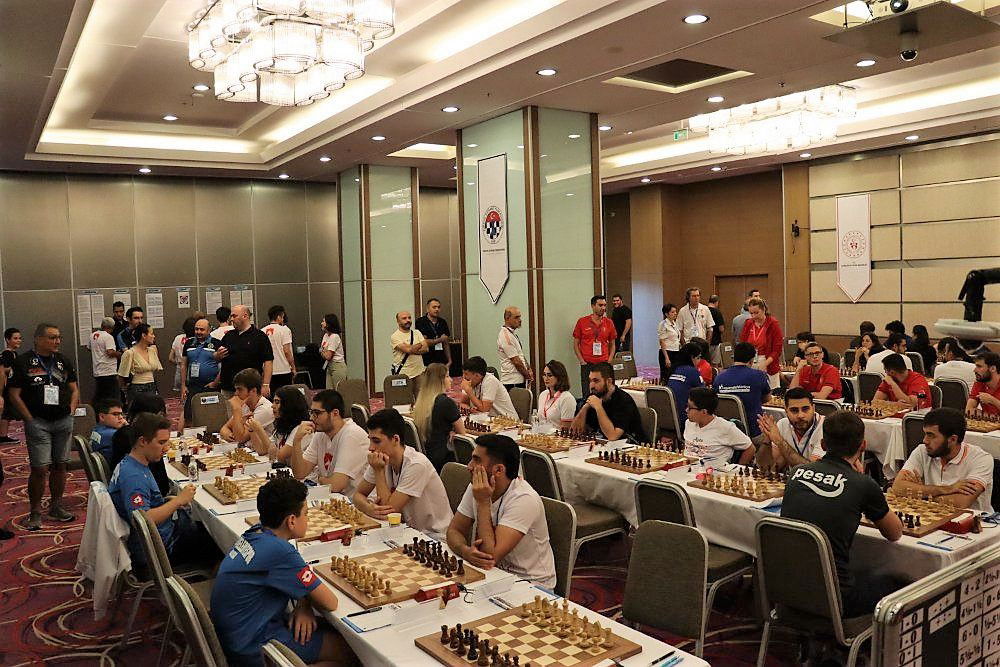 Replay Round 1-3 games
Starting list of players
Standings after Round 3
Links
---