Gukesh felicitated with Rs.1,00,000 from Microsense and Rs.30,000 from TNSCA
After Gukesh achieved his GM title on the 15th of January 2019, Vishy Anand told the Times of India, "Gukesh should rest for a while". However, the 12-year-old seems to be in no mood to stop as he packed his bags and left for the Gibraltar Masters on the 19th of January. In the two days that he spent in between in Chennai, Gukesh gave plenty of interviews and was felicitated at the opening ceremony of the Chennai GM 2019. Microsense Networks offered Gukesh Rs.1,00,000 while Tamil Nadu State Chess Association (TNSCA) offered him Rs. 30,000. We bring you a pictorial report of this felicitation ceremony and tell you about Microsense Networks, a company that has been supporting chess in a big way.
Gukesh's achievement of becoming a GM at the age of 12 years 7 months and 17 days drew a lot of attention from the media. The three most prominent posts on Social media were: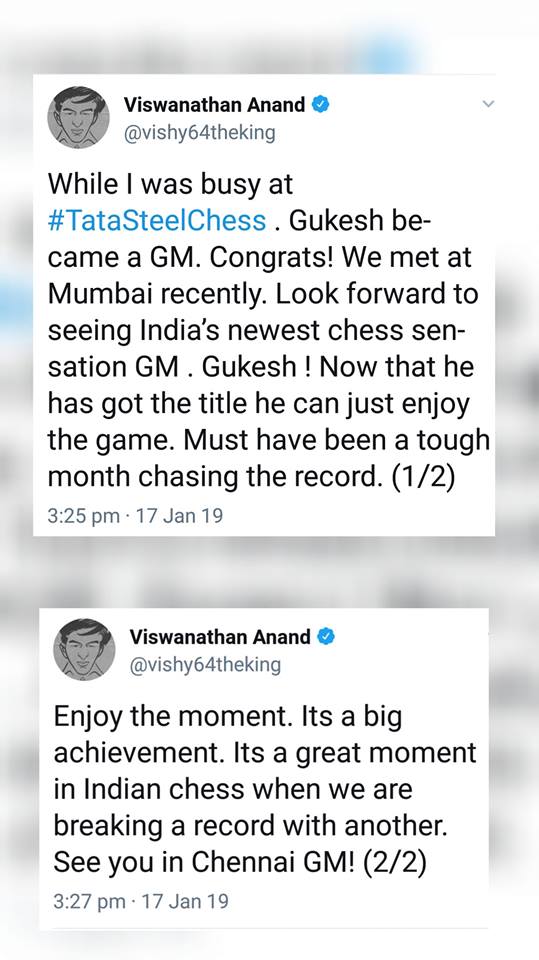 Gukesh arrived in his hometown in Chennai on the 17th of January 2019 after playing the Delhi GM Open. Within two days he left for Gibraltar Masters. In the couple of days that he was in Chennai he was invited to his school Velammal for a felicitation and at the Chennai GM Open 2019 to be felicitated by Microsense and TNSCA.
Gukesh felicitated at the opening ceremony of Chennai GM 2019
The 11th Chennai Open International Grandmaster Chess tournament 2019 for Sakthi Group Dr N Mahalingam Trophy was inaugurated by a ceremonial first move between International Master Manuel Aaron and top seed Grandmaster Alexandr Predke of Russia at Novotel IBIS OMR Hotel, Chennai here today.
The ten round Swiss tournament carries a prize fund of Rs 15 lakhs, with the winner taking a handsome trophy along with a cash award of Rs. 3 lakhs. 20 Grandmasters and 28 International Masters add to the line up of 65 titled players among 286 participants. The tournament concludes on 25th January, 2019.
Earlier, the inauguration was preceded by a felicitation for the achievement of second youngest Grandmaster in the history of chess - 12-year-old Chennai boy D. Gukesh. The Velammal School boy fell short of world record holder Russian Sergey Karjakin by 17 days. Speaking on the occasion, Shri D V Sundar, Vice President FIDE & AICF said, "This boy is bound to go far, bringing more laurels to himself and the country".
Mr Frederic Friedel, Co-founder, ChessBase added, "Gukesh shows profound understanding for chess and I see the rising of another Magnus Carlsen in him".
Mr S Kailasanathan, CEO of Microsense felicitated GM Elect Gukesh, "We could see the talent in the child and we are happy to be of support to him during his great achievement". M/s Microsense gave a cash award of Rs. 100000 (Rupees one lakh only) to the young achiever.
A cash award of Rs 30000 (Rupees thirty thousand only) was awarded to Master Gukesh on behalf of TNSCA.
Also present on the dais were, International Master Manuel Aaron, the Chief Guest, Shri P Stephen Balasamy, Gen. Secretary, TNSCA, Shri B Murugavel, Organising Secretary, Shri Rohan, General Manager, Novotel IBIS OMR Hotel, Shri V Hariharan, former Secretary AICF & TNSCA.
Microsense - powering chess in India
Microsense Networks has been powering chess in India since quite some time now. The players whom they sponsor include - Harikrishna, B. Adhiban, Aravindh Chithambaram, Praggnanandhaa, Divya Deshmukh, Leon Mendonca and now D. Gukesh. The founder of Microsense S. Kailasanathan is former Tamil Nadu State Champion in 1972. He is a chess lover and makes sure that he supports the talents in our country who are in need of funds.
More about Microsense Networks:
In this era of technology, Microsense Networks has dedicated itself in building a team to create products that talks the future. Their solutions will help you get ready for the future and reach for the skies! Starting from High Speed Internet Access to cloud based solutions that are accessible through multiple devices. They cater to the world that is ever changing and constantly mobile. Holding the vision to connect businesses with their customers through technology, they fabricate from the delicate to the most complex solutions through their innovative products.
---