Gukesh makes a Golden debut for Prilep at 36th European Chess Club Cup 2021
GM D Gukesh is consistently doing well. Exactly a week after winning his second consecutive tournament, Norway Chess 2021 Masters, Gukesh made a stellar debut at the 36th European Chess Club Cup 2021. He scored 5.5/7, performed at 2815 and gained 18.7 Elo rating points which earned him an individual Gold medal on Board no.1 ahead of Mamedov, Mamedyarov, Donchenko, Grischuk, Korobov, Harikrishna and Svidler. The 15-year-old's impressive debut at the star-studded event, took his live rating to 2640. Prilep finished 14th overall, Gukesh lived up to his billing of top player of the team with a top-notch performance. Harikrishna and Sasikiran won team Silver for AVE Novy Bor for third consecutive year. Photo: C&P Media/Chess Federation of Macedonia
Harikrishna and Sasikiran win Silver for Novy Bor
Pentala Harikrishna and Krishnan Sasikiran along with Radoslaw Wojtaszek (POL), David Navara (CZE), Markus Ragger (AUT), David Anton Guijarro (ESP) and Mateusz Bartel (POL) won Team Silver for the third consecutive year (2018, 2019 and 2021) which means AVE Novy Bor made a hat-trick of Silver medal wins. Navara, Anton and Bartel won individual Gold medal on Board no.3, 5 and 7 respectively.
Gukesh started the tournament with a very nice win against IM Peter Schreiner (AUT).
Gukesh - Schreiner, Round 1
21.c4 discover attack is a powerful move as it gives White a decisive advantage, 21...Nc6 22.cxb5 axb5 23.Bxb5 Rxa2 24.Qd7 forces the queen exchange.
GM Johan-Sebastian Christianssen buckled under pressure in the second round.
Christiansen - Gukesh, Round 2
36.Nf3 would have kept White afloat a bit longer. 36.g3 allows Black to finish things off immediately, 36...Rh8.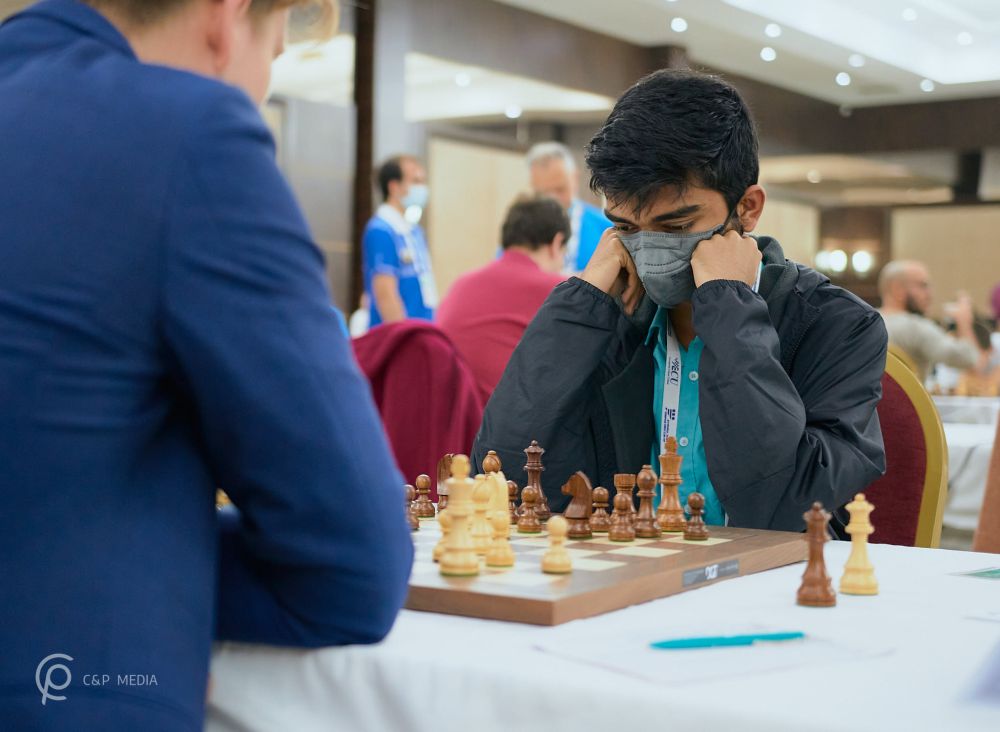 In the third round, Gukesh made a solid draw against the legendary eight-time Russian champion and FIDE World Cup 2011 winner, Peter Svidler.
GM Aleksandar Indjic's (SRB) invasion with the king in the fifth round turned out to be fatal for him.
Gukesh - Indjic, Round 5
Black needed to play Kd4 without the 39...Rf1+. 41.Rf3 forced the exchange of rooks 41...Rxf3+ 42.Kxf3 Be8 43.Kf4 now the Black king is a point of no return. Gukesh converted his advantage into a win comfortably.
Gukesh defeated GM Vladislav Nevednichy (ROU) in the sixth round.
Nevednichy - Gukesh, Round 6
Position after 27.Qb3
27.Qb3 alleviated the pressure on the e4-pawn. 27...f4 28.Bxb6 Qb7 now the f3-threat is looming large and White's b6-bishop is also in a pin. White gave up the bishop with the hope of getting some offense, but got none.
Watch Gukesh receive his Gold medal
Gukesh was appreciated by Shakhriyar Mamedyarov
He also thanked Toni, captain of team Prilep for giving him the opportunity to play on Board no.1.
Replay Gukesh's games
Harikrishna scored an important 3.0/6 for his team, Novy Bor. His sole win of the event was against Peter Svidler in the fifth round.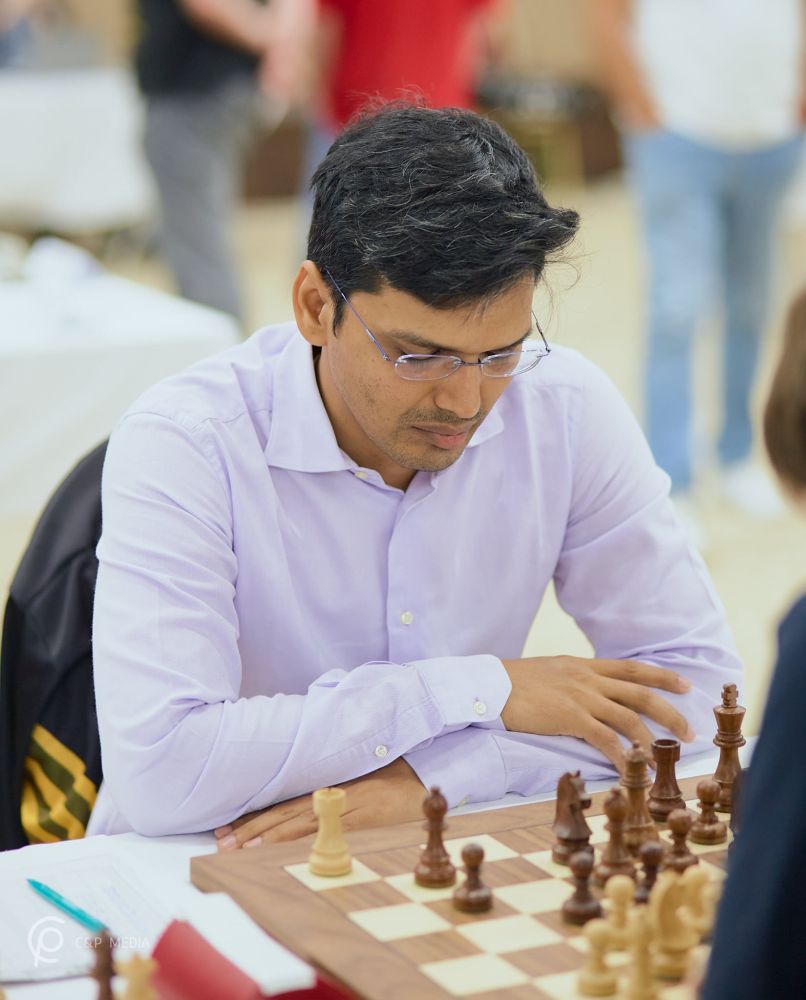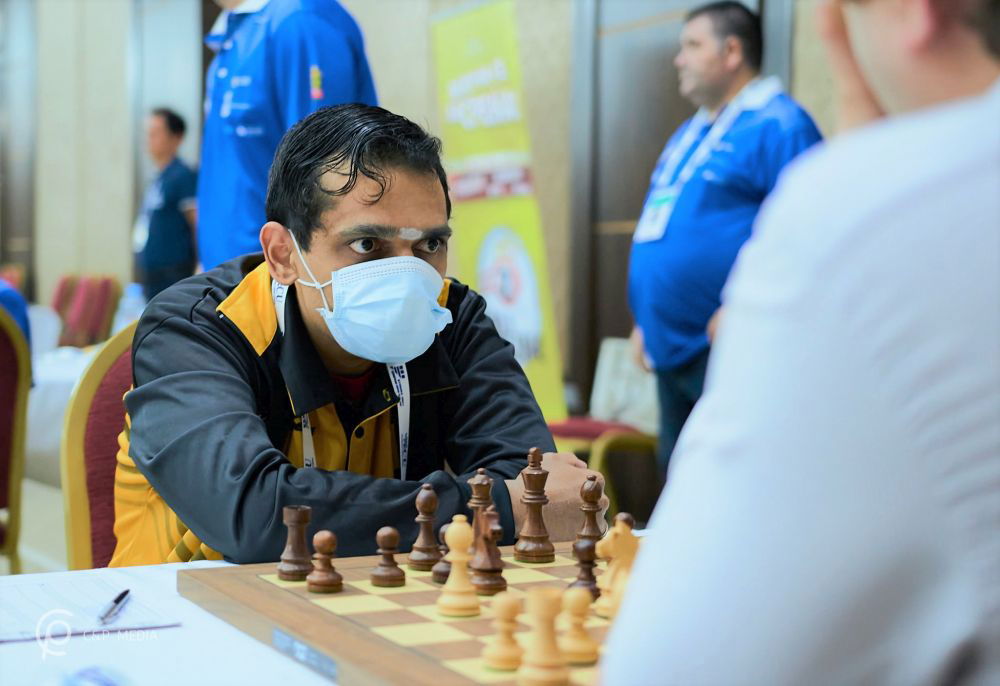 Photo Gallery: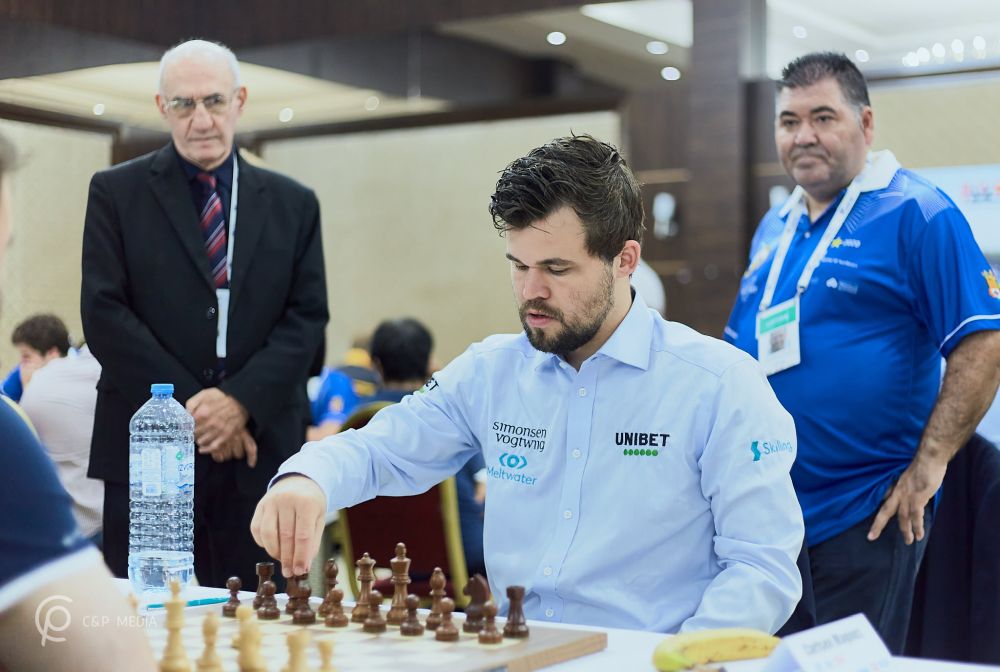 The tournament took place in Struga, North Macedonia from 18th - 24th September 2021.
Final standings on Board no.1
Rk.
Name
RtgI
FED
Team
TB1
TB2
TB3
TB4
TB5
1
GM
Gukesh D
2599
IND
Prilep
2815
0
7
78,6
14
2
GM
Mamedov Rauf
2654
AZE
Vugar Gashimov
2794
0
5
70,0
3
3
GM
Mamedyarov Shakhriyar
2762
AZE
Alkaloid
2792
0
6
66,7
8
4
GM
Donchenko Alexander
2641
GER
Skakfelag Selfoss
2747
0
7
71,4
5
5
GM
Grischuk Alexander
2775
RUS
KPRF
2735
0
7
71,4
4
6
GM
Korobov Anton
2685
UKR
Silla-Valencia Origin of Chess
2724
0
7
64,3
9
7
IM
Noe Christopher
2518
GER
De Sprenger Echternach
2671
0
7
78,6
37
8
GM
Berkes Ferenc
2671
HUN
Team XtraCon
2660
0
7
64,3
6
9
GM
Harikrishna Pentala
2725
IND
AVE Novy Bor
2648
0
6
50,0
2
10
GM
Svidler Peter
2701
RUS
Mednyi Vsadnik
2626
0
6
41,7
1
Final Standings in Team
| | | | | | | | | | | | | |
| --- | --- | --- | --- | --- | --- | --- | --- | --- | --- | --- | --- | --- |
| Rk. | SNo | FED | | Team | Games | + | = | - | TB1 | TB2 | TB3 | TB4 |
| 1 | 2 | RUS | | Mednyi Vsadnik | 7 | 6 | 1 | 0 | 13 | 236,5 | 29,5 | 174,0 |
| 2 | 3 | CZE | | AVE Novy Bor | 7 | 5 | 2 | 0 | 12 | 201,5 | 27,5 | 172,5 |
| 3 | 9 | AZE | | Vugar Gashimov | 7 | 5 | 1 | 1 | 11 | 191,0 | 28,5 | 164,0 |
| 4 | 4 | RUS | | KPRF | 7 | 5 | 0 | 2 | 10 | 201,5 | 27,5 | 171,5 |
| 5 | 11 | ISL | | Skakfelag Selfoss | 7 | 5 | 0 | 2 | 10 | 188,5 | 28,0 | 157,0 |
| 6 | 6 | DEN | | Team XtraCon | 7 | 5 | 0 | 2 | 10 | 175,5 | 26,5 | 166,5 |
| 7 | 10 | SRB | | Sloven Ruma | 7 | 5 | 0 | 2 | 10 | 150,5 | 24,0 | 162,5 |
| 8 | 1 | MKD | | Alkaloid | 7 | 4 | 1 | 2 | 9 | 229,0 | 29,5 | 174,0 |
| 9 | 5 | ESP | | Silla-Valencia Origin of Chess | 7 | 4 | 1 | 2 | 9 | 201,0 | 26,5 | 180,0 |
| 10 | 12 | SUI | | Schachgesellschaft Riehen | 7 | 4 | 1 | 2 | 9 | 142,0 | 24,5 | 143,0 |
| 11 | 13 | SWE | | Stocholms SS | 7 | 4 | 1 | 2 | 9 | 129,0 | 22,0 | 157,0 |
| 12 | 7 | ISR | | BEER SHEVA | 7 | 4 | 0 | 3 | 8 | 168,0 | 24,0 | 163,5 |
| 13 | 8 | NOR | | Offerspill Chess Club | 7 | 4 | 0 | 3 | 8 | 143,0 | 25,0 | 150,5 |
| 14 | 17 | MKD | | Prilep | 7 | 4 | 0 | 3 | 8 | 123,0 | 19,5 | 164,5 |
| 15 | 15 | SLO | | Maribor Poligram | 7 | 4 | 0 | 3 | 8 | 114,5 | 21,5 | 161,0 |
Links
---