Can Praggnanandhaa win the Polgar Challenge?
Team Polgar takes the lead for the first time in Julius Baer Challengers Chess Tour Polgar Challenge with 75 points. Team Kramnik might be trailing with 71 points but they have the leader and the pursuer. Praggnanandhaa maintained his sole lead at the conclusion of Day 3 with 12.0/15 followed closely by Abdusattorov at 11.5/15. Nihal and Liang are also in the title fray with 11.0/15 each respectively. Gukesh is at 10.0/15 along with Murzin and Yoo, followed by Leon at 9.5/15. While top ten places are claimed by the male players, the remaining ten places are occupied by the female. It will be close contest for the championship as. Round 16 continues today from 7:30 p.m. IST. Photo: Niki Riga
Team Kramnik - Team Polgar: 71-75
GM Praggnanandhaa maintained his sole lead 12.0/15 despite losing the final round of the day against GM Vincent Keymer. GM Abdusattorov maintained his pursuit 11.5/15. GM Nihal Sarin made sure he stays in the hunt as he heads into the fourth and final day of the event with 11.0/15. Gukesh and Leon finish the penultimate day with 10.0/15 and 9.5/15 respectively.
Round 11: Pragg, Gukesh and Leon win
Praggnanandhaa, Gukesh and Leon each made a winning start to their Day 3. Only Nihal made a draw with Vincent Keymer.
Yoo - Praggnanandhaa: 0-1
IM Christopher Yoo's ambitious play against Pragg did not turn out to be good for him.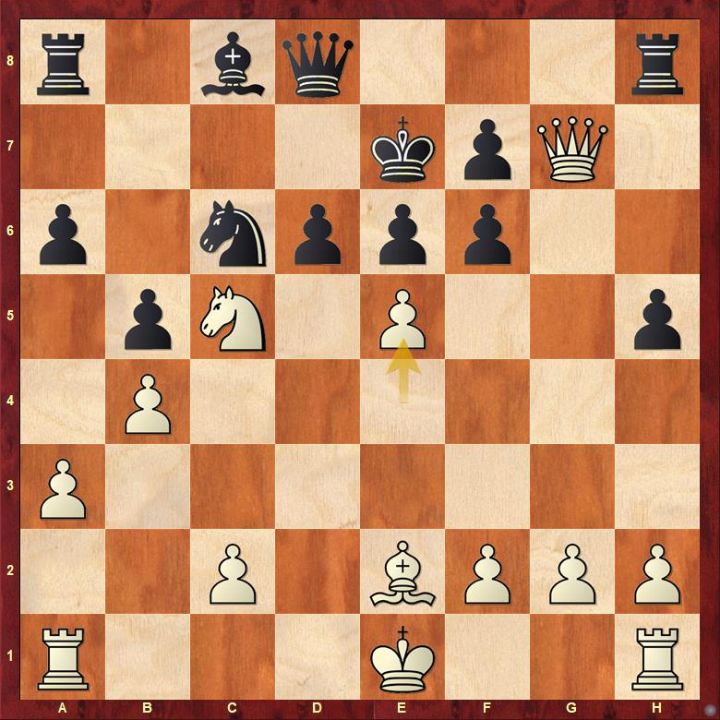 19.e5 does not work. Then again white's position was not so good either, he had to try something. Eventually Pragg gained huge material advantage.
White wants to play just Rf3 and Rf4 to hold the game but that does not actually work. It is not the fortress which white is hoping for. Think like Pragg and find out why.
Gukesh - Badelka: 1-0
IM Olga Badelka had a tactical oversight and she lost a piece for two pawns.
Black should have taken on d5 with 25...Bxd5 and after 26.Rxd5 Qe7 or Qb6, either of them would have been fine. The game went on with 26.Qe2 Bxg4 27.Qxg4 Rc8 28.Be6 and rest was just a matter of technique which Gukesh converted without any difficulty.
Keymer - Nihal: 0.5-0.5
Both Keymer and Nihal had their fare share of chances, yet neither was able to seize them and the game eventually ended up in a draw.
24...Qd6 actually does not protect the f4-knight, in fact it puts black into more trouble. Find out how. White completely missed the opportunity and continued the game with 25.Rxe8+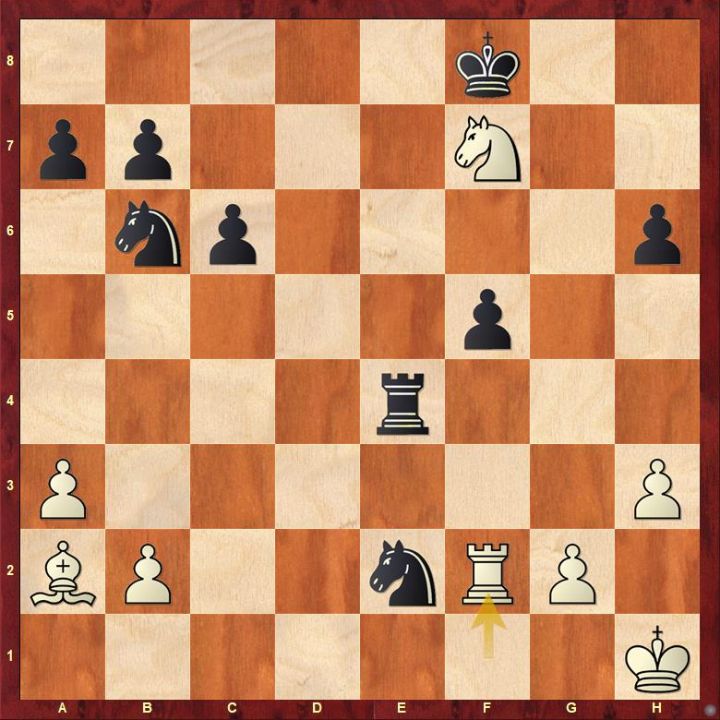 Ten moves later, tables turned and this time it was black who got the winning chance. What was it after 34.Rxf2 ?
Leon - Mammadzada: 1-0
Leon made a short work of his opponent IM Gunay Mammadzada in just 26 moves.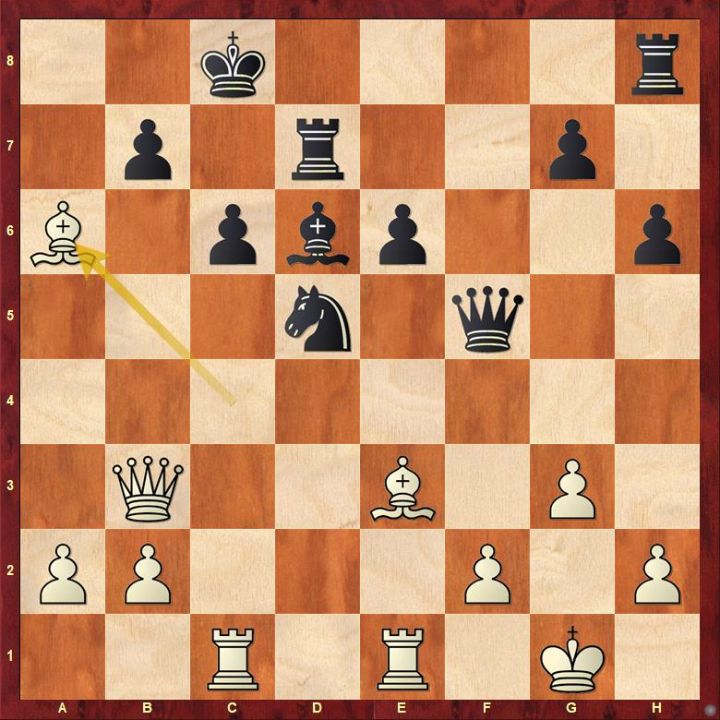 Of course 20...bxa6 looks absolutely dangerous for black as white gets to launch a barrage of attacks with 21.Rxc6+, 22.Rxd6, 23.Qb8+ and so on. Black needed to do 20...Nxe3 21.Rxc6+ Kd8 22.Qb6+ Bc7 and black is doing fine.
Round 12: Nihal drew with Leon
Only Pragg managed to score a victory in Round 12 against Shuvalova. Nihal and Gukesh drew with Leon and Tingjie.
Praggnanandhaa - Shuvalova: 1-0
In a seemingly equal Rook and two minor pieces endgame, Shuvalova dropped a pawn and she did not get enough compensation for it.
25...Bc5 was completely uncalled for. Black could have continued with 25...b5. Pragg wrapped up the game in another fourteen moves.
Round 13: Pragg and Leon win
Gukesh suffered a shocking loss to IM Carissa Yip and Nihal was held to a draw by IM Zhansaya Abdumalik. Praggnanandhaa and Leon score victories.
Jonas - Praggnanandhaa: 0-1
GM Jonas Buhl Bjorre went extremely passive against Praggnanandhaa and he paid the price for it.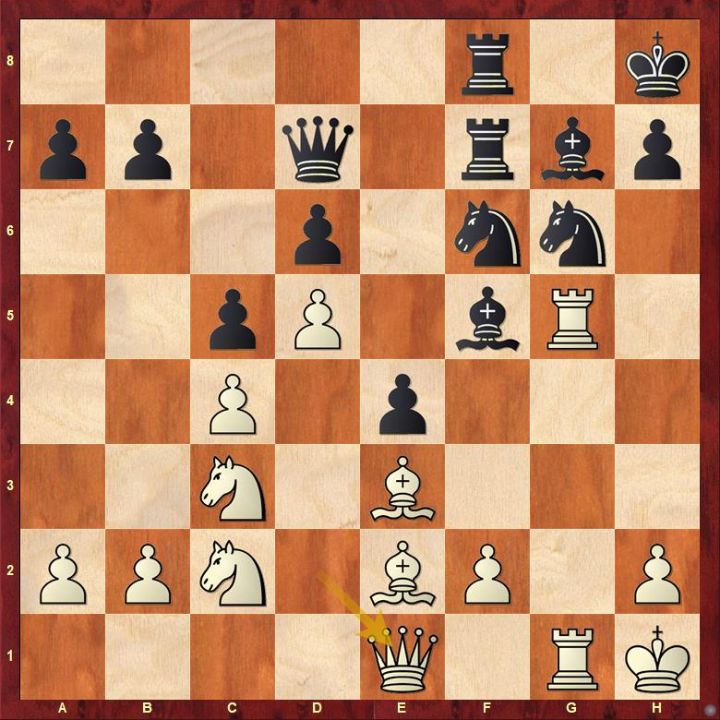 White needed to play 22.Ne1 instead 22.Qe1 was played which was extremely passive. Think like Pragg and find out the correct plan for black.
Gukesh - Yip: 0-1
Yip made a correct positional exchange sacrifice against Gukesh to gain the edge.
It is certainly not easy to figure out that 27.Nc5 runs into 27...Rxc5 and it is actually a good decision for black. Only when a computer suggests you that move, you ponder over it and realize the merits behind the sacrifice.
Leon - Badelka: 1-0
Leon scored a comfortable victory over IM Olga Badelka as the latter blundered her queen, overlooking her opponent's back-rank defense.
Round 14: Pragg drew with Gukesh
Nihal and Leon scored wins. Praggnanandhaa drew with Gukesh.
Nihal - Khadem: 1-0
Nihal got a fantastic position in the middle game where he had the firm control against IM Sara Khadem but he took a while to figure out the plan.
Find out the correct plan for white after 20...Rc7.
Tingjie - Leon: 0-1
Leon gained an important pawn in the Rook ending which helped him to beat GM Lei Tingjie.
Round 15: Keymer beat Pragg
Gukesh, Leon and Nihal scored a victory each against Salimova, Yip and Abudsattorov. Only Praggnanandhaa lost to Keymer.
Gukesh - Salimova: 1-0
Gukesh finished the day with a victory over Salimova, however it wasn't without any speedbumps.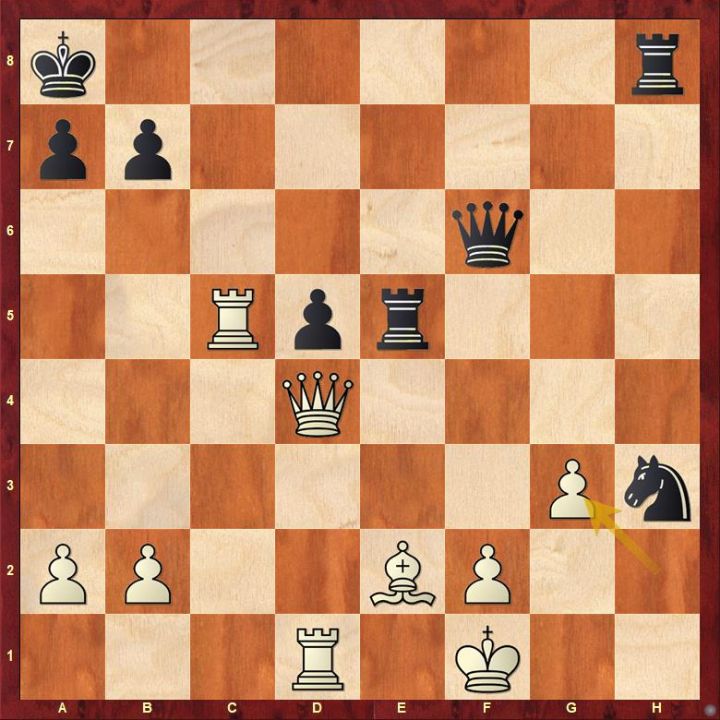 Black needed to play 37...Nxf2 here to turn things in her favor. 37...Ng5 did not help her case. Although she had another opportunity after 38.Qh4 Rf8 39.Qf4 and now black should simply go for 39...Rf5 and take the f2-pawn. But when you are under time pressure, it is very easy to overlook these.
Keymer - Praggnanandhaa: 1-0
After remaining undefeated for 14 games, Pragg made a rare error in the endgame which cost him the full point.
Black needed to play 42...Rb2+. Sure it still would not have been easy to hold considering white's pieces are perfectly placed and black is still trying to find some semblance between the Rook and the Knight.
Leon - Yip: 1-0
Leon finished Day 2 also with an emphatic victory over IM Carissa Yip.
Abdusattorov - Nihal: 0-1
In a seemingly equal Queen and minor piece endgame, Abdusattorov made a tiny inaccuracy and one cannot expect to escape by making such errors against Nihal.
Find out why 37.Qf3 is a mistake and what white should have played instead.
Official statement on IM Dinara Saduakassova dropping out of the tournament.
Judit Polgar tweeted the following after the conclusion of Day 3.
Replay Round 11-15 games
Replay the live stream
Standings after Round 15
Schedule
Everyday game starts at 7:30 p.m. IST
Links
---