Kramnik Challenge Day 1: Tough start for Leon
by Shahid Ahmed - 13/08/2021
Vincent Keymer emerged as the early sole leader 3.5/4 at the conclusion of the first day of Julius Baer Challengers Chess Tour Kramnik Challenge. Three players are trailing by a half point, 3.0/4. They are - Christopher Yoo, Awonder Liang and Nodirbek Abdusattorov. Leon lost the first game on time and then made three draws. He is now at 1.5/4 at tied ninth position along with Jonas Bjerre, Volodar Murzin, Carissa Yip and Zhu Jiner. Murzin missed a fantastic combination in a completely winning position against Jonas. Round 5 starts today at 7:30 p.m. IST. Photo: Niklesh Jain
Keymer takes sole lead
Leon Luke Mendonca scored 1.5/4 on the first day. After losing a winning position against Tingjie in the first round, he got a good position against Yip in the second round but that ended in a draw. The next two games against Liang and Saduakassova also ended in draws.
Round 1: Tingjie - Leon: 1-0
Leon was completely winning against GM Tinjie Lei (CHN) in the first round, but he ran out of time and lost the game.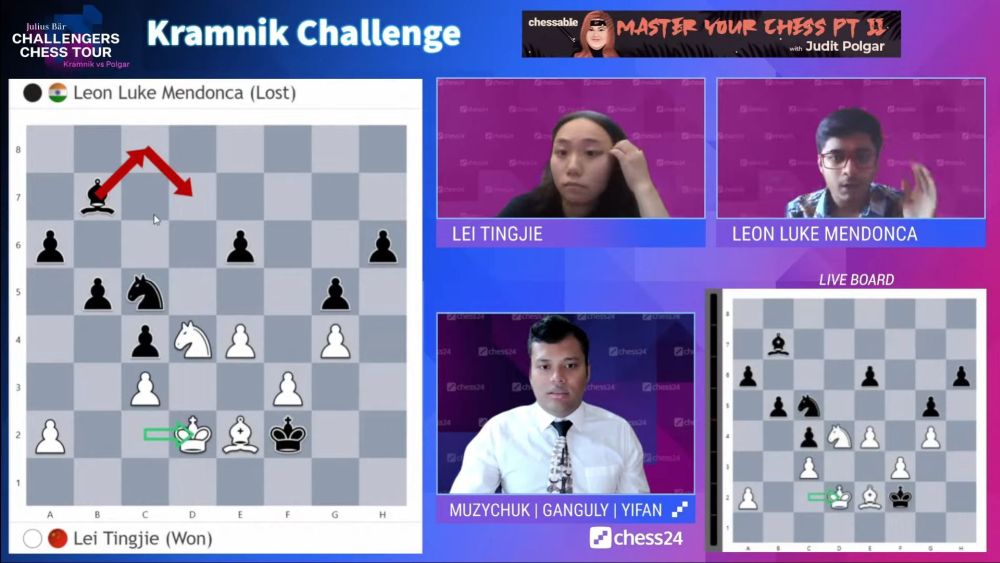 Black is completely winning here as 42...e5 43.Nf5 Bxe4 and White has no choice but to resign.
Round 2: Yip - Leon: 0.5-0.5
IM Carissa Yip (USA) was in a difficult situation and she managed to get away with a draw.
White needed to play 18.a4 and everything would have been fine as 18...bxa3 neutralizes all attack because White can trade the queens 19.Qxa5 Rxa5 20.bxa3 Rxa3 31.Kb2 and White is out of the woods. 18.Rc4 gave Leon the opening he needed. He struck 18...Qxa2+ 19.Kc2 and now he needed to play 19...e5 first and then 20...d5 but he chose to play 19...d5 first and slowly the advantage evaporated. White escaped with a draw.
Arguably the most interesting position of the day occurred in the game between IM Volodar Murzin (RUS) and GM Jonas Buhl Bjerre (NOR).
There are multiple ways for White to go for a win here. Try to find them all. Black somehow managed to survive by the skin of his teeth and salvage a draw.
Highlights
Some interesting finishes from Day 1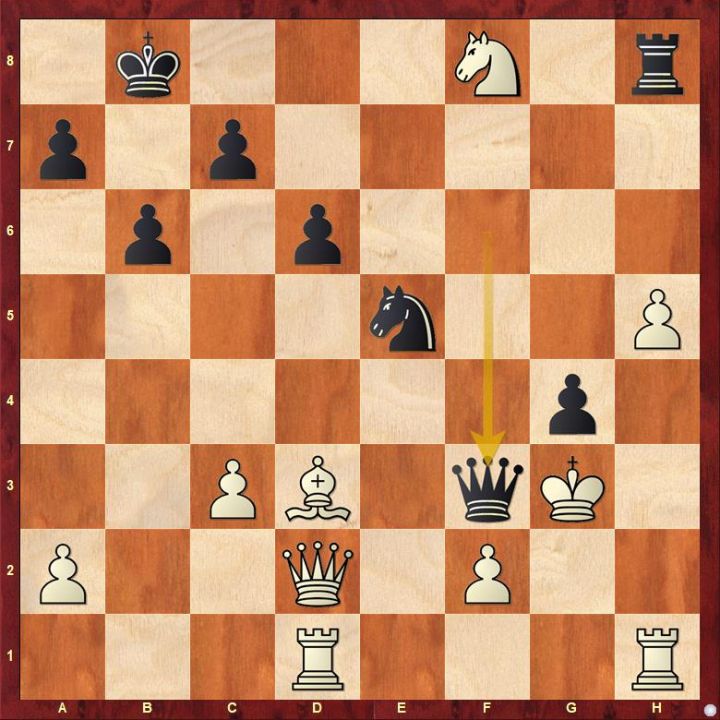 Replay all games from Round 1-4
Standings after Round 4
Schedule
Every day between 12th and 15th August, the game starts at 7:30 p.m. IST.
Links
---
Related news
:
Praggnanandhaa wins Julius Baer Challenger Championship

@ 14/12/2022 by Shahid Ahmed (en)
Julius Baer Challenger Championship: Praggnanandhaa takes 2-0 lead

@ 13/12/2022 by Shahid Ahmed (en)
Julius Baer Challenger Championship: Praggnanandhaa wins Match 1

@ 12/12/2022 by Shahid Ahmed (en)
Astounding Pranav Venkatesh wins Challengers Final Four and Challengers Chess Tour 2022

@ 31/10/2022 by Shahid Ahmed (en)
Invincible Pranav Venkatesh wins Magnus Academy Challenge 2022, Bharath Subramaniyam third

@ 10/10/2022 by Shahid Ahmed (en)
Magnus Academy Challenge 2022 R1-8: Pranav, Ilamparthi and Bharath in a four-way lead

@ 09/10/2022 by Shahid Ahmed (en)
Five Indian juniors will feature in Magnus Chess Academy Challenge starting today

@ 08/10/2022 by Shahid Ahmed (en)
Raunak Sadhwani second at Julius Baer Challenge 2022, advances to the Tour Finals

@ 05/09/2022 by Shahid Ahmed (en)
Julius Baer Challenge 2022 R1-7: Prraneeth and Leon make an unbeaten start

@ 04/09/2022 by Shahid Ahmed (en)
Six Indian juniors will feature in Julius Baer Challenge starting today

@ 03/09/2022 by Shahid Ahmed (en)
भारत के प्रग्गानंधा नें जीता चैलेंजर चैस टूर का खिताब

@ 18/10/2021 by Niklesh Jain (hi)
Praggnanandhaa wins Julius Baer Challengers Chess Tour Finals

@ 18/10/2021 by Shahid Ahmed (en)
Julius Baer CCT Finals: Praggnanandhaa dominates Keymer to reach the Finals

@ 17/10/2021 by Shahid Ahmed (en)
Julius Baer CCT Finals: Vincent Keymer eliminates Leon Mendonca in tie-breaks

@ 16/10/2021 by Shahid Ahmed (en)
Julius Baer CCT Finals: Praggnanandhaa storms into Semifinals

@ 15/10/2021 by Shahid Ahmed (en)
Challengers Chess Tour Finals featuring Leon and Praggnanandhaa starts today

@ 14/10/2021 by Shahid Ahmed (en)
Vincent Keymer wins Hou Yifan Challenge

@ 22/09/2021 by Shahid Ahmed (en)
Hou Yifan Challenge Day 3: Leon does a rare mate with two knights

@ 21/09/2021 by Shahid Ahmed (en)
जूलियस बेर टूर - प्रग्गानंधा नें जीते लगातार 9 मुक़ाबले

@ 20/09/2021 by Niklesh Jain (hi)
Hou Yifan Challenge Day 2: Praggnanandhaa stays perfect 9.0/9

@ 20/09/2021 by Shahid Ahmed (en)
Hou Yifan Challenge Day 1: Praggnanandhaa makes a blazing start 5.0/5

@ 19/09/2021 by Shahid Ahmed (en)
Aditya Mittal and Vaishali make their tour debuts in Hou Yifan Challenge

@ 18/09/2021 by Shahid Ahmed (en)
Vincent Keymer wins Kramnik Challenge

@ 16/08/2021 by Shahid Ahmed (en)
Kramnik Challenge Day 3: Liang remains at the top

@ 15/08/2021 by Shahid Ahmed (en)
Kramnik Challenge Day 2: Abdusattorov remains unbeaten

@ 14/08/2021 by Shahid Ahmed (en)
Leon Mendonca stars in Kramnik Challenge starting today

@ 12/08/2021 by Shahid Ahmed (en)
Gukesh bests Pragg and wins Gelfand Challenge

@ 14/06/2021 by Shahid Ahmed (en)
Gelfand Challenge Day 3: Keymer takes sole lead, Praggnanandhaa still in the hunt

@ 13/06/2021 by Shahid Ahmed (en)
Gelfand Challenge Day 2: Praggnanandhaa makes a brilliant comeback and joins the lead 8.0/10

@ 12/06/2021 by Shahid Ahmed (en)
Gelfand Challenge Day 1: Awonder Liang makes a perfect start 5.0/5

@ 11/06/2021 by Shahid Ahmed (en)
Nihal, Praggnanandhaa, Gukesh and Leon will battle in the Gelfand Challenge

@ 10/06/2021 by Shahid Ahmed (en)
Nihal Sarin beats Magnus Carlsen clean

@ 21/04/2021 by Shahid Ahmed (en)
Praggnanandhaa dominates Julius Baer Challengers Chess Tour Polgar Challenge

@ 12/04/2021 by Shahid Ahmed (en)
Can Praggnanandhaa win the Polgar Challenge?

@ 11/04/2021 by Shahid Ahmed (en)
Polgar Challenge Day 2: Praggnanandhaa takes sole lead 8.5/10

@ 10/04/2021 by Shahid Ahmed (en)
Polgar Challenge Day 1: Praggnanandhaa, Yoo and Abdusattorov share the lead 4.0/5

@ 09/04/2021 by Shahid Ahmed (en)
जूलियस बेर टूर - निहाल, प्रग्गा ,गुकेश और लियॉन खेलेंगे , जूडिथ और क्रामनिक की टीम में होगा मुक़ाबला

@ 06/04/2021 by Niklesh Jain (hi)
Nihal, Praggnanandhaa, Gukesh and Leon will feature in Julius Baer Challengers Chess Tour

@ 06/04/2021 by Shahid Ahmed (en)